Vortex Sparc AR vs Aimpoint : Know Actual Deference Now
If you are getting red-dot training, then come across two of the well-known brands for the equipment, which are Vortex Sparc AR and Aimpoint. In this article, we will look into a detailed overview of the two brands.
Covering everything about them from A-Z, we will provide you a detailed review between Vortex SPARC II RED DOT & AIMPOINT Carbine Optic (ACO) Sight. So, let's get into the war of Vortex SPARC AR VS Aimpoint!
Comparison Table of Vortex Sparc AR vs Aimpoint
Let us start with a Quick Comparison Table for the Vortex Sparc II Red Dot vs Aimpoint Carbine Optic (ACO) Sight.
| | | |
| --- | --- | --- |
| | Vortex SPARC II RED DOT | AIMPORT CARBINE OPTIC (ACO) SIGHT |
| Magnification | 1x | 1x |
| Eye Relief | Unlimited | Unlimited |
| Objective Lens Diameter | 22 mm | 23 mm |
| Adjustment Graduation | 1 MOA | 0.5 MOA |
| Length | 3.1 inches | 3.0 inches |
| Width | 5.9 ounces | 6.7 ounces |
| Travel per Rotation | 45 MOA | 66 MOA |
Vortex SPARC II RED DOT Review in 2022
Among the so many options for vortex red dot sight, the SPARC II red dot is what we will talk about. Whether it's for your next hunting or your military training, the red dot will serve you amazingly from every aspect.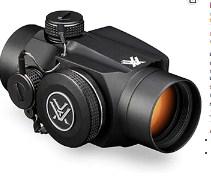 The pack of features and the reticle visibility themselves are worth the full price for the SPARC II. Because Vortex is already a cost-effective optic assessments brand giving the highest quality than any other brand.
One of SPARC II's main attractions is its compact and lightweight construction, so it fits even on the compact of shotguns. Yet, it is made of potent and rigid components with an aluminum body.
Moreover, the lenses are proven to have fog-proof Performance as the O-rings are filled with nitrogen. Whereas the anodized coating keeps the equipment waterproof.
SPARC II has the highest illuminating brightness of 10, which you can lower to save the battery for a long time. The Vortex SPARC 2 battery life is mind-blowing. Even in the scorching sunlight, the red dot acquires magnification quickly.
Its unlimited eye-relief makes it a flawless optic for robust and high recoil weaponries. The multi-coated Vortex lens provides high light transmission and provides durability to the lens to top it off.
The Vortex SPARC II RED DOT can be an excellent addition to your optic assessment collection.
Features of Vortex SPARC II RED DOT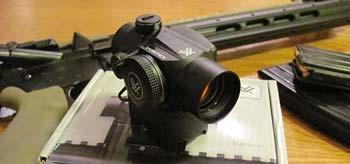 Basic Features and Specification points
Has unlimited eye-relief
Outside is coated with a matte black anodized finish, which makes the surface scratch-proof, abrasion-free and waterproof.
A strong aircraft-grade aluminum body that provides rugged construction prevents cracks or dents if it falls.
Highest battery life: 300 hours at maximum illumination, 500 hours at a minimum brightness. Moreover, there is a 12-hour auto shut off to save battery.
The lens is multi-coated, so it prevents glares, reflections, and halos when you are shooting around lights.
Adjustable brightness up to 10 settings with only two buttons. It is super simple to adjust the illumination with these two rear-facing power buttons.
Parallax free red dot means the reticles won't move when you move your head around and keep the sight on the target.
Technical Features points
It weighs only 5.9 ounces, which is lightweight and great for mounting on personal rifles that are not so heavy.
Travel per rotation 45 MOA means the shooter has 45 adjustment travel down from the center
Has 1 MOA adjustment graduation that means your gun can shoot 1" per 100 yards.
90 MOA max elevation adjustment, which is a key feature in mid-range scope with greater magnification.
90 MOA max windage adjustment will give 90 inch increment every 100 yards, and 900 inch increment at every 1000 yards.
Pros
Has sleek, lightweight, yet robust construction
The rubber armor is removable
Price is reasonable
Is waterproof, shockproof, and fog proof
Cons
Lens window is not the right size
What is Included in the Box?
In the box, you will get:
a AAA battery
T10 Torx wrench
Rubber cover with lens caps
Multi-height mounting equipment
Aimpoint Carbine Optic (ACO) Sight Review in 2022
When Aimpoint launched its first red dot back in 1975, it caught a considerable market instantly. Even though time has changed along with technology, Aimpoint is still renowned for making high-quality red dots globally, and one of its creations is the Carbine Optic Sight.
The ACO optic is the second budget-friendly launch of Aimpoint for beginners in the red dot. One can do all the exclusive shooting for basics or home shooting.
The ACO is made from anodized matte finish aluminum, which prevents abrasion on the surface. The optic lens is made similar to a professional red dot with prevention of any scratches.
The entire piece is made quite reliable and looks exceptionally skilled on a rifle. The controls and knobs are one-dial and placed entirely on the battery compartment. You can adjust the brightness level, turn it off and on only with one dial.
As for the brightness, the ACO has nine brightness settings, including an ultra-bright setting. However, it is not compatible with night visions. So, if you want daylight settings, then go for the ACO and hang onto its reliability.
As far as the battery life is concerned, the ACO will last up to 10,000 hours at seven light settings. If you are too much into accuracy and have not been satisfied with any optics' before, then try this once, and you won't regret it.
Features of Aimpoint Carbine Optic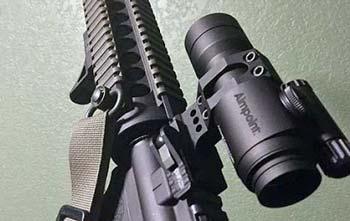 Basic Features and Specification points
Has nine brightness settings that provides brightest illumination at the highest two settings, and lowest brightness at the two lower settings.
Made from anodized aircraft grade aluminum alloy that will not only provide robustness, but will also protect it from the harsh environment. The anodized outer coating makes the surface scratch-resistant, and abrasion proof.
Optical coatings are anti-reflective and multi-layered, which means you can shoot around light without light blocking your target.
Has an expected battery life of 10,000 hours on settings 7. In setting 7, it will provide highest battery-saving, although the illumination will not be too high.
Technical Features points
The reticle is 2 MOA that means you can shoot a 2" group within 100 yards, and 4" group in 200 yards. 2 MOA will be a best choice if you do longer distance shooting.
Weighs 7.8 ounces and this amount of weight is pretty much bearable by bulky military rifles like AR-15.
The objective lens is 38 mm which makes it great for long range shooting as it will collect more light and give the target higher resolution
Target acquisition is ½ MOA that is known providing picture-perfect accuracy on the view.
Pros
Battery life is ACET
Comes assembled, ready to use
Has one extra brightness level along with 9
Made with rugged components
Is waterproof, shockproof, and fog proof
The red dot is crisp and clear, and easy to bring in sight.
Cons
Price is comparatively higher than the SPARC
It does not work on Night Vision
Aimpoint video review
What is Included in the Box?
Unboxing the box, you will find a compact instruction manual, battery, lens cloth, a battery, and an effective mount. However, this piece does not come with a lens cover. We highly recommend reading the manual before you start using it.
Product Comparison Between Them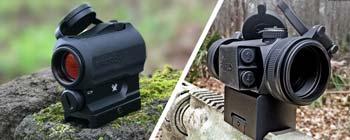 In the fight between Vortex vs. Aimport, as we have already come across each of their best manufactures, now let us look at the substantial differences between the two brands.
Here, we will know why they are different from every aspect despite serving the same purpose. Though both of them do not significantly differ in their features and specifications except for the price, knowing even the insignificant variable is also important.
Companies
In both the red dots, the price issue is concerned, and there is a massive difference between them. That is mainly due to their manufacturing companies. Vortex SPARC 2 is an American company, whereas AIMPOINT is a Swedish company.
Construction
Both Vortex and Aimpoint red dots are made from aluminum alloy. Those are not that fragile aluminum that dents in one go, but aircraft-grade aluminum that is used to make airplane components.
Nothing can dent or break the red dots if such metal is used in their construction. Moreover, the aluminum is coated with an anodized matte-black reflection-proof surface. It means the surface is corrosion, scratch, and waterproof.
Additionally, the coating adds an extra layer of protection from shocks, which means the coating absorbs the shock after a sudden fall. The brands have taken small details into attention regarding the building of their respective optic red dots and made them all-weather proof.
Accuracy
For accuracy, both have 2 minutes of angle dot. However, the Aimpoint has higher accuracy than the Sparc 2 with 1/2 minute of angle per click. Whereas the SPARC II has 1 minute of angle per click.
Brightness Control
The Vortex SPARC II RED DOT comes with ten adjustments of brightness, and they are quite compatible with night vision too. At the same time, the ACO has nine brightness settings and one optional on and off switch.
However, this model does not have night vision compatibility or IR choices.
Battery Life
In terms of battery life, nothing can beat the Aimpoint ACO. The battery it has is an ACET technology 3V lithium battery, which has 10,000 hours+ life on setting seven of brightness.
On the other hand, the SPARC II has a CR 2032 battery with 12 hours auto shut-off mainly to save battery power. But as an expectation, the SPARC II battery runs 300 hours on full brightness and 500 hours in dim illumination.
Is it Waterproof?
Fortunately, yes, both the red dots are purely water-resistant. The matte-black anodized coating plays a vital role in repelling water on the surface.
Any other good point
Another praiseworthy point is that they are fog-proof. The O-rings are purged with nitrogen that protects the lenses from environmental smoke. This prevents the view from blurring out and providing a clear and crisp view.
Overall Performance against price
If Performance is compared with the price, then there is no noticeable difference between both the red dots. The Aimpoint has commendable battery power compared to SPARC II.
So, if the battery is your concern, then you can go for it. On the other hand, both of the companies' brand image, along with brand performance, is excellent. So, if you have enough wealth to spend on a Swedish brand and show it off, then buy the Aimpoint.
Performance-wise, you won't regret it. The ACO also has good enough accuracy than VORTEX. If you are on a tight budget, then you go for the affordable Vortex SPARC II.
In terms of weather conditions and environment, Vortex has strong Performance and can be relied upon. To deal with the battery issue, you can always keep the brightness on dim unless it is not too necessary for bright light.
Also, the Vortex is night vision capable, which Aimpoint's ACO is not. The Sparc II is superb for beginners to get used to red dots because of its lightweight and compact construction.
Lastly, in terms of rigidity, aiming point, and brightness control, both of them have equal functionality.
The Warranty Issue
Vortex provides its customers lifetime warranty for the red dots. You can get any parts repaired or fixed whenever you want. Just call the number provided in the manual, they will sort everything out.
Moreover, Vortex covered this warranty worldwide through its channels of distributors and dealers serving each country. Whereas, warranty service for AIMPOINT is a little bit strict.
They provide two years of warranty for professional use and ten years of warranty for personal use. Also, the warranty agreement is only for the original owner of the red dot and not for to transferred owner.
And the warranty service must be taken by showing the original and valid purchase receipt of the red dot.
What Is The Difference Between Aimpoint Pro VS vortex strikefire?
The Aimpoint Pro is quite expensive compared to the Vortex Strikefire. However, it is very rigid and can handle any type of environment. Even when continuously turned on, Aimpoint Pro's battery life exists for massive 60,000+ hours.
The Vortex strikefire has brightness level settings up to 10 and can be used for night vision. With the lowest brightness level, its battery can run for 6000+ hours. It is water-resistant and shockproof and can withstand every hurdle of the environment.
Vortex Sparc AR vs Holosun
For the price and quality, both of them are quite good. However, the Holosun red dot has a whopping 50,000 hours of non-stop battery usage. You can use it for solar sights, IR, and LED technologies without breaking your bank account.
Whereas the Vortex Sparc AR has 12 hours of battery shut down to save battery usage. It is lightweight and compact for beginners to begin with. Yet, it is made of rigid aircraft-grade aluminum alloy.
Vortex Sparc vs. Spitfire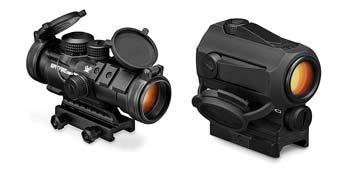 The Vortex Sparc has unlimited eye-relief and red dot, which is fast, accurate, and reliable. Moreover, its lens magnifies 2x for a clearer view. The integral mount is highly compatible with the weaver mounting system.
Spitfire re dot's battery life extends up to 250 hours on the highest brightness level and 3000 hours on the lowest brightness setting. The difference is significant. The weight can be too much for beginners, which is 11.2 ounces.
Frequently asked questions about Vortex Sparc and Aimpoint
Where is Vortex Sparc AR made?
Though the entire brand and company of Vortex is USA based, the products such as SPARC AR are made in China. This is to ensure lower labor cost so that they can pass it on to their customers.
Where are vortex red dots made?
The red dots and prism scopes are made in the Philippines, whereas the other parts are made in China. The Razor and Vapor binoculars of them are made in Japan, and the rest are made in China.
Maybe the lower labor cost is the reason they can provide these at an affordable price.
What battery does vortex Sparc use?
The Vortex Sparc uses an AAA battery, which can run for 10 level brightness setting. Where the lowest two settings are considered very low, which saves battery life significantly, it can also be used with night vision equipment.
Is the Vortex Strikefire 2 any good?
Vortex Strikefire 2 is a mind-blowing mid-range optic with excellent basics. Moreover, this model is cheaper and is widely available than any other model of Vortex. Talking about the flaw, it has a minor issue with the lens only.
Why is Aimpoint so expensive?
Aimpoint is exorbitant originally due to its high demand for providing accuracy. They are contracted with military forces around the world. So it is obvious that their accuracy will be top-notch. Therefore, customers trust Aimpoint for their accuracy.
Which Aimpoint should I buy?
For relying on daylight setting and greater accuracy, one should stick to Aimpoint Pro. We guess it is worth the extra money than other Aimpoint models. The rigidity and Performance are absolutely commendable.
Which Aimpoint does the military use?
For speed and accuracy, military enforcement highly relies on Aimpoint Pro. They prefer that model as their number 1 choice for the red dot. And Aimpoint, too does not compromise with the quality of its red dot optics.
Where are Aimpoint optics made?
Aimpoint makes and manufactures every component of its optics in Sweden only. Nothing comes from China or Japan. They intricately put details on their optics being beside them and not trusting anyone. Therefore, don't buy Aimpoint optics where packaging says made in China.
Conclusion
With our final words, we won't suggest any of the two because both of them are fantastic in the job they are made for. There can be a little bit of up and down with the optics, but what can bother buyers is the huge price difference. As a recommendation, we can say, if you are a learner, then you can start with a low-price optic such as Vortex SPARC AR, then later invest in a high-end one.
We hope our Vortex SPARC AR vs. Aimpoint review was fruitful enough to give you an idea about your next purchase of red dot.
Related Rifle Scope Topic