Nightforce ATACR 5-25×56 F1 vs Vortex Razor hd gen ii 4.5-27×56
Nightforce and Vortex both are giant scope designers in the industry for a long time. Nightforce and Vortex produce top-notch quality scopes for both professional shooters and hunters.
Comparing these two will take some time as it would require deep insights into various features. Here I will discuss every single feature they offer including reticle type, Locking system, Magnification level, eye relief, parallax settings so that you could easily understand the differences between both scopes.
IMAGE
NAME

& Details

DETAILS
NightForce ATACR 5-25x56mm F1

Internal Adjustments: Elev-89MOA/26 MIL, Wind-60MOA/18 MIL
Tube Diameter: 34mm
Eye Relief: 3.54 inch
Mounting Length (inches/mm): 6.3/160
Weight (ounce/gram): 30/850

Check Price

Vortex Optics Razor HD Gen II First Focal Plane

Item Dimensions (LxWxH): 9.1 x 9.1×9.1 inches
Item Weight: 0.38 Pounds
Material: Aluminum
Color: Black
Sport Type: Hunting

Check Price
Nightforce ATACR™ 5-25×56 F1 Riflescope Review 2022
The Nightforce ATACR Riflescope is incorporated with everything you would want in a high-quality scope. Its robust build, clear glass view, and crisp turret motion make it a thing to love.
This riflescope makes 1000+ yards shooting a breeze, so what else do you want? Moreover, you will find peace in using this riflescope at night with the presence of its light-gathering illuminating lights.
It has a mesmerizing waterproof feature to go along with your rainy-day adventures. Also, it can be your best companion during winters as it is fog-proof.
Overall this is one excellent riflescope to invest in. It is a feature-packed riflescope with its outer material being made with incredible shockproof technology. You can use it for years without severe dents and damages.
Optical Features of Nightforce ATACR™ 5-25×56
Reticle Type: The rifle scope has tremor three reticles with multiple options. You can use mils or Millar to track the hash lines.
Coating type: Coating type of scope is matte anodized aluminum, which prevents wearing and makes it weatherproof.
Second Focal Plane Reticle: This second focal plane reticle is useful for the highest magnification because this reticle does not magnify with the target.
Glass-Etched Reticle: Nightforce uses this premium feature in its scopes that is the most durable than other reticles. Glass-etched ones are highly reliable for the accuracy of viewing. You can depend on it for a laser-etched view.
F1 Focal Plane: This feature provides the fastest shots on target and follow-ups. You can pull distance on your targets by sizing them at any distance.
CONSTRUCTION FEATURES
Technology: This riflescope is incorporated with some top-end technologized features, such as high-speed turrets with 12 mils per turn and zero stop, which makes returning zero effortless.
Shockproof: The heavy-duty aluminum construction makes the scope shockproof from outer sufferings. The material absorbs the shock instead of damaging any component after falling suddenly or getting hit by anything.
Waterproof: The outer coating is made waterproof, which does not let water enter and damage the rifle's components. You can shoot in the rain too.
Fog proof: The glass lenses are fog proof, which means no kind of foggy mists can create an obstacle between you and your targets!
Tube Size: The tube diameter is measured at 34mm, and comes with a vast zooming adjustment from set 5 to 25. So, you can adjust it at your comfortable set mark. This, along with the 56 mm objective lens, makes an excellent recipe for vision clarity.
Matte Anodized Finish: The matte anodized finish not only contributes to the classy look of the scope but also makes it fade-resistance. The scope can survive every harsh weathering conditions.
Aircraft-Grade Aluminum: Such aluminum is used for making airplane components due to its robustness. So, you already know how much tensile strength this scope has! You can peacefully enjoy your adventure with this durably high-performing riflescope.
Single-Piece Tube: The one-piece focal tube provides high-resolution viewing with its zooming knob. According to your convenience, you can turn the knob and set the mark within 5-25 unless you don't get your target's preferred clarity.
Turret adjustments: One of the remarkable features of this riflescope is its adjustment to the turrets and the marked half. You can see your half mil increments in the four hash lines.
Starting from 0.5, 1, 1.5, and so on. Since it is 12 miles per turn turret, so the adjustment is till 12.
CONVENIENCE FEATURES
Fast Focus Eyepiece: This feature serves by allowing rapid focus adjustment. The eyepieces are made of fog-proof and durable glass that helps clear viewing even during foggy days.
Throw Lever: The throw lever enables 5X magnification to your target. It is also made from anodized aircraft-grade aluminum for durable, abrasion-proof, and weatherproof performance.
Illumination: With the illumination feature, you can change the reticle's red and green illumination. The green one is much softer on the eyes, yet you can focus your target.
Pros:
Feature-rich rifle scope
Weatherproof
Has durable construction
Can be reset to zero
Has high magnification for long-distance shooting
Cons:
It is a bit heavyweight
It is very pricey
Source: nightforceoptics
Vortex razor hd gen ii 4.5 27×56 Review 2022
Vortex Razor HD Gen, a first focal plane riflescope with state of the art specifications has become a favourite for long range shooters. With it's mid range pricing of 1699 to 2499 USD, Vortex is giving other market competitors a run for their money.
This scope is waterproof, fogproof and shockproof meaning it can be operated in any conditions. It has features like integrated locks which stops accidental maladjustment.
It also comes with an L-Tec Tool within the package, which is used for precise adjustments. Moreover, the multi coating facility will provide a top-notch longevity and durability.
All products of Vortex come with a lifetime guarantee. It means at any point of its usage, a customer can send back a Vortex scope to its factory to repair and oftentimes this brand replaces a former product with a new product if the damage is too critical.
No wonder, though a young company, Vortex has thrived and became a favourite in the market due to its relationship with their customers.
Optical Features:
Reticle Type: It is a EBR-2C MOA reticle that has 11 illumination intensities meaning it has such precise crosshair that it would be a child's play for any shooter to target even if the target is 1500 yards away.
The lower part of the reticle comes with drop lines and windage indicators meaning how far right or how far left the projectile will strike.
Coating Type: The lenses have multi coated with XR plus anti reflective coating meaning it cuts glare that reflects off lenses allowing more light to enter the shooter's eyes giving more sharper and clearer vision.
Second Focal Plane Reticle : Second focal plane reticle means the reticle or the crosshair is placed behind the magnifying glass. Hence, the size of the crosshair remains the same even if the size of magnifying glass changes. It just means the shooter can target any object very easily.
Glass Etched Reticle : The glass etched EBR-2C MOA reticle has 11 illumination intensity and ensures subtensions stay accurate.
Construction Features: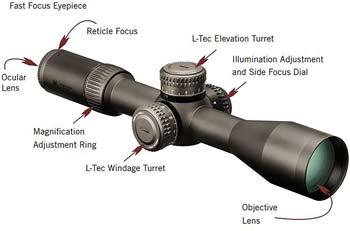 Tube Size: It has a 30 mm diameter tube size. This offers the machine to be adjusted on any rifle of any size and weight.
Single Piece Tube: It waterproofs the gadget and augments the alignment for enhanced accuracy and excellent optics performance.
Aircraft Grade Aluminum: Aircraft grade aluminum is used to build the gadget for strength and rigidity. Therefore, it will stay the same for decades.
Waterproof: O ring seals are integrated to ensure no air, gas, liquid can pass. They are designed to resist pressure and this is what prevents air or liquid from escaping or entering hence waterproofing the gadget.
Fogproof: Flush of Argon gas resists fogging from inside since the gadget can be adjusted to different temperatures.
Shockproof: Since it is made from aircraft grade aluminum, a material that can endure recoil and impact.
Armor Trek: Arduous, scratch resistant coating protects outermost lenses from scratches, oil and dirt.
L- Tec Turrets: Incorporated locking mechanism prevents accidental adjustments. A turret, in this model, there are three turrets, used to make necessary adjustments to zero in an optic.
External Rotation Indicator: It provides a quick visual and the gadget can be manually elevated adjusting turret's rotational position.
Locking Illumination: Locks illumination at preferred setting.
Side Focus: Left side turret can be easily adjustable in any shooting position which helps to zero in a target.
Convenience Feature:
Fast Focus Eyepiece: Reticle can be focused quickly and easily.
L- Tec Tool: An added tool that comes with the package used for precise adjustment used for turret.
Locking- Side Illumination: Left side turret that is easily accessible in any shooting position. It features 11 intensity levels of illumination with off positions between each setting.
Reasonable price than other brands in the market.
Lifetime Warranty
Stiff Locking Turrets
The dials are large and easy to use.
Scope can easily zero in 1500 yards away.
The gadget is very big and heavy in size and weight.
Sometimes L-Tec tools can be cracked.
Source: vortexoptics
Nightforce warranty vs Vortex warranty
Nightforce and Vortex both give lifetime limited warranty to their users. If your scope gets damaged or defective, you can repair or replace it ( in some cases) for free without any questions asked.
The main difference in warranty between Nightforce and Vortex is, Nightforce offers a transferable warranty, and Vortex doesn't.
It simply means if you sell your Nightforce scope in the future, then the buyer will also get the warranty, whereas Vortex doesn't have a transferable warranty policy.
Nightforce Atacr 1-8 vs vortex razor
I get lots of questions about choosing scopes between Nightforce ATACR 1-8 vs Vortex Razor 1-10. Well, it's a callous question to answer simply.
If you're looking for a better eye box, then you might like to go with a Vortex Razor as it provides a better view and bright crosshair compared to the Nightforce.
When you're looking for a lightweight scope, you would love to use Nightforce ATACR 1-8. Nightforce ATACR is less heavy than the Vortex ones. SO, there are different features to look into while choosing the right scope for your comfort and convenience.
Nightforce Nxs Vs Vortex razor
Nightforce Nxs is an SFP scope meaning it is a second focal plane scope. On the other hand, the Vortex razor is an FFP or First Focal Plane. Usually, the First focal plane's reticles change while changing the magnification.
But the Second focal plane doesn't change the reticle. The regular hunters usually choose SFP over the FFP for its quick magnification adjustment without changing the reticle focus.
So, the Nightforce Nxs is quite ahead in regards to this fact. However, you can also find the Vortex razor convenient while you're shooting short distances as it requires no significant magnification.
Optics Buying guide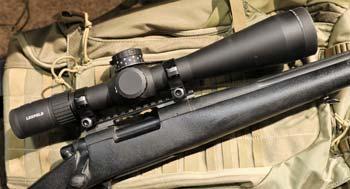 Buying optics for your desired task might seem a little tricky. Here is a short & sharp optics buying guide for you.
Magnification Level
Magnification level is the first thing to consider while buying optics. If you hunt at a larger distance, you need higher magnification, such as 8X to 12X. If you like to shoot in a mid-range or lower range, then a 4X to 6X scope will do.
Objective Lens
The objective lens produces the object image to the next lenses. So, it's essential to look out this lens. The wider objective lens gives more lights and a wider view of the object.
Reticles
The aiming circle of the scope simply refers to reticles. It is also called crosshair as it looks like 2 hairs are crossing each other.
There are different shapes of reticles, such as Dot Reticle, BDC Reticle, Illuminated Reticle, Non-Illuminated Reticle, and so on. Choose between which one seems comfortable to your eyes.
Eye relief
Eye relief is the distance between your eyes and the eyepiece. Guns punch back toward the face after you pull the trigger. It's important to keep a certain distance of your face from the scope to avoid injuries. Make sure your scope's eye relief is survivable with your gun's recoil.
Fog-proof and Waterproof
Make sure you're buying a scope with fog-proof and waterproof features so that you can hunt in a foggy morning too. Maximum of the scope manufacturer offers such features.
Weight
Weight is a great factor while buying scopes. A lightweight scope helps to carry easily and shoot swiftly. On the other hand, heavier scopes eliminate wind comparatively on a large scale. So, you can choose one according to your usage.
Source: opticstalk
What is the best Nightforce scope?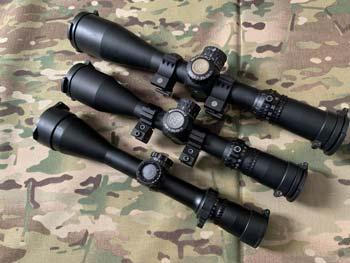 Best Nightforce Scopes
Aero M5E1 (Bottom, S&B 5-25x) with DPMS LR-308 (Top, Nightforce 2.5-10x)

Nightforce NXS

2.5-10.

Nightforce NXS

2.5-10x, Camo Painted.

MOAR Reticle.

Nightforce NXS

5.5-22.

MIL-R Reticle.

Larue LT-104.

·
About vortex optics company
Vortex is an outstanding optics producing company. It is based in Wisconsin, USA. Daniel Hamilton and Margie Hamilton founded the company in 2002.
It produces top-notch optics for sports, hunting, and law enforcement. All the products are designed with advanced technology and ensure maximum durability. Moreover, they think that the customer is king and therefore very conscious about customer satisfaction.
Source: https://vortexoptics.com/
Vortex scopes
Vortex is an emerging star in the scope industry. It produces scopes with the first focal plane that are very much convenient for shooting short-range targets. The lightweight feature is also something unique that attracts the shooter to choose it.
All the vortex scopes are fog proof so that you can efficiently hit the chamber even in the foggy morning. Besides, the aircraft-grade aluminum ensures maximum durability for more extended uses. Moreover, you will get a lifetime warranty for every vortex scopes.
Frequently Asked Questions
Is the Vortex Razor worth it?
Vortex Razor is worth every single penny. Its features are perfect to meet your hunting goal. For accurate and precision shooting, its 3- 18X50 rifle scope is best for you.
It provides you a locking mechanism that prevents accidental maladjustment. It offers you magnification versatility with a 6X zoom range.
Who makes Nightforce glass?
Nightforce Optics is a US-based company that produces rifle and spotting scopes and optical accessories. In terms of glasses for the lenses, Nightforce Optics doesn't make or manufacture its glass.
Nightforce Optics has a relationship with a Japanese company that produces Nightforce glasses for the lenses in each Nightforce scope.
Where are Vortex razor spotting scopes made?
Vortex headquarters is in Wisconsin state, USA. But they manufacture most of the products, including razor spotting scopes, in other countries for cost-effective production.
They currently manufacture from Japan, China, and Philippines. However, all the products ensured maximum quality.
Are Vortex optics made in China?
Vortex Optics is a US-based manufacturing company for optics equipment where half of the products are produced in Chinese companies. Japanese experts manage and examine product quality in all categories.
Chinese manufactured products are Vortex Copperhead, Crossfire and Crossfire II, Strike Eagle, Diamondback scopes, and Diamondback Tactical rifle scopes.
What is a good spotting scope for 1000 yards?
1. Celestron Ultima 80 Angled Spotting Scope 2. Celestron 52268 C90 Mak Spotting Scope 3. BARSKA AD12164 Blackhawk 25-75×100 Spotting Scope 4.
Nikon Prostaff 5 Proscope 20-60x82mm Angled Spotting Scope 5. Vanguard Endeavor HD 82A Angled Spotting Scope 6. Nikon Prostaff 5 Proscope 20-60x82mm Angled Spotting Scope.
How far can you see with a 20 60×60 spotting scope?
A spotting scope with 20 60X60 magnitudes is perfect for 100 yards. It can zoom from 20X to 60X magnification. And the last number defines the size of the lens.
Is angled or straight spotting scope better?
Both spotting scopes are good. Angular one is comfortable for observation for a long period. While viewing from the top, an angular one is preferable.
Do you really need a spotting scope?
A spotting scope is needed for bird viewing, hunting, surveillance, and to see distant objects. Specifically, when you want more magnification than binocular, you need a spotting scope.
For more wide open and long-distance shots, spotting scope is best.
Conclusion
As we can see, both Vortex and NIghtforce have their own features on their scopes. After getting through this Vortex Razor HD gen ii 4.5-27×56 vs Nightforce review, I am sure that you have had your answers you're looking for. If you still have any queries, don't hesitate to ask me in the comment box.
Related Rifle Scope Topic: