Aimpoint aco vs pro: Whats the difference between Aimpoint PRO & ACO?
If you are confused about choosing between Aimpoint aco vs pro, then you are at the right place to know about them. ACO and Pro are both top-notch red dot scope from Aimpoint. Hence they have differences according to features and uses.
Main Differences Between Aimpoint ACO & Aimpoint Pro

The Aimpoint Pro ones are designed by focusing on different military and police forces, whereas the Aimpoint ACO ones are made by concentrating on civilians and sportsmen. The Pro is highly-priced compared to the ACO scopes.
For ACO's budget-friendly price, it is the first choice for general shooters and hobbyists. The battery life of an Aimpoint Pro is a heads up for the Pro shooters. It has 30000 hours battery life so that you don't have to worry about the battery for at least 3 years.
On the contrary, the ACO has only 10000-hour battery life. Hence, it's alright if you're willing to pay for a new battery every year. The Aimpoint Pro comes with night vision compatibility, whereas ACO doesn't have such a feature.
Besides, ACO doesn't have any built-in cover for the lens. Hence, the Pro provides ultra safety to the lens with an outstanding flip cover. However, ACO is lighter than the Pro ones.
The ACO is only 190 grams, whereas the Pro weighs 220 grams. It's also a good reason for civilians to choose the ACO over Pro. In this article, I am going to talk about two red dots from the same brand- Aimpoint.
All of us already know how Aimpoint delivers high-end top-quality red dot optics for real-world situations. And have maintained optics quality ever since 1974 for different ranges of shooting.
I am going to have a broad discussion about Aimpoint aco vs pro, where one is made for professional shooting and the other is for civilian shooting.
Comparison Table
Let's look at the difference between Aimpoint pro and aco at a glance.
| | | |
| --- | --- | --- |
| | Aimpoint ACO | Aimpoint PRO |
| Image | | |
| Magnification | 1x | 1x |
| Battery life | 10,000 hours | 30,000 hours |
| Night vision | No | Yes |
| Weight | 190 grams | 220 grams |
| Lens cover type | N/A | Flip covers |
| Material | Aluminum | Aluminum |
| Reticle | 2 MOA | 2 MOA |
| | Check Price | Check Price |
Aimpoint Carbine Optic (ACO) review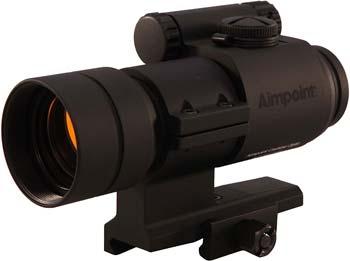 Let us get to know one of the most cost-effective red dot in the aimpoint aco review! If you are looking for an optic for a sporting rifle, then Aimpoint ACO will serve you within budget.
Incorporated with a bunch of high-class features, this red-dot optic is perfect for shooters at the beginning of their career. With its unique nine-level brightness setting and 2 MOA reticle, you can comfortably aim your target in ideal lighting.
There is the tenth level of brightness for those extremely low-light condition shooting. The impressive lithium-ion battery runs for 10,000+ hours on the seventh brightness level.
Also, the lens being multicoated prevents glaring and reflection. Moreover, the optic already comes ready to mount without any need for assembling. Even if it has entry-level pricing, Aimpoint has left no stone unturned to make it strong.
Made from aircraft-grade aluminum, the Aimpoint aco provides much rigidity and professionalism to any rifle. Simultaneously, the matte grey anti-reflective finish provides a scratch-free and waterproof adaptability on the optic.
The alloy sight tube is 30 mm made to fit AR-15 rifles with a wide array of accessories available. A fixed mount already comes with the box with other things to help with direct mounting on rifles.
Lastly, make sure you change the battery every year because the DL1 battery has only one year.
Optical Features
Reticle Type: 2 MOA reticle in a 38 mm diameter objective lens helps acquire aim more easily and precisely for beginners. This amount of MOA is great for shooting within 100-200 yards for being small.
Lens Coating Type: The lens of this optic is multi coated for serving you with an anti-glaring view. So that you can aim at your target without any obstacle.
Construction Features
Tube Size: ACO has a tube that is 30 mm in length. The tube is made from aluminum alloy and is rigidly paired with a fixed height mount.
Aircraft Grade Aluminum: Aimpoint uses aircraft-grade aluminum to construct its optic body, so this model is no exception. This provides solidity and ruggedness to the optic for long-term use.
Waterproof: The ACO is 1 mm, completely waterproof. Moreover, the outer matt-black covering is scratch-proof and prevents water from staying on the surface.
Shockproof: Since the entire piece is made from premium aluminum alloy, it makes the optic shockproof. An accidental fall cannot dent or break the optic's components.
External Rotation Indicator: Rotating indicator is situated just adjacent to the battery, which rotates with ½ MOA per click for brightness setting. Therefore, returning to zero with ACO is far more comfortable.
Locking Illumination: ACO has nine different brightness settings for low to poor light conditions. Plus, it has one extra setting for users' convenience.
Battery: ACO uses a single DL1/ 3N battery, which provides 1-year usage. Even on a level seven brightness setting, its battery will last up to 10,000 hours.
Technical specifications
Objective lens diameter: 38mm
Reticle 2 MOA
Battery life: 10,000 hours
Magnification: 1x
Optic lens: multicoated
Weighs: 7.8 ounces
Pros
Great optic on a budget
Works with a 3-volt battery
Perfect reticle for medium to long-range shooting
Mounting is effortless
Cons
Not for professional use
It does not have a fog-proof feature
What is Included in the Box?
Inside the Aimpoint ACO box, let us see what you'll get after unboxing:
A short instruction manual booklet
A mount
Battery
Lens cleaning cloth
Pair of lens covers
To Who ACO Is Designed For?
In simple words, Aimpoint has designed its ACO model thinking about all the civilian shooters. It is an excellent piece of starter optic wrapped within a competitive price.
The features are pretty basic but well-worth for beginners to shoot. So, if you are a learner and looking for a top-notch optic within a limited price range for sports shooting, or basic home defense, then the ACO will be the right purchase.
Aimpoint Pro Review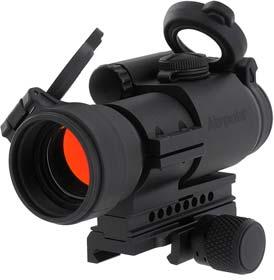 About the product Aimpoint Patrol Rifle Optic (PRO)
Now, this PRO version is actually for the pro-level shooters. With its high-quality construction with generous amounts of features, this optic is perfect for law enforcement and military use.
No matter what you do with it, it won't leave your company just like this. The very accurate 2 MOA reticle within the 38 mm diameter objective lens will help you with the high-range shooting.
PRO comes with a 2L76 battery that lasts for 30,000 hours straight. That defines the aimpoint patrol rifle optic battery lasts more than three years. On the other hand, this optic's brightness level settings tell there are 6 for daytime brightness and 4 for night lights.
With the perfect level of setting for your eyes, you can view crisper and accurately. The anti-reflective optic lens is multi coated for providing 1x magnification without light distortion.
The lens is protected with aluminum housing to prevent it from scratches, dirt, and dust accumulations. The PRO does not need any centering of the reticle as it is parallax-free with unlimited eye-relief.
Not to mention, the hard-anodized aluminum construction is sophisticatedly done to prevent the optic from shock, breakage, or damage by any means. The best part is that the PRO is 45 m waterproof, which is quite unusual for any optic!
Optical Features
Reticle Type: 2 MOA red dot size, which is a perfect aim in long-range shooting with 1x magnification for accuracy. Professionals can ace with this reticle on distant targets.
Coating Type: Has black-matter anodized finish coating that prevents scratches and dents after falling. The coating is anti-reflective too.
Lens: Optical lens is multi coated for aiming accurately in glaring daylights. The lens is protected with aluminum housing that prevents dirt build-up and scratches.
Construction Features
Aircraft Grade Aluminum: Aimpoint uses aircraft-grade aluminum to construct its optic body, so PRO is no exception. This provides solidity and ruggedness to the optic for long-term use.
Waterproof: Aimpoint PRO is highly submersible with its 45m/ 150 feet water-resistance. Moreover, the components made of aluminum alloy won't rust in many years if water contacts.
Shockproof: The entire optic is shockproof for being made of great shock bearable aluminum. None of the components will move from their place as they are hand-fitted meticulously.
External Rotation Indicator: The rotation indicator is placed near the battery tube with 0.5 MOA clicks per turn. There are indicators for windage and elevation and brightness level settings.
Locking Illumination: PRO has a ten wide range of illumination settings. Six are for daylight, and the rest 4 are for night vision for crisp and clear vision at any light condition.
Technical specifications
Magnification: 1x
2 MOA reticle dot
Waterproof submersible till 45 m
Battery is 3v lithium
10 levels of brightness settings
Made from high strength aluminum
Pros
Is night vision compatible
Battery life is more than three years
Very rugged and rigid in construction
The lens is highly protected with aluminum housing
Extremely waterproof
Cons
What is Included in the Box?
Unboxing the Aimpoint PRO, you will find a:
2L76 or DL1/3N battery
Flip caps for lens
Lens cleaning cloth
A manual guide
Mounting rail
To Who PRO Is Designed For?
The Aimpoint PRO optic is designed intricately for law enforcement and military usage with Aimpoint pro night vision. This optic has everything for you starting from the high battery life, durability, water-repellency and aiming reliability.
So, if you are a professional shooter who wants to invest in a high-end red dot optic, then Aimpoint PRO will be a worthy investment.
Product Comparison between Aimpoint aco vs pro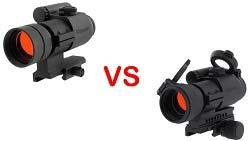 Let us look at a detailed comparison between Aimpoint aco vs pro.
Construction
ACO & PRO both are made from 100% ruggedized aircraft-grade aluminum alloy that provides long-term solidity. The components inside are hand-fitted so that nothing can move them from the place and make them shockproof.
However, aimpoint pro durability is highly considered and emphasized upon than ACO.
Accuracy: Both have 2 MOA red dot circles with 1x magnification for crisp and reliable accuracy. Plus, you can easily adjust their brightness level to reach your desired visibility. The lenses of them are multi coated for preventing reflection on your sight.
Brightness Control: Though both have the same ten settings for brightness, ACO only has that for daylight control. On the other hand, PRO has 6 for daylight brightness and 4 for night vision.
Night Vision Compatibility: ACO is not night vision compatible as out of its 10 level brightness setting; none of them are for night vision. Whereas PRO has four settings for night vision, hence it is night vision compatible.
Battery Life: ACO and PRO both use 3V lithium batteries and different models for which their life varies. ACO's battery lasts for 10,000 hours on the seventh brightness setting, which is equivalent to 1 year. And, PRO's battery lasts for 30,000 hours, that is, more than three years.
Is it Waterproof: Yes, they are waterproof. However, the PRO has high water resistance up to 45 meters/ 150 feet. But, PRO is a 1-meter water submersible. Either way, both own the feature.
Reticles: Both have the same simple and small 2 MOA reticle, which allows faster and accurate target acquisition. You can aim up to 500 yards with both of them, considering how perfect you are at aiming.
Windage and Elevation Adjustments: Aimpoint PRO and ACO has 100 meters of windage and elevation adjustment, which means they both are the same for serving distant/ long-range shooting accuracy.
Eye Relief: You can expect high target accuracy if your eye-position is not in place, with Aimpoint PRO and ACO's unlimited eye relief.
Field of View
Mount Type: Both have low-profile Picatinny rail mounting type. Just unbox and mount with the rail that is included inside without any hassle.
Overall Performance against price: For the overall performance compared to the price, both the optics are superior. If the PRO is charging a higher price, it has a certain eminent feature than the ACO.
Moreover, the ACO came later in the market to satisfy the needs of amateur shooters who are always looking for some cost-effective yet feature-packed optic.
Some features are sacrificed in ACO to provide you at low prices, such as battery life, night vision compatibility, and waterproof capability. So, from the price point, both are serving what you are paying for.
If you want to buy more defined features, you will have to pay higher. However, both optics' performance is crisp in terms of accuracy and durability, which is very important for optics.
The Warranty Issue: For warranty, Aimpoint provides 2 years of professional and ten years of personal use of any Aimpoint optics from the purchase date.
However, warranty service is avoided if you intentionally harm the product or steal or fully break it. Also, Aimpoint only serves their authorized clients for the optics.
What do the Aimpoint PRO and ACO have in common?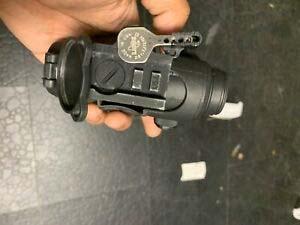 Even though you have already seen the differences between these optics in a broader perspective, now let us look at slight standard features in them.
Firstly, both are made of hard and durable aircraft-grade aluminum to ruggedness and made waterproof with a multi-coated lens. The reticle also serves 2 MOA red dot, which is a perfect size for precise and accurate shooting.
Aimpoint pro
Aimpoint PRO is a reliable, feature-packed quality optic for high range shooting. The night vision for Aimpoint pro is compatible with four different settings. And six different settings of daylight settings for maximum accuracy.
Its battery can last for more than three years. You can use it freely in any weather condition because it is made from rugged and waterproof material and has perfect lens protection.
Aimpoint Pro review
Aimpoint pro red dot optic is a superiorly rugged optic for staying a brand new in any weather condition. Though it is specifically made for military use, anyone who has a nag for high-quality optic can buy this. It will give you ultimate precision over your aim.
The Aimpoint pro battery life is quite worthy. And, its 10-level illumination setting is night compatible too.
Aimpoint t2
It is another proven optic from Aimpoint. It is known for its extreme durability, highest battery life, and night vision compatibility. You can adjust its brightness in multiple illumination settings for visibility in an array of light conditions.
Its battery has 50,000 hours of usage. However, it is probably one of the priciest Aimpoint optics, which is a whopping 782 bucks. Price can vary slightly on different websites with or without discounts.
Aimpoint Pro vs. Trijicon MRO
These both are similar in a way that they are ruggedized, highly waterproof, and have more significant target acquisition. MRO is meant for mounting on handguns/ shotguns/ rifles to provide an even faster target than PRO.
Moreover, the battery life of MRO is meant to last for more than 5 years for 50,000 hours. Whereas, for PRO, it is 3 years for 30,000 hours. Aimpoint battery life is below trijicon MRO.
Aimpoint pro price
Aimpoint pro price can be a drawback for most shooters who are on a budget. Because they cost more than 500 bucks, varying differently on different websites. You can get the best price on Aimpoint pro at discount occasionally if you search the internet.
However, it costs $560 dollars on Optic Planets. You can get a 5% discount for some coupon code. Once you buy it, every penny will be worth it.
Aimpoint Pro vs t2
The Aimpoint t2 is the big brother of Aimpoint pro. Where PRO has battery life for 30,000 hours, t2 has for 50,000 hours. The T2 brightness level setting has more options than PRO.
However, both of them are night-vision compatible. They are made from the same rugged materials to withstand all weather recoils.
Aimpoint Pro vs comp m4
The significant difference between these two is m4 is way heavier and bulkier than the Aimpoint pro. Therefore, m4 is way more durable than Aimpoint pro. Moreover, m4 has 8 years of battery life, where pro has 3 years.
M4 has 7 daylight settings, and pro has 6. However, both have 4 settings of night vision. Apart from these, pro is cheaper than comp m4. In fact, m4 costs double than comp m4.
Aimpoint pro mount
Aimpoint pro mount is with simple Picatinny rails. The Aimpoint pro mount already comes inside the box, so you don't have to buy it separately. The optic comes mount ready without the need for assembling.
To be precise, you have to mount the optic on the tube via QRP2 mount for M1913 Picatinny rails. And need a spacer for the AR15/ M4 carbine.
FAQ
Is Aimpoint Pro worth the money?
If you want to buy a military-level optic for professional use, then the Aimpoint Pro is absolutely worth the money. It will provide you with the perfect light source and settings with distortion-free aiming in 1x magnification. Moreover, its high battery life is a bonus.
What's better, EOTech or Aimpoint?
For immediate mounting and use, Aimpoint is the better option where EOTech needs some assembling. Moreover, the reticle options are confusing with EOTech too. So, for beginners, Aimpoint can be good to start with.
Are Aimpoint scopes good?
Just like Aimpoint has a fame for making high-quality optics, their scopes are no less. The scopes are too reliable with high battery life.
What is the best Aimpoint?
Each of Aimpoints optics is made for specific purposes, so they serve excellently for their own. Such as, for military use PRO is best; for an affordable option, ACO is the best.
Why is Aimpoint so expensive?
Since all the Aimpoint components are made with high-quality materials, high production cost leads to a higher price. Aimpoint always believes in providing quality rather than capturing the market at a low price. However, you can find the Aimpoint pro best price on Amazon.
Which Aimpoint does the military use?
For military use, Aimpoint patrol red dot sight is the best. This model is solely made to serve the enforcement professionals with high light adaptability and battery.
Where are Aimpoint optics made?
Aimpoint optics are made and manufactured in Sweden from the birthplace of the brand. So do not go for packaging that is made in China, and refrain from buying fake Aimpoints at a low price.
Where is the Aimpoint PRO made?
Since Aimpoint is a Swedish brand, all of its production and manufacturing plants are located in Sweden. Hence, Aimpoint PRO is also made there.
Which Aimpoint should I buy?
The Aimpoint model you want to buy depends on your needs. If you are an amateur shooter, buy the Aimpoint carbine optic (ACO) within a limited budget. If you are looking for a professional optic, then buy the Aimpoint patrol rifle red-dot sight (PRO).
Conclusion
My ending words will not be one-sided for a single optic, but I will say you choose your one according to your requirement of shooting.
With only 60 bucks lesser in price, the Aimpoint ACO battery life and brightness setting are falling behind Aimpoint PROS'. But, other features like durability, reticle sight, and magnification are the same.
If you are on a strict budget limitation, buying ACO won't make you regret it too! However, if budget is not an issue, then Aimpoint PRO will be the best buy of optics for any purpose!
Related Rifle Scope Topic