Vortex Strike Eagle Vs Burris MTAC : Head To Head Comparison
Vortex Strike Eagle and Burris MTAC are two of the finest scopes considering their modern features. But it is also evident that finding out a better scope between Vortex Strike Eagle and Burris MTAC can be very tough.
Read Burris Xtreme Tactical Rings Review
Hence, despite their widespread popularity among shooters when it comes to purchasing the better one for yourself, there are always a few factors that play the distinguishing role.
Whereas Vortex Strike Eagle is produced mainly focusing on its short-range shooting ability, on the other hand, Burris MTAC is manufactured emphasizing on the long-range shooting & also for close combat, military usage, 3 gun competition etc. Hence, they vary from each other in so many technical aspects. 
Burris MTAC 1-4x Vs Vortex Strike Eagle Comparison Chart
| | | |
| --- | --- | --- |
| Entity | Burris  | Vortex |
| Image | | |
| Design | Hunting,3 gun competition shooting, close combat, military & law enforcement usage  | Flag model, hunting, tactical shooting etc. |
| Body Material | High-quality Aluminium Alloy | High-quality Aluminium Alloy |
| Magnification | 1-4x | 1-6x |
| Eye Relief | 4" | 3.5" |
| Turret Style | Capped Tactical | Capped |
| Field Of View | 100–32 feet/100 yards | 116.5-19.2 feet/100 yards |
| Parallax Setting | None | 100 |
| Reticle | Ballistic CQ | BDRC3 |
| Brightness Setting | 10 | 11 |
| Elevation & Windage | 130 MOA  | 140 MOA |
| Length & Weight | 11.3 inches & 14.5 oz | 10.5 inches & 17.6 oz |
| Tube Size | 30mm | 30mm |
| Waterproof, Fog Resistant, Shockproof | Yes | Yes |
| Price | Check Price | Check Price |
Considering all the differences it can easily be said that in so many distinguishing factors Vortex Strike Eagle seems a better option than Burris MTAC.
Regarding the features and considerable price range Strike Eagle is quite a bit ahead of Burris MTAC.  So, In the comparison race of Vortex Strike Eagle vs Burris MTAC, it is quite visible that Strike Eagle comes out as the winner here. 
They have got dissimilarities in design & body, variant magnification, different reticles and illumination, the difference in cost etc.
Both of these scopes sing a different tune while using. It depends on your requirements and their ability to meet your needs which may make one of the better for you.
Therefore a detailed comparison between these two scopes can be very helpful and essential. Here goes a complete comparison of Vortex Strike Eagle vs Burris MTAC including their reviews with proper specifications to help you in finding the best riflescope.
Vortex Strike Eagle Review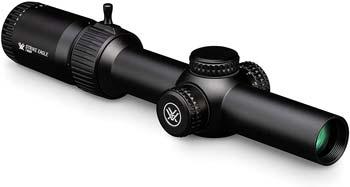 If you have got a pair of sharp shooter's eyes or wanting to attain it, then you should probably know how much of a good scope vortex strike eagle is.
In the world of scope, despite being relatively new in the market vortex has earned its name quite deservingly. 
Vortex Strike Eagle is a flag model under the brand's name in the market. Strike Eagle is quite amazing compared to others because of its versatilities and speed.
A true 1x setting on the low end allows the shooters to get a quicker engagement at the targets from point-blank to a distant range.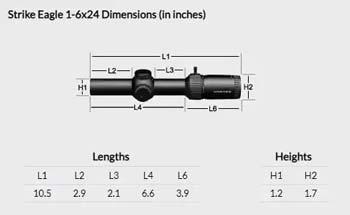 The magnification ring has a newly included thread-in throw lever. Besides, now the shooter can see the magnification indicators without coming off the scope.
With the installation of a throw lever, fast & easy magnification adjustments can be done as well. The scope is available with a second focal plane reticle that maintains the appearance at the same ideal size.
It is also used for holdover, evaluating range, accurate wind drift correction at the highest magnification.
Vortex strike eagle 1 6×24 reticle has a glass-etched reticle that allows intricate reticle design and is protected between two layers of glass for better durability and reliability.
The reticle is illuminated while having 11 power options. The newest AR-BDC reticle allows the scope to be ranged the targets out to 650 yards.
The Reticle was primarily designed around the 5.56 (loads) cartridge. The scope also provides flip-up covers of lenses from the factory. The fast-focus eyepiece helps with a quicker & easier reticle focusing.    
It has fully multi-coated optics along with multiple anti-reflective coatings on its surface. Such coating increases the transmission of light through the scope.
With an ultra-hard and scratch-resistant coating, the exterior lenses of the scope get protected from dirt, oil and accidental scratches. The scope tube is 30mm in diameter. It gives the maximum internal adjustment and strength to the scope.
Its corrosion and wear-resistant Matte Anodized finish provides low glare on the surface and helps with camouflaging the shooter's position.
The scope's main body is originally constructed from solid aircraft-grade aluminium. Hence, it is a very strong and rigid structured riflescope. For being a single-piece tube it gives improved accuracy and optimum visual performances.  
It is designed as a waterproof scope while meeting the IPX7 design standards. Its rugged structure makes it a shockproof device. The purged nitrogen gas and the O-ring sealed system prevents internal fogging and allows it to perform finely even in extreme weather conditions.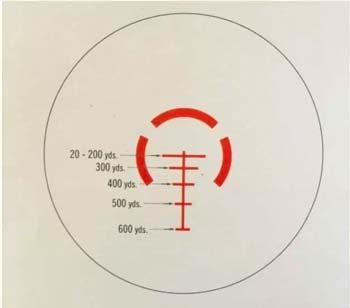 Specification
It has got a magnification of 1-6x.
The objective lens diameter of the scope is 24mm.
The eye relief is about 3.5".
Field Of View for Strike Eagle is 116.5-19.2 ft (100yards)
The scope tube size is 30mm. 
Its turret style is Low Capped.
The adjustment graduation for the scope is ½ MOA. 
Travel per rotation is 44MOA.
Maximum elevation adjustment is 140 MOA.
Maximum windage adjustment is 140 MOA.
The parallax setting is fixed at 100 yards.
Length is about 10.5 inches & it weighs about 18.5 oz. 
Features of Vortex Strike Eagle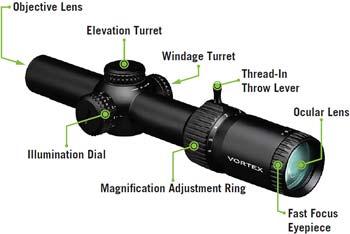 Fully Multi-coated: Strike Eagle is fully multi-coated with an anti-reflective coating on all of its surfaces from air to glass. Such coating increases light transmission. 
Size Of Scope Tube: The scope comes with a scope tube of 30mm in diameter. It allows the maximum internal adjustment of the scope.  
Aircraft-Grade Material: The main body of Strike eagle is very solid, rigid and strong in structure. It is constructed from aircraft-grade aluminium. 
Second Focal Plane Reticle: Strike Eagle is now available in the market with the newest of Vortex's update. It has a Second Focal Plane (SFP) reticle and using the AR-BDC3 reticle the target range has been evaluated up to 600 yards. 
Fast Focus Eyepiece: For having the fast-focus eyepiece, Strike Eagle functions with a very quick & easy reticle focusing.  
Illuminated Glass-Edged Reticle: Its illuminated glass-edged reticle allows an intricate reticle design. For optimum durability & reliability, it is protected in between two glass layers. 
Hard-Anodized Single Piece Aviation-Grade Aluminium Tube: Vortex Strike Eagle has a matte anodized finish that resists it from corrosion. The whole scope tube of 30mm diameter is processed from a single block of high-quality aviation-grade aluminium. It is strong and rigid in structure
Pros:
Thick and solid body: It has a strong and enough of an enduring body as it is built with high-quality material. It also has an ultra-coating that makes it have a solid scope body. 
Capped Turrets: The turrets are capped in a Vortex Strike Eagle riflescope. It eases the usability of the scope for the shooters and if you do hunting then it is gonna come quite handy to get your target. 
Waterproof, Shockproof & Fog-proof: It is designed in such a way so that it may maintain the system of IPX-waterproofing. Its rugged structure helps it to withstand all kinds of shock. Its nitrogen-purged scope tube and sealed o- ring prevent it from fogging in adverse weather conditions. 
Lifetime warranty: Despite having a strong and rigid scope body and all the modern features, Vortex offers a lifetime warranty option for the Strike Eagle riflescope.  
Problems With Vortex Strike Eagle
Heavier than usual scopes: Vortex Strike Eagle is considerably a bit heavier in weight compared to other riflescopes. It weighs about 17.5 ounces but after the mounting, it weighs even more that is about 24.3 ounces. 
Doesn't come with mounting equipment: It provides almost all the modern features yet it doesn't come with mounting equipment. You have to spend a few dollars to get your hands on proper mounting stuff.    
Illumination is a bit less bright: When the sunlight causes a glare onto the scope or it gets darker the Strike Eagle causes trouble. Due to a low brightness quality of the reticle, it gets very tough for the shooter to aim at his target and shoot afterwards.
So the aspect of having a low illumination can be a deal-breaker for Vortex Strike Eagle riflescope. 
Vortex Strike Eagle Battery
The Vortex Strike Eagle features their company Vortex's manufactured AR-BDC reticle that is illuminated & glass etched. Having 11 levels of brightness the illumination intensity level of the reticle will vary from brighter to low. 
The CRC 2032 battery is the power source of Vortex Strike Eagle. The life span of the battery at full intensity is estimated to be about 150 hours. There is a backup battery compartment under the windage turret cap.  
Specification
| | |
| --- | --- |
| Voltage | 3V |
| Amperage | 195 mAh |
| Dimensions | L 0.79", H 0.13", W 0.79" |
| Brand | Rayovac |
| Chemistry | Lithium, Lithium-Carbon-Monofluoride |
| Temperature Range | -40 to +85 Degree Celsius |
| Shelf Life | 10 Years (Approx.) |
| Rechargeable | Non-Rechargeable |
Burris MTAC Review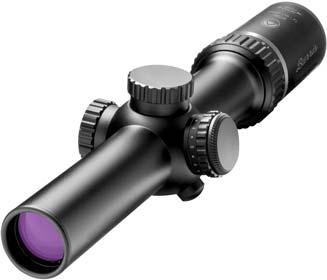 When you are in close combat, you would always want to be sharp with your shooting skills. The original design motive behind making the MTAC scope was to withstand all kinds of adverse situations that come along the Close Quarter Battle (CQB).
MTAC is also designed for hunting, challenging games, military and law enforcement purposes. Moreover, for competitive shooting like 3 Gun competition MTAC is always a champion's choice.
It helps with fast target acquisition & provides a clear sight picture which are highly desirable qualities a shooter looks for while taking part in such a competitive event. Its circular centre offers very fast target engagement at a close distance.  
MTAC provides bright picture quality with a red illuminated dot & ring that makes it easy to have a clear sight of the target. The smaller reticle dots help with trajectory compensation up to 600 yards for the 5.56 & 7.62 cartridges.
Depending on the model, the magnification can get up to 4x or 6x which may not make it a sniper scope but a superb optic for close combat. 
Besides, in low light condition for its illuminating reticle, the shooter will have extra time to get on the target easily. It will serve pretty well in dangerous games & hunting. Eye relief is up to 4 inches in MTAC scope.
It got speed due to its ultra-clear glass & very comfortable eye box. The elevation and windage turrets are calibrated to 1 Click = 0.5 MOA and can be reset to 0 once the scope gets sighted in.
MTAC has also got ergonomic power rings for an easier grip and quicker power setting changes. Its mil-rad target knobs (finger-adjustment able) makes the precision adjustments easier.
Moreover, its rubber-coated eyepiece gives good protection, making it feel comfortable and stylish. MTAC is quite compatible with night-vision technology for having Hi-lume multi-coating aids in low light performance including glare elimination etc.
It is also shockproof for its double internal spring-tension system and it is also waterproof as well as the nitrogen-filled scope tubes prevent it from fogging in rainy or cold conditions.
Adding to the mentioned features above, MTAC is precision-gauged too. It is hand-fitted assembled that maintains a consistent impact point regardless of shock and jerks.
The scope tube or main tube is about 30mm in diameter. Above all, considering the price range, long durability, endurance to stress etc. it can be said that Burris MTAC is one of the best scopes in the market.
Features of Burris MTAC
Red Dotted & Illuminated Reticle: Burris MTAC is designed with ballistic CQ reticle. It is fast & accurate. Originally produced for combat, close-range shooting & tactical applications.1-4x24mm and 1.5-4x42mm is the perfect configuration of MTAC riflescope models.
Reticle dots with a smaller radius helps to compensate the trajectory out to 600 yards for 5.56 and 7.62 cartridges. In any lighting condition or darkness, the illumination shrinks the time to get on target.     
Comfortable Eye Relief: To easily shoot down a moving target, a scope with comfortable eye relief is essential. MTAC has an eye relief of about 4 inches & it is well preferred in the power setting of 1x.  
High-Grade Optical Glass: Burris always produces scopes with super clear optic glass. In the case of MTAC, it is no different. Within such a reasonable price, the Burris MTAC got the best quality of glass and when added with adjustable objective focus the optic can be customized for having a specific vision.
Rubber-coated EyePiece: For good protection of the shooter's eyes, MTAC offers rubber-coated eyepiece. It also feels comfortable and looks stylish.   
Double Internal Spring Tension System: As the scope has got a double internal spring-tension system, it holds steady while having jerks, getting recoiled or vibrations etc. 
Finger Adjustable Mil-rad Target Knobs: The target knobs in a Burris MTAC scope is finger-adjustable mil-rad type. It makes the adjustments quite easy for the shooter to maintain the precision. It also allows 130 MOA of adjustment.  
 Pros:
Combat Optic: MTAC is a scope that is highly effective in Close Combat Battle (CQB). It is a perfect scope for military, law enforcement, competition shooters.
The illuminated reticle is larger than a regular crosshair: MTAC has an illuminated reticle that is larger and it helps the shooter's eye to focus on the target dot immediately after pulling the gun up and pointing at the target. 
Waterproof, Fog-free, Shockproof: Burris MTAC is a waterproof scope. Moreover, it has nitrogen-purged scope tubes that prevent fogging both in cold and rain. It has a double internal spring-tension system that keeps it steady through shocks & all.    
Long durability & got a lifetime warranty: MTAC has great longevity when it comes to the question of its durability. It is lighter in weight and has more versatility than others. Burris provides a lifetime warranty as well.  
Cons:
The turrets without audible sound: The turrets in MTAC don't have audible sound. If you are comfortable with turrets having audible sound then this might disappoint you a bit. It just has a tactile click feel but there is no sound to accompany it.  
Not a long-range scope: The MTAC is not a long-range scope with its 1-4x24mm capable specification. An incredible marksman may make it function better than an ordinary shooter regarding the issue of long-range shooting.
The 1.5-6x-42mm is a better one considering the marksmanship and that's when Ballistic AR reticle is proved to be highly helpful.   
MOA might not be enough for long-range shooting: MTAC offers the adjustability of ½ MOA that is not enough for long-range shooting. Although it is not a problem with the shooters who want it as a 1x power scope.
Burris TAC30 Riflescope 1-4x24mm Review
TAC30 is another cost-effective scope provided by Burris. Built-in 1x super-wide zoom helps to achieve fast target acquisition. Also, has 4x power magnification and a Ballistic CQ reticle which is good for 300 yards shooting.
Features
Fast-action Ballistic CQ reticle
Circular center
Smaller reticle dots
Digital dimmer switch
1x super-wide, 1-4x power magnification;
low-light performance and glare elimination
Illuminated reticle
The reticle is compatible with night-vision technology
Waterproof
Nitrogen-filled scope tubes prevent internal fogging
Precision-gauged and hand-fitted internal
Burris vs Vortex
Burris and Vortex both are now two prominent companies in the world of optics. Both of them manufacture optic models at every price point. As both companies offer quality products to their customers at an affordable price range, it is no secret that they would go head to head in the optics market. 
Burris is a brand that doesn't come with cheap optics in the market. They produce affordable models with a wide range of variety, optic's accessories, mounting systems and scope rings etc.
On the contrary, Vortex is comparatively a new company in the business and it comes with almost everything from a lower price range to premium models. They also produce red dots, scopes, mounting & optic's accessories, binoculars etc.
Vortex produces some optics that cost thousands of dollars whereas Burris doesn't do that. So, instead of comparing their product range, we are going to discuss mini red dots and power tactical sights.
Mini red dot sights are hugely popular and both these companies produce them. The Burris Fastfire is available with 3 or 8 MOA red dot reticle having an automatic mode and three brightness settings.
In comparison with that, Vortex Venom comes with 3 or 6 MOA dot including 10 brightness settings for manual adjustment. Moreover, the Fastfire weighs 0.15-ounces lighter than the other one. 
Burris offers  AR series with 3x & 5x power whereas Vortex offers Spitfire in 3x. The spitfire is about an ounce heavier than the AR332. 
Both Burris & Vortex offer many short-range or long-range models & accessories like fixed power prisms, green reticle, integral mounting parts etc having great features that are available at a reasonable price.
They both are changing the world of optic's pretty fast. With a bit of difference & person to person preferences, both Burris and Vortex have been making the most popular list in recent years.
What are the significant differences: Vortex Sparc AR vs Aimpoint. In short Vortex Sparc II that delivers better brightness control, equal ruggedness and the same 2 MOA dot performance whereas the objective lens diameter of the Aimpoint is wider.
Burris MTAC vs XTR II
The Burris XTR II is the company's one of the topmost tactical products of their scope family. They are specifically designed and manufactured for long-range shooting and to maintain pinpoint accuracy.
It offers features like 5x zoom, adjustment knobs with zero click-stop systems etc. 
A comparison table between Burris MTAC and XTRII is shown below mentioning their different features. Hope, for many of you it will be easier to pick the perfect one as your riflescope.   
| | | |
| --- | --- | --- |
| Entity | MTAC | XTR II |
| Design | Hunting, tactical competition shooting, close combat etc.  | Tactical competition, long-range shooting, technical & technical shooting etc.   |
| Magnification | 1-4x | 1.5-8x |
| Eye Relief | 4" | 3.8-4" |
| Objective Lens Diameter | 24mm | 28mm |
| Reticle | Ballistic AR-BDC3 | Ballistic 5.56 Gen 3 |
| Scope Tube Diameter | 30mm | 34mm |
| Battery | 1 x CR2032 | 1 X CR2032 |
| Dimension | Length: 11.3″ / 28.6 cm | Length: 12.8″ / 319 mm |
| Weight | 14.5 oz / 411.1 g | 23.5 oz / 666.2 g |
| Cost | $479 – $755 | $1101 – $1311 |
Want to know about Burris AR-332 vs Vortex Spitfire details. in short cut, the Burris AR–332 has wider FOV, its 32 feet versus the Spitfires 31.5 feet, the eye relief on the Spitfire is 2.8 inches versus the 2.5 inches on the Burris
How To Sight In Burris MTAC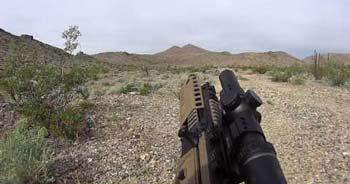 For the sighting in Burris MTAC, a good understanding of the measurement of the scope sighting is essential. For a bit detailed info, you can use JBM BallisticS calculator or you can use other available apps such as Strelok.
Measuring the ammo velocity, ballistic coefficient of the bullet etc. you can measure the scope sighting as precisely as possible. 
An estimated calculation for a proper sighting in Burris MTAC can be like this- 
200 yards ( below dot mark) – 1.1 MOA -> 58 yards 
300 yards ( 2nd dot) – 3.3 MOA -> 35 yards
400 yards (3rd dot) – 6.1 MOA -> 25 yards 
500 yards ( 4th dot) – 9.6 MOA -> 20 yards 
600 yards ( 5th dot) – 13.6 MOA -> 15 yards 
Which is better Vortex Viper or venom? Does Vortex Viper fit venom? read the full article about Vortex Viper vs Venom.
Vortex Strike Eagle Red Dot
Vortex Strike Eagle Red Dot is a multi-coated scope having 10 levels of brightness with 4 MOA. For rapid target acquisition, it has non-critical eye relief. More or less all red dot got some amount of parallax and the vortex strike eagle red dot is no different. 
It is also waterproof, shockproof and is protected from internal fogging. The battery support is for 80000 hours in setting 6.
Source: vortexoptics.com
What is a PEPR mount?
PEPR stands for Proper Eye Position Ready. The PEPR mount is known to be the perfect AR or A flattop mounting solution for a scope. It ensures proper eye placement on the scope.
To mount a scope on an AR-style rifle gets very easy for PEPR mount. The Burris PEPR-AR comes in two types, the non-quick detach version (PEPR) and the quick detach version (PEPR-QD).
Basically, for fastening the PEPR to the mount a clamp with two hex-headed cross-bolts are used whereas for the PEPR-QD two quick detach throw levers are enough.
The AR-PEPR provides the required clearance and adds about 2 inches forward scope positioning. It offers optimum eye relief and a full field of view.
It is available in 30 mm, 34 mm (designed with 20 MOA),1 inch in sizes including smooth and Picatinny ring-tops. The PEPR & PEPR-QD both weigh (30mm 8.7oz, 34mm 6.9 oz, 1 inch 8.3oz) the same in all size categories and the dimensions are more or less the same. It costs about $99.00 only. 
There are a few factors that can be compared between these two. According to some users, it seemed like the tightening knobs in the Burris PEPR-QD are a bit sloppier than the non-quick detach PEPR. It is manufactured by using compressed aluminium.      
Mount Used For Primary Arms 1-6x24mm Vortex Scope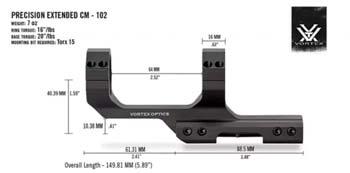 For Primary Arms 1-6x24mm Vortex scope Precision Extended Cantilever Mount is used. It is available in different sizes and has got options for 20 MOA cant.
These kinds of extended cantilever mounts are designed for mounting the scopes with a better forward location, correct eye relief and head placement.
From the base at a height of 1,574" (40mm) the cantilever ring mount positions the centre of the scope tube.
This Precision Extended CM got two types of screws in it. The base clamp screw is 45-50 in/lb and the ring screw is 18 in/lb in length & weight respectively. It costs about $299.99 only. 
Are The Mounts More Expensive Than Scopes?
The mounts can be more expensive than the scopes if you are looking for the best product. Cheap mounts can be bought but eventually, they will start annoying with their shortcomings after a very short time.
On the other hand, a slightly expensive mount will be worthy of every dime that you will spend. Because they must be made of strong material and be strong & concentric.
The mount should be perfectly round in shape otherwise the scope could be permanently damaged. A perfect mount would sit square on the receiver of the scope.
They would be threaded with tight screws so that it may not rattle off during recoil. To have all these qualities or criteria in a mount, you have to go for a bit more expensive ones while buying the mount for your scope. 
Frequently Asked Questions
Is The Vortex Strike Eagle any Good?
Purchasing the vortex strike eagle won't be a bad decision. It has got 1-6x magnification than the standard red dot ones. It is also a great scope for easy u0026amp; quick target transition.u003cbru003eu003cbru003eBesides, you won't even need to go too deep into your pocket for getting your hand on this fine product. Considering its reasonable price, quality u0026amp; modern features, vortex strike eagle is currently among the top-notch ones in the market.
Where Are Vortex Strike Eagle Scopes Made?
The company is based in Wisconsin, USA but all the manufacturing action takes place overseas. Depending on the product line u0026amp; scope model Vortex products are made mainly in China, Philippines u0026amp; Japan.u003cbru003eu003cbru003eThe production u0026amp; marketing of Vortex Strike Eagle is now focused on lower magnification and short-ranged AR rifles. The vortex strike eagle series is manufactured in China.
Is Vortex Strike Eagle FFP?
FFP scopes are comparatively new in the business than the SFP ones. Vortex Strike Eagle is one of those new generation scopes with FFP u0026amp; its popularity is growing quite remarkably.u003cbru003eu003cbru003eTherefore, if you are trying to improve your long-range shooting or your business requires some sharp long-range shooting then Vortex Strike Eagle is the scope that you need.u003cbru003eu003cbru003eIt has got an edge to edge sharpness, first focal plane (FFP) illuminated reticle that helps not to get deviated from the target in higher magnification or bad light.
What Battery Does The Vortex Strike Eagle Use?
The Vortex Strike Eagle has a CRC 2032 battery as its source of power. The battery can power the scope for up to 10000 hours.u003cbru003eu003cbru003eBut it has a lifespan of about 150 hours only it is operated at the maximum intensity. Besides, below the windage turret cap, a spare battery can be kept in the compartment. It acts as a backup source to power the illuminated reticle.
Conclusion
In the world of firearm optics & scopes, both Vortex and Burris are big shots. They produce optics with a huge range of varieties. They are also available in the market at an affordable price compared to other standard optics.
Nowadays the market has got so big that it is quite hard for someone to decide which one to buy. Despite that, we hope after going through their detailed features & all, when it comes to Vortex Strike Eagle vs Burris MTAC now you know which one to choose.
Vortex Strike Eagle is visibly the better one here and if it fits your requirements then purchase it and start getting the benefits right away. GOOD LUCK!!!