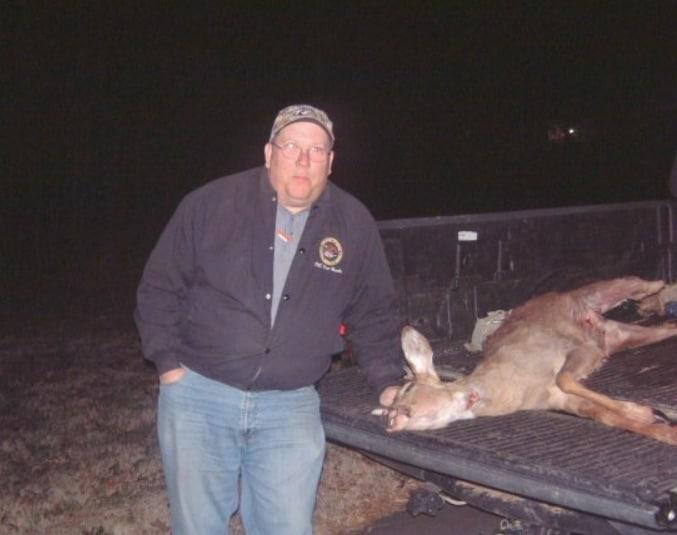 Dave is a retired LEO and United States Mint Executive who now dedicates much of his time to deer hunting, recreational shooting, and outdoor activities. He manages a YouTube channel called Dave's Hunting, Shooting, and Bushcraft. When not in the outdoors, Dave enjoys spending time with his family, reading, and piddling around. Remember to make Kindness Your Business!
Dave's Favorites
Rifle:
Marlin 336
Handgun:
Smith & Wesson Model 64
Shotgun:
Remington 870
Gun Movie:
3:10 to Yuma
Sports / Team:
NFL – Green Bay Packers
MLB – Cincinnati Reds
NASCAR
Author:
Tolstoy
I live to learn, which is how I approach hunting and shooting. Hunting deer is a means to obtain the meat best suited for my health. When fall arrives, I hit the woods of Tennessee, West Virginia, and Virginia in search of deer. Archery, muzzleloader, and gun season are all in my annual arsenal. As a meat eater, I spend the rest of the year creating and managing food plots for deer and other critters in Tennessee's woods and forests. Hunting the forests and woods east of the Mississippi is where I am most comfortable. My firearms reflect the hunting environments I am in each season. Savage 110 chambered in 30-06 is my go-to deer gun, with the Marlin 336 30-30 Winchester my pick for the thicker woods often encountered.
Hunting deer is directly linked to my interest in firearms, as did my former job with the Federal Bureau of Prisons. Recreational shooting helps to hone my skills for deer season. Whether I am testing an optic, trying a different ammo load, or just shooting a handgun that needs some rounds, spending time on the range is important. Given my background, I bring a "common man" and "utilitarian" view to hunting and shooting.
Dave's Hunting, Shooting, and Bushcraft is my YouTube channel. I created this channel to share my experiences in creating a property that will produce quality deer year after year through the management of the resources. With food plots, trails, trail cameras, cover creation, and water access, I share how my property is being transformed. I have successes and failures. All are shared. The property has two shooting ranges, one for handguns and one for rifles. Both were created based on the natural resources of the property and my sweat equity. Shooting on the ranges is a big part of my YouTube channel. Finally, the channel shares my efforts in using the land's resources to the best of my abilities. Bushcraft's efforts are the final element of what I share. Each video ends with a message to encourage kindness. I hope you will take a minute to see what happened on this 23-acre parcel in middle Tennessee. Here is the link to my channel – https://www.youtube.com/@daveshsb/featured
To better understand what I am all about, here is a short story regarding the first deer I shot. I hope you enjoy it.
At age 45, I was a little late in joining the brethren of deer hunters, but the desire to hunt had always been there. I grew up in a small town in south-central Wisconsin. In our house, the rule was "no gun" until you were eighteen, based on my mother's belief that guns were too dangerous for a kid. My mom had a point to some degree, but that is a discussion for later. Her decree did not stop me from asking for a shotgun for Christmas each year. Like Ralphie Parker of A Christmas Story, I would hear tales about how dangerous a gun could be and that I had to wait until I was of age. My friends and cousins were all hunters, with deer being the most prevalent game. I heard tales of how massive bucks with ten points were taken down by the might of a 30-06 rifle or the raw power of a 12-gauge shotgun. That longing to hunt was on fire and stoked a bit more each fall.
As time passed, I tried to hunt, but I was always somehow limited by resources of time or money.  Eventually, my family life became more settled, and my financial position became less fragile. The opportunity to pursue hunting as I had always wanted to finally become available.  I tried hunting small game and did enjoy chasing squirrels and rabbits, but it did not fill my needs or fully quench that desire.  Next, I tried duck hunting and, for a short time, thought that was the ticket.  At first, I started out using my Dad's Stevens / Browning shotgun and soon bought my first shotgun, a Stoeger Condor O/U 12 gauge.  A group of us would travel to Chincoteague, VA, each year for a long weekend of hunting ducks in the Atlantic flyway.  It was a great time, but it had its limits.  It was one long weekend a year.  Without a doubt, I needed to hunt more each fall than one long weekend. 
I had deer on my property and thought maybe deer hunting was the answer to my search. That was 2009, and I was 45. Having no experience whatsoever in hunting deer, I sought out the help of some experienced hunters. The first person that helped me was kind enough to take me out on the opening day of firearm season for a public land hunt. He sat me down at a base of a tree and said if you see a deer, shoot it. He even let me borrow his Remington 1100 12 gauge semi-auto shotgun, which he loaded with three rifled slugs. As daylight came across the horizon, I started to see all the hunters in the area. There were three other fellow hunters, two on the ground like me and one in a tree. All within eyesight, yes, it was crowded. The legal shooting light brought the sound of gunfire, which was a bit unreal and surprising. In my newness, I thought there was no way all these folks were seeing deer, but who knew? Trying to keep warm, I sat patiently, hoping to see a huge buck. Unfortunately, I did not see any deer that day, which discouraged me, but deer hunting grabbed my attention.
My wife told me about a seasoned hunter who went to our church. Meeting Ron was a key turning point in my efforts as a deer hunter. Ron shared some very helpful tips and ideas for me to try for hunting the deer at my property. Based on our discussion, I bought a pop-up blind, your basic two-man blind, and then went looking for the perfect place to put it. Our 21 acres had been clear-cut two years before we bought the place. Some designated no-cut trees, saplings, suckers, stumps, and lots of briars and thickets remained. The thick vegetation and the new-growth trees were close together. So, I explored the property for an area with open shooting paths to see at least 20 yards. After a day of searching, I put the blind up in the back corner of the property.
I hunted the blind for a few Saturdays but with no luck. The Saturday before Christmas, I gathered my gear and went hunting from the blind. My gear was my Stoeger O/U 12 gauge, a box of five Remington rifled slugs, a cushion for the chair, a Maglite flashlight, and a monocular. It was dark, but the light from the Maglite was more than enough to show the way. To my surprise, the blind was gone! The person even took the camp chair in it, leaving only one metal stake. Someone had stolen it right off of our property. I figured it was someone else's Christmas present now. Just another blow to my efforts. I knew deer hunting was hard, but it was starting to seem impossible.
I could not hunt on Christmas weekend, but the following weekend I wanted to try one more time. While walking the property, I often saw deer and thought that surely there must be a way to position myself to hunt those deer. Without a blind to sit in, I lacked any ideas of how to accomplish that. The undergrowth and briars pretty much made sitting on the ground to hunt impossible. The deer would have to walk right up to me for me to see them. My wife listened patiently to all the efforts and struggles I bemoaned. She did not sympathize with me but rather suggested I shoot one of the deer we saw each evening from our front porch down by the crabapple trees. Of course, why don't I hunt those deer? I could set up a barn near the crab apple trees. Brilliant! My spirits lifted. That evening, I got myself ready for the hunt. It was cold out, a wet cold which is very typical for Virginia in December. I put on my insulated jeans, a heavy shirt, a lined jacket, and some wool gloves/mitts. In the barn, I found an empty five-gallon bucket to sit on and propped open the octagon-shaped window. At first, I practiced sliding my Stoeger O/U 12 gauge out the window, trying to be super quiet. The wait had begun.
Yep, that is right. I am using my O/U 12-gauge shotgun for hunting deer. It is not your typical choice for hunting deer but for me, and it was the best choice. My other shotgun was an old Stevens / Browning 12-gauge pump action shotgun my dad had gotten as a youth to shoot clay and hunt pheasants. I was not confident that a slug would work well out of the choked barrel that came on the Stevens. In fact, I was not even sure how choked the barrel was, but I knew it shot a tight pattern. So that left me with the Stoeger. Earlier in the season, I had shot some slugs out of the Stoeger to see how accurate it was. In practice, I could put two slugs within the 10″ ring at 30 yards. Not super accurate, but I thought accurate enough.
Sure enough, as the sun started to set, I heard some rustling of leaves coming from behind the barn. It sounded like twenty marching soldiers were walking up to the back of the barn. I had no idea how loud deer can be in dry leaves. (Of course, I later learned that when deer are unsure of their surroundings or perceive a possible threat, then they will walk very quietly, even through dry leaves). Before long, I saw the first deer pop out from a thicket behind the crab apple tree farthest from the barn. It was small, and I guessed it to be a fawn. It was followed by some others, and soon there were five deer eating the grass around the trees. Patiently, I waited for the deer to move in front of my position as that was the direction the eating was taking them. Carefully, I picked out what I thought was the largest deer. She was a pudgy doe that pretty much ate in one spot and moved slowly. The pudgy deer was around 25 yards away. Then, I quietly slid the O/U out the window and prepared for the shot. At that moment, my thoughts were running wild, and excitement was filling my body. It was just nuts how I was feeling. My hands felt like they were shaking wildly, but I looked at them, and they were steady. I was not prepared for all these feelings. Finally, I took a deep breath and tried to steady the shotgun and aim. Once my sight on the Stoeger, which is a bead sight at the end of a vented rib, hits the mark, I pull the trigger. Bam! The sound echoed in the barn. My ears begin to ring. At last, I saw the deer drop, and I thought I had done it. After all of my tries, I shot my first deer! But wait, the doe stood back up and bounded off, dragging something from her belly.
After taking some deep breaths to settle myself down, I walked to the house and asked my two sons to help me find the deer. They grabbed flashlights, put on shoes and coats, and off we went. I showed them where I shot the deer, and we found a pretty good amount of blood. Josh and Drew spotted the blood trail and began tracking. Within a few minutes, I heard Josh call me. They found the doe. She was down in a thicket but not dead. I walked slowly to where they told me the deer had fallen and found her sitting belly down on the ground, not moving but definitely not dead. I decided not to let her suffer and put another slug into her. At long last, I have killed my first deer. Though not perfect, it was my first deer!
As we moved the deer, I noticed the belly shot that first got her, which is what was dragging when she bounded away. Josh noticed that she was missing one of her hind legs. The stump had grown over, and when she moved, I had not noticed any limp. After moving the deer to the barn, I called Ron to ask him to walk me through the process of field-dressing a deer. He did a great job, and in short order, the deer was field dressed. I hung the deer up in my barn for the night. The next day, I loaded the deer into my truck and took it to the processor. As the butcher received my deer, he looked up from his paperwork and asked me if I really hated this deer. Feeling confused, I asked him what he was talking about. He said, "Well, she has two holes in her from slugs, so her ribs and belly are all completely torn out, and she is missing her hind leg. Sounds like you really wanted this deer gone." To that, I just nodded and laughed. In reality, I thought, well, in a way, I guess that was true. I did want this deer gone. In truth, I wanted this deer to be my first deer ever hunted, shot, and killed. It was not the most amazing or spectacular deer hunt, but it was my deer hunt. My first!