Sig Romeo 4 vs 5 : Sig Sauer Romeo 4 vs. Romeo 5 Review 2023
If you are looking for a red dot with the most extended battery life, investing in the Sig Romeo brand would be a great choice. Even though you will come across many red dots from Sig Romeo, the best production is 4 and 5. Here, I will discuss the difference between sig romeo 4 and 5 in-depth with all the facts.
Sig Sauer Romeo 5 vs Romeo 4 Scope Comparison 2023
Sig Sauer Romeo 4 & 5 both have the 1x magnification level and constructed with highly durable materials. Sig Romeo 4 is way heavier than the 5. Romeo 4 weighs 1.1 pounds, whereas Romeo 5 weighs only 0.33 pounds. The 4 comes with a 2 MOA Ballistic circle dot, and the 4 comes with a classic red dot.
The battery life of the 4 is 100,000 hours, and Romeo 5 has 50,000 hours. So, here, Sig Romeo wins with a double reward!
They both have similar brightness settings and night vision features. 8 different brightness settings give you convenient adjustability with any weather. Moreover, both of the scopes are highly waterproof and fog proof. So it doesn't matter if it's raining or fogging, you can shoot your target accurately.
Sig Romeo 4 has an unlimited warranty whereas, Romeo 5 has five years of component warranty.
The Sig Sauer Romeo 5 can not be loaded as the same as Romeo 4, but Sig Romeo 5 comes at an affordable price.
Sig Sauer Romeo 4 vs. Sig Sauer Romeo 5:
Let us have a look at SIG Romeo 4 VS 5. comparison chart for SIG Romeo 4 & 5.
| | | |
| --- | --- | --- |
|   | SIG ROMEO 4 | SIG ROMEO 5 |
| Magnification | 1x | 1x |
| Weight | 1.1 pounds | 0.33 pounds |
| Construction | Metal | Other |
| Battery type | CR2032 | CR2032 |
| Reticle | 2 MOA Ballistic circle dot | 2 MOA red dot |
| Eye relief | Unlimited | Unlimited |
| Objective lens diameter | 20 mm | 20 mm |
Sig Sauer Romeo 4 Review in 2023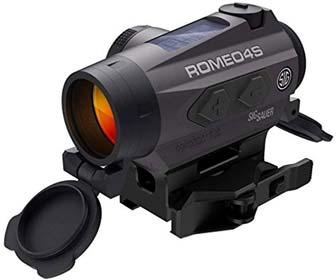 In a few words, you can say, the Romeo 4 from SIG SAUER is the big brother of all red dots! It is packed with lots of thrilling features and frills that make it worthy of spending on.
The first limelight of its battery life is solely dependent on what type of environment and setting you use the optic. The brightest environment uses solar light, and in the night or low-light conditions, it uses battery power.
That makes its battery life usable up to 100,000 hours straight! The incorporated eight daylight settings and two-night vision settings help.
Moreover, there are innumerable reticle options for this optic with a 2 MOA sight that you can adjust effortlessly. These features combined make it a great optic if you target beyond 100 yards of distance.
Another notable feature of this optic is the MOTAC- motion activation illumination. With this amazing feature, this optic auto turns on if it detects any motion, and auto turns off after sitting idle for 10 minutes to save battery for long-term usage.
This optic construction is rugged with aircraft-grade aluminum metal, which makes it waterproof, fog proof, and shockproof. It is an all-weather friendly optic that is compatible with almost every handgun and shotgun.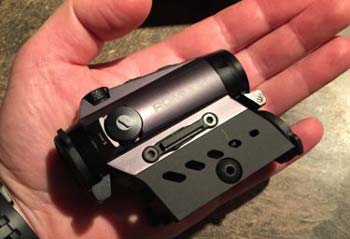 Optical Features:
Reticle Type: 2 MOA Ballistic Circle Dot reticle has easy adjustment and has precision over 100-yard distance. The Ballistic circle dot and Ballistic Circle QuadPex together produce four reticle options for this optic.
Coating Type: Sig Romeo 4 has constructed with matte black, scratch-proof coating on the outside.
Eye-relief: There is unlimited eye-relief for this optic, which means even if your eye position is behind the sight, you can aim the target with precision.
Aircraft Grade Aluminum: The optic is constructed with aircraft-grade aluminum, which adds a lightweight feel, providing a rugged and reliable feel.
Waterproof: The matte black coating makes the optic water-repellent to a great extent.
Fog-proof: The lens is made from fog-proof solid glass for accurate sighting to keep cleaning it in that situation.
Shockproof: The construction is super stable and robust, which makes the body shockproof. It means even after falling; the shock gets absorbed by the material.
Lens: High performing lens with coating for excellent light transmittance and red dot contrast in every situation.
Locking Illumination: For daylight visibility, they use LED ultra-efficient illumination.
MOTAC: The MOTAC system keeps the battery life of this optic going for the longest time. This feature adapts the vibration detection and automatically turns off auto for 10 minutes of idle.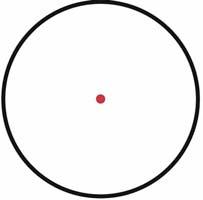 Technical specifications:
Magnification: 1x
Weighs 3.4 oz
Dependable Weatherproofing: IPX 7
Elevation adjustment: 100 MOA
Adjustment click value: 0.5 MOA
Pros:
Has four reticle options to choose from
Highest battery life than its competitors
Uses solar light in broad daylight to save battery
Is weatherproof
Compact size and weight with unlimited eye relief and parallax-free operation
Cons:
Not meant for long-range targets
Sig sauer romeo 4 review
What is Included in the Box?
Inside the box of Romeo 4, there comes a:
Instruction manual booklet
Small fiber cleaning cloth for the lens
Pair of bikini covers
Battery
Small pick tool
Low profile mount
Sig Romeo 5 Review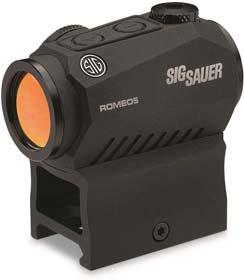 If you are looking for a high-profile red dot with equally higher efficiency, there you won't find an alternative for Sig Romeo 5! It counts on maximum accuracy and performance that anyone can rely on!
Created by a team of elite engineers, this optic has optomechanical design, superior glass, and game-changing electronic technologies combined. Made from aircraft-grade aluminum alloy, this optic is made for severe environmental conditions.
Being fog-proof, waterproof, and shockproof, it can battle rough environments easily. 
As for battery life, it has quite a decent feature. With the MOTAC feature similar to Romeo 4, this optic saves battery by auto turning off when not being used for 10 minutes straight. This unit has the highest battery life of 40,000 hours with eight brightness level settings for daylight and 2 for night visioning.
Moreover, the optic lens has a magnificent Spectracoat coating, which allows further battery saving. With this coating, the user can adjust the brightness level on the lowest setting and provide top-notch visibility.
In terms of aesthetics, the Romeo 5 model is an inexpensive Aimpoint version, carrying the traditional tube-like design. The highly efficient red-notch filter you are getting at this price point will ensure the dot is present in every condition.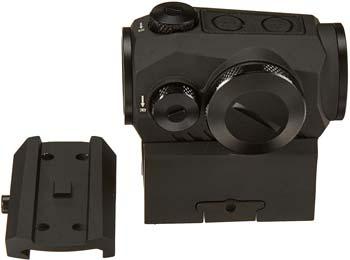 Optical Features :
Reticle Type: 2 MOA red dot that provides 1x substantial magnification for any situation.
Coating Type: The outer coating is an aluminum matte black finish that resists water.
Lens: The lens has Spectracoat coating to acquire high-class visibility even in low brightness
Single-Piece Tube: Single-piece tube design makes the mounting easy with an integrated M1913 Picatinny interface.
Aircraft Grade Aluminum: Body and components are made of aircraft-grade aluminum to provide robustness and lightweightness at the same time.
Waterproof: The entire piece is 100% waterproof, so no component will damage due to water or absorb water
Fogproof: The lens is made from premium grade anti-reflective glass that prevents fog from forming in between your shots.
Shockproof: Components do not dent or break due to sudden falling on the ground; instead the shock gets absorbed.
Locking Illumination: It has ten illumination settings in total, 8 for daylight and 2 for night vision. Also has MOTAC illumination for the battery-saving purpose by turning off auto while unused for 10 minutes.
Parallax: Parallax is very low to make point-of-aim the point-of target. So, even if your angle of view is not relative to the viewing axis, the red dot remains parallel to your firearm's bore.
Technical specifications:
Magnification: 1x
Objective lens diameter: 20 mm
Eye-relief: Unlimited
Illumination settings: 8 for daytime 2 for nigh time 
Battery life: 40,000 hours
Pros:
Extremely affordable compared to its competitors with almost the same specs
Has a high battery life
Fog and water-resistant
Made from rugged materials, yet is lightweight and compact
Has battery-saving premium features like MOTAC and Spectracoated lens.
Cons:
Does not have a broader range of reticles.
Sig Romeo also support external magnifiers.
Sig romeo 5 review
What is Included in the Box?
Inside the box of Romeo 5, you will find each of these:
An instruction manual
Fiber cloth for lens cleaning
A brand-new battery 
A mounting
Tool for picking
And of course, the optic 
What magnifier works with SIG Romeo 5? Does SIG Romeo 5 have magnification? Want magnifier for Sig Romeo 5 recommendations? Read the ultimate guide to choosing Magnifier for Sig Romeo 5.
Download Sig Romeo 5 manual
From here download the Sig Romeo 5 Manual pdf.
Sig Romeo 5 mount compatibility
Sig Romeo is mount compatible. It has low and high mount accessories.
What Is The Difference Between Sig Romeo 5 vs Romeo 4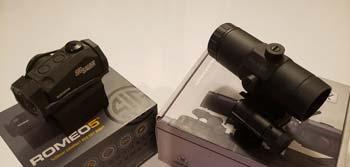 Construction
Both of them are constructed equally with aircraft-grade aluminum alloy for rugged, years of performance. The difference is that Romeo 4 is a bit heavy and slightly larger than the Romeo 5.
Accuracy
The low parallax of Romeo 4 & 5 provides ultimate accuracy in your aim despite what your viewing angle is. The red dot remains parallel always.
Brightness Control
Romeo 4 & 5 have ten brightness settings, 8 for daytime and the rest 2 for night vision. Controlling the brightness is very easy with their ready-to-turn knobs. However, in broad daylight, Romeo 4 uses natural solar power to save battery by not using optic illumination.  
Night Vision Compatibility
Both the optics are night-vision compatible and has two settings each for night illumination. This is reasonably enough!
Battery Life
The Romeo 4 has double hours of battery life as Romeo 5 due to its solar power usage to save battery in broad daylight. Also, both of them have the MOTAC feature to save battery when the optic is not in use for more than 10 minutes. Romeo 4 has 100,000 hours, and Romeo 5 has 50,000 hours of battery life.
Is it Waterproof
The sig Romeo 4 & 5 are dependably waterproof with IPX-7 rated in terms of complete water repellency up to one meter. 
Reticles
Romeo 4 has four different reticles to choose from, whereas Romeo 5 has a single reticle. However, from the price point, it is fair to have one for Romeo 5.
Windage and Elevation Adjustments
Romeo 4 has windage and elevation adjustment of 100 MOA, and Romeo 5 has 80 MOA. High windage and elevation are useful for better accuracy on long-range shooting.
Eye Relief
Both the optics have unlimited eye-relief, which means even if your eye position is behind the sight, you can aim the target with accuracy.
Field of View Romeo 4 & 5
Mount Type: both of them are compatible with a low-profile Picatinny interface mount. The mounting rail already comes inside the box for both Romeo 4 & 5.
Overall performance against price: if the war is between price against performance, both optics stand successfully and win with performance. Even though the Sig Romeo 4 costs high, its features and specs are worth every penny.
The multiple reticles, highest battery-life, solar power usage, and many other premium features to sum up the entire optic are noteworthy.
Whereas Romeo 5, being the inexpensive one, replicates the features of some high-end optics. It's much more compact and lightweight than the Romeo 4, but every feature is first-class.
The solid construction, at this price, is absolutely praiseworthy along with all the other features.
The Warranty Issue
 Sig Romeo 4 has an unlimited warranty and an electronics limited warranty, and the Romeo 5 has five years of component warranty. However, sig Sauer does not provide a warranty for intentional damage, theft, repair, and modifications. 
Looking for a budget friendly red dot sight? Check out this Sig Romeo 5 Vs Vortex SPARC AR Red Dot Sight comparison to find out Which Optic Is Right For you.
What do the Sig Romeo 4 and 5 have in common?
Regardless of petty differences in both the optics, they have lots of specs and features in common. Both of them are made from rugged aircraft-grade aluminum for a lightweight yet substantial feel.
Also, their mounting is quite effortless with Picatinny rails and comes with ten illumination settings. Moreover, both have high-tech battery-saving features, such as MOTAC, to save as much power as possible.
Which is better, Sig Sauer Romeo 4 or Sig Sauer Romeo 5?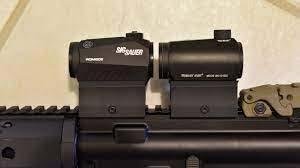 The suitable Sig Sauer Romeo for an individual depends on the type of application. If you are a beginner and don't want to jump into an exorbitant red dot, yet want to enjoy some privileges of a premium military-type red dot, then go for the Romeo 5.
It is excellent for close-range shooting/aim or primary defensive use, great for range plinking. However, if you are experienced enough to handle a pricey optic, then buy the Rome 4.
It has some thrilling features as you are paying high for it. You can use it practically with handguns or shotguns with versatile reticle options. Hope you get the sig Romeo 4 vs Romeo 5 review with full confidence.
Sig Romeo 5 reviews
Of all the Sig Sauer series, the Romeo 5 is the most inexpensive one. However, they don't compromise on the quality to keep the price low. Instead, it provides fewer features than the high-priced ones.
It is a highly reliable and rugged optic for basic use. Made from 1x accurate magnification with a 20 mm lens, this optic is great for close-range shooting within 100 yards. If you use this red-dot wisely, the battery will last up to 50,000 hours.
With industry-standard mounting, this red dot can be used by any handgun. It also comes with the mount in the box to help with easy mounting. The built is also powerful with premium aluminum. 
Romeo 4dr
Another range from the Rome 4 model with great price and quality. This one is probably the cheapest in this range. It comes with two reticle options and an excellent nifty mounting system at a fair price.
You can say this 4dr an upgraded model of the Romeo 5. The tube is slightly thicker and has more precision aiming than the Romeo 5 version. In fact, the 65 MOA circle and 2 MOA red dot are excellent in acquiring accuracy while aiming.
Moreover, the Romeo 4 dr has a lifetime warranty service for authorized users. The lightweight and fairly rugged constructions make it usable for years. So, you can definitely invest in this.
Sig Romeo 7
The Sig Romeo 7 is a full-sized red dot sight with high-quality 1x magnification. Its battery life lasts for a whopping 62,500 hours if used sensibly. Whereas the doting lens not only provides superb light transmission but also prevents reflection. 
The versatile mounting system of the Romeo 7 allows it to fit in a variety of methods. The optic has dependable waterproof and fog-proof performance. That means it is ready to be used in every kind of weather.
You can control the 11 different types of Illumination of Romeo 7 manually. Among them, nine are for daylight brightness, and 2 for night vision. It has the MOTAC feature for further battery saving.    
Sig Romeo 4 models
The Romeo 4 models are made for skilled and experienced users. That is because no amateur would want to flow their pockets in an optic for the first time. They are made for professional usage.
The basic is their batteries, which have the highest life. The construction is done rigidly with aluminum alloy of aircraft-grade. These models will last for years.
Other than that, the Romeo 4 models are a bit bulky with easy mounting. They are IPX-rated for weatherproofing. So, they survive through the most challenging environmental conditions.
Romeo 4s vs. 4t
Both the models do not have a noticeable difference between them. But their IPX rating for waterproofing is different. Romeo 4t has a rating of 8, and 4s has 7, which means 4t has better water repellency.
Both the optics are made of lightweight aluminum housing. This makes them light, still solid to last long. The lenses are fog-proof, too, for these optics.
 Also, the battery life for these optics is commendable. We guess this feature is approved for every Romeo 4 model. So, every penny will be worth it for any of them!
Sig Romeo 4t 
The sig Romeo 4t has an IPX rating of 8, for which it has high waterproofing. It is made for surviving in the toughest of conditions. The construction is of robust 7075 aluminum housing. 
 Romeo 4t is submersible up to 20 mm. The lenses are fog-proof and made from anti-distortive glass. Your aim won't be missed in any condition.
The battery life of this optic is up to 100,000 hours. Thanks to the solar power usage in broad daylight and MOTAC for turning it off in idle time. This optic can be used in a wide range of light settings and calibers in mid to short range shootings.
Romeo5 tread vs. Romeo 5
Both the Romeo 5 series are made of rugged material for tackling rough weather. They are waterproof, fog-proof, and shockproof. Also, they are made from aluminum alloy for lightweight, compact, yet solidness.
The Romeo 5tread also has ten illumination settings for all light conditions. Where 8 goes for daylight settings and 2 for night visioning. But the best part is, the tread has windage and elevation adjustment for 100 yards, whereas Romeo 5 has w/e adjustment for 80 yards. 
Amongst the entire sig Romeo line-up, the Romeo 5 is the most affordable. Packed with exotic features and long-running time, this optic has been worth purchasing for most customers—a tremendous optic choice for beginners with basic shooting.
Read more on the differences between Holosun & Sig Romeo 5. The Sig can be submerged up to one meter and is IPX-7 rated, while the Holosun can also be submerged up to one meter but is only IPX-6 rated.
FAQ
Is SIG Romeo 5 any good?
According to the price point, SIG Romeo 5 is worth it. For basic defense and light aiming within a closed range of 100 yards, the Romeo 5 is reliable. Moreover, its rugged construction and other exceptional features are plus points.
Is SIG Romeo made by Holosun?
The Holosun factory manufactures-The components of Sig Romeo 5; that is why everyone thinks it is made by holosun. However, the label on Romeo is of Sig Sauer.
Which SIG Romeo is best?
All the optic from sig sauer serves their best. But let us pick four of the many which are must-haves.
● Sig sauer Romeo 5 1×20 mm red dot
● Sig sauer Romeo 4DR 1×20 mm compact red dot
● Sig Sauer Romeo 4 solar 1×20 mm red dot sight w/mount
● Sig sauer Romeo 7 1×30 mm full-size red dot
Who makes the Romeo 5?
Romeo 5 is made by Holosun, a Chinese manufacturer. That is why they can be sold at a lower price than other sig sauer models.
What's better, 3 MOA or 6 MOA?
A 3 MOA circle is best for giving more precision aim to your target, whereas a 6 MOA circle will be quick to aim your target within any range. Therefore, opting for 6 MOA is always better.
Are SIG optics made in China?
Since sig has a wide range of optics in their range. Therefore, not all, but only the optics of sig Romeo 4 optics are manufactured in China.
Are SIG red dots made by Holosun?
Sig red dots are not made by Holosun. Hence the red dots are not manufactured in China. However, the only exception is the Romeo 5 from this range because Holosun manufactures this red dot.
Is Holosun a Chinese company?
Yes, Holosun is a Chinese red dot manufacturing company. They came into the market not long ago and are already famed in the red dot sight manufacturing. They are continually improving and updating their products to make it better.
What is the best Holosun red dot?
Even though all of the red dots of Holosun are top-notch and highly efficient, let us pick the top three of their production.
● Sig Romeo 5 1×20 mm
● Holosun 1×30 mm red dot and green laser
●Holosun Elite 2 MOA compact green led dot sight.
Are Sig Sauer pistols made in Germany?
Even though the basic pistols of sig sauer are manufactured in their two plants in New Hampshire, but the guns with high maintenance and risk-involvement are manufactured in their German manufacturing plant.
Conclusion on Sig romeo 4 vs romeo 5
Finally, all we want to say about Sig Romeo is that it is one of the most reliable and trustworthy red dot optics brands. Whether it is the Sig Romeo 4 or 5, both are tremendous scope for shooting long distance. 
We hope the Sig Romeo 4 vs. 5 reviews were insightful enough for you to pick your desired red dot optic. It does not matter whatever you choose, be assured you are getting a rugged and efficient optic from Sig Sauer.