Burris AR-332 vs Vortex Spitfire: Which is better for shooting
This article will give you an idea of which optic you ultimately need. So, let's dive deeper into Burris AR-332 VS. Vortex Spitfire head to head comparison.
Main Differences Between Burris AR-332 & Vortex Spitfire
Burris AR-332 & Vortex Spitfire both are closely similar scopes with some sharp distinction between themselves. The Burris AR has 2.5 inches Eye relief, whereas the Vortex has 2.8 inches of eye relief. Having the same 3x magnification level, the windage adjustment level of the AR-332 is 80 MOA, and for Spitfire, it is conveniently 120 MOA.
The battery of the Vortex Spitfire is CR 1632 that is unique and rarely used in scopes. And it could last up to 3000 hours. On the other hand, the Burris ar-332 battery (CR 2032 battery) has a life cycle of up to 3000 hours.
When it comes to weight, Vortex Spitfire got a heavier weight than the AR-332. Besides, the price of the Vortex Spitfire is pricier than the Burris AR-332. However, the scope is worth the money if you're looking forward to using it for professional purposes.

As rifle scopes, Vortex and Burris is a popular name. Vortex is one of the leading brands in providing world-class optics with high integrated features. Whereas, Burris being cost-friendly with almost similar features as a high-end optic, has attracted many buyers around the world.
Hence, I am differentiating Vortex and Burris starting from optical to technical features for different types of shooting purposes. So, let's dive deeper into Burris AR-332 VS. Vortex Spitfire.
Read Burris Xtreme Tactical Rings Review
Comparison Table between Burris AR-332 vs Vortex Spitfire.
First, let's look at a comparison chart between Burris AR-332 vs Vortex Spitfire. The Burris AR–332 Prism is a 'Close Quarters' optic made for tactical carbines.
| | | |
| --- | --- | --- |
| | Burris AR-332 | Vortex Spitfire |
| Image | | |
| Magnification | 3x | 3x |
| Eye-relief | 2.5 inches | 2.8 inches |
| Elevation/ Windage adjustment | 80 MOA | 120 MOA |
| Field of View | 32 feet/ 100 feet | 31.5 feet/ 100 feet |
| Objective Lens Diameter | 30 mm | 30 mm |
| Focus | Parallax free | 100 yards |
| Click Value | ½ MOA | 1/2 MOA |
| Weight | 14.2 ounces | 15.4 ounces |
| Price | Check Price | Check Price |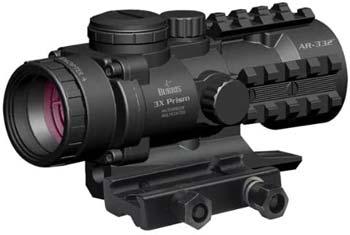 The Burris AR-332 Prism Sight Multi-Coated Optics is a feature-packed red dot optic and the perfect choice for professional marksmen. You may wonder why we have designated this one for professionals because they are designed to use military and law enforcement use.
The optic has ten different illumination settings, which can be instantly changed according to your comfortable light condition with the power selector.
Moreover, the Burris 332 is incorporated with an auto light adapter that sets the light according to the outdoor lighting condition to give a more accurate and crisp view. The weatherproofing elements within this optic are mind-blowing.
Body tubes are nitrogen-purged, preventing fog-proof sighting with the lens; also, the lens comes with flip-up covers that protect it from dust when not in use. The internal components are hand-fitted with so much intense precision that it makes them shockproof.
As the name suggests, it is a multi-coating optic with an index-matched hi-lume that provides an accuracy of shooting in low-light conditions and glaring illumination. Most famous Picatinny rail mounting offers an advantage of the mount with almost all the riflescope.
Last but not least, the optic has 3x magnification within its 30 mm objective lens for the best distant view possible. It is an enjoyable optic to explore all the amazing features instilled within.
Optical Features of Burris 332
Reticle Type: Reticle is a ballistic CQ type with three different color settings- red, green, black. The black setting color can be used even if there is no battery power. Burris 332's reticle can provide accuracy up to 600 yards!
Lens: Lens is multi coated with index-matched hi-lume, which increases the success rate for hitting targets. The Hi-lume helps to target in both low lights and glaring daylight conditions.
Sighting In: Burris recommends sighting in for 100 yards, cause the Ballistic Drop Compensation assumes 100 yards distance. Click values are 1/2 MOA and the sight has 60 total MOA of adjustment at 100 yards.
The AR-332 is shipped with the reticle centered in its range of movement. If the bore aligns well off the bullseye and target, you should check for a mounting problem.
Coating Type: Coating of the optic is done with rugged material to withstand any kind of harsh weather and scratches. Nothing will be harmed in years.
Construction Features of Burris 332
Aircraft Grade Aluminum: Each part of the Burris 3x Prism is made from an aircraft-grade aluminum alloy that stands for its durability. This makes the optics overcome every recoil and abuse.
Waterproof: The tube is nitrogen purged inside, which means water cannot enter into the optic and damage any part. Hence, you can use it in the rain without fearing water.
Fog- proof: Again, the evergreen nitrogen filled tubes prevents fog from accumulating anywhere inside the optic. This means the lens does not hold fog in foggy seasons, so you don't have to frequently clean while shooting.
Shockproof: All the optic parts are hand-fitted and made from high-grade aluminum, so they won't budge from their place even if they fall accidentally. Also, they won't break due to uncertain falling.
External Rotation Indicator: There are separate rotation indicators for illumination and windage/ elevation. They are easy and quick to use to select power.
Locking Illumination: With ten different illumination settings, this optic offers you a wide array of light conditions to choose from. There are five green and five red illuminations in a different setting.
Technical specifications of Burris 332
Magnification: 3x

Objective lens diameter: 30 mm

Mounting type: 3 Picatinny rail mounting

10 level of illumination setting

The reticle has three color setting- black, red, green

Multi Coated with index-matched hi-lume
Pros:
Provided with high-quality coating on the glass

Has easy to turn controls

Aids with a wide array of illumination

Waterproof and shockproof
Cons:
Magnification can be too high for short-range shooting, which cannot be adjusted

.
What is Included in the Box?
Let us have a sneak peek at what comes inside the kit of Burris 332:
A 3 MOA fast fire three red dot sight

ARD anti-reflection device

A solid, reusable case
Burris AR-332 Video Review
Vortex Spitfire Review in 2023
There is no need to re-introduce Vortex to a regular optic buyer. But for all those newbies thinking of buying a Vortex, let us introduce you to the best. The Vortex Spitfire, 3x prism scope review, will cover all.
The ballistic CQ reticle it has with EBR-556B MOA is perfect for close to medium-range shootings. The prism-shaped design ensures a compact mount over any scope yet ensuring a high-quality view.
A Magnification of 3x within a 32 mm objective lens is enough to provide a crisp view to target within a distance of 500 yards.
Talking about the construction, a well-customized optic is presented to you by a group of elite Vortex engineers. They have used Aluminum alloy chassis to construct every part of the optic, except for the lens, made from glass.
The lens has fully optical multi coated to prevent reflections in glaring lights and provide vision in low-light conditions. This feature helps to achieve a precise and accurate view of your target in any situation.
Moreover, there is 1 mm of water resistance on the optic to aid you to use it in the rain. The illumination color is red and green, with five different levels of settings that you can adjust according to your light condition.
The battery type for this optic is CR 1632, which will last up to 3000 hours at max. For a power-packed performance in every environment, you can undoubtedly go for Vortex Spitfire.
Optical Features of Vortex Spitfire
Reticle Type: Vortex red dot 3x has a Ballistic CQ reticle with EBR-556B MOA. The reticle is dual ring tactical, which is etched directly to the prism for greater accuracy towards the aim.
Coating Type: The outer coating is a hard-anodized matte-black finish. That helps to prevent the optic from scratches and protects the internal components too.
Optical coating: Optical coating is fully multicoated on high-quality lens glass. This helps to gain greater accuracy with lighting both in extra-low and bright lights.
Construction Features of Vortex Spitfire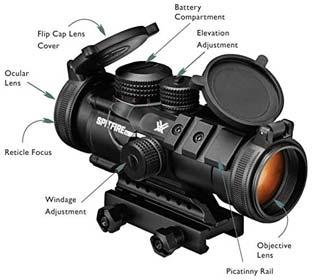 Aircraft Grade Aluminum: Designed with aircraft-grade aluminum chassis for longest term use without denting or breaking. Moreover, the alloy provides a lightweight and compact mount of the optic on a scope.
Waterproof: Has 1 mm water-resisting mark on the optic. So, water won't enter and damage the components in any way.
Fog-proof: The nitrogen-filled O-ring seals prevent the lens from fogging up. Hence, you can smoothly use the optic without having to clean the fog frequently.
Shockproof: It has a shockproof performance as it is made from rigid aluminum alloy. The components won't break due to accidental falling and survive through every harsh condition.
External Rotation Indicator: The easy and swift power rotating indicators for illumination and windage provides quick rotation. Adjustment per click is ½ MOA.
Locking Illumination: Illumination has 5 level adjustment with red and green lights for each color. You can match the lighting with your suitable light condition.
Battery: The battery type used for this optic is CR-1632. It can last up to 3000 hours with the low-level illumination setting.
Technical specifications of Vortex Spitfire
Magnification: 3x

Eye-relief: 2.8 inches

Optical is fully multicoated

Made from aluminum alloy chassis

Parallax: 100 yards

Battery life: 250-3000 hours
Pros
Prism-based compact design

Fog-proof, waterproof, and shockproof

A wide array of brightness settings

Durable and rugged

Easy mounting on Picatinny rail
Cons
Battery type is uncommon to find
What is Included in the Box?
Inside the box of vortex spitfire, you will get some of these things:
Flip caps

T-15 Torx wrench

2 mm hex wrench

2 Picatinny rails

A battery
Vortex Spitfire Video Review
Comparing the Burris AR-332 vs Vortex Spitfire rifle scopes : Product Comparison
Companies
Burris is a well-known American distributor of optics, which was founded in 1972. They make high-end scopes which are made in Greeley. Whereas Vortex provides cost-effective optics with high-quality features and it also belongs to the USA.
Construction
If construction is compared, then both of them are engineered with hard, durable, aircraft-grade aluminum alloy. This makes the optics and their components super potent against any recoil or harshness of the environment.
Both of these are purged with nitrogen, which keeps them fog-proof in certain weather conditions. Whereas the waterproof features incorporated in their construction makes them usable in monsoon.
Moreover, the lens glasses are constructed fully multicoated, preventing glare in broad daylight and delivering the exact lighting needed in low lights.
However, the difference here is, Burris uses Hi-Lume multi coating, whereas Vortex has anti-glare and scratch-proof ones. Both types are commendable.
Accuracy
Burris and Vortex provide accuracy of view through their multi-setting of illumination. Burris prism provides an accuracy of view till 600 yards, whereas Vortex has up to 500 yards, with both of their magnification being the same- 3x.
Brightness Control
Brightness level and control are the same for both the optics. Each of them has ten brightness levels, five red and five green, to be precise. You can control it with their external rotators, which you can turn ½ MOA clicks to reach your desired brightness level.
Battery Life
Vortex has a unique and different battery compared to Burris, which is CR 1632. This type of battery is difficult to find. And Burris has the most common battery that is CR 2032.
Their battery lives are the same, which is 250 hours in the highest illumination setting and 3000 hours in the lowest illumination setting. The best part about Burris is that it has self-illuminator adjustability; this helps to save battery life immensely.
Is it Waterproof
Both of the optics are waterproof as their O-rings are nitrogen filled. Vortex has 1 mm of water repellency.
Reticles
Reticle type for them is Ballistic CQ with the slightest differences. Burris 332 has three color reticle settings, red, black, and green. Where the black reticle is still visible even if there is no battery. Vortex has two reticle options, which are red and green.
Windage and Elevation Adjustments
Vortex wins in terms of elevation and windage adjustments against Burris. Because Vortex has 120 MOA adjustment and Burris has 80 MOA adjustments, Vortex has more capacity for long range shooting than Burris.
Eye Relief
In terms of Eye-relief, Vortex wins because it has 2.8 inches of it, whereas Burris has 2.5 of it.
Field of View
The field of view is wider for Burris, 32 feet, and shorter in terms of Vortex, which is 31.5 feet. Though it's not a significant difference, a 0.5 difference can be substantial for professionals.
Overall Performance against price
If you want to compare them against the price, then both of them have more or less similar performance. Where Burris, being a high-end brand, is charging more. But they are also serving some extra on the features, such as the reticle, battery life, compactness, and accuracy.
Note: Vortex costing 20% lesser does not serve anything less. It has also left Burris behind regarding some features, such as eye relief, elevation, and windage adjustment.
Both of them are excellent on their own in terms of accuracy and ease. If you are a newbie, then you can definitely start off by Vortex to test your skills out before purging your pocket into anything expensive.
The Warranty Issue
Burris promises their authorized clients to provide a forever warranty. They take no repair or replacement charge only if the optic is damaged or defective.
However, they won't cover for theft, cosmetic damage, and intentional damage to the product.
Whereas, Vortex provides a lifetime warranty to their authorized clients all-around the world. They have warranty servers globally to serve their clients.
However, same as Burris, Vortex too doesn't cover for intentional damages and theft of the product.
Vortex Spitfire 3x
Vortex spitfire is one unconventional optic within your budget. It delivers all the features one would need to get started. And, it is made very rugged to even outlast your life only if you take care of it.
The optic is 100% water repellent up to 1 mm, fog-proof and shockproof. Thank the nitrogen-purged tubes for doing the honor. Moreover, the etched reticle provides ultimate accuracy towards the aim.
The vortex spitfire magnifier is 3x with a 30 mm objective lens that can aim up to 500 yards. Where the 10 level of 2 color brightness setting provides more perfection in aiming in all light conditions. The eye-piece is also fast focus.
Burris ar-332 review-waterproof, shockproof, and fogproof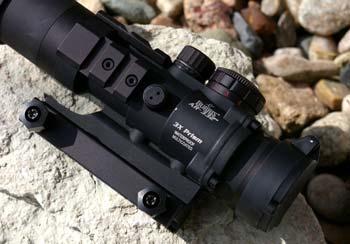 Burris ar-332 is one worth having optic if you are a professional shooter. You won't regret buying their high-class reticles, battery-saving technology, and a wider field of view with that amount of money. Burris ar-332 eye relief is (inches). 2.5.
It is constructed with hard-anodized aluminum alloy and has a non-reflective matte black coating. Nothing can scratch, dent, or break the piece. Unless you don't intentionally keep hitting it, it won't move from its place.
Moreover, the weatherproof feature makes it usable in all weather conditions. You can use it in the rainy season, winter or summer. The construction is compact and mounts easily on Picatinny rails. Moreover, Burris Optics featured with AR-QD Mount to provide a Quick Detach lever system.
Burris ar-332 battery replacement
Want to learn about Vortex Strike Eagle compare to the Burris MTAC? The Burris gives you 4 inches of eye relief when compared to the Vortex. But the Burris only has 4x magnification compare to Vortex's 6x magnification.
How to zero burris ar-332
Burris ar-332 vs primary arms
Burris is a bit less pricey optic than Primary Arms. However, that surely determines their features because Primary arms have highly defined ones. Reticle for Primary Arms is 2.5x CQB ACSS with 1 MOA, and Burris ar-332 has Ballistic CQ reticle with 2.4 MOA center dot.
Primary arms have 200 hours of battery life at the highest brightness setting. Burris ar-332 has 250 hours in a similar setting. Also, Burris is around 2.5x times heavier than Primary arms.
Being around 10% pricier than Burris ar-332, primary arms have slightly better features. But people may not want to pay that price because the battery life of primary arms is still behind Burris ar-332.
Burris 332 vs. 536
The most significant difference between these two models of Burris is their magnification. Ar-332 has a magnification of 3x, and 536 has a magnification of 5x! The objective lens diameter is 32 mm for AR-332 and 36 mm for 536.
Model 536 is a little longer than AR-332. Also, the eye-relief for 536 is high (3.5) too compared to AR-332 (2.5). This might be too big of a difference.
536 also has a wide array of adjustments to brightness and elevation settings. And it is great for long-range shooting. But for short to medium range, AR-332 is suitable.
Burris ar 1x vs. vortex spitfire
Noticeable difference between the two is again magnification. Burris has 1x magnification, and spitfire has 3x magnification. So, Burris 1x is better for short-range shooting.
The reticle dot is smaller in Vortex compared to Burris 1x. Where spitfire has 1 MOA and Burris has 4.4 MOA. Large dots can be beneficial for new shooters to point targets.
The price of both of them is very similar. So, you can decide on your own which one to buy.
Vortex Spitfire 3x for sale
You can find vortex spitfire at competitive pricing via lots of websites. Such as dvor.com has sales on Vortex up to 70%. It's a pretty good deal, though.
Also, the optics planet has a 30% discount on vortex optics.
Vortex Spitfire 3x vs. primary arms 3x
Spitfire 3x provides all the features for beginner shooters. It is made very rugged to even outlast your life only if you take care of it. It is similar for the Primary arm too.
Vortex Spitfire 3x has a comparatively lower price than primary arm 3x, considering both provide similar magnification. Moreover, the eye relief for Vortex is 0.1 inches more than primary arms'.
Primary arms 3x are not compatible with high-recoil light guns. The vortex spitfire magnifier is 3x with a 30 mm objective lens that can aim up to 500 yards. At the same time, primary arms aim up to 400 yards.
Related Rifle Scope Topic
Conclusion
How well did you know Vortex vs. Burris after reading the entire thing out? Let me tell you in precise that both the optics are worth-having, and both of their pricing justify their performances.
Both of them are identical twins with slight differences, and a 50 bucks difference is not that shivering. So, it is totally a personal choice to buy any of the optics.
If someone thinks reticle is their priority, they can go for Burris, and if Windage adjustment is their priority, then Vortex should be their option. Which is better for shooting long distances, to adjust for windage & elevation to meet the extreme conditions?