5 Best 5.56 Reloading Dies Reviews for Gun Safe in 2023
Shooting is fun but it's surely expensive. It's the bullets that are responsible for a significant part of costs. And to minimize the expenditure, experienced hunters rely on reloading their 5.56 cartridges.
However, reloading can be quite tricky. Additionally, the performance relies on a set of good quality reloading dies. A lot of us focus on only the reloading press but without the dies, the whole setup can become useless. Therefore, the need for a set of quality dies is inevitable.
As a result, in this article, we will show you some of the best 5.56 reloading dies on the market. Check which one suits you the most so that you can get the maximum performance.
Is there a difference between .223 and 5.56 reloading dies?
In a glimpse, the 5.56 dies and .223 dies may look the same. Moreover, to any inexperienced eyes, they will look identical. But are .223 and 5.56 reloading dies the same?
Are 223 and 5.56 reloading dies the same? Yes! There is no difference between .223 dies and 5.56 dies. Because the dimensions of 5.56 bullets and .223 bullets are the same.
The only differences between the bullets are the pressure and a slight case difference.
In the case of a 5.56 bullet, it is loaded with a higher level of pressure. So, you can use any die for reloading 5.56 or .223. Because of this, the best .223 reloading dies are the same.
Top 5 Best 5.56 Reloading Dies in 2023
Below are 5 of the best 5.56 reloading dies that are currently available in the market. These dies will not only give you accurate measurement, but also durability and reliability.
#1. Hornady Custom Grade Dies Review 2-Die Set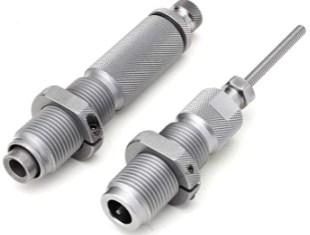 Coming at number one is a favorite of the avid reloaders. The Hornady Custom Grade New Dimension 2-Die Set wins the crown of the best 5.56 reloading dies. Highly appreciated for their precision, accuracy is what Hornady serves the best.
The set includes two different dies; one being a full-length sizing die and another is a seating die. The sizing die comes with a few handy features which make reloading easy and accurate. Focusing on the seating die, depth adjustment is an area when this tool particularly excels.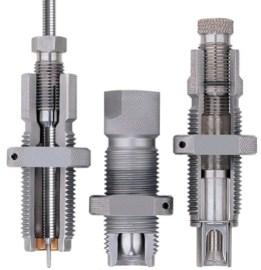 Key Features:
Offers excellent precision as well as adjustment range
Functions very smoothly while maintaining accurate alignment
Sizing die features Zip Spindle that drastically reduces the possibility of slippage
Features elliptical expander that also serves as an expander die
Seating die features compression lock O-ring which makes adjustment a breeze, even for beginners
Both the dies come with Hornady Sure-Loc™ lock rings which keep the die steadily in place
Main Features:
Zip Spindle Design:
A simple slip can potentially damage your bullet and result in faulty reloader outputs. Since shooting with a faulty bullet is not a good idea, Hornady came with a solution. Their excellent offering, the Custom Grade Die significantly reduces the possibility of slippage.
Light threads, which go around the spindle and the spindle collet ensure tight adjustments. By doing simple movements like turning, the spindle can be adjusted incrementally. In a hurry? Just up down the zip and go.
Advanced Seating System:
The included seating die this set comes with does not lack the magic of modern innovation either. In fact, the seating system this die provides is a state of art. To ensure optimum precision, the seating die comes with some great features. A floating bullet alignment sleeve, a floating steel seating stem, and a built-in crimper are some of them.
Hornady Sure-Loc™ Lock Rings:
Both the dies this set comes with are well equipped with Hornady's Sure-Loc™ Lock Rings. Functionality is what makes the lock rings special. Unlike other locks, they put force persistently, allowing the die to remain in place. Furthermore, there is no contact between the locking screw and the thread, hence the pliers remain safe.
Are Hornady Custom Grade dies good?
The quality of Hornady Custom Grade Die is superb. Due to their titanium-coated construction, they don't need any lubrication while performing remarkably well. No wonder why they are frequently mentioned is most of the best dies lists.
Do Hornady Custom Grade dies need lube?
No, Hornady Custom Grade Dies do not need any lubrication to perform.
They come with titanium-coated rings that stop the case from sticking. Lubrication, therefore, is not needed. Consequently, there is less friction and wear and tear.
Do Hornady Custom Grade dies come with Shell holders?
Yes, each die set comes with a shell holder which is completely free. This is a great touch from Hornady, as this eliminates the hassle of buying shell holders separately.
What are Hornady's new dimension dies?
Custom Grade New Dimension or CDND set, comes with two CDND dies. The CDND sizing die comes with a zip spindle. On the other hand, the seating die comes with a floating bullet alignment sleeve for enhanced accuracy. Check Hornady Match Grade Dies VS Custom Grade Dies
#2. Lee Precision 90694 .223 Remington Ultimate Rifle Die Set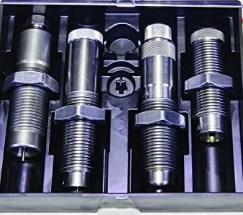 Looking for the dies with the maximum level of versatility? With precision as close to factory level, Lee Precision's .223 Remington Ultimate Rifle Die Set excels in every aspect. It is indeed the most effective die for reloading the .223 for AR-15 that you can find.
Lee Precision makes some of the best Lee 5.56 reloading dies in the market. This lee 223 rem ultimate die set can go head-to-head with the best. Coming in a full package, these 4 dies are meant to give you all the benefits and support you need. Furthermore, the shell holder, powder measure, and Lee load data provide an enhanced convenience.
Key Features:
This set of 4 dies is meant to provide the optimum level of versatility
Comes with a full-length lee .233 Sizing Die; ideal for reloading brass from other guns
Perfect accuracy with the collet neck sizing die
No lubrication is required; makes using simple, easy, and clean
Features Factory Crimp Die that is as accurate as factory grade
A complete set; includes 4 dies and additional handy tools
Main Features:
Maximum Flexibility:
You can do nearly anything with this die set when it comes to reloading. Unlike most other die sets, this includes 4 different dies. Each one of them has its own purpose and functionality. Therefore, for any job you want to complete, there will be one at your disposal.
Factory Like Quality:
Bullets that are manufactured in factories are certainly highly reliable. After they are used, it's extremely tough to produce something at that level. However, Lee .223 Dies managed to hit the same quality.
With the help of these dies, people will find it hard to distinguish your reloaded ones and factory ones. In addition to that, the precision of these dies make them comparable to the manufacturer's productions. Most importantly, this set comes with a Factory Crimp Die that gives the perfect finish.
A Complete Set:
No matter whether you are a beginner or an expert, this will serve you a complete experience. The Lee .223 ultimate die set comes with 4 different dies. Along with a neck sizer and a full-length sizer, it provides 2 additional dies as well.
One easy-adjust dead length bullet seating die and one factory die are the remaining two.
In addition to that, the set also includes some other handy tools. Along with shell holder and powder measure, this Lee reloading dies set also includes famous Lee load data featuring all common powder brands. For you to not get lost, all the data is organized in a read logical format.
Which Lee Die Set for .223?
A Lee Precision .223 Rem Ultimate Die Set is among the best products for loading .223 bullets. This set comes with 4 pieces of dies. Versatility is what makes these 4 dies stand out. Besides, for the level of accuracy, this comes with a factory crimp die. Hence, this set is one of the best in the market.
Are Lee's ultimate dies carbide?
No. Lee Ultimate Dies are not carbide. In fact, they are made of steel. The dies, while being extremely durable, do require lubrication.
How good are Lee reloading dies?
Considering the price, Lee reloading dies offer really good value. They work really well and the best part is they don't break the wallet. Besides, the four-die set deal is a very good offer. However, in comparison to RCBS, they do lack quality.
What is a pacesetter die?
A pacesetter die is a 3-piece die set. One seating die, one crimp die, and one resizing die are included in this set. Die set comes with the ability to resize the body as well as the neck to factory specifications.
What is a factory crimp die?
The bullets are crimped in place just like factory ammo with a factory crimp die. Exactly like a factory ammunition, a collet pushes the case's very edge into the crimping die's groove. That allows for much more robust crimping.
#3. RCBS 11107 .223 Rem/5.56 x 45 SB T/C Die Set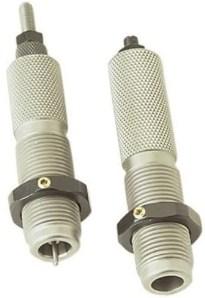 AR calibers can get quite challenging when it comes to reloading. They require not only a higher degree of precision for the proper chamber but also comes in a greater volume than usual. As you are going to shoot not one bullet but many, reloading faster is something you need to keep in mind.
Therefore, RCBS came with their RCBS 11107, a small base taper crimp die set for the AR series. What makes these dies unique is that they are excellent with progressive reloaders. Besides, their high-quality construction, the finish will keep you astonished.
Key Features:
High quality and durable construction
Performs very well with a progressive reloading system
Includes 2 dies; 1 small base sizing die & 1 taper crimp seating die
Excellent for reloading bullets for AR and Semi-Auto rifles
Easy adjustment with Die Lock-Ring Wrench
Main Features:
Perfect Progressive Reloading Die:
Progressive dies are excellent at reloading a high volume of bullets. And just to enhance that convenience, RCBS 11107's small base sizing die is a perfect match. This sizing die can size the brass of the bullet at minimum specification. This way, you will always be sure that your bullet will chamber all the time. This makes reloading various sizes of bullets (AR-style, semi-auto, pump-action, etc.) fairly easy.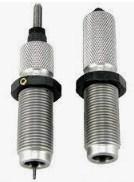 Additionally, the taper crimp seating die is another excellence from this RCBS .223 die set. What makes this unique is its ability to reduce bulges from larger-length bullets. You can crimp a wide variety of case lengths with this die without causing buckling. Besides, this crimping die crimps the bullet in a way that during recoil, they will stay in place.
Assured Quality:
For over 75 years, RCBS has served the market its remarkable quality. From their bigger machines to tiny tools, the level of craftsmanship is unworldly. Therefore, the same level of excellence you will find in their .223 die set. To meet the highest industry standards, they ensure these dies will withstand the highest pressure. Furthermore, the material is hardened and finished, so that it can last for years.
Die Lock-Ring Wrench:
While adjusting dies, one thing is quite common and that is bashed knuckles. Die adjustments can get really tough. However, RCBS solves the matter. With their Die Lock-Ring Wrench, die adjustment has never been this easy. All your previous nightmares with fumbling are all gone.
Will RCBS dies work in a Lee Press?
Yes. RCBS die can perfectly work with a Lee Press. However, there are some conditions present. If you want to use the die with a shotgun or a 50 BMG press, you can't do that. RCBS die is incompatible with these types of presses.
#4. Lyman .223 Rem Carbide Deluxe Rifle 3 Die Set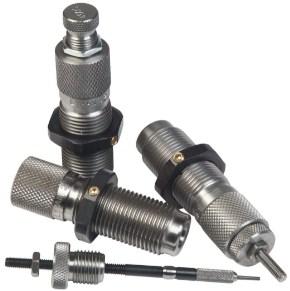 Coming in 3 pieces, the Lyman .223 Rem Carbide Deluxe Rifles die is another great option. Moreover, this die set is made to give the reloader maximum accuracy. Moreover, the neck sizing die and the premium carbide expander are combined into one.
In addition, the expander is made of super hard carbide, which is extremely durable. Besides, excessive working of the brass is not happening here. Plus, a button-up decapping rod ensures no lube is needed.
Key Features:
Comes in a 3-piece set
Features a two-in-one die
Includes a Deluxe Carbide Expander Assembly
Neck Size Die ensures case to chamber fit remains perfect
By using these dies, the brass will work less, resulting in a longer-lasting case
Main Features:
Two in One Die:
The most unique feature of this 3-die set is the two-in-one die it comes with. This innovative die is a combination of expander assembly and a neck sizing die. The expander assembly is made of premium quality carbide which ensures maximum durability. Besides, as carbide is used here, the need for lubrication is not present.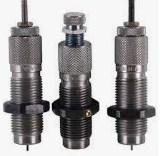 Free Floating Carbide Sizing Button:
The Carbide Expander Assembly also comes with another magic. Featuring a free-floating carbide button, the neck expansion becomes extremely smooth. Due to the system, the button can be moved up to the decapping rod using press leverage.
#5. Dillon Precision 10096 Carbide Rifle 3 Three Die Set 223 Rem 5.56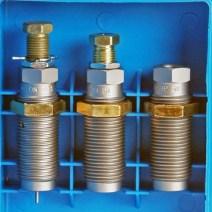 Featuring at number 5 of this list of best 5.56 reloading dies, Dillon Precision marks their presence. Made from carbide, these dies come in a set of 3. Despite carbide, Dillon Precision suggests you to use lubrication.
A sizing/depriming die, a bullet seating dies, and a taper crimp die, the set consists of all three of them. Moreover, the full-length sizing or depriming die can function with both automatic and semi-auto firearms. Both bullet seating die and taper crimp die are made to give you the perfect accuracy.
Key Features:
Comes in a set of 3 dies, which can be bought individually
Using a carbide expander ball, the depriming assembly is silent
Internally designed bullet seating die ensures bullet alignment is straight
Precision and accuracy requirements are met
Main Features:
Automatic and Semi-Auto Reloading:
Reloading automatics and semi-autos can be done with ease using the sizing die. This die is in full length and designed to minimize the tolerance of the size case. It is recommended that the die be adjusted correctly, however.
Specially Configured Taper Crimp Die:
Unlike other crimp dies, this one has a special configuration. In order to center the case neck as well as the body of the case, this taper crimp die performs excellently. Besides, this die ensures the accuracy and precision are top-notch.
What Is a Reloading Die?
A reloading die is a piece of tool that is used in a reloading press. This fixed part of a reloading press is used to reload cartridges. Different types of reloading dies are available to meet different requirements. Each step of reloading requires a die, from decapping to seating and crimping.

How to Adjust Reloading Dies?
Adjustment of reloading dies is one of the main tasks of reloading. A faulty adjustment can totally mess up your reloading. Therefore, for precise reloading, the importance of perfect adjustment is inevitable.
The sizing die & the seating die are the two dies that you need to adjust. Below are the ways to adjust these dies.
Sizing Die Adjustment:
Start with screwing the die into your press until the die touches the shell holder.
When the die touches the shell holder, screw the lock ring down so that it gets set.
Now just screw the set screw and your adjustment is done.
Seating Die Adjustment:
Start with a brass placed on your shell holder.
Now take the seating die and start screwing in until it touches the brass. This time make sure you are not touching the shell holder but the brass.
Unscrew a quarter turn. Doing so will prevent the case from crimping.
Raise the seat stem to its highest position.
Set the lock ring.
Your die will be adjusted. However, you do need to adjust your seating depth and here's how you do that.
Place a loaded bullet into the shell holder and bring that up.
Bring down the seating stem until it touches the bullet,
Lock that. Your seating depth is adjusted.
9mm Reloading Dies vs 5.56 Reloading Dies
When it comes to differences between a pistol reloading die and a rifle reloading die, few things are distinctive. When you are reading 5.56, you have a choice between a neck die or a full-length die.
In comparison to that, in case of 9mm reloading die, you are limited to only one style of sizing die.
For More Knowledge –Is Reloading 9mm Worth It? And 9mm Reloading Dies Set Review.
Another difference can be found in the crimping system. Crimping is a pistol exclusive feature that most of the 9mm reloading dies feature.
A pistol die can be either a taper or a profile crimping die. In the case of crimping rifle bullets, this is rather rare. Because of this, most of the dies don't come with such features.
How To Choose The Best 5.56 Reloading Dies – Buying Guide
Reloading dies may seem simple, but you can easily buy a wrong one too. Therefore, it is always advisable to consider a few of the factors, so that you don't make a mistake. Below are some of the aspects that you should not ignore while getting a set of reloading dies.
The shape of the Case:
Reloading dies do come in a few pieces. One can come in 3-pieces whereas another includes one die extra. All these variations are purposeful and one of the reasons in the shape of the case. Cases can be straight or bottleneck and therefore you need to make a decision here.
If you are going to reload straight cases, going for a 3-piece die set is recommended. However, if your cases have a bottleneck shape, go for a 2-die set.
Reloading Frequency:
How frequently do you reload? If you are a casual reloader, you may cut some additional tools as you may not need them. For instance, a hand die which is used to mod the neck cartridges. However, for a seasoned reloader, those are very important.
Specific Design:
Dies are specifically designed to reload different types of calibers. Some dies are made for 9mm bullets whereas some others are only made to reload 5.56 ammo. As you are looking for a 5.56 reloading die, make sure you check properly. Don't lose money by buying the wrong die.
Brand:
When it comes to being reliable and ensuring quality, considering brands is highly suggested. Brands like Hornady, Lyman, RCBS, and Lee are manufacturing dies for a really long period. Each one of them are known for their outstanding performance, quality, and reliability.
Type of Press:
Last but not least, check your press type as well. Presses do come in different types such as single-stage, turret press, or progressive press. Each press has its own specification, and thus needs specified dies. Therefore, the importance of understanding which type you use and what dies you want is fundamental.
Advantages Of the 5.56 Reloading Dies
Reloading can be a comprehensive journey. For this reason, most people never reload on their own. Even so, you will not be disappointed if you plan to refill your 5.56 bullets with a reloading setup. Due to the advantages, they provide, it makes the whole shooting experience much more enjoyable. Let's dive into some of the advantages, shall we?
Cost Efficient:
If you are looking for a longer time setup, 5.56 reloading dies can save you money. However, the initial setup can be quite expensive. Therefore, most people don't take this pathway. In a nutshell, the dies can reload much cheaper if you consider the initial expenses as investment.
Improve Accuracy:
For enthusiasts, accuracy is a big concern. A simple tweak in the measurement can make or break a game. By using 5.56 dies, the accuracy will be at its maximum. In fact, these dies are made to give the best possible precision. Besides, as you are reloading on your own, you have your full freedom. Therefore, experiments are also possible. However, make sure to ensure safety standards.
Fun to Do:
Even though reloading bullets can be painstaking, they are fun to do. The more you reload, the deeper you will fall in love with it. With the help of 5.56 dies, reloading becomes much easier, hence much more entertaining.

Shoot More:
When you are buying ammo, you are limited to the amount you have. However, if you reload, you can make a few more, just inside your workstation. This convenience allows you to shoot more than usual.
FAQ
Can you reload 5.56 brass with .223 dies?
Yes you can reload 5.56 brass with .223 dies. Just because the dimensions of .223 and 5.56 brass are identical, you can reload them interchangeably. However, the other way round is not possible. This means you cannot reload .223 brass with 5.56 dies.
What dies do I need for .223?
To reload a .223, you need a full-length die to reload your bullet. Getting a 2-die set with full-length sizing die along with a seating die will do great. RCBS makes some great 2-die sets that you can look at. In addition to the dies, you may also need a case gage as well as a tool to deprime.
Conclusion
Even if it takes a significant effort to reload bullets, the activity is surely fun. No wonder why the enthusiasts are so passionate about reloading their cartridges. Other than the fun part, they do reduce the cost quite substantially. With the additional benefit of having bullets available all the time, reloading bullets has gained popularity.
Quality reloading depends on quality dies. The better the dies are, the better accuracy as well as precision you will get. Therefore, we tried to enlist 5 of the best 5.56 reloading dies that won't let you down in any way.
Among the options, Hornady Custom Grade New Dimension 2-Die Set wins the crown for its excellent accuracy and smoothness. However, considering other options will not fail to impress you either. Therefore, find out which set of dies will suit you best so you can attain the best results.