Walther PPS vs PPQ : Which One To Choose [Know The Differences]
Walther is one of the finest handgun manufacturers in the world. It has been producing good quality pistols since 1886 consistently, among them many are considered iconic in the gun world. Their guns serve as a sidearm for many militaries as well as law enforcement agencies around the world.
Walther guns, PPQ, and PPS caused quite a stir when they were first released. Both of the pistols have their advantages and disadvantages. So, let's have a look at Walther PPQ vs. PPS what differs one from the other.
Check Walther PPS M2 sights and Check sights for Walther ppq m2
Differences Between Walther PPS and PPQ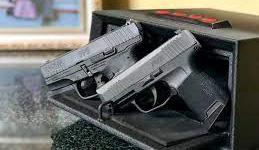 Originated in Germany both of the guns are semi-automatic pistols. Released in 2011, Walther PPQ is famous for its trigger. On the other hand, PPS is known as the police pistol slim is one of the finest self-defense tools in the world. Now, let's distinguish between the two based on features and performances.
Notable Features
The PPS striker is partially cocked but the PPQ is not. The PPQ striker has a 'quick defense' trigger on the other hand PPS has a 'quick safe' one.
The trigger travel of PPS is approximately 6 mm and 0.2 inches. But in the case of PPQ, the trigger travel is approximately 9mm and 0.4 inches as well as a short trigger reset of 2.5 mm.
Both of the guns do not need a decocker.
The PPS is a slim single track and the PPQ is full size.
In the case of PPS, the trigger has a long reset but PPQ has a very short one. Now, we know the quality of their triggers. Both of them fulfill the good demands.
The best feature of PPS is that it can shoot like a larger pistol. And because of the trigger characteristics, the PPQ is marketed as a Special Forces pistol, not a police duty one.
Now, one of the many differences between these two is in their barrels.
The PPS has a traditional barrel that is 81 mm in length and the rifling is conventional with spiral grooves and lands. On the contrary, the PPQ pistols are available in 9×19 mm Parabellum and 0.4 S&W chambered barrels. They are rifled in a way that stabilizes the bullet in flight.
In the case of variants, there is more PPQ available in the market than PPS. For PPS, currently, four models are available among them two are of 9×19 mm Parabellum.
And for PPQ, plenty of variants are available such as PPQ Simunition FX, PPQ tactical navy, PPQ tactical navy SD, PPQ M2 series, etc.
Performance
The dual recoil spring feature makes it easy to carry and concealed easily. The trigger can feel a little gritty at first, but eventually, it goes away within a hundred rounds. It also breaks down easily.
The sights are a standard three-dot and easy to acquire. The paddle release can be a little offsetting if you are used to the buttoning release.
If you talk about PPQ, it is a very reliable one as it has a slide made of steel and has a tender finish. The PPQ trigger is fabulous and out of the box. It contours the hand like no one's business.
It is easy to carry and the accuracy is outstanding. As long as it is in a good holster you will not find many issues.
The grip on the PPQ feels far superior to that of PPS. Another obvious difference is in the slide. The PPS has a nub on the other hand PPQ has accurate levers of gargantuan. Again, magazines on both pistols are also different.
The price range for PPQ is $500-600. You can expect to buy a Glock or smith within this range. And for PPS the price range is $400-450 which makes it more available.
FAQ
What does Walther PPQ stand for?
Walther PPQ stands for Polizeipistole Quick Defense or Police Pistol Quick. This model is not an automatic pistol rather this one is a semi-automatic design that is produced by the famous German Company named "Carl Walther Sportwaffen GmbH of Ulm. This model was specially designed for the security forces, law enforcement, and civilian shooting business.
Is Walther PPQ good for concealed carry?
Yes, Walther PPQ is good for concealed carry and the reason behind this is the compact size of this model as well as the four-inch barrel. These two are the things that cut it right for concealed carry. Handling this gun is pretty easy and comfortable and therefore drawing it from the concealment and holster won't be a problem for anyone.
Is the Walther PPS M2 a good gun?
Yes, Walther PPS M2 is a good gun because it has been experienced an impulse recoil and that is not very usual but pleasant for this kind of small gun. Walther PPS M2 offers services like comfortable, nice, and big guns than the usual 9mm single-stick ones. People with enough knowledge and interest to spend some time with their guns can find this gun great and valuable.
Is the Walther PPQ worth it?
In terms of quality, service, and performance, the Walther PPQ is worth every penny. Both the PPQ and P99 Walther Pistols are of excellent quality and have been through several extreme tests which were run by law enforcement and military units throughout the world. They performed pretty well on those extreme tests and the outcomes were great. This is what makes them a reliable handgun that is prepared to tolerate anything you want to put through this gun.
Wrap Up
Now, despite Walther being a remarkable gun manufacturing company, it is quite underrated. Walther has decided they will continue to produce PPS guns and might stop producing PPQ guns in favor of Walther PDP. But among all other Walther guns, PPQ and PPS stand the crowd.