Nikon Prostaff Vs Buckmaster 2 : Know Actual Deferences Now
The Nikon Buckmaster 2 vs Prostaff belong to Nikon's two most popular and widely appreciated rifle scope series. Each of them is equipped with great features and specifications, which makes choosing one of them so difficult.
owever, they have some differences that would help you to determine which one to choose. Nikon Buckmaster has a lesser light transmission percentage compared to Prostaff.
Buckmaster Transmits 92% light, whereas Prostaff can transmit up to 98% lighting. On the other hand, the Prostaff weighs 1 lb which is weightier than the 11-ounce Buckmaster.
Despite their keen differences, they have some things in common. Both the scope has a BDC reticle that is pretty much helpful for long-range shooters. Besides that, their magnification level is also the same.
Both have 3x to 9x magnification level that helps long-range shooters to shoot the target with ease.
In this article, we will discuss things that you should keep in mind while looking for a scope that fits your unique necessities, things to remember during the purchase process, and the similarities and dissimilarities between these two scopes.
Comparison Chart of Nikon Prostaff Vs. Buckmaster 2
| Features | Nikon Buckmaster 2 | Nikon Prostaff |
| --- | --- | --- |
| Image | | |
| Light transmission | 92% | 98% |
| Magnification | 3x-9x | 3x-9x |
| Weight | 11-ounce | 1 lb |
| Reticle type | Patented BDC | Patented BDC |
| Eye Relief | 3.5 inches | 3.6 inches |
| Objective Diameter | 40 mm | 40 mm |
| | Check Price | Check Price |
Nikon Buckmasters II 3-9×40 Review
Nikon Buckmasters 2 is a long-lasting and durable scope at an affordable price. In recent years, Nikon released it to provide a budget-friendly refined version of scopes from the Prostaff series that is optimized for entry-level shooters.
The beautifully designed multi-coated scope passes up to 98 percent of light. Its spring-loaded turrets can reset easily. Besides, it has a 3x to 9x magnification level that would be a perfect fit for hunting in the mid to short range.
The rifles come with a bullet drop compensator and simple crosshair. You can do accurate hunting within 100 to 500 yards of distance.
Features Nikon Buckmasters II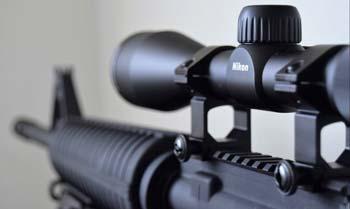 Extremely Bright Picture: Nikon is a reputed camera and binocular lens manufacturer. They provide the best optics system to absorb the maximum amount of light. Buckmaster 2 gives a bright and clear view to the user.
Patented BDC: Bullet Dropping Compensator tactics come with a see-through circle and crosshair. Spot on ballistic match technology creates accuracy in variable distances.
Water and Fog Proof: Nikon keeps in mind that water is the enemy of lenses. Buckmaster 2 uses anti-fog glasses. The scope is sealed with a circular ring with nitrogen gas to eliminate the fogs. Water-resistance helps in hard battle situations.
Technical Specifications
Magnification: 3 to 9 times zoom
Objective Diameter: 40 mm
Field of View: 100 yards parallax settings
Eye Relief: 3.5 inches
Weight: 1 pounds
Tube Diameter: 1 inch
Pros:
3.5 inches of eye relief gives a closure view. It is safe for recoiling impact to eyes.
Usable in foggy and watery conditions. Nitrogen gas-controlled anti-fog systems avoid water and streams.
Ballistic reticle with a transparent view. Simple crosshair to aim the target. Predicts distance according to the ammunition.
Suitable for seasonal sports and deer hunting. Clear and accurate shots from 100 yards to 500 yards.
Cons:
Use carefully to avoid high-velocity shock.
Nikon ProStaff 3-9 x 40 Black Matte Review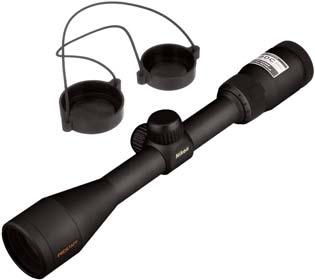 Nikon Prostaff provides a wide range of functions with slightly improved eye relief, magnification, and light transmission technology. If you have a comparatively bigger budget and are looking for a scope that will stay with you as you continue to get more skilled at shooting, Prostaff is ready to serve your purpose.
The scope is preferable in sports and hunting. Its quicker aim and long-range effectivity make it usable for almost any purpose, from competitive shooting to short and long-range hunting. The regular shooting distance is 600 yards. Experienced shooters can hit the target between 200 to 900 yards.
Its wider magnification helps you to hunt animals of any size, even from longer distances. Prostaff also has a compact eye relief system that makes use of higher calibers safer than its Buckmaster counterpart, which has a general 3.6-inch eye relief.
Features Nikon ProStaff 3-9 x 40 Black Matte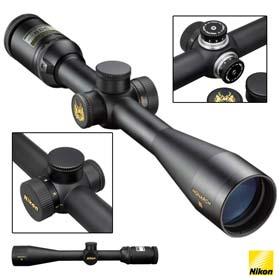 BDC Reticle: Circular Bullet Dropping Point view assists to predict the ammunition hitting point. Track the changeable distance using different diameters of ammunition.
Weather Proof: This scope arrives in rugged build quality to use in various conditions. O-shaped rings and nitrogen gas assure the anti-fog view. Water cannot pass through the lens.
Zero-Reset Turret: Reset the turret with a simple spring-loaded mechanism. Audible click helps you to remember the status of any change in action.
Technical Specification
Magnification: 3 to 9 times zoom
Objective Diameter: 40 mm
Field of View: 100 yards parallax settings
Eye Relief: 3.6 inches
Weight: 1 pound
Tube Diameter: 1 inch
Pros:
Larger shooting distance with 3-9×40 mm scope. Users can shoot up to 900 meters of distance with proper practice.
Affordable multi-coated glass for high contrast image. Exceptional to its price comparing other brands.
Bullet dropping Point performs correctly after the random shooting.
The turrets adjust the mechanism in a sticky way without any lock. Unwanted touch cannot move the settings.
Cons:
The magnification starts from 3 times zoom, shooting in the close range may require an additional red dot or holographic sight.
What is The Difference Between Nikon Buckmaster and Prostaff? [Details Comparison]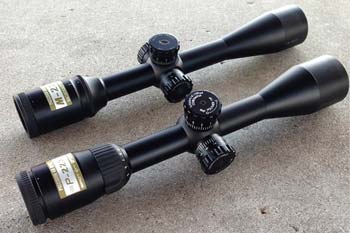 Companies: Nikon manufactured both scopes. They included most of the similar features in the scopes. However, they are not the same.
Construction: Both scopes are made with multi-coated glass. They are water, fog, and shock-resistant. But according to the price range, high-velocity falls can damage the hardware and glass properties.
Ergonomics: The scopes are best for hunting deers and other animals. Use the scopes in seasonal sports events too.
Parallax Adjustment: Excepting parallax correction, these two scopes are factory set to 100 yards of distances. In this range, you can fast focus the target.
Elevation and Windage Turrets: Both scopes come in good quality windage and elevation knobs. In the ProStaff, you can easily go to the zero resets. The turrets offer snappy and audible clicks in both products.
Eye Relief and Quick Focus: Buckmaster II supports 3.5-inch eye relief, and ProStaff offers 3.6 inches eye relief. Though both are similar, Buckmaster gives a little bit of closure view.
Water Resistance: These scopes can resist water, dust, and fog. You do not have to worry about the weather conditions or seasons to use them.
Optics Design: Multi-coated optics design provides several layers of glasses. This glass passes ninety-eight percent of visible light to the eyes.
Focus & Lens Quality: Get the best quality lenses with less budget. Users haven't complained about the quality of the images. The first 100 yards of the view is pre-focused. Later you can adjust the rest of the view by spinning the turrets.
Magnification & Image Quality: Both scopes can zoom up to 9 times from 3 times of magnification.
Light Transmission: Since they both share the same Nikon lens, their build quality is almost the same. They transmit 98 percent of visible light.
Performance: As a beginner, you can shoot up to 500 meters using Buckmaster II and 600 meters using the ProStaff.
Durability: The scopes are safe from water, shock, and fell. Careful use can last longer in the whole lifetime. Abusing the scope in different conditions may harm the body.
Size and Weight: Buckmaster II comes in 15.75 x 3.5 x 4.75 inches dimensions and 1.4 pounds of weight. On the other hand, ProStaff comes in 0.04 x 0.04 x 0.03 inches dimensions and 1 pound of weight.
Buying Guide of Nikon Prostaff & Buckmaster 2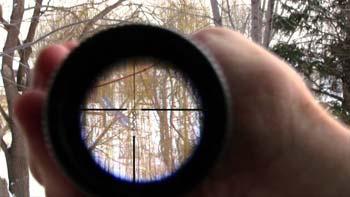 Choosing the right rifle scope for you depends on your budget, purpose and experience. If you feel like you are someone who has recently started to explore the world of shooting and want to get better at it with a satisfactory experience,
Buckmaster gives you the opportunity to try out different key features of a good quality rifle scope at a comparatively cheap price.
This keeps the option of switching to a more equipped scope later on once you feel you have got the hang of the sport a bit more, even if you are not sure about spending too much on weapons scope right now.
Reticle
Both Nikon Buckmaster 2 and Prostaff use the patented BDC reticle by Nikon, and it's known for its supreme accuracy and usefulness. So, there is nothing separating them on that ground
Durability
Both of them come with a limited lifetime warranty by Nikon and a no-fault repair and replacement policy.
Visibility
As said before, Nikon Buckmaster 2 has 92% light transmission where Prostaff has 98%. SO in low light situations, Nikon Prostaff might be a better choice than Nikon Buckmaster 2.
Eye relief
Even though both Nikon Buckmaster 2 and Prostaff have almost similar eye relief, Prostaff has slightly longer eye relief which makes longer caliber shooting slightly safer.
Also, Buckmaster 2 lacks quick focus unlike Prostaff, which may cause delay in aiming
Shooting range
Inside 150 yards both scopes perform almost indistinguishably, however, in longer ranges, Nikon Prostaff will provide you with more details and better image quality, making hunting smaller animals easier.
Price Range
Even though Prostaff has a few cheaper models, but in order to get the most from Prostaff you may have to go for comparatively expensive prices. While on the other hand, Nikon Buckmaster 2 might be the most economical and quality product for you to start exploring scopes with an average price of 100 USD.
Frequently Asked Questions
#1. Are Nikon Buckmaster scopes any good?
Nikon Buckmaster scopes are great for short to mid-range deer hunting. They were designed for this exact purpose, as the name suggests. It has a 40 mm wide objective lens, 92% light transmission, and 4-inch eye relief. 2
Nikon extensively invests in its scopes to make sure it can provide some of the best quality money can buy. Buckmaster is a great choice if you are interested in hunting deer or similar type animals or midrange shooting.
#2. Are Nikon good scopes?
Nikon is one of the leading companies in the scope manufacturing business. Since its entrance into the U.S market in the 1950s, it gained credibility by producing innovative scope designs and models.
As they were expanding, they were able to offer scopes that meet almost any budget and any need; Nikon's inventions and spins in the sector like patented BDC reticle, Spot on turrets, and fixed power rifle scopes make their scope very good in quality.
#3. Are Nikon scopes made in China?
Even though some Nikon scopes were initially manufactured in China eventually, they later shifted productions to the Philippines, and now almost all Nikon scopes are made in the Philippines.
#4. How does a Nikon BDC scope work?
Bullet drop compensation reticles or BDC reticles can predict the drop in a bullet's trajectory after a certain range. Different factors like muzzle velocities, altitude, bullet length, weight are analyzed in a laboratory to predict the trajectory of a bullet in different ranges.
The main reticle in the crosshair represents the trajectory of the bullet at a straight line at a fixed range, usually 100 yards. The other reticles represent the bullet's probable position at different ranges.
#5. Is a 50mm scope better than a 40mm?
50mm and 40 mm are measurements of the diameter of the first objective lens in a scope. An objective lens with a greater diameter means more light can enter the eyepiece, and the magnification is more.
This means the image is brighter, and the shapes and patterns are clearer in a wider lens. Additionally, a wider lens also means a bigger field of view in the eyepiece which means it's easier to shoot a target in a hurry.
With all these things in mind, 50 mm scopes are better than 40mm in low-light long-range conditions.
#6. What is the best low-light scope?
While the title of best low-light scope is disputed by experts and experienced hunters, based on qualities like illuminated reticles, lens coating, light transmissibility, scopes like Leupold Mark 5d 5-25x56mm scope, Vortex Optics Crossfire II 3-12×56 AO Hog hunter, Nikon Black FX1000, Nightforce Optics 5.5-22×56 scopes are known as some of the best scopes in low light environments.
All of these perform with extreme precision and effectiveness in low lights.
#7. What is the best Nikon scope for deer hunting?
Nikon Buckmaster 2 is an excellent scope for deer hunting as it was specifically made to serve this purpose. Its 92% light transmission, 40 mm objective lens, 3-9x zoom, patented BDC reticle, and economical price makes it perfect for deer hunting in short to mid-range.
It can provide great details in image patterns and shapes, which is helpful for hunting deer. Its faster aim also helps to target e deer in a hurry quickly.
#8. What is the best Nikon scope?
Different scopes perform best in different conditions and meet different demands. However, Nikon M 308 is considered to be one of the best scopes Nikon has ever produced, and many claim it to be the best Nikon scope for most purposes.
Other competitors for the title are Nikon P-223, Nikon ProStaff, Nikon Monarch 7, Nikon ProStaff Rimfire.
#9. What is the difference between Nikon Monarch and ProStaff?
Nikon Monarch and Prostaff are two of Nikon's signature series. While both products come with almost indistinguishable features in most categories, the main difference lies in light transmission, clarity, and price.
Monarch uses a better lens with less dispersion. So, it has clearer image formation compared to Prostaff. All Monarch models come with 4x zoom, while except Prostaff 5s other models have 3x zoom.
Prostaff eye relief is 3.6 to 4 inches long, while Monarch is 3.4 to 3.6. However, Prostaff comes at a significantly lower price than Monarch while fulfilling all the important demands of a hunter or shooter.
#10. What range is a three 9×40 scope Good For?
3-9×40 scopes are usually designed to perform at their best in 200 yards range. In general, scopes of this specification are perfect for short to mid-range shooting, with maximum reach being around 900 yards.
But if you can zero in at a target from 200 yards with a 3-9×40 scope, you are most likely to hit the target every time.
#11. Where are Nikon scopes made?
Nikon scopes are made in the Philippines. They were made in Japan previously and temporarily in China, but currently, almost all of their production is done in the Philippines.
#12. Which is better, Nikon Prostaff or Buckmaster?
Without considering the price, Prostaff can perform better in extreme situations. However, its higher price gives Buckmaster an edge in terms of practicality.
Prostaff has 98% light transmissibility than Buckmaster's 92%, which perhaps makes the key difference between them, not to mention the better quick focus in Prostaff.
Buckmaster compensates with bringing all the essential features of a rifle scope at a significantly lower price.
#13. Which is better, Vortex or Nikon?
Nikon provides a wide range of products with various price ranges for every purpose. This way, Nikon ensures every customer can find something for themselves in Nikon. On the other hand, Vortex is comparatively new in the optical scope manufacturing business.
However, they are getting stronger with experimenting fiercely with technological advancement. Their focus is on scopes perfected by craftsmanship and premium use. For reliability, options in terms of price and feature Nikon are more consistent.
For more advanced use and premium application, Vortex can deliver quality products as well.
#14. Who makes Buckmaster scopes?
Nikon makes Buckmaster scopes. It is a rifle scope series by Nikon specially designed for hunting deer or similar types of animals.
#15. Why is Nikon not making scopes?
Nikon has recently declared that they are removing themselves from the scope production business. While dealers can sell items they have stored in their inventory, Nikon will not produce any new scopes.
Nikon has not made the reason for withdrawal clear, but their trends of maintaining a brand image that doesn't associate with animal cruelty may have been the biggest reason.
They previously banned the use of any dead animal in advertisements and only showed living animals. With new competitions arriving in the business, the profit margin may have been too small to risk the overall brand image.
Conclusion
You may have already noticed that it is difficult to separate these two rifle scopes from each other by any factor of performance when it comes to short-range shooting.
The marginal benefits that Prostaff provides are compensated by the easy affordability of the Nikon Buckmaster 2. So eventually, it comes down to the question of how much you are ready to spend for a good quality scope.
While both Nikon Buckmaster 2 vs Prostaff perform splendidly in most scenarios, if you think opting for better specification and minute improvements in details won't hurt your pocket according to your taste, then you can consider Prostaff.
Whereas if you want first to get familiar with the operations of a scope with a less expensive but equally qualified scope, then Buckmaster 2 is more likely to be suited for you.
Check latest price here Nikon Buckmaster 2 and Nikon ProStaff