Bushnell TRS 25 Vs Romeo 5 Sig Sauer: The Best Red Dot Sight in 2023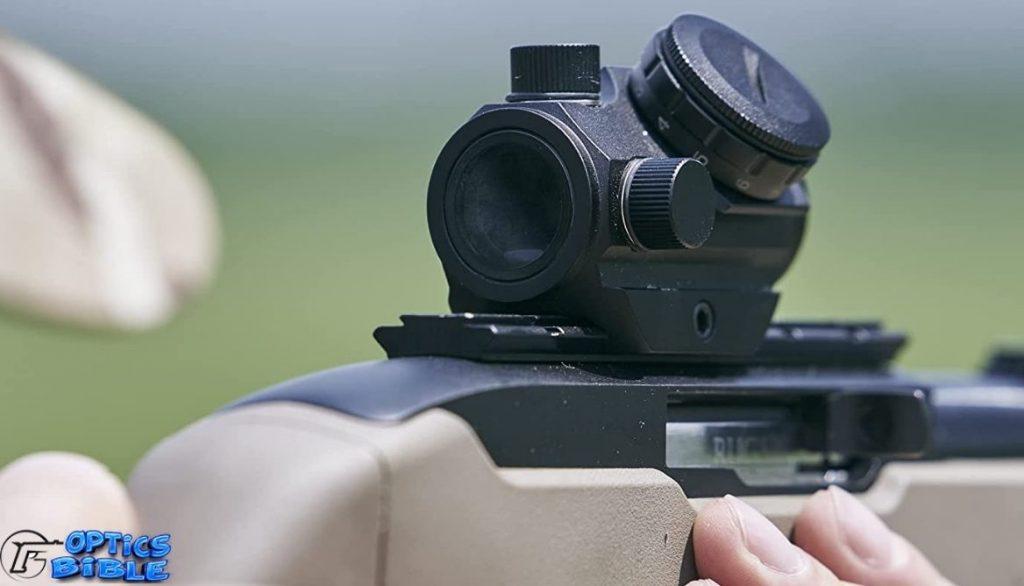 Many shooters find it challenging to differentiate between TRS 25 vs Romeo 5 due to the similarities of the red dot sights.  
We have reviewed the two red dots using their parameters and analyzed how they differ. Here are some of the areas to be covered in the article. 
Comparison between TRS 25 and Romeo 5
How the sights feature impact a gun's output
The mounting dynamics of each red dot sight
Pricing of the red dots
With that said, let's get into it!
Sig Sauer Romeo 5 vs. Bushnell TRS-25: Comparison Table and Brief Review 
Here are some key features we used in our research on these two military red dot sights. 
Both sights utilize the CR2032 battery type, which gives you 40,000+ hours. Their magnification, reticle options, and brightness settings are the differentiating factors.
Which is better between the top red dot sights? Here is a look at the best red dot sight between the Romeo 5 and TRS 25.
This Sig Sauer red dot sight is one of the most requested and recommended selections due to its unique features. Its parts, including windage and elevation adjustments, are convenient in any shooting context. 
Additionally, the red dot sight built is dependable in tough tactical situations, lighting, and weather conditions.
So, what are you getting out of the Sig Sauer Romeo 5?
What Comes with the Kit?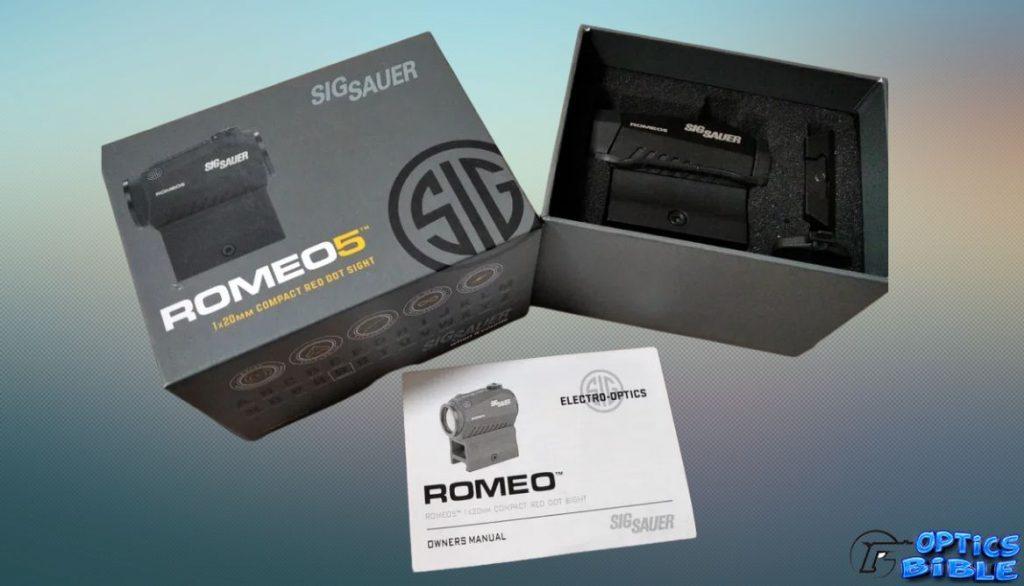 The Romeo 5 has unique packaging and additional accessories that come with it. The package comes with a co-witness of 1.41 inches and an M1913 Picatinny low-mount riser.
You'll also be fascinated by the ease of mounting the red dot sight using the provided gadgets. 
Quick Glance: Eye Relief Features
You are guaranteed a quick and precise glance at your target with the optic's unlimited eye relief. 
This red dot offers a 1x range focusing solution to quickly acquire your target at relative proximity. It can maintain point-of-aim and keeps the red dot parallel to the rifle's bore.
Parallax Characteristics
The Romeo series variety is parallax-free up to 25 yards, where the red dot remains in focus even when in motion. 
Red Dot Quality
Sig Sauer's red dot quality is dictated by the ideal configuration of the Romeo 5 parts and settings. With the 2 MOA red dot variety, you'll get ten brightness settings, including 8 for the daytime and two at night. 
Body Design
Another selling point for this is the anodized aluminum body which allows you to work with your sight in any weather conditions. 
The rugged body also provides shockproof protection on top of being waterproof. Also, the glass is protected from bullet shells' impact or accidental gun fall.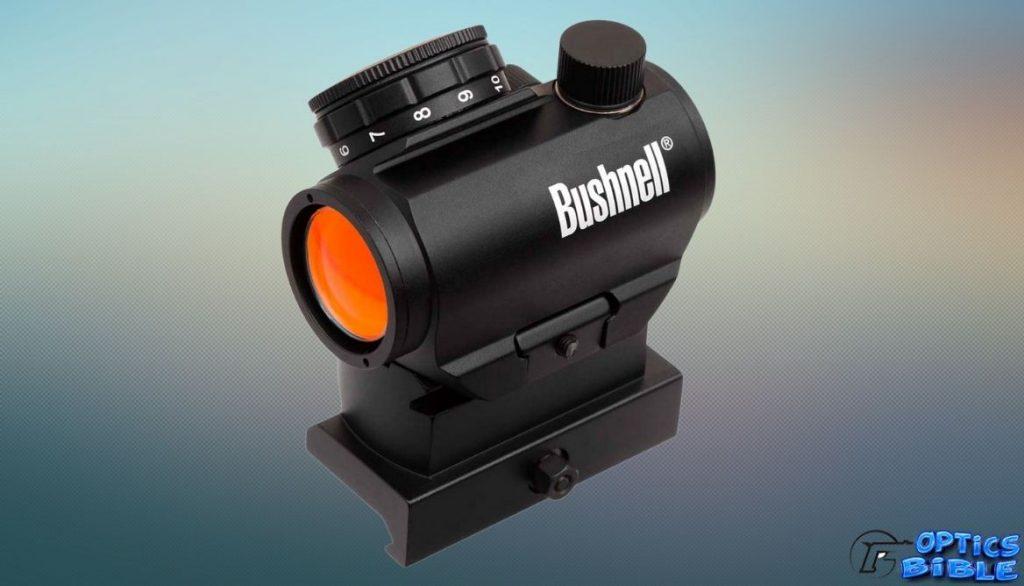 Bushnell TRS 25 has been known to provide quality service with various weapons because of its quality aspects. 
The TRS is a small red dot sight, approximately 2.5 inches, weighing about 3.9 ounces. Like the Romeo 5, TRS 25 is built to withstand challenging shooting conditions.
Here is more on the Bushnell TRS 25.
What Comes with the Kit?
Like the Sig Sauer version, the Bushnell type's packaging is impressive, and additional accessories include the CR2032 battery type. With an extra fee, you can get the installation kit with a mounting screw, cleaning cloth, and other mount tools.
Quick Glance Capability
This sight's glass can give you the convenience of a quick and precise glance. You don't have to worry about excessive natural lighting as the red dot's lens neutralizes it. 
You can also use both eyes for quicker target acquisition, improving your awareness of your surroundings.
Parallax
You'll get free parallax when the red dot sight will do more than 25 yards, as influenced by the glass's quality, reticle options, and brightness settings. 
Red Dot Quality
This red dot sight has a 3 MOA reticle version, also found in most premium red dot sights. The reticle quality is sharp and crisp, providing enough lighting to the red dot for quick target acquisition. 
TRS-25 is excellent, while it works best on AR15 guns, and if you're a newbie, it's a great choice because it's also simple to configure.
Body Design
The TRS-25 eyepiece housing is anodized on top of being an aluminum material. It is long-lasting but also fog proof, recoil-resistant, and water-resistant. Also, the red dot sight comes with lens caps which can help if you need to submerge at water levels below 10 feet. 
Comparison Between Sig Sauer Romeo 5 and Bushnell TRS-25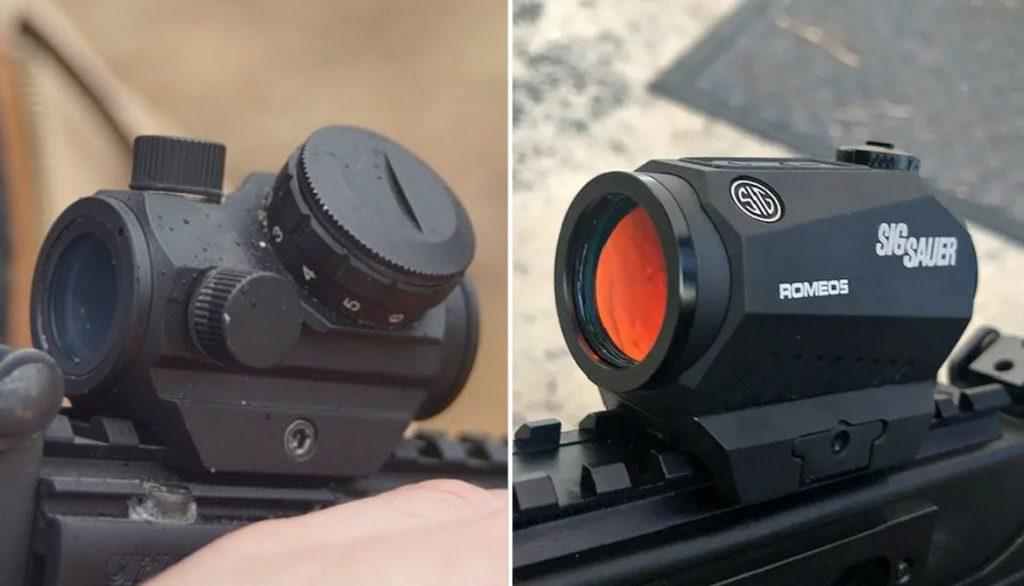 Due to the red dot sights similarities, we have done a head-to-head analysis to help you distinguish the best red dot sight of the two, depending on your purpose and budget. 
We shall look at the important aspects that are the driving force of any red dot dynamics, such as:
Battery life Specifications
Reticle Options and Glass Quality
Parallax and Magnification
Windage and elevation configurations
Body design
Mounting accessories and installation
Price
Here is an in-depth look at the Romeo 5 vs. TRS-25
Battery Life Specifications
As mentioned earlier, the two red dots utilize the CR2032 versions, which have up to 40,000+ hours of battery life. 
Bushnell TRS-25
TRS-25 Photo showing the side-loading part
With the TRS-25, its CR2032 can run between 3,000-5,000 hours if you use the medium settings on your optic. If you use low light settings, you'll get a better battery life, up to 6,000 hours (approximately 250 days). It also has a side-loading feature and motion-activated illumination.
You are right to think of the 5,000 hours as low compared to modern varieties like the TRS-26. However, you'll have to be impressed with the durability of the TRS-25 battery, as one of the best traditional red dots.
Sig Sauer Romeo 5
On the other hand, the CR2032 battery on the Sig Sauer Romeo5 also has 40,000 hours of battery life, and when used regularly, the power will last 5,000+ hours before recharge or replacement. 
The Romeo 5 battery does have a side-loading mechanism that helps you switch batteries with your optic on the rifle. Also, it has a motion detector system that turns on when it senses movement. 
Motion sensors help save the battery power, thus helping it last longer.
The Winner:
This category is tied, and both battery capabilities can give extended service. The only difference might arise when utilizing the brightness setting.
Glass Quality and Brightness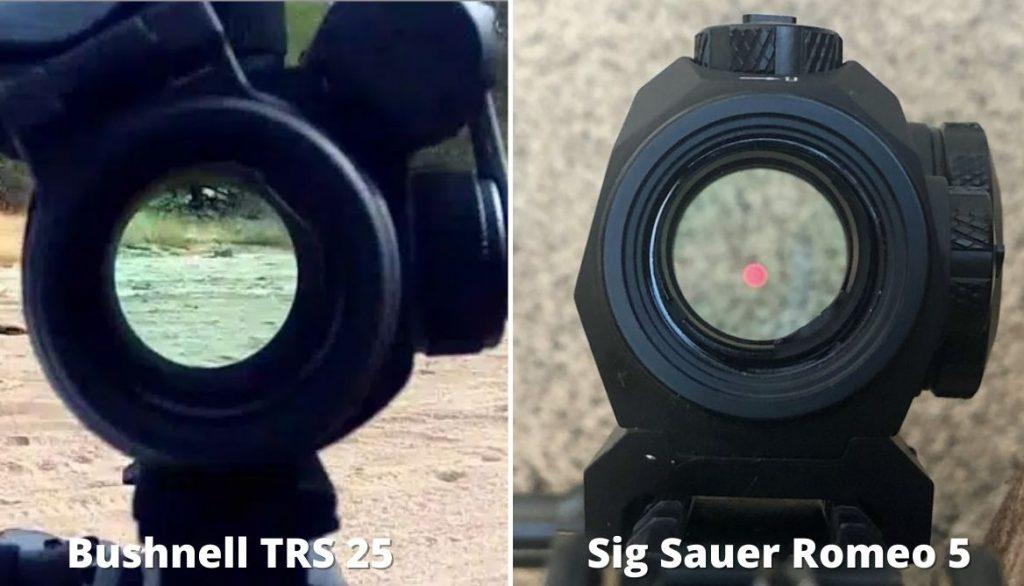 Sig Sauer Romeo 5
Sig Sauer Romeo has crisp glass quality with 2 MOA offering ideal brightness settings for quick target acquisition. You are also guaranteed to hit targets successfully at relative distances, including a mobile squirrel while hunting.
The Romeo has 10 brightness settings coming with it, and they include:
Eight daytime settings
2 NV (night vision settings): for target shooting at night 
The motion detector will modify the brightness automatically, but you can also set it manually.
If you are searching for a green dot, you can get the Romeo 5 XDR. The green dot is an upgrade that costs you more.
Bushnell TRS-25
Bushnell TRS-25, on the other hand, utilizes a 3 MOA red dot and offers ideal target acquisitions with its impressive glass clarity with unlimited eye relief. 
Like the Sig red dot, TRS-25 gives you service when shooting in challenging situations, including harsh weather conditions.
The red dot is not only crisp but also bright. Bushnell sorted the dim red dot issue with the TRS-25, and you are bound to get the best out of reticle options on top of the 11 brightness settings.
The 11 brightness configurations are as follows:
Eight daytime configurations
3-night vision configurations
This red dot sight glass has an amber-bright lens coating with high contrast to help differentiate between similarly looking colors, especially when hunting in the woods. 
For both sights, you can expect the glass to neutralize a scorching sun, thus achieving accuracy at any time of the day. 
The Winner:
Reticle options in each provide the first difference between the two rifle optics. The Bushnell TRS-25 has the edge with the 3 MOA variety and 11 brightness settings.
Parallax and Magnification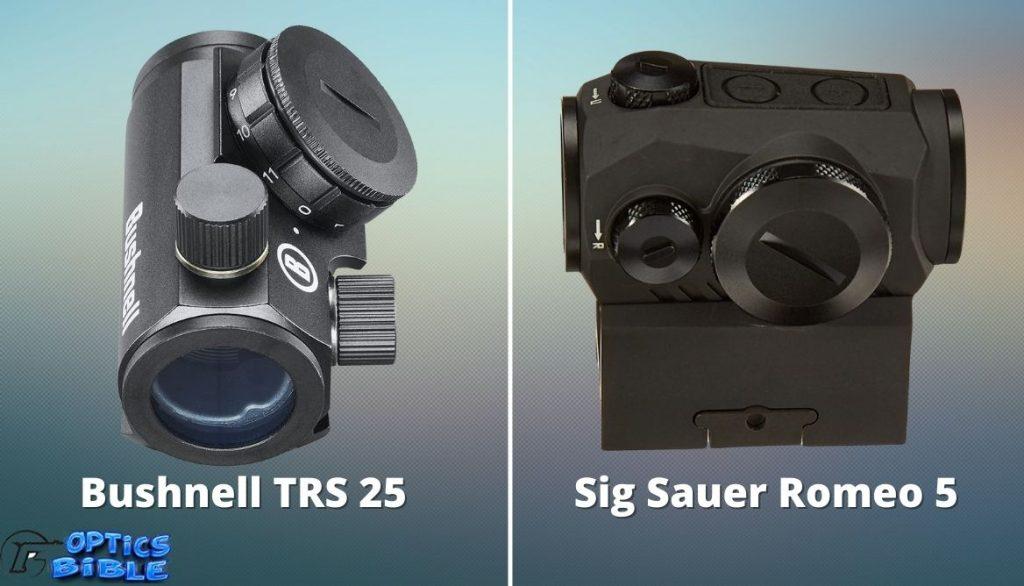 Sig Sauer Romeo 5
The Romeo 5 red dot has a magnification range of 1x20mm. This magnification range is effective up to 150 yards, and for distances of up to 300 yards, you can combine it with the best red dot magnifier.
The Sig Romeo 5 has a subtle display, which is negligible. However, if you avoid movement before a shot, the red dot will stay parallel, and you'll get an accurate shot.
Bushnell TRS-25
Meanwhile, Bushnell TRS-25 has an unchanged magnification of 1x 25mm. Its lens finish has incredible clarity and brightness, and the sun won't bother you as much because of the reduced glare.
What's more, TRS-25 tracks your eye movement while keeping your gaze fixed on your target. As a result, you don't have to center it. 
With the eye relief coming with the TRS-25, you can use the sight with one eye while you observe the target with the other. You'll be surprised how this aspect is normally rare in most rifle scopes. 
The Winner:
Once again, the TRS-25 takes the edge with the 1x25mm magnification range. Also, its parallax is slightly better than that of Romeo 5.
The main distinction is that the Bushnell TRS-25 has 1 MOA click with a 50 Parallax.
Windage and Elevation Adjustments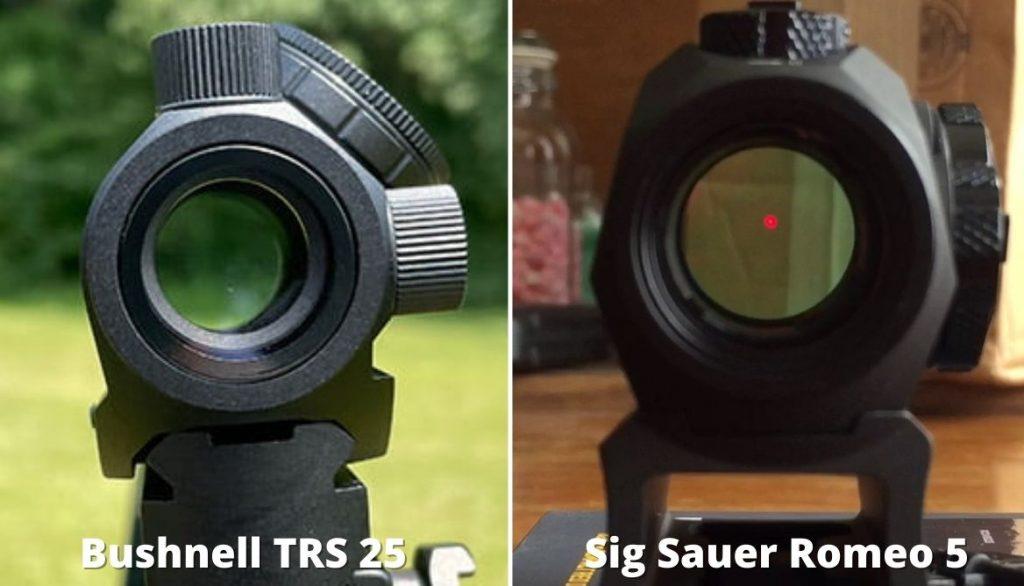 A red dot with ideal configuration ranges is more useful if you can easily customize the settings, especially while taking a shot.
Sig Sauer Romeo 5
Firstly, Sig Sauer Romeo 5 windage and elevation dials generate audible and ideal clicks. You can set it by turning the screws over, where in less than 10 seconds, while still aiming your target, you can ideally modify settings for up to 25 yards. 
With Sig Sauer's adjustments, you quickly and accurately hit targets at distances between 50-150 yards. 
Additionally, the red dot maintains zero after shooting 2,000 rounds. 
Bushnell TRS-25
For the Bushnell TRS-25, you'll also easily access the configurations as they are tactile and audible clicks. 
However, knobs and modifications aren't as seamless as the Romeo5, but they're fine for this prototype, and the bigger knob is simple to use.
If you set the illumination dial to '6' (from the available 11), it will be bright enough to see under a blazing sun.
The Winner:
The Romeo 5 wins the dial modification battle as its dials are smoother and easy to use. You'll also find them convenient to set your ideal settings while shooting. 
Body Construction and Design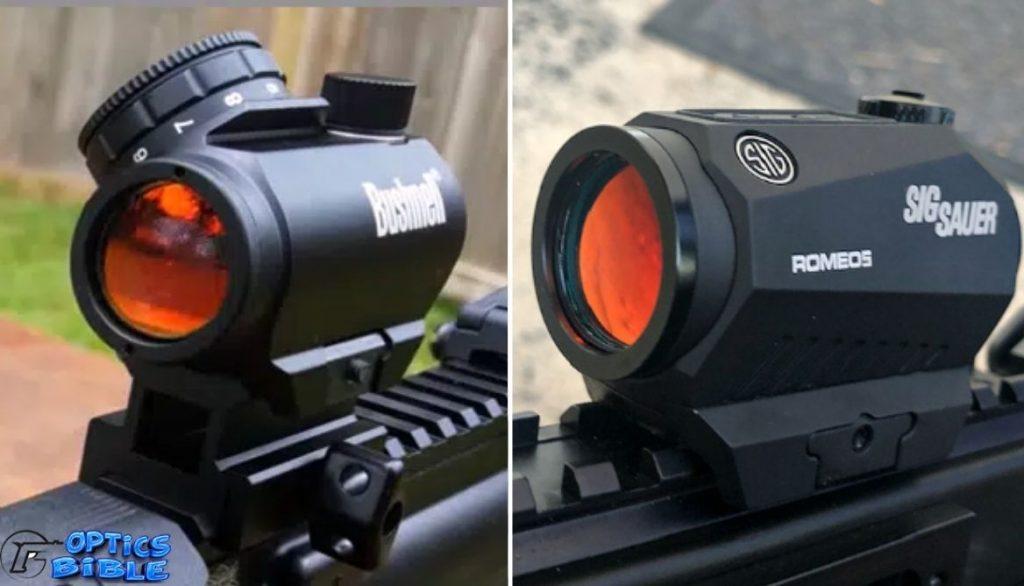 As mentioned, a red dots body can determine your gun's output and your optic's longevity. The designs are similar to holographic sights or any reflex sight, but these two are different. 
Sig Sauer Romeo 5
The Sig Sauer Romeo 5 is simple and light, but its build is impressive. Its dial tuning is flawless, and the rugged make gives you consistent performance even in extreme conditions.
The body is built of aluminum and has a dark anodized finish. Also, Romeo 5 has an IPX-7 ranking, which means it can endure heavy rain while remaining fog-proof. Most interestingly, it also performs well:-
After an accidental drop
When submerged in water
With a shotgun
During a freeze test.
Generally, it is a small and light red dot sight with a durable make that is barely noticed on a gun. Being lightweight is a big advantage as the optic is never a burden, unlike most premium scopes that are relatively heavy.
Bushnell TRS-25
On the other hand, Bushnell TRS 25 is built for the long term due to its solid design.
Like the Sig version, it is lightweight but compact and durable, weighing around 3.7 ounces.
The tube in this red dot is nitrogen-purged, and O-ring is encased for complete waterproof and shockproof resistance.
Also, thanks to the multi-coated lens, you'll have no trouble viewing your target at night or in poorly lit situations.
Additionally, the TRS-25 zeroes in quickly, where you'll be dialed in after 5 to 10 rounds. It can also maintain zero after firing hundreds of rounds, dropping it a few times, and rocking it around.
The Winner:
The body of these good sights is similar. Go for the Romeo if you are working in swampy areas for the submersion feature, or choose the TRS for the nitrogen-purge tube. 
Mounting Systems and Accessories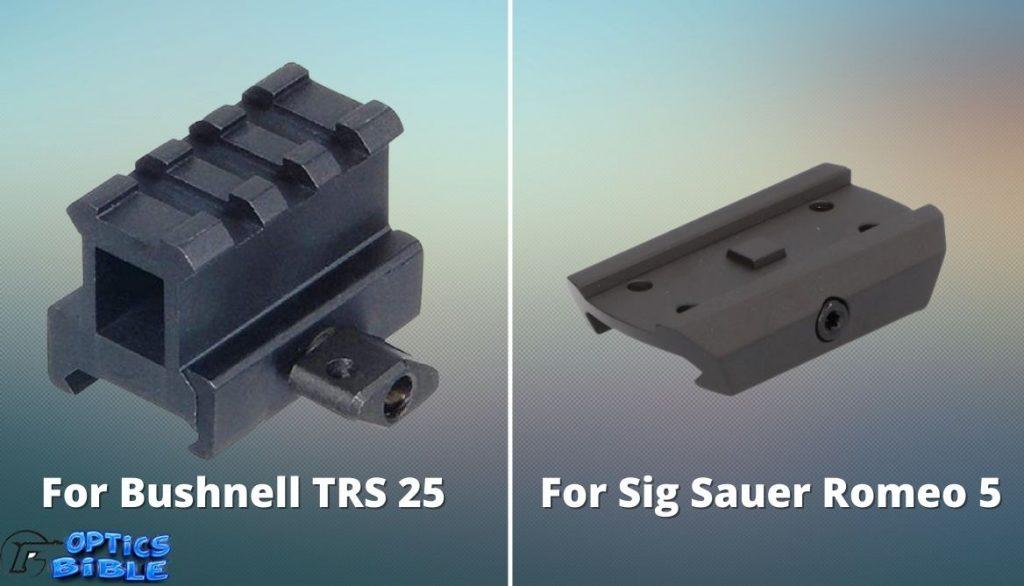 Sig Sauer Romeo 5
The Romeo 5 is available with two standard regular mount options.
The co-witness riser mount (1.41 inches) is designed for AR-15-style rifles. The Picatinny mount riser for the M1913 enables you to install the red dot vision on most traditional rifles or handguns.
If you have a shotgun, utilize the low variation, which perfectly aligns with your iron sights.
Regarding the accessories, you'll get a screwdriver for installation, a lens cap, a battery, and a cleaning fabric; instructions are included as extras.
Be cautious when purchasing the red dot, as many shooters have reported receiving defective accessories. 
Bushnell TRS-25
When mounting the TRS-25, the Weaver rail design makes it easier for you.
Like the Romeo version, it is industry standard which most modern guns include in their makes. As a result, this red dot sight can be mounted on a wide range of firearms.
Furthermore, the optic comes with a cross screw that secures it to your gun and a system that secures it to the weapon.
UTG Mount for the TRS-25
You can use an advanced UTG Med Pro and Hi-profile Compact Riser Mount for a superior mount design.
The UTG Med-pro Compact Riser Mount measures 0.83″ in height and has three slots. It reduces exhaustion and is effective when shooting from specific angles.
At times, the eyepiece is too low or close for you to be relaxed while observing the target. Therefore, the UTG lift raises the gadget to solve your issue.
Additionally, UTG comes in three height profiles to make it easier to accommodate any application range. They also come in three different lengths, with two, three, and thirteen slots, and also have two Picatinny rail slots, making them ideal for your TRS-25.
The Winner:
Both sights provide ideal and simple mounting options, but the Bushnell variety has more installation options with a UTG mounting system.
Price Differences of the Red Dots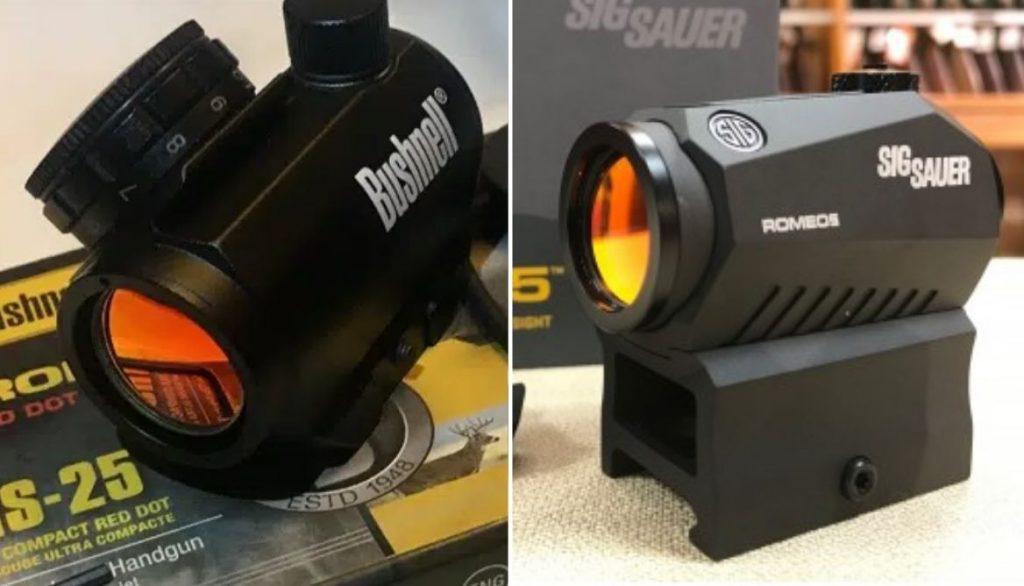 The two red dot sights offer the best value, considering their quality characteristics. 
Sig Sauer Romeo 5
The Sig Romeo 5 is priced at $167 and costs $243 when it comes with the mounting kit. 
You might argue the price of the mounting equipment is high, but in the long term, the kit comes in handy for repairs, cleaning, or battery replacement when necessary.
Bushnell TRS-25
On the other hand, the Bushnell TRS-25 is surprisingly cheaper at $121 if you consider the head-to-head comparison with the Romeo version. 
If you want the red dot sight plus the installation kit, you will provide an additional $26. 
The Winner:
The cheaper TRS-25 will give you value for your money, with relatively better features and performance. 
FAQ
How Far Can You Shoot with a Sig Sauer Romeo 5?
The Romeo 5 is dependable up to 100 yards and can extend the distance further if you have perfect eyesight.
Does a Sig Romeo 5 Use a T1 Mount?
The T1 variety is only compatible with red dots that utilize AAA batteries.
Is the SIG Romeo 5 Motion Activated?
Yes, the Romeo 5 shuts off after a significant time without use. The motion activated illumination turns on if you shake your rifle.
Is the SIG Romeo 5 Parallax Free?
The Sig red dot sight has a small parallax, but it is easily avoidable if you maintain an ideal positioning of your parts touching your gun.
Is the Romeo 5 Shake Awake?
You can shake to 'wake' your red dot optic using the motion sensors.
Conclusion
Above is an in-depth review of the Sig Romeo 5 and Bushnell TRS-25, where the TRS has a slight edge in performance. Also, Sig and Bushnell prices are similar but different if you include the installation kit and accessories, where the TRS version is cheaper. 
So, which red dot sight makes a case for you and why?
Leave a comment below with your answer, and add some more information concerning the red dot varieties. You can also suggest other best red dot sights we can look at next.