Smith & Wesson M&P 15 Sport 2 Problems: Solutions Guide 2023
AR-15s are very reliable guns but still, Smith and Wesson M&P 15 Sport 2 problems can occur. Rounds trapped in the chamber, the hammer not cocking, tilts due to the attachment on a threaded barrel, and damaged chromed firing pin, are the most common ones. But, don't worry, these can be easily solved if proper procedure is followed.
Continue reading as we will discuss the specs, features, solutions, and some reliable alternative rifles instead of the Sport II. Let's get started!
An Insight Into Smith and Wesson M&P 15 Sport II
The Sport II is a well-known rifle among the community of competitive shooters:
It offers unmatched performance when used for recreational purposes such as competitions, practicing at a shooting range, and more.
It uses 5.56 NATO ammunition that is readily available in the market with a 10 or 30-round setup depending on your shooting style.
It also comes with a dust cover and forward assists.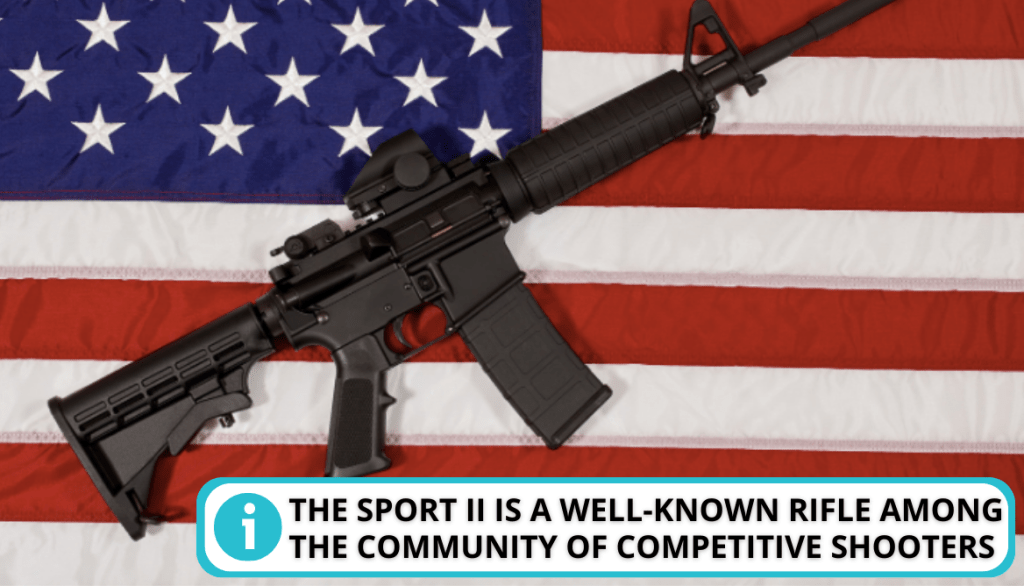 Smith and Wesson M&P 15 Sport II: Specs and Notable Features
Let's check out the main highlights of this weapon:
Specifications
223 Remington or 5.56x45mm NATO

6.79/6.85/6.91/7.15 lbs. or

3.07/3.10/3.13/3.24 KG

Manual Safety Selector Mechanism,

Standard Safety

Front – Adjustable A2 Post Rear – Folding Magpul MBUS
Here are some features that make this entry-level rifle stand out from the rest!
It is a multipurpose gun that can be used for modern sporting or hunting.
The Smith & Wesson M&P 15 Sport II can be equipped with a wide range of accessories.
Having a lightweight and rugged build it has outstanding handling and form.
The pin (firing) is chrome lined allowing for long lasting lifespan.
If you shoot the weapon using different forms then the collapsible stock can be adjusted in 6 different positions.
Standard AR15 components and accessories can be used for this gun.
Smith and Wesson M&P 15 Sport 2 Problems and Reliable Fixes
The Sport II is a very reliable firearm but sometimes problems can occur. Listed below are some quick tips on how to fix them like a Pro!
Problems with Smith and Wesson

M&P 15 Sport 2

Follow the instructions to replace the hammer

Apply lubricant and grease and shoot 200 to 300 rounds

Replace the bolt carrier group

Use copper remover and bore guides

Install the Brownells o-ring

Adjustment of gas pressure/block

Practice makes it easy to get used to

Ensure that the barrel twist is shorter
Now, let's dive further into the details:
1. Hammer Fails to Cock
Sometimes, when you pull the trigger of a gun, it may not shoot. This can happen because the gun's mechanism called the bolt, is still locked in place after the previous bullet was fired. This causes the hammer to be ready to strike again, but it prevents a new bullet from entering the firing position.
The cartridge is ejected but the hammer still does not cock.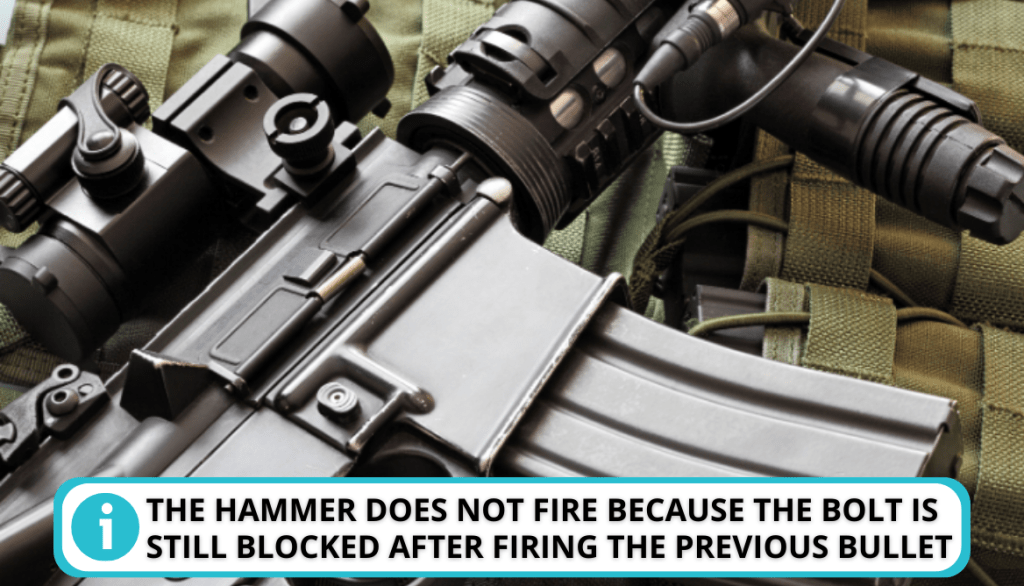 How to solve this problem?
To fix this problem, here is what you need to do!
Hold the trigger in position and then insert the hammer trigger pin.
From the left side install the ungrooved end.
The hammer needs to be placed into the receiver resulting in the spring legs resting on the pin.
Now, you need to insert the hammer pin into the right place using the hammer.
Make use of a hammer block, test it, and cock the hammer to check if the issue is resolved.
2. Over-Gasing Can Cause Burns on the Face!
It is a major problem when 5 or more rounds are fired in a single burst. This occurs especially when firing in a 2 or 3 o'clock form due to the strong recoil impulse. The gas ejected can cause burn damage.
How to solve this problem?
To avoid this, here is what you need to do!
Adjusting the gas pressure by making changes to the gas block control can help.
If your rifle does not have an adjustable gas block then change it.
Change the gas pressure as per need and the excess carbon won't build up to create force on the rifle components.
3. Trigger Catching Due to Manufacturing Faults
Burns along the material will sometimes result in a trigger stuck. Be sure to break the gun (a process to smoothen the rough spots within the barrel after manufacturing).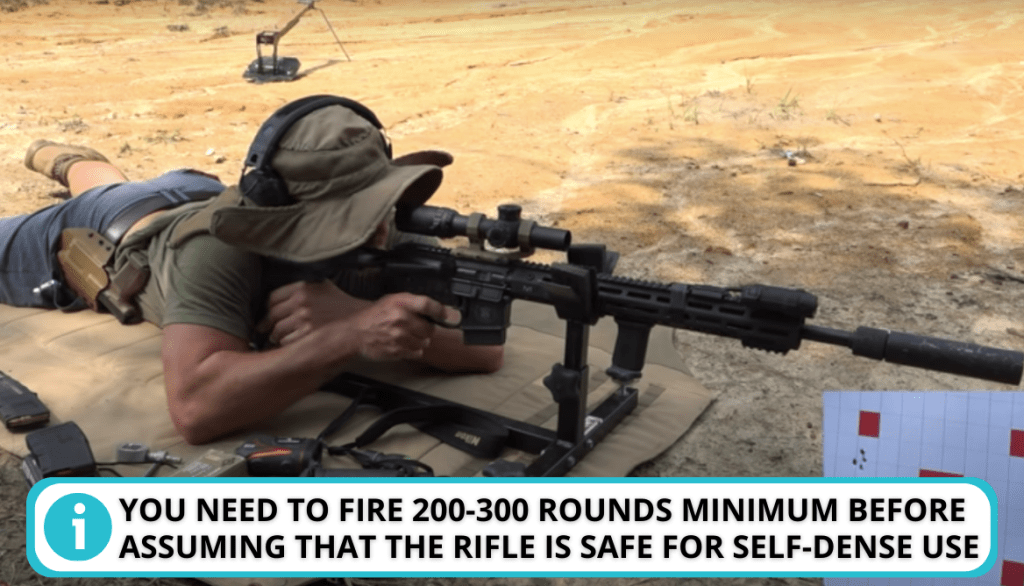 How to solve this problem?
Here is the method to fix it!
After purchasing the rifle, perform the breaking process.
You need to fire 200-300 rounds minimum before assuming that the rifle is safe for self-dense use.
Lubricate or grease the critical parts of the gun.
Note: Check the user manual.
4. Problems When Firing the Rifle: Is the Firing Pin Okay?
A very common problem with all rifles is the firing issue. This can happen with any rifle and not just the Smith and Wesson M&P 15 Sport II. You can fix it like this!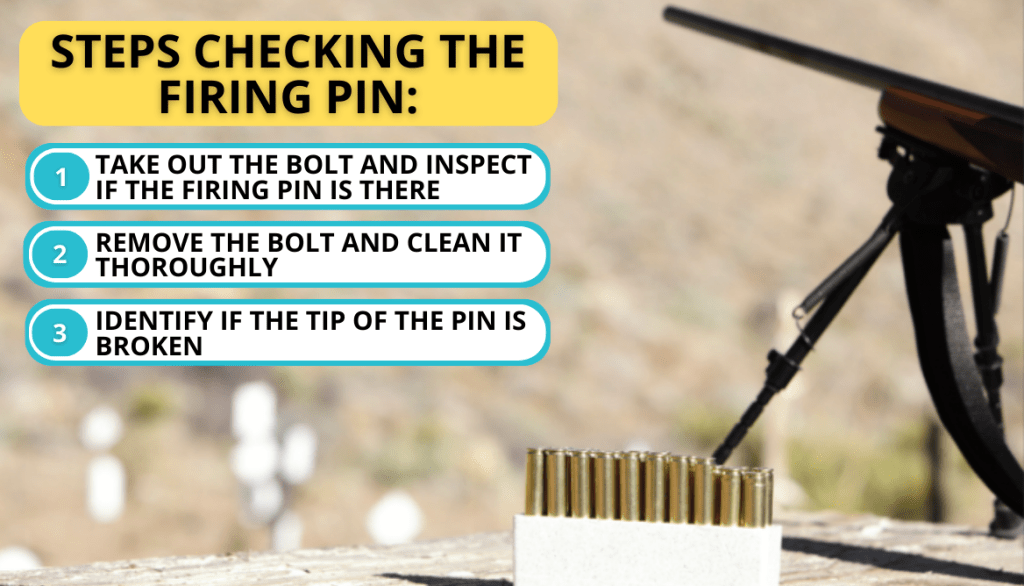 How to solve this problem?
Check the firing pin and its condition and do this!
Step 1: Take out the bolt and inspect if the firing pin is there.
Step 2: Remove the bolt and clean it thoroughly.
Step 3: Identify if the tip of the pin (firing) is broken.
Pro tip: Check the user manual for more help. And if the above steps do not resolve the issue then contact the manufacturer.
5. Bolt Carrier Group and Failure to Feed Rounds
This problem occurs when the bolt carrier group does not work properly. The reason? Manufacturing errors! An incorrect form is identified in the extractor. The brass may catch the extractor.
How to solve this problem?
Here is a quick fix to it!
Changing the bolt carrier group is one way to fix it.
The extractor should be replaced immediately as it scrapes and damaged the brass.
You can send the gun to the manufacturer for a fix as you get a lifetime warranty on purchase.
Note: The warranty option is valid for the original owner only.
6. Heavy Barrel and Threaded Barrel Resulting in Tilts
The barrel may be heavy and you can notice that the rifle will tilt to the front causing inaccuracy while shooting.
Is this a serious problem?
Shooters need practice for a few weeks with the Smith and Wesson M&P 15 Sport 2 to get used to the heavy barrel weight. New shooters have to manage the tilting and adjust to a form that gives them more balance.
7. Destabilization of Form Due to Tumbling Bullets
Firing a round from the Sport 2 can result in a tumbling bullet. A single occurrence is not a problem but after shooting consecutive rounds of ammunition it can be serious. A tumbling bullet means that the bullet starts to rotate around its long axis after it is fired.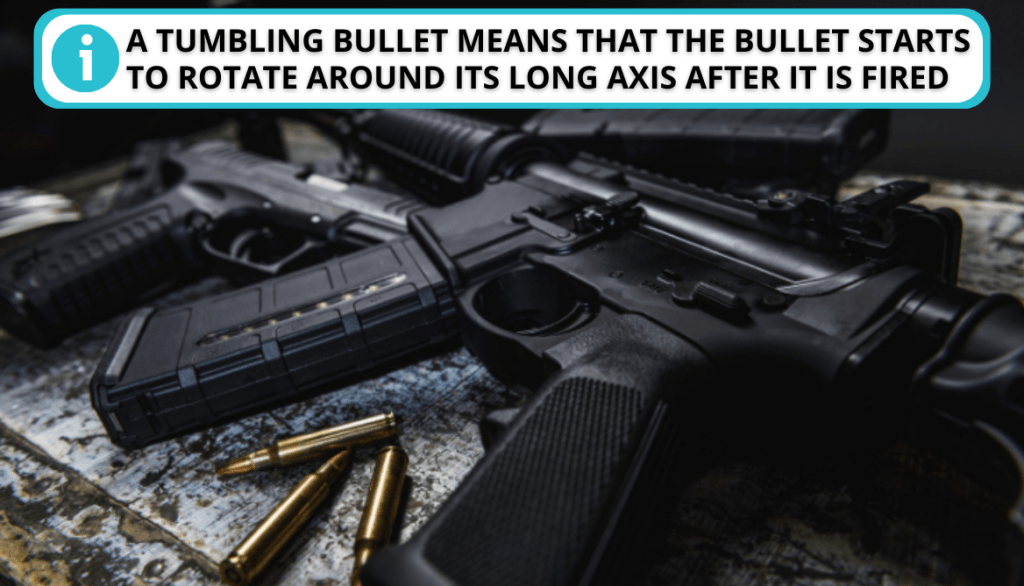 How to solve this problem?
Here is how you fix this!
Check the barrel for any copper fouling deposits.
To get rid of the copper that has collected due to the firing of several rounds you need to use a chemical copper remover.
Consulting a bore guide clean the barrel properly.
On a temporary basis, you can use another type of rifle ammunition.
8. Barrel Twist Causes Inaccuracy
A 1 in 9″ barrel twist is equipped in the Smith and Wesson M&P 15 Sport 2. Normally, this type of twist does not cause any issue. But, for people familiar with a 1 in 7″ twist it can be hard to adjust. Here are some amazing fixes to this!
How to solve this problem? (Why is a 1 in 9" barrel twist a recommended choice)
Here is how you fix this!
Check the barrel twist rate and ensure you're using ammunition suitable for that twist rate.
Experiment with different bullet weights to find ones that stabilize better with your barrel's twist rate.
Inspect the barrel for any damage, erosion, or excessive wear.
Remember! For long-range shooting, a 1 in 9″ barrel twist is not recommended. A slower twist rate will result in the bullet not spinning faster ultimately causing a destabilized flight.
The shooter will not be able to accurately shoot the target if this happens. A heavy bullet with a faster twist rate is ideal to use.
9. Extracting Problem Caused by Bullet Jamming
While firing the ammo can jam into the chamber. This happens in newly purchased firearms. The next round is unable to feed into the chamber.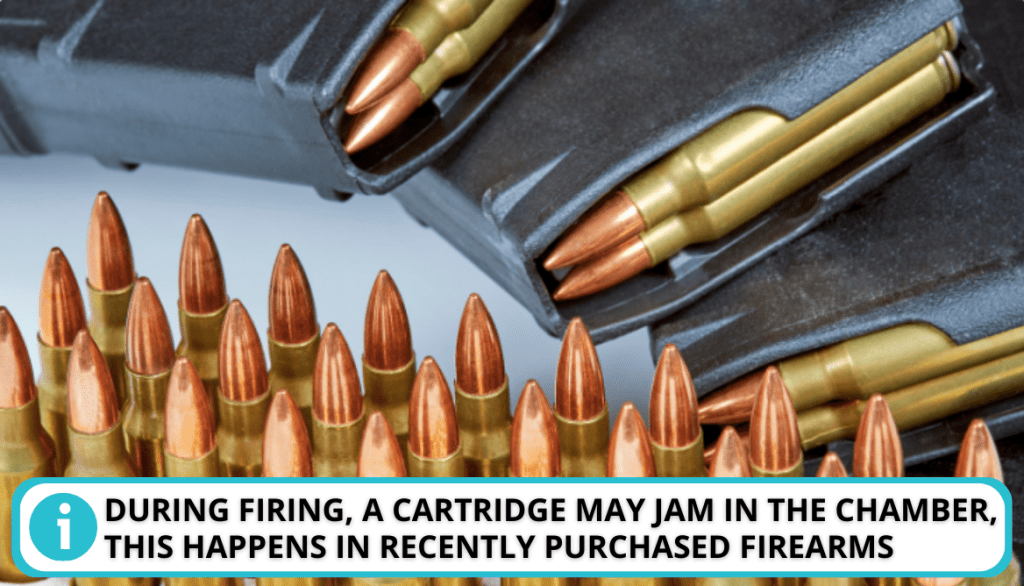 How to solve this problem?
You can fix it by doing this!
Step 1: Remove the extractor and bolt.
Step 2: Check the o-ring beneath the extractor for damage or if it is missing.
Step 3: Swap the o-ring (for better grip on the rim).
Step 4: Double-check every and re-assemble.
Top 3 Picks Rivaling the Smith and Wesson M&P 15 Sport 2
The Sport 2 is an all-rounder and probably a first rifle for many new shooters, but there is tough competition among the automatic ones in the market. Here are three alternatives that can be chosen aside from Smith and Wesson.
Let's take a look!
1. Ruger AR 556
It is an AR that has famous among gun enthusiasts for its balance build. Here are some of the features that make it an excellent choice!
It can be used in 6 positions in various combat situations.
The rifle has a Mil-Spec buffer tube.
You can chamber 5.56 NATO cartridges with a 10-30 rounds capacity depending on the magazine.
Overall firing control is very reliable and dependable.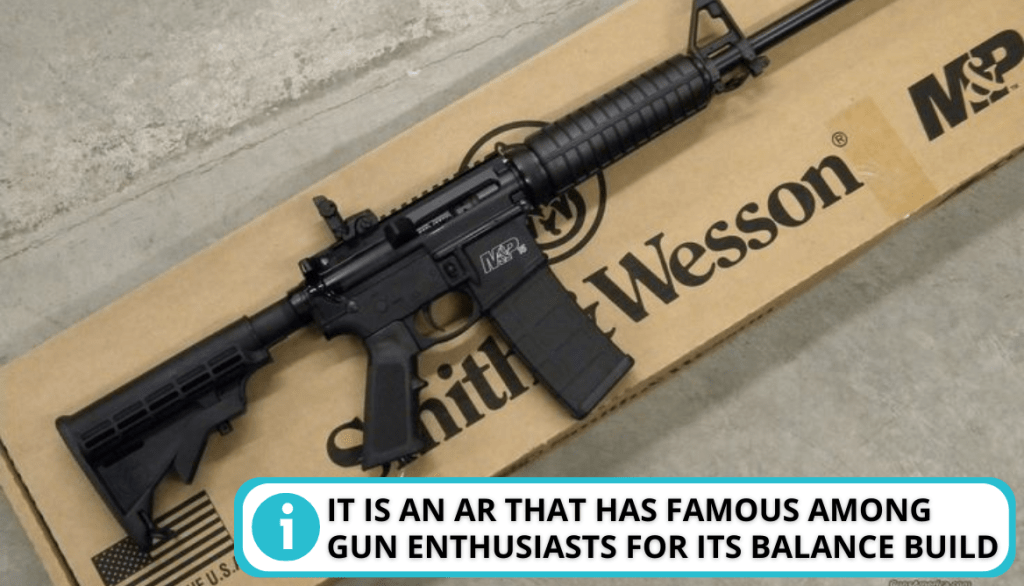 2. Colt M4 Carbine
Colt is a renowned name around the world and the M4 Carbine is famous for its versatility. Check out its features!
The rifle chambers 5.56 x 45 NATO caliber rounds with a 30 bullets capacity in the magazine.
A standard M4 buttstock with a Picatinny rail ensures that your shooting is seamless and accurate.
The rifle is lightweight and compact designed to be easily carried.
The firing mechanism is gas operated.
3. AERO AC-15 Complete Rifle
The AC 15 is not way behind in the competition compared to most rifles. It is one of the best budget rifles on the market. What makes it special? Let's find out!
It is a Mil-Spec rifle offering accurate and quick target acquisition.
This rifle does not need any special adjustment and it is ready for use right out of the box.
The rifle chambers 5.56 NATO caliber rounds and has a capacity of 30 in its magazine.
FAQ
What is a S&W M&P15 rifle?
The Smith & Wesson M&P15 is an AR15 variant that has a chrome-lined finish and is designed as a semi-automatic rifle. It was specially made for police and consumer use.
What are the disadvantages of the Smith and Wesson M&P 15 Sport 2?
Some of the common disadvantages of the Smith and Wesson M&P 15 Sport 2 are trigger catching, failure to feed, extracting issues, barrel weight, and loose buttstock.
Is the S&W M&P Sport II a good AR-15?
The Smith and Wesson M&P 15 Sport 2 is an excellent investment if you want an affordable rifle with the forward assist and a similar quality standard as any other AR15.
What is the difference between M&P Sport & S&W Sport II?
The difference between M&P Sport & S&W Sport II is that the standard sport version did not have the forward assist and dust cover. While the M&P Sport has both of these features making it a more suitable choice.
Why is my Smith and Wesson M&P 15 Sport 2 trigger stuck?
Smith and Wesson M&P 15 Sport 2 trigger gets jammed due to burns along the material. Proper breaking is needed to avoid this issue.
Conclusion
The Smith and Wesson M P 15 Sport 2 problems can be easily fixed by following the guide above. Issues like over-gassing can be solved by an adjustable gas block, fired round can jam but can be removed easily by removing the extractor, and so on. Nevertheless, it is a great choice for shooters who want to experience an AR15 firsthand.
Most people buy this rifle as it is available at an affordable price in the market. Have you faced any problems with your rife and how did you fix them? Let us know in the comments section!