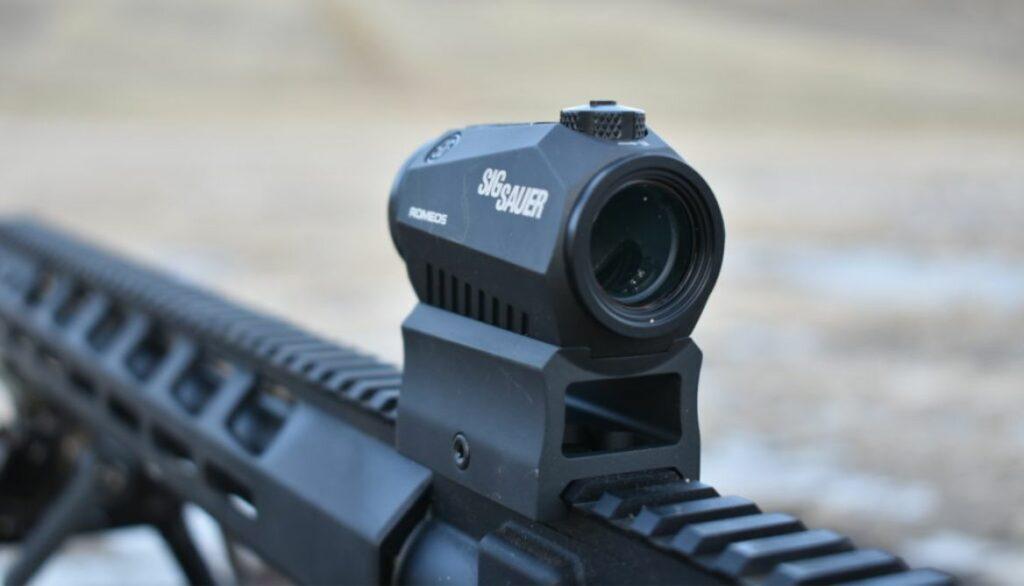 If you have been struggling with your res dot sight on the firearm then you may have been using something that does not suit your style.
To solve your problem, a budget red dot optics that has features that match your compatible firearm handling is mandatory.
Advantages such as battery life, image quality, durability, performance, and build quality make it an outstanding choice.
Why not use the Sig Sauer Romeo 5? But before you buy one let us tell you what makes it special through our Sig Sauer Romeo 5 Review!
Here's my Sig Romeo 5 Quick Review!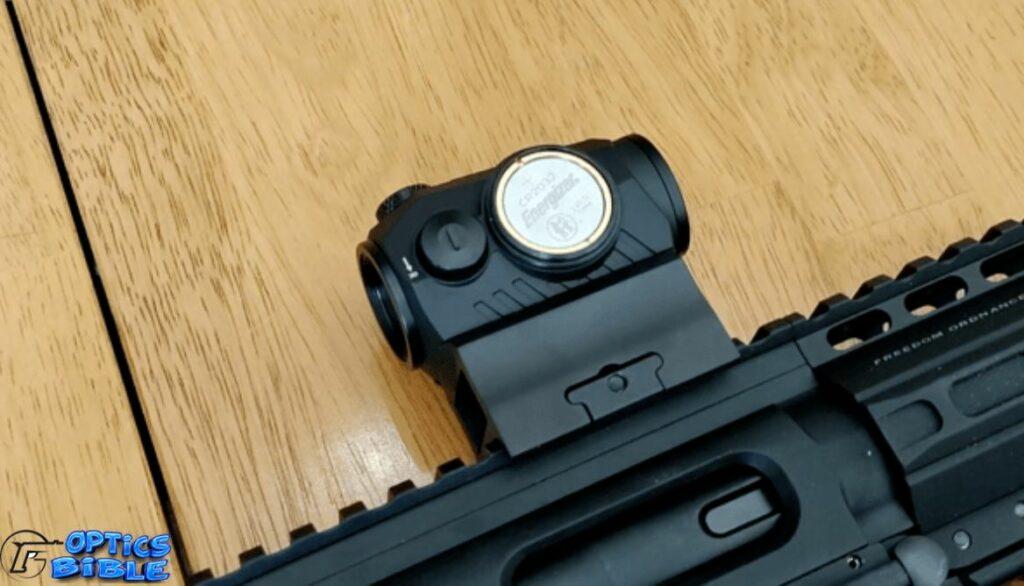 L = 2.5 x W = 1.5 x H = 1.5 inches or

L = 6.4 x W = 3.8 x H = 3.8 cm
Firearm owners that want a budget-friendly optic, can surely depend on this specific piece of hardware. A rounder, rugged, and above-average performance is what the sig romero 5 will offer!
Sig Sauer Romeo5 1X20mm Tactical Hunting Shooting Durable Waterproof Fogproof Illuminated 2 MOA Red Dot Reticle Gun Sight, Picatinny Mount Included
ROMEO5 GUN SIGHT - The ROMEO5 1X20mm Red Dot Sight mounts on any platform, and even though it's small, it's tough; The solid, lightweight aluminum design gives peak performance & years of service, so you can be on the top of a hunt or shooting competition
2 MOA RED-DOT - For those avid shooters who admire classic red dot reticles on their gun sights, the Romeo5 has 2-MOA Red-Dot, which is also adjustable; It provides 10 illumination settings (8 daylight plus 2 NV) for visibility in all light conditions
MOTAC TECH - The versatile ROMEO5 red dot sight features our Motion Activated Illumination technology; It is developed to increase battery life by shutting down the system when not in use and instantly activating it by the slightest vibration/movement
VERSATILE MOUNT - This gun sight comes with an integrated Picatinny mount & provides industry-standard mounting options for a wide range of applications; Also M1913 Picatinny low mount riser & a co-witness 1.41" riser mount guarantees great compatibility
WEATHER RESISTANT - The dependable IPX-7 waterproof and fogproof construction of the Romeo5 delivers non-stop hunting whatever the weather; Unlimited eye relief allows you to acquire the aiming point and the target regardless of the position of your eye
The Sig Romeo 5 is a red dot that offers many features for ease of use. Being a 2 MOA reflex sight with a power source of a single CR2032 battery that is housed at the side of the optics.
The battery compartment is designed to allow easy access without unmounting the optic from the firearm.
First impression of the red dot sights
If you are fond of an optic that senses motion to activate then this is the perfect optic for you to choose.
Sensing motion is one of the most notable features that this optic holds and you can be at ease when relying on the ability of the optic that senses motion. It is highly sensitive to even the slightest movement!
Also, the push buttons for the brightness adjustment are top-quality allowing easy changing of the settings. And if you want a good battery life then this is your best bet! It surely offers the money you paid for!
Performance Test at the Range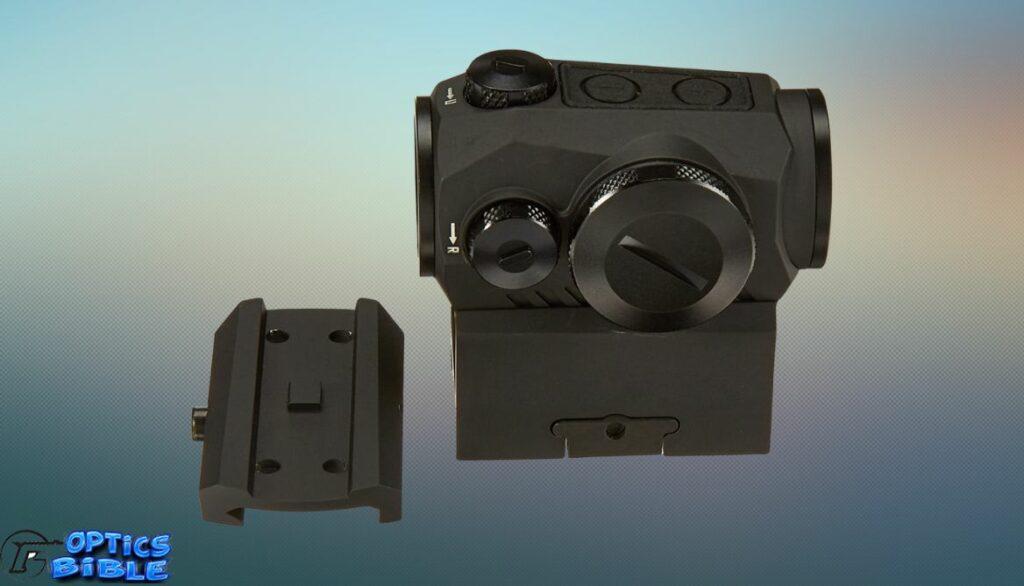 The Sig Romeo 5 works excellently on a target practice range. The 10 brightness setting allows the shooter to experience a crisp red dot sight even during a sunny day. And you can expect the motion activated illumination to sense even the slightest movements.
The sig romeo 5 offers a very crystal clear glass that ensures that while aiming you do not notice a problem even at the brightness at higher intensity settings.
Materials
The body is made out of machined aluminum and has a black anodized finish to it. It is a compact optic with long battery life.
Dot Adjustment
The sig romeo 5 is an easy-to-use red dot that can be easily adjusted with the adjustment tool provided with it. It also has an 8-adjustment cap that can be used to adjust the red dot.
A coin or flathead screwdriver will do the trick! Each click of the adjustment cap will increase 1 MOA and the romeo 5 is a 2 MOA optic sight.
Glass Clarity and Reticle
If you are looking for a red dot that offers amazing brightness setting options and night vision at the same time then the Sig Romeo 5 is the red dot for you.
While most red dots do not offer such options you can enjoy these in the sig romeo being a civilian or a military person.
The red dot sight features a 10 illumination setting with 8 for daylight conditions and 2 for night vision that ensure excellent target acquisition in any scenario.
Eye Relief & Eye Box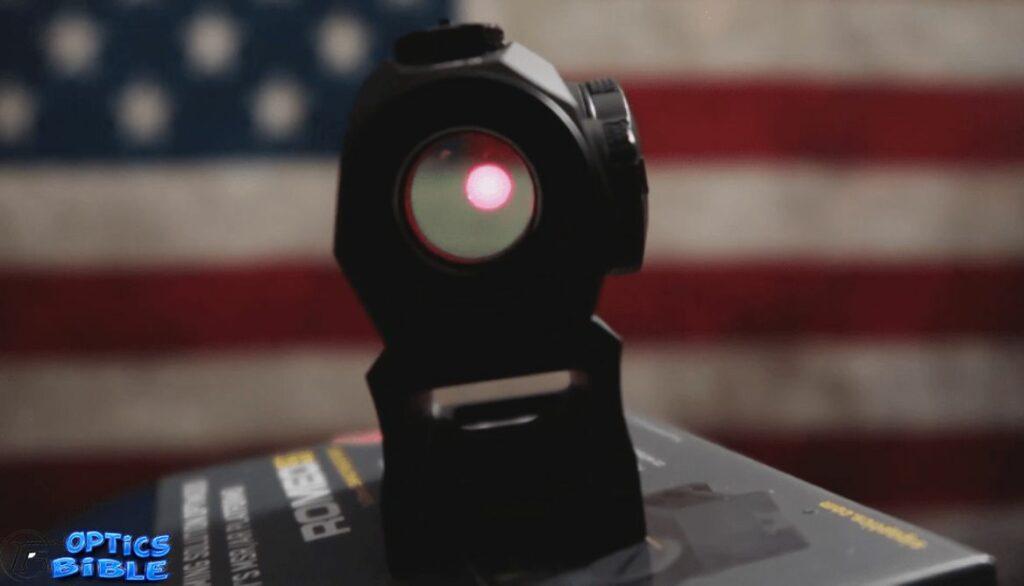 Having a wider FOV allows you to quickly locate and precisely aim with pretty decent accuracy. If you want precision quick targeting down the iron sights then this is the optics for you.
Durability and Battery Life
If you are expecting a very rugged build then Sig Romeo will not disappoint you at all. It performs exceptionally during rainy seasons, withstands decent shock during drop tests, and it is fog-proof.
With a single battery, you can expect a total of 5000 hours of operational time for this piece of equipment.
Elevation & Windage Knobs
If we talk about the elevation knobs and windage knobs then rest assured as they produce noticeable clicks. Additionally, the screw-on covers can be easily turned over and adjusted easily.
Parallax & Magnification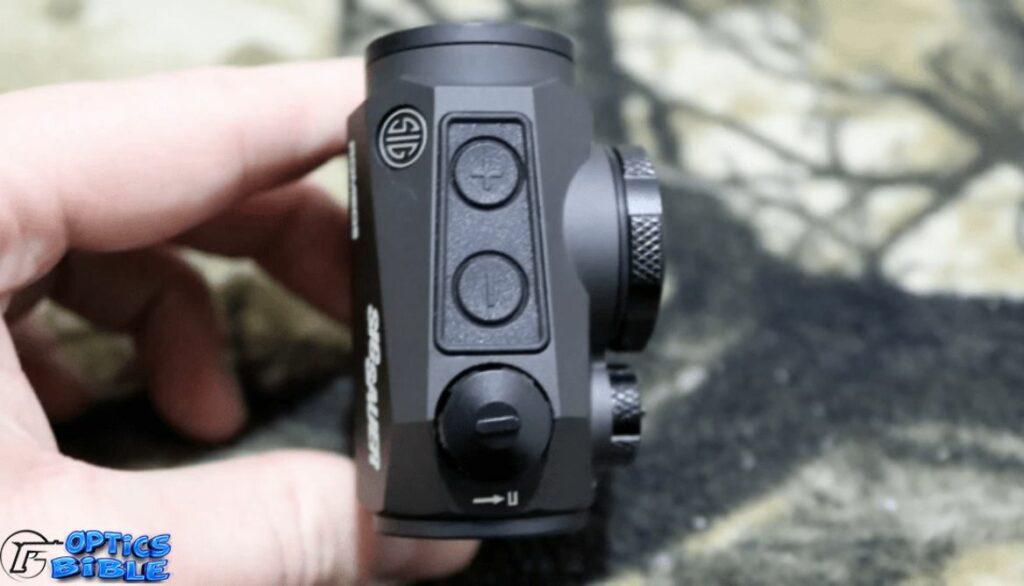 If you are a shooter that usually aims at a 150 yards range then you will experience excellent target acquisition. But if you want to test the red dot on a 300 yards range then a sig romeo and red dot magnifier can be an amazing combo.
There is a very slight parallax but being a 1x fixed magnification red dot sight allows the sig romeo 5 to have n effect that is not noticeable while targeting.
Mounting & Rings
The sig sauer comes with an option of two factory-standard mounting options. During a sig romeo 5 review, you can notice the co-witness 1.41 in riser mount that has been designed to accommodate the AR-15 type rifle category firearms.
While the low mount such as the M1913 Picatinny is something that was intended as a low mount riser for traditional firearms such as handguns.
This low mount setting will enable a firearm owner to mount the red dot sights on various handguns for ease of use.
Extra Goodies Included With This Red Dot…
If you are buying the Sig Romeo 5 then you can expect the following contents in the box:
The sig romeo 5 optics, low profile M1913 mount, 1.41″ co-witness riser mount, bikini style lens cover, Torx installation tools, lens cloth, and a lithium coin cell battery modeled CR2032.
5 years warranty is an exceptional advantage for you!
The Sig Romeo comes with a 5-year warranty that shows that the manufacturer wants their product to sustain for a long time with the customer.
While most companies out there offer 3 years warranty. You can expect a longer warranty from the Sig Romeo.
Is the Sig Romeo 5 for you?
If you are looking for a red dot sight with motion activation, multiple range trips, and excellent battery life while being budget optics then the Sig romeo 5 is for you!
Alternate Red Dots
There are some very interesting red dot sights in the market that offer amazing battery life, and motion activation features and can be suitable for your use:
1. Primary Arms MD-RB-AD
If your main purpose to purchase a sight is to offer a premium practice experience then you can be confident that the Primary Arms MD-RB-AD will deliver these exact features.
It is a well-rounded piece of hardware for hunting and practice. Thus, having a very versatile functionality!
If you are looking for well-balanced red dot sights for your weapon then this is your first pick for sure. Let's look at what it offers!
2. Vortex Strikefire 2
If you are in search of a rugged and robust sight for your weapon then the Vortex Strikefire 2 is the top contender among them all.
Saving up a little more cash and investing in this mid-range equipment will for sure be fruitful during target practice or hunting expeditions.
Let's have a look at the advantages and disadvantages of the Vortex Strikefire 2!
FAQ
What comes with the Sig Romeo 5?
If you are buying the romeo 5 then you can expect some additional items that will be eye-candy for you. These added goodies will help you master the overall feats it can offer.
The romeo 5 comes with an included mount that will fit the primary arms that you used every day.
An additional battery, M1913 mount, riser Torx mount, and some added goodies will make it a great optic to choose from. These are pretty standard items that come with every sig sauer romeo 5 purchase.
Is the MOTAC highly sensitive?
Yes, the MOTAC is extremely sensitive and will turn on with even the slightest movement. The features will automatically disable the red dot after 2 minutes of idle activity.
This makes the motion activation spot on! Something that you can trust in your everyday life as a self-defense addition to your firearm.
Is the red dot sight clear or blurred?
Sig Sauer has crystal clear glass that offers a very crisp red dot to the user. Allowing the Sig Romeo to be among the best in many sig Romeo 5 review made out there.
Who makes the Romeo 5?
The Romeo 5 is a product of Sig Sauer which is a German-origin brand of gun makers. Today, Sig Sauer, Inc. is located in Virginia since being founded in 1976.
Conclusion
If you have a very limited budget and want to purchase something that is worth your time and money then the Sig Sauer Romeo 5 is a technological marvel made just for you.
Many firearm owners buy this piece of equipment as a starter and practice gear but end up using it for a long time as their primary item of use.
So, if you want to avail the best features such as a dot that automatically turns on or motac feature that none have. Then you are looking at the right thing! Share your thoughts with us in the comment section over Romeo 5. We'd love to read your opinions.