Sig Romeo 5 vs. Vortex Sparc ar : What Is The Differences?
Are you a professional shooter, or is shooting your passion? Then you might have definitely come across Vortex Sparc AR and Sig Romeo 5. Both of them are quite similar with features, with slight dissimilarities.
The sig Romeo 5 has over-the-top battery power in their red dot for continuous shooting, which is almost 50,000 hours of battery life (equivalent to 5 years) compared to 5,000 hours of Vortex Sparc AR.
However, Vortex Sparc AR is good with 90 w/e adjustment, and has high windage and elevation for reticle adjustment to match the aiming point of the firearm with crosshair; whereas, Romeo 5 has 80 w/e adjustment.
Other than these, both perform the same with durability, magnification, weatherproofing and reticle type, which are also important in red dots.
I will be covering everything about them from A-Z from their build, battery life, performance, and other features; therefore, read the reviews between Sig Romeo 5 vs Vortex SPARC AR to know more.
Comparison Chart of Vortex Sparc AR Vs Sig Romeo 5
| Attributes | Sig Romeo 5 | Vortex Sparc AR |
| --- | --- | --- |
| Magnification | 1x | 1x |
| Objective lens diameter | 20 mm | 23 mm |
| Eye relief | Unlimited | Unlimited |
| Battery type | CR2032 | AAA |
| Parallax | Free | Free |
| Latest Price | Check Price | Check Price |
Sig Sauer SOR52001 Romeo5 Review in 2022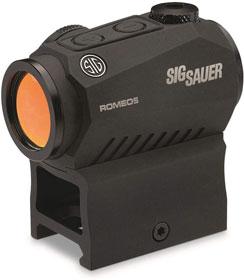 The Sig Sauer 5 is a combination of quality with high-profile efficiency; finding the same quality as Sig Romeo 5 will become tough for you! It counts on maximum accuracy and performance that anyone can rely on!
The battery life of this optic is praiseworthy. It has a unique MOTAC feature with which this optic saves battery by auto turning off when it remains idle for ten minutes.
This Romeo 5 has a battery life of 40,000 hours along with eight brightness level settings for daylight and 2 for night visioning. Furthermore, the optic lens has a magnificent Spectracoat coating for more battery savings when in use.
This coating allows the user to adjust the brightness level on the lowest setting yet have bright and clear visibility. The Sig Romeo has been made with so much aesthetics because a team of elite engineers created it.
They incorporated this optic with optomechanical design, superior glass, and game-changing electronic technologies combined. Its body is made from aircraft-grade aluminum alloy, which makes it sustainable through severe environmental conditions.
Also, with the additional fog-proof, waterproof, and shockproof features, it can sustain through rough environments easily.
In terms of external appearance, the Romeo 5 model is inexpensive and has a traditional tube-like design. You will get a highly efficient red-notch filter that will ensure the dot is present in every circumstance.
Features 0f Sig Sauer SOR52001 Romeo5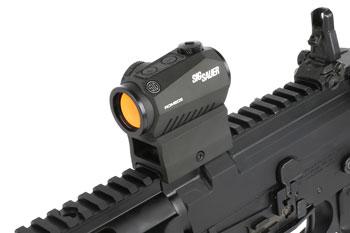 Coating Type: Outer coating is scratch-proof with an aluminum matte black finish. That coating also resists water.
Lens: Lens has Spectracoat coating to acquire high-class visibility even in the least brightness. This feature prevents you from setting the illumination too high that consumes battery power.
Single-Piece Tube: It has a single-piece tube design, for this mounting becomes easy with integrated M1913 Picatinny interface. A low-profile mounting rail is included in the package.
Aircraft Grade Aluminum: Aircraft-grade aluminum is used to build the body of the optic to provide robustness and lightweight-ness at the same time.
Waterproof: The Romeo 5 is 100% waterproof, so no component will absorb water and damage. The IPX-7 rating states that there is no water immersion up to a meter.
Fogproof: The lens is exclusively made from premium grade anti-reflective glass that prevents fog from forming in between your shots and, again, proved by IPX-7 rating for top-notch fog-proof performance.
Shockproof: The strong aluminum build makes the optic shockproof; hence, components do not dent or damage even if it falls from a massive height; thus, the shock gets absorbed.
Locking Illumination: Romeo 5 has ten illumination settings that include eight settings for daylight and 2 for night vision. The special MOTAC illumination for the battery-saving purpose by turning off auto while unused for 10 minutes.
Reticle Type: 2 MOA red dot that provides 1x crisp and clear magnification in any situation. These features help with more accuracy of the aim.
Parallax: Romeo 5's Parallax is very low. It means if your angle of view does not sit parallel to the optical axis of the sight, the red dot still remains on point to the bore of your firearm.
Technical features
Magnification: 1x
Objective lens diameter: 20 mm
Eye-relief: Unlimited
Illumination settings: 8 for daytime 2 for nigh time
Battery life: 40,000 hours
Pros:
It has a high battery life
Fog and water-resistant
Provides accuracy with red dot aiming
Made from premium aluminum materials, yet is lightweight and compact
It has premium battery-saving features called MOTAC and a Spectra-coated lens.
Cons:
Lacks a broader range of reticles.
Vortex Optics SPARC Red Dot Sight Gen II Review in 2022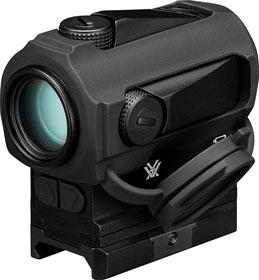 If you are a professional and looking for more upgraded and top-notch features in a red dot, then check out the Vortex Optics Sparc AR 2.
This red dot is for everyone's range of shooters from beginners to mid-level and, in some cases, experts; the red dot will serve you amazingly from all of its splendid features.
Vortex is already value for money in its optic assessments and provides superior features compared to other brands. SPARC II's build is compact and lightweight, so it fits on every size shotgun from big to small.
It is made of long-lasting components along with an aluminum body construction. Moreover, the nitrogen purged O-rings in lenses are proven to provide fog-proof Performance.
At the same time, the anodized coating keeps the equipment waterproof. SPARC II has the highest illuminating brightness of 10, which you can lower to save the battery for a long time.
Even in broad daylight, the red dot points the magnification quickly. It has an unlimited eye relief that makes it an evergreen optic for high recoil weaponries. The lens glass of sparc 2 is multi-coated, which provides high light transmission and robustness to the lens.
Features of Vortex Optics SPARC Red Dot Sight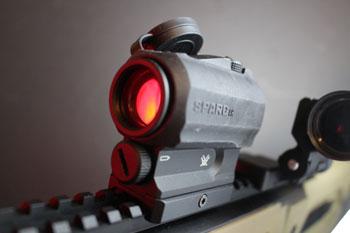 Coating: Exterior of the red dot is coated with a matte black anodized finish, which makes the surface scratch-proof, abrasion-free and waterproof.
Construction: A strong aircraft-grade aluminum body that provides rugged construction prevents cracks or dents if it falls. It is lightweight and great for mounting on personal rifles that are not so heavy.
Battery Life: Battery consumption is high and can be saved even more with quick lighting adjustments. It goes for 300 hours at high illumination, 500 hours at low brightness. Also, it has a 12-hour auto shut-off to save battery.
Lens: To prevent glares, reflections, and halos in broad daylight, the Sparc 2 lens is designed multi-coated.
Illumination: The brightness is adjustable to ten settings with two pushbuttons. You can simply adjust the illumination with the two rear-facing power buttons present on the body.
Parallax: Parallax-free red dot means the reticles won't move when you move your head around and keep the sight on the target.
Technical features
Weighs 5.9 ounces
TPR is 45 MOA
Has 1 MOA adjustment graduation
90 MOA max elevation adjustment
90 MOA max windage adjustment
Pros
The rubber armor is removable
Price is very reasonable
Has weatherproofing- waterproof, shockproof, and fog proof
Has sleek, lightweight, yet robust construction
Cons:
Professional shooters might find difficulty shooting with 1 MOA adjustment graduation.
What Is The Difference Between Sig Romeo 5 And Vortex Sparc AR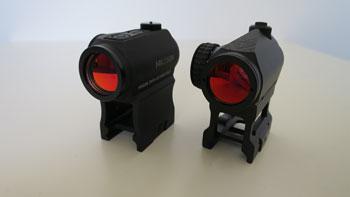 Now, let us know why both the red dots are different from every aspect despite serving the same purpose. Though both of them do not significantly differ in their features and specifications except for the price, knowing even the insignificant variable is also important.
Companies
Vortex SPARC 2 is an American company, whereas Sig Romeo is a German brand. No doubt, both the places birthed some amazing red dots for all.
Construction
Vortex and Sig Romeo, both red dots, are made from airplane-grade aluminum alloy. These aircraft-grade aluminum alloys are used to make airplane components. Nothing can dent or damage the red, and you can highly rely on their construction.
The Vortex is topped with an anodized coating that adds a layer shock protection, which means the coating absorbs the shock to give you some extra benefit.
Durability And Toughness
No doubt that both the red dots are made tough with aircraft-grade aluminum. Their windage and elevation turrets are protected with durable framing, and they are fog and waterproof.
Accuracy
The low parallax of Romeo 5 provides top-notch accuracy during your aim does not matter what your viewing angle is; the red dot is kept parallel. However, the Sparc 2 has less accuracy than Romeo 5 as it has 1 minute of angle per click.
Battery Life
Romeo 5 has solar power usage to save battery in broad daylight. Also, it has the MOTAC feature to save battery with auto shut-off within 10 minutes and has 50,000 hours of battery life. Whereas SPARC II has 12 hours auto shut-off feature mainly to save battery power.
Also, its battery runs 300 hours on maximum brightness and 500 hours in minimum illumination.
Is it waterproof
The Romeo 5 is highly waterproof and has IPX-7 ratings in terms of complete water immersion up to one meter. Though sparc two is not IPX-rated, the matte-black anodized coating on it plays a vital role in preventing water absorption.
Dot & Glass Clarity
The sparcar prevents glares, reflections, and halos in broad daylight, the Sparc 2 lens with its multi-coated lens glass. Whereas, the lens of Romeo 5 has Spectracoat coating to acquire high-class visibility even in low brightness, and has 2 MOA red dot that provides 1x substantial magnification.
Overall performance against price
In terms of performance, Romeo 5 is the inexpensive one, and it falls under the features of high-end optics. It's built well, is compact and lightweight, and consists of premium features. With the solid construction along with dozens of user-friendly specifications, this is an absolutely praiseworthy red dot.
However, if you are on a tight budget, then go for the affordable option that is Vortex SPARC II. You can rely on Sparc 2's rough and tough performance in every weather condition. To keep the battery running for long, you can always keep the brightness on dim unless you don't require bright light.
Also, the Vortex is night vision capable. The Sparc II is superb for beginners and mid-level shooters to get used to red dots because of its handy, lightweight, and compact construction.
Warranty
The Romeo 5 has a warranty on components for five years only. However, the manufacturer clears that they do not provide a warranty for intentional damage, theft, and modifications.
On the other hand, Vortex provides a lifetime warranty to its customers for their red dots. You can get any parts repaired or fixed whenever you want. Call out the number included in the manual, and they will get everything fixed.
Buying Guide of Vortex Optics SPARC Red Dot Sight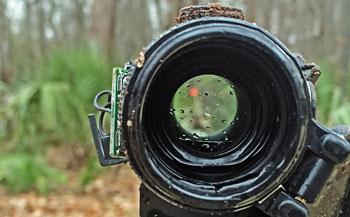 If you are wondering what to look for while buying a red dot for your next shooting, then I have this small buying guide to help you pick the right one.
Durability
Obviously, you are going to move around while you shoot, no matter what type of shooting it is. Therefore, the red dot has a high chance of falling on the ground, which can cause damage or breakage or internally and externally.
Therefore, pick the one with the utmost durability and toughness that can survive the falls. Red dots made with aircraft-grade aluminum are the most reliable in terms of this feature.
Accuracy
Choosing the red dot with a high configuration of magnification and reticle is important because these will determine its usability. Magnification level depends from person to person on what distance shooting they do. Whereas the reticle type is best at 2 MOA.
Weatherproofing
Having a weatherproof red dot is important for professionals, such as the military or army. Because they have to work despite the weather condition is. In this case, a waterproof and fog-proof lens glass is crucial.
Battery life
Enjoying the highest battery life with red dots is a dream for every shooter. Even if your red dot does not have it, you can check whether it has some battery-saving options or not. Also, the illumination settings with battery-saving features are plus points.
Frequently Asked Questions
#1. Is the Vortex Sparc 2 discontinued?
Vortex has replaced their Sparc 2 with Crossfire red dot, which meets more of new generation shooters' criterion. The new Vortex Crossfire red dot comes with better battery life, rotary dial brightness design, but with similar glass as the Sparc 2.u003cbru003eu003cbru003eRetailers are longer selling the Vortex Sparc 2. So, even if you find one, you are probably getting secondhand.
#2. Where is Vortex Sparc AR made?
The entire brand and company of Vortex is USA based; so, all the research and development are done there. However, the products such as SPARC AR are made and assembled in China. This is to ensure lower labor costs so that they can pass them on to their customers.
#3. Does Holosun make SIG Romeo?
SIG Romeo is made in the Holosun factory that is located in china. Holosun makes and assembles all the SIG optics with top-notch quality and provides Sig Sauer labels on them.
#4. Does Holosun make SIG optics?
The SIG optics are manufactured and assembled by HOLOSUN, a China-based factory. Holosun makes these extraordinary optics, which is why they can be sold in such an affordable price range.
#5. Which vortex reticle is best?
If you are a professional shooter or hunter who wants to seriously invest in a top-notch vortex reticle, they can go for the Vortex Viper HS. However, if you are a beginner or mid-level shooter, then buy the Vortex Sparc AR.u003cbru003eu003cbru003eThe sparcar also provides a high-quality shooting experience on a budget, but the Viper HS has some premium features to offer.
Who owns Vortex?
The owners of Vortex are Dan and Margie Hamilton. They are the real and present owners of Vortex.
#7. Are SIG optics made in China?
Since sig has a wide range of optics in their range, therefore, not all, but only the optics of sig Romeo 4 and 5 optics are manufactured in China by a factory named Holosun.
Conclusion
Finally, we are at the end of this sweet war. Both the scopes are fantastic at doing their job. There can be a negligible difference in pros and cons with them, but what is significant is the price difference.
For a suggestion, I would say the beginners should start with the affordable Vortex SPARC AR, then later could look to the high-end like SIG Romeo 5. And if you're a pro, then my opinion will be to choose SIG Romeo 5.
Hopefully, my Sig Romeo 5 vs. Vortex SPARC AR review was informative enough to provide you a clear idea about your new purchase of red dot.