SIG Romeo 5 Problems: Best Troubleshooting Guide for 2023
SIG Romeo 5 problems can include visibility factors also affecting the sight's MOTAC system. These often appear even in premium and quality optics.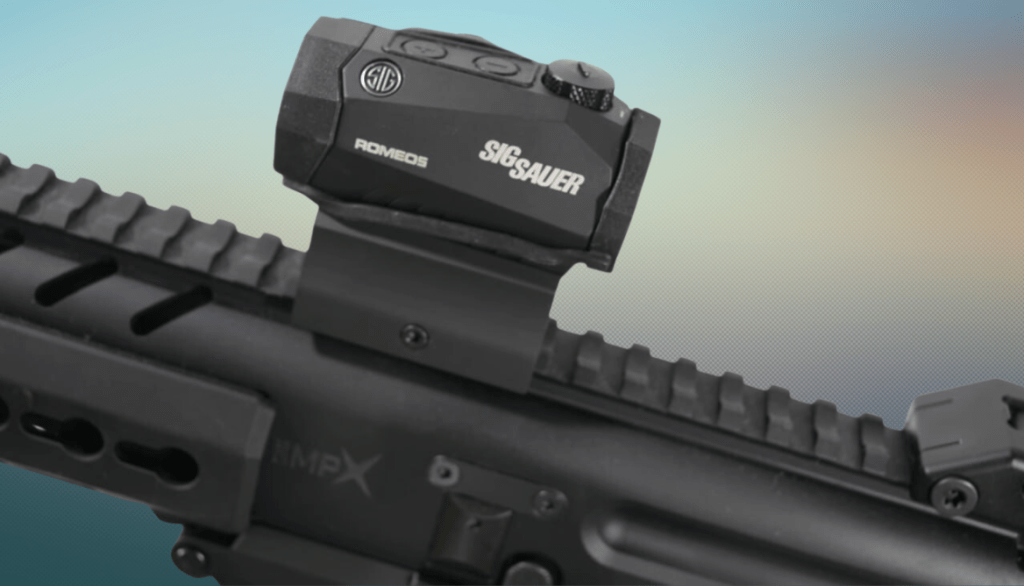 You can work on respective issues in numerous ways, including DIY and other common mechanical solutions. Let's dive into troubleshooting and fixing right now!
Quick Look at the Sig Romeo 5
The Sig Sauer Romeo 5 is a popular sight with quality features, like Motion Activation illumination (MOTAC). Here are other specifications to expect with the Sig accessory:
2 MOA reticle.
Battery power.
Excellent visibility specs.
Impressive durability from its build quality.
Whether engaging multiple targets or shooting at various distances, the Romeo 5's features ensure you execute your purpose precisely. Let's look at the detailed specifications making the Sig Sauer Romeo superior to other red dot sights.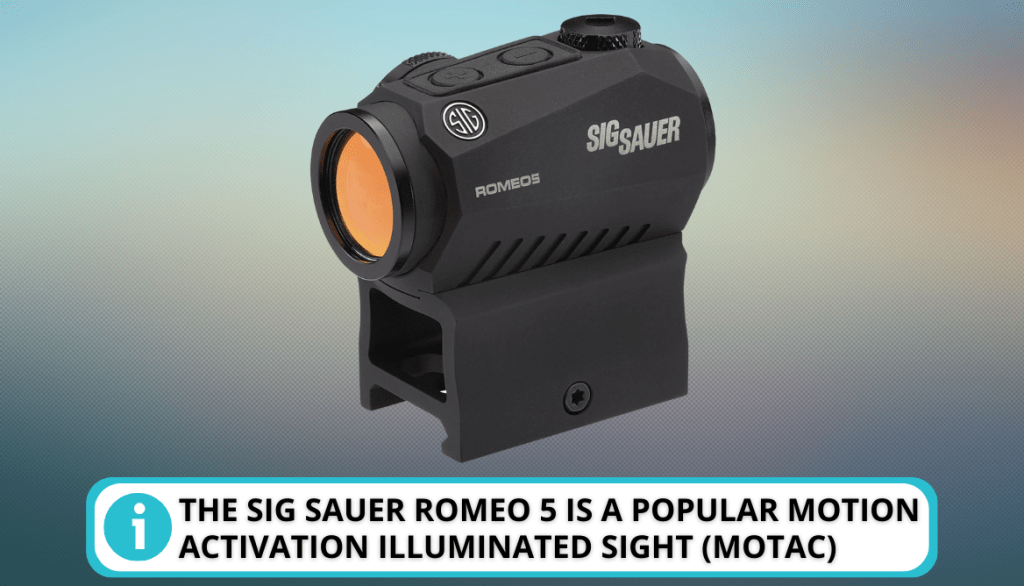 What is the Sig Romeo 5 Specification?
You'll be getting your money's worth thanks to the following Sig red dot sight features:
| | |
| --- | --- |
| | |
| | |
| | |
| | |
| | |
| | |
| | |
| | |
| | |
| | |
| | Low profile & 1.41" riser |
The above features have advantages, like making the Sig Romeo 5 easy to install and use. 
You can conveniently mount it, fitting well on any Picatinny rail.
The sight's red dot reticle controls are also straightforward, featuring crisp adjustments for windage and elevation that allow for quick and precise zeroing.
Sig's reticle brightness settings are easily adjustable, ensuring optimal visibility even in low-light environments.
This red dot sight is also compatible with various guns due to its lightweight design.
What are the Sig Sauer Romeo 5 problems?
Regardless of the mentioned premium features, the Sig sight has several issues. You can follow and utilize various tips, as explained in each of the problems below:
1. Source Power Challenge
The SIG Sauer Romeo has a quality CR-2032 which is designed for 40,000+ hrs of work. But some shooters has had complain that it does it less. Our experts have also pointed out that the Motion Activated Illumination (MOTAC) technology can have shorter-than-expected battery life. 
You can be easily frustrated, especially in important shooting circumstances or long hunting expeditions requiring a stable power supply for your reticle.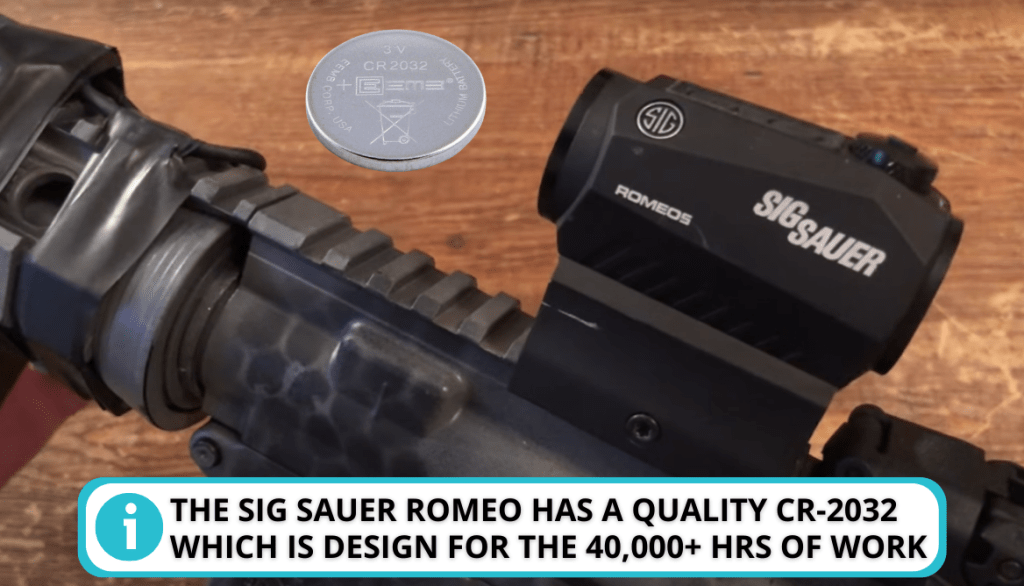 Solutions for a Reliable Power Source
Here is what to do to get the deserved battery service or how you can improve it:
Monitor your battery: You should develop a habit of inspecting the battery before each shooting session. This is necessary, especially if you haven't used the sight for an extended period. The simple tip helps you identify low battery levels early.
Have extra battery packs: Carrying an extra pair is handy in long shooting sessions.
Utilizing MOTAC tech: MOTAC illumination settings automatically shuts your Sig Sauer off and initiates the shake awake feature. Therefore, you can avoid shaking your rifle a lot to avoid unnecessary battery drain.
Cleaning: Clean the battery compartment to eliminate any corrosion affecting the battery's performance.
Note: Other red dot sights also come with similar power challenges. The above solutions will ensure you have a consistent power supply and that the sight's operations are seamless.
2. Defective Reticle Operation
Despite having ideal visibility specifications, the reticle performance over extended distances could be better.
You will also get blurry visuals of your target in high-illumination situations.
The reticle sometimes produces misaligned images of targets, vertical and horizontal, which affects your shot accuracy.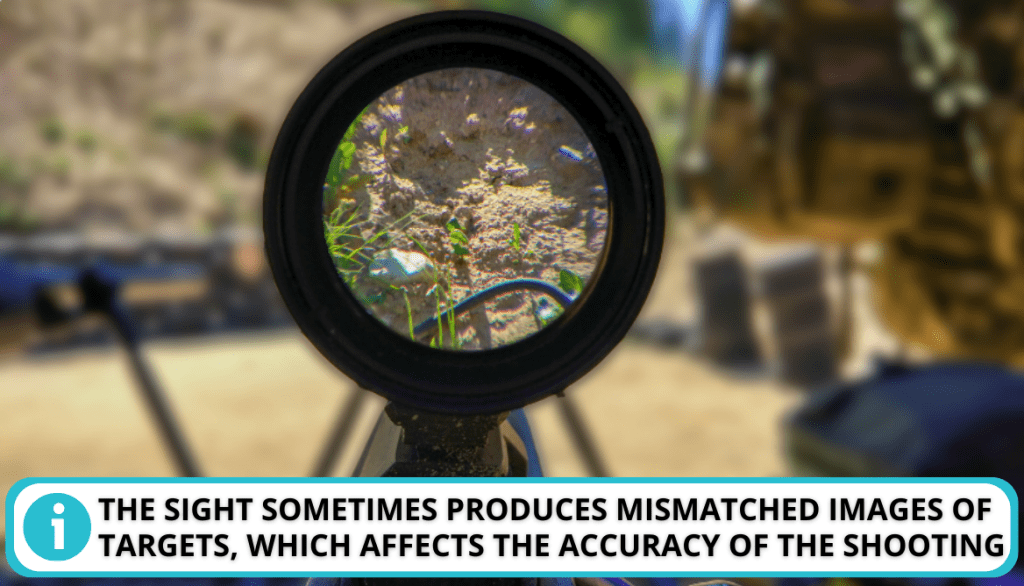 How to Solve the Reticle Issue
Try using these solutions to solve the reticle problem:
Using medium light settings: Though mid-light adjustments are sometimes inconsistent in long-distance shooting, they provide a reliable solution to cancel out visually impaired errors.
Check the connectivity of your Sig red dot sight: You'll notice that sometimes the optic is loosely connected, making electrical mechanisms perform improperly. Always ensure your optic is tightly fit for the perfect reticle performance.
Important! It is essential to seek professional help from a gunsmith, manufacturer, or optics expert if the impaired vision persists. Nonetheless, you can depend on the above solutions to correct blurry images.
3. Questionable Build Quality
The Sig Sauer Romeo 5 is an aluminum built, a strong component for consistent service in tough shooting scenarios. However, most shooters have raised concerns with the red dot sight make and have reported these problems:
Loose fit system: The mounting system can be faulty, especially after utilizing the optic on your firearm for a long period.
Poor design on the battery section: Many hunters complain about the side-mount battery, which is prone to taking in moisture.
Fragile on heavy recoil guns: Your Sig Romeo 5 has poor resistance to kickback, especially on heavy magnum rifles, which can get worse when shooting in extreme conditions.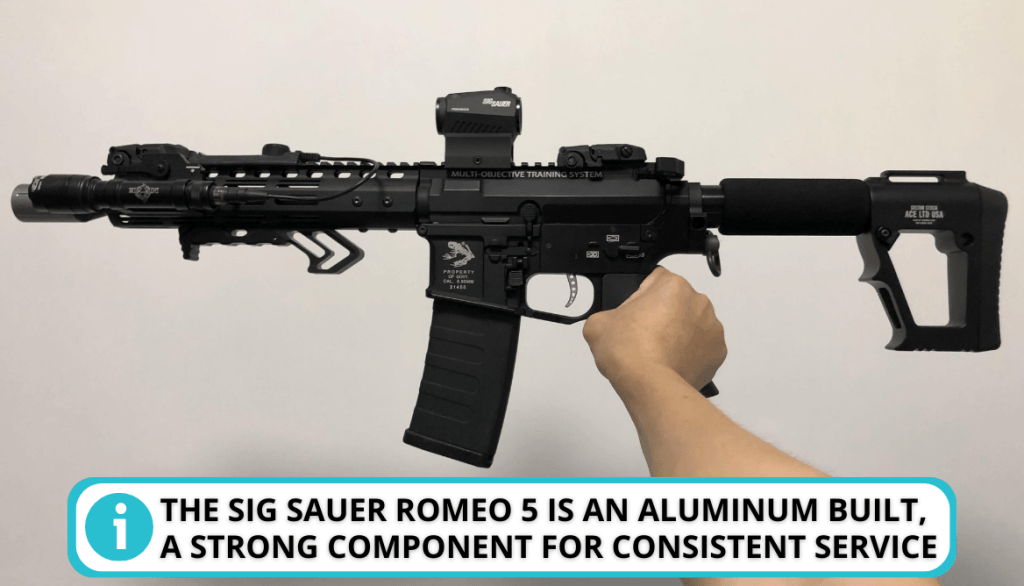 Solutions to Durability Issues
You can use these solutions to work on the above inconveniences:
Use a silicon layer to cover the exposed battery compartment.
Always carry your mounting tools to deal with a loose Sig Romeo 5. You can depend on thread lockers like Loctite for the purpose.
Add an extra protective layer on your Sig Sauer, which is handy for most iron sights.
Note: You normally won't have to worry about such issues, as they only arise after extended use. However, taking the necessary precautions will help your aluminum red dot sight last longer.
4. Mounting Errors
Another major issue reported is the red dot sight's mounting errors, affecting your accuracy and overall usage of the Sig Romeo 5. Its use in multiple guns tends to loosely fit in some brands, leading to instability and ease of damage while on the shooting field.
Additionally, poor mounting quality negatively impacts the windage and elevation adjustments.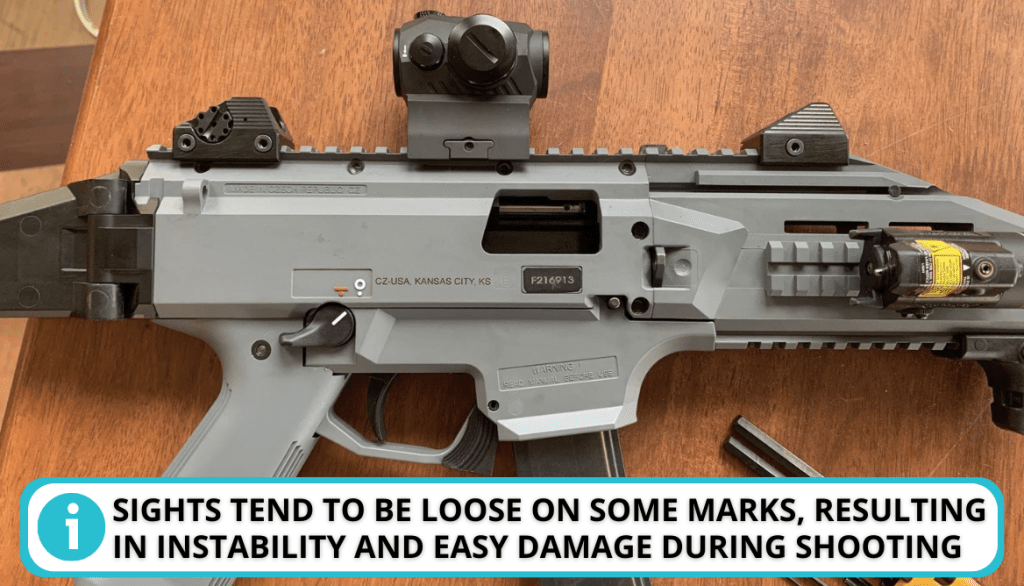 Possible Solutions for Mounting Errors
What can you do if you encounter this Sig Sauer issue? Read through and get the full insight.
Use Mounting Accessories: Try mounting accessories like risers or adapters to help create a stable and level surface.
Utilizing Loctite glue in loose mount fits.
Follow the torque specifications: Ensure your Sig Romeo is locked to the specified factory setting, which also helps to avoid overtightening.
Note: You can also get a new mount from the manufacturer when you encounter any installation problems. If not, always use high-quality mounts, like a good Picatinny rail, for stable Sig optics.
The following Youtube video can help you with the mounting process.
5. Sudden Red Dot Failure
The Sig Sauer Romeo 5 red dot has some issues when using it in daylight settings. It turns off in low-light situations, and you might have difficulty navigating low-medium light settings.
Other causes of sudden failure include battery issues or damage to the red dots' internal systems.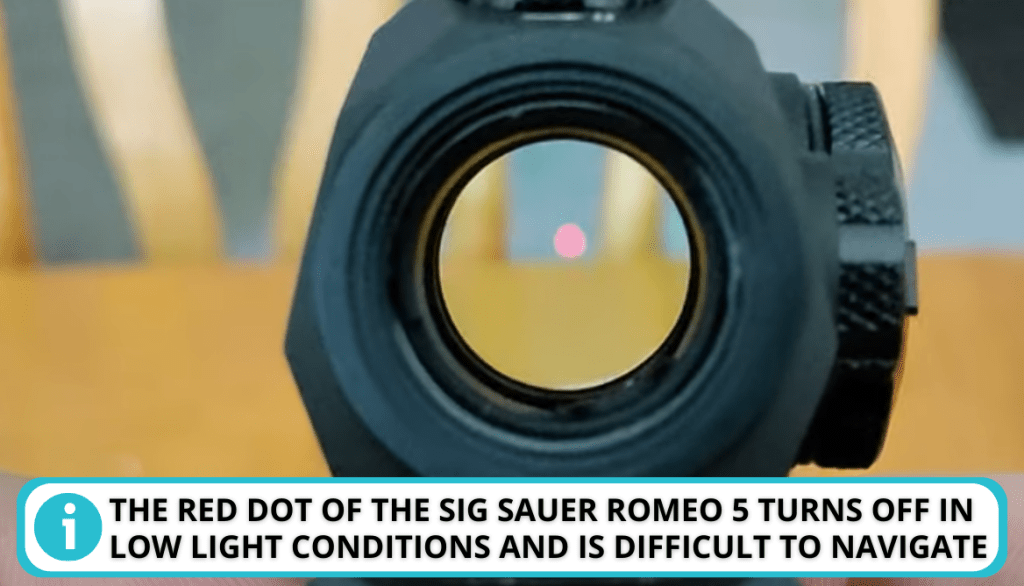 Solutions to Red Dots Failure
Though not a common problem with Sig Romeo users, you can be ready in the following ways:
Utilize medium-high illumination settings: Your reticle will perform at its maximum in its high settings, thus, unlikely to shut off.
Checking and replacing your battery pack: Your battery life can deplete fast when using maximum light settings. You can also check if poor battery contact is causing the red dot failure.
6. MONTAC Feature Problems
Most shooters have praised the Sig Romeo 5 shake-awake feature initiated by the MONTAC system. Your reticle will start work once the Sig optics detects movement and turns off with no motion. Therefore, the Motion Activated illumination helps save your battery life.
However, there are some complaints about shake-awake failure, which can be costly when shooting a moving target. Let's look at the only solution for this Sig Romeo 5 issue.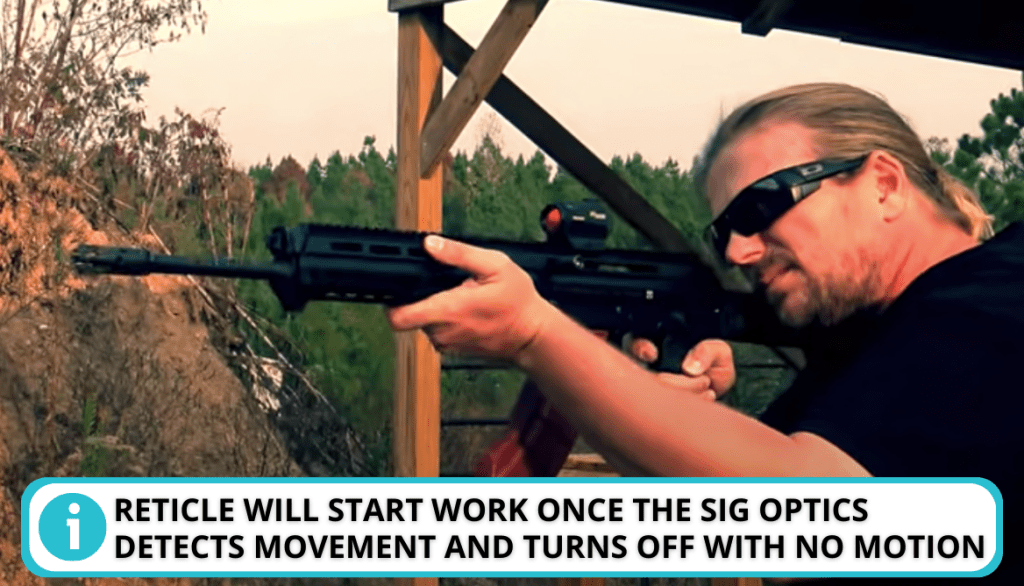 Solving the MONTAC Feature Problem
You are advised only to acquire original Sig red dots, whose MONTAC tech is reliable. Also, buying directly from the Sig products guarantees a warranty if your Romeo 5 shake awake factor stops working.
7. Many Sig Sauer Romeo 5 Counterfeits Available in the Market
You'll most encounter the above problems with the many counterfeit red dots sold as original Sig Sauer Romeo 5 products. It's mostly the seller's fault for trying to scam people with these almost equal Sig red dot optics.
The main difference between the original and these counterfeits is the quality control. The features in the fake sights are sub-standard and lack basic additions like being fog proof.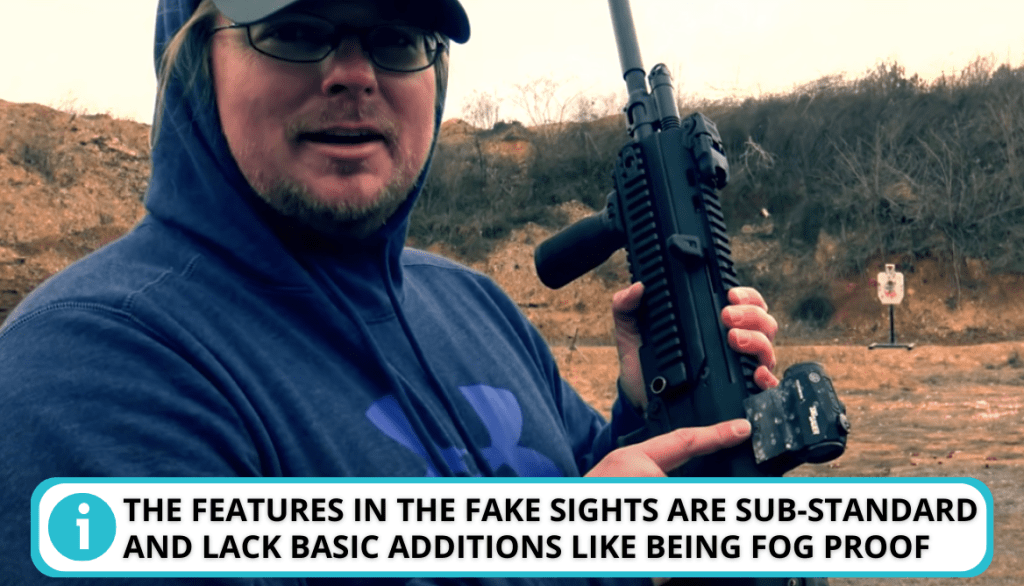 How to Avoid Counterfeit Sig Products
Luckily, you can avoid acquiring fake sights by doing the following:
Do not buy from unauthorized dealers, especially when using online sources. Note that these red dot optics aren't available on eBay or Amazon.
Avoid the lowly priced Sig Sauer Romeo 5 politics. You can normally get the gadget for between $100-$120 through resellers, while a new one costs $168 on the company's official website.
8. Inconsistent Sig Sauer Red Dot Clarity
You might also face clarity issues when using the highest setting, which is a double tragedy if you have Astigmatism. This condition also affects your vision with other optics, where the blurriness will depend on the number of daylight settings used or available lighting.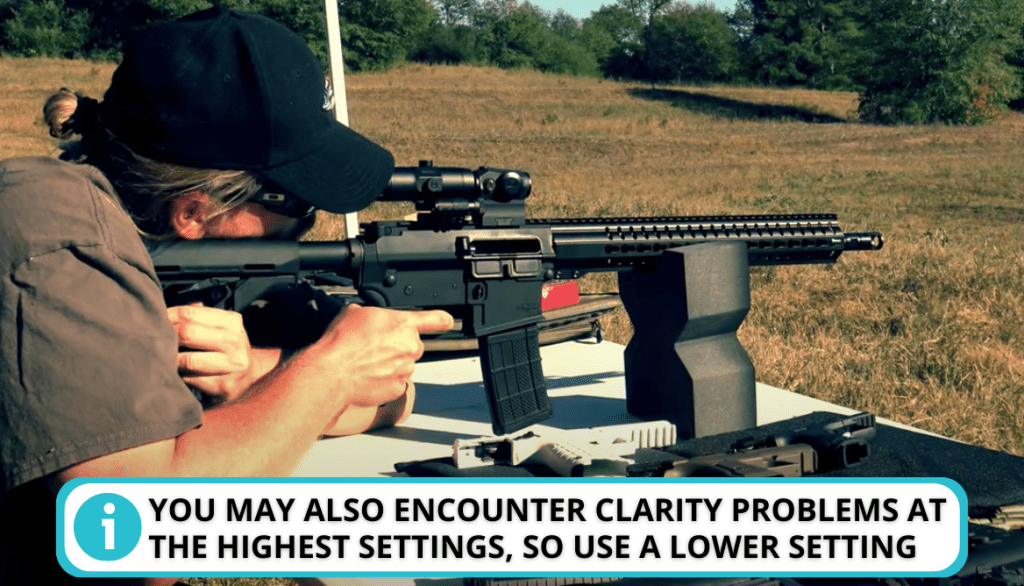 Avoiding Low-Clarity Images
Here's what you can do to correct these Sig Romeo 5 problems:
Try using a camera to see if it has the same fuzzy results, which will mean there's a lighting problem.
Always use lower settings, between 4-5, especially in daylight conditions.
Pros And Cons Of The Sig Romeo 5 
The Sig Sauer Romeo has numerous advantages that justify its pricing. These pros include:
Sig optics are durable under any weather conditions through unique aluminum build quality.
The optic has night vision capability and senses motions in these low-light situations.
These sights have passed the torture test, especially performance under heavy recoil.
Sig Sauer Romeo 5 has high and low mount systems for a stable fit.
The battery capacity is dependable in extended shooting sessions.
You can also expect the Sig Romeo to have several disadvantages, mainly associated with durability, as you cannot upgrade the factor. Nonetheless, you can still rely on the optic's build for multiple purposes as only a few shooters have complained about the issue.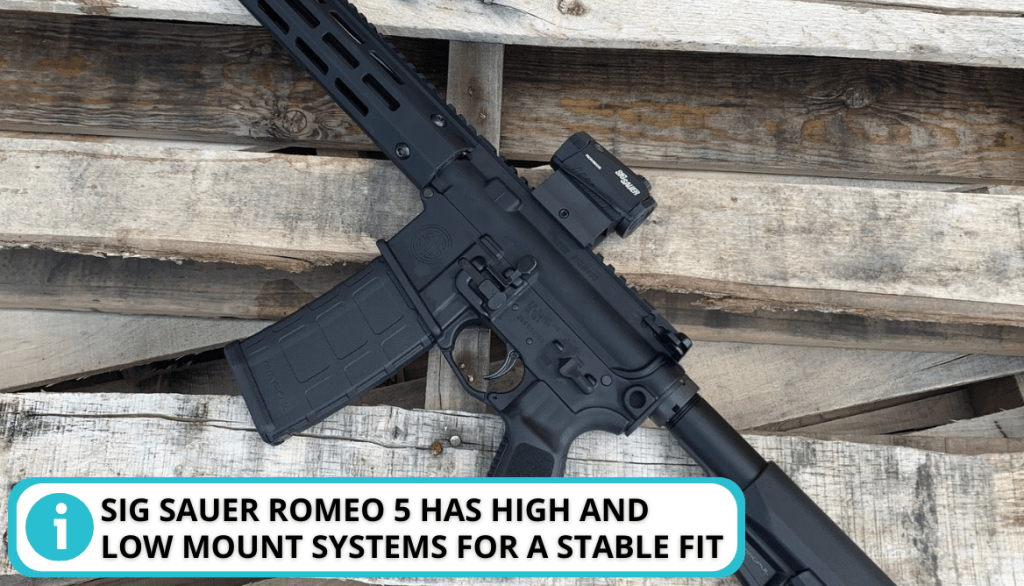 Other Options of Sig Sauer Romeo 5
The optic industry is a free market where you can always get other reliable gadgets. They can give you the same, if not more, output as the Sig Sauer device. Feel to select one of the following as a backup for the Sig or your primary option.
The Vortex Sparc 2 is also a 2 MOA reticle red dot and can act as a good backup for the Sig Sauer Romeo sight. The optic comes with these reliable features:
Battery life: Lowest setting – 6,000 hrs, highest setting – 300 hrs
Material: Aluminum
Magnification: 1x
Waterproof and fog proof: Yes
Night vision: Yes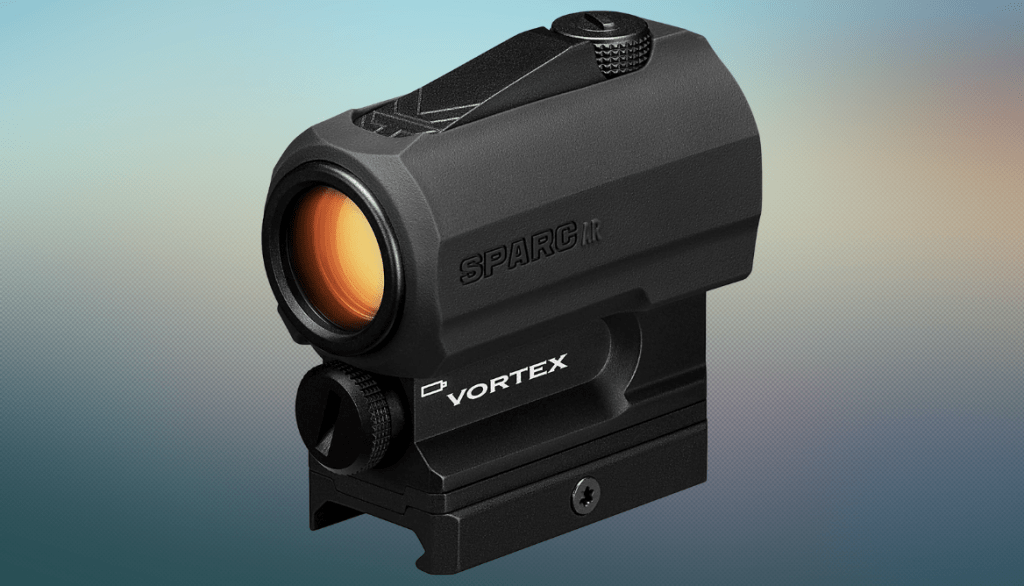 Burris can act as your primary scope, considering it has a 4 MOA reticle version, which enables convenient target acquisition and accuracy shooting. Here are other features to enjoy:
Battery life: 5,000 hours when set at maximum brightness.
Material: Aluminum
Magnification: fixed at 1x
Waterproof and fog proof: Yes
Night vision: No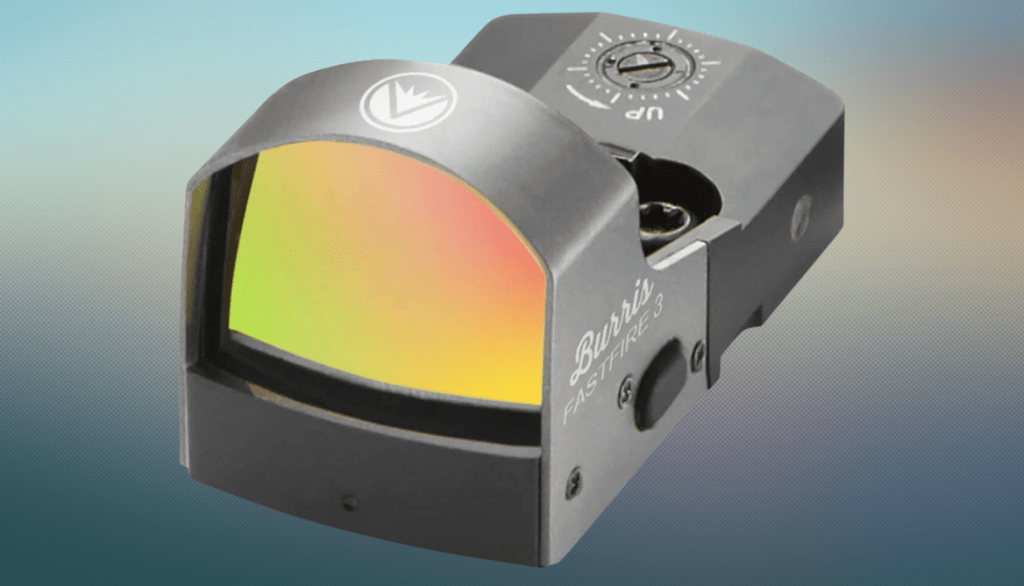 Bushnell also has a quality reticle, 5 MOA, which is great for large-scale shooting activities. The sight will be of help if you use semi-automatic firearms and is also a Picatinny type coming with these features:
Battery life: Upto 50,000 hours
Material: 7075-T6 billet aluminum
Magnification: 1x
Waterproof and fog proof: Yes
Night vision: Yes
FAQ
Are SIG Romeo 5 red dot sights good?
Sig Romeo 5 is a good sight that offers one of the best visibility features through its 2 MOA reticle.
Why should you buy a SIG Sauer romeo5?
A Sig Sauer Romeo has premium factors like the MOTAC feature, which senses motion and helps you save your battery life. 
Why is my SIG Romeo 5 optic not working?
Sig Romeo can stop working if the reticle is compromised in different light settings or when the battery system is defective and has low power. 
Can I return a fake SIG Romeo 5?
Sig Romeo gadgets are only returnable if you buy from the official company sites and outlets, where you must get a warranty.
Conclusion
You are bound to meet one of the above problems as a Sig sight owner. Battery issues are common, while reticle problems can also be a bother with improper configurations and inconvenient light situations. Also, visibility errors are caused by different factors like mounting and a defective MOTAC.
You can try several solutions, like extra battery packs, and sort out the reticle errors using low to medium light settings. Additionally, you can avoid all these problems, like visibility mistakes, by acquiring an original SIG Sauer Romeo 5.
So, have you faced any of the mentioned issues with your Sig sight? Comment below with your answer and tell us your most preferred solution.