Magnetospeed v3 vs Sporter: Difference Between Ballistics Chronograph
Today, I will discuss two of the most popular sales from Magnetospeed, their v3 and sporter ballistic chronographs. The V3 is more popular for its multiple compatibilities with guns, rifles, muzzleloaders, and shotguns.
Compared to the sporter that is only compatible with rifles and revolvers. On the other hand, sporter is more famous than the v3 for its portability with its sleek, lightweight, and telescopic body.
The basic and main difference is that you can fit the Sporter on barrels from .5″ to 1″ in diameter. The V3 can fit on barrels and suppressors from .5″ to 2″ in diameter.
Moreover, the larger diameter tolerance, the V3 also has one inch more clearance in the blast zone to account for longer (up to 3″ in most cases) muzzle brakes, flash hiders, etc.
Magnetospeed v3 vs sporter: Comparison table
| Attributes | MS V3 | MS Sporter |
| --- | --- | --- |
| Compatibility | Centrefire, airguns, rimfire, several shotguns and muzzleloaders | Rifles and revolvers only |
| Mounting | Barrel-mounted | Barrel-mounted |
| Power source | 9v or CR123 battery | 9v or CR123 battery |
| Weight | 1.1 lbs | 3.21 ounces |
| Storage | Hard/ Soft case | Ultra-compact case |
| Latest Price | Check Price | Check Price |
All over, both the chronographs are exclusively made with easy-to-read and view LCD screens; they are effortless to set up and use. So, let us look at the Magnetospeed v3 vs Sporter in-depth review and comparison.
Magnetospeed v3 Review in 2022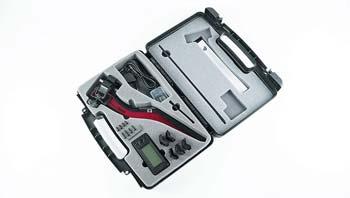 Magnetospeed v3 is a joy to use for every shooter, and no one would deny it. This amazing gun chronograph picks up every shot you make and instantly displays all the necessary data on the screen for you to scroll through.
There is also a micro SD card for you to store and archive the regularly used data for further usage.
Magnetospeed V3 chronograph kit includes all the necessary tools required for professional chronograph. The kit has an optional soft and hard case, which you can choose accordingly.
If you want to pack the kit inside a bag, then the soft case will help to reduce space consumption. However, if you only want to carry the kit for shooting, then the hard case will be a protective and wise choice.
Features
Display: The V3 has an easy-to-navigate display that turns on automatically and instantly after the cable is inserted. You can save the display viewing in either standard deviation (SD) or extreme spread (ES).
Regardless of what view you have saved the display on, their collected data will be saved safely on the Micro-SD if the data is archived.
Cables & Cords: Inside the kit, you will get two cables and two cords for easy insertion. Both of the cables have one 90-degree end and straight end on the other for an easy fit with the display and the gun.
Whereas the cords vary in the structure; one is a 6-foot regular cord, and the other is a retractable lightweight cord.
Battery: To use the V3 on full power, you can either insert a 9v battery or two CR123s alternatively. You can also turn on the backlit of the display during low-light conditions with full battery power.
Design: The design of this chronograph is pretty ergonomic because the manufacturers put lots of effort into making it easy to use for the users. You just require to tighten the strap and turn the knob to tight fit the chronograph securely with your gun.
Menu and settings: Menu and setting are made easy to explore, and with the simple user manual, you will quickly get a grasp of these.
Technical specifications:
Barrel-mounted
Battery options are; (1) 9-Volt or (2) CR123s
Weighs 1.1 lbs
Power source: battery
Includes Micro-SD
Rapid mode with rate-of-fire
Improved shooting modes, with the ability to now operate with air guns
Pros
Very easy to navigate with the quick display. The display works instantly with the insertion of a cable.
Requires only a 9v battery to operate with full performance. It also provides backlit viewing of the display.
They made it ergonomically for the users to find comfort placing it every time. And, it comes with all the required accessories for placement too.
It comes in either a soft or hard case for easy and comfortable carrying. Users can choose either of the cases.
Cons
The MS V3 cannot provide information on the projectile velocity of a given distance.
Magnetospeed sporter review
If you are looking for a top-notch, easy-setup, and range-friendly chronograph for your rifle shooting, then don't look anywhere else except the Magnetospeed sporter.
This chronograph is very handy, compact, and telescoping, making everyone go woo for it; just slide it somewhere inside the bag, and you are good to go.
This telescopic chronograph is barrel-mounted within a range of ½-1 inch diameter barrels. It is rugged, reliable yet lightweight, and measures projectile velocity without muzzling!
The electromagnetic sensors are responsible for 99% accuracy with bullet velocity.
Moreover, you get to acquire all the awesomeness of the chronograph with just a 9v volt battery, which is included already inside the package.
With the easy logging and monitoring display, you can see the velocity and statistics at the same time.
Features
Accuracy: This chronograph has electromagnetic sensors installed for measuring the velocity and statistics with utmost accuracy. Moreover, there are three sensitivity tuning for fine-tuning the data collected.
Battery: Battery the power source for the sporter, and it uses a 9v battery to fully energizing your shooting performance. The battery compartment has easy reach, where you do not require any tools or screwdrivers to replace the battery.
Set-up: The best feature of Magnetospeed chronographs is that they are effortless to set up. Just strap, plug and shoot. Moreover, the sporter's newly designed strap latch makes it even easier to pull and tighten the chronograph according to your flexibility.
Compatibility: The sporter is only meant for center-fire rifles and revolvers with barrel mounting within ½-1 inch diameter. However, you cannot use it for guns.
Design: The design is very wholesome, which is compact, and sleek for easy carrying. It contains an easy-viewing LCD screen that displays all the stats and velocity at once. With the easy buttons on display, you can control the settings, review your saved data, delete them, or even clear stored unrequired data.
Technical specifications:
Barrel-mounted
Weighs 3.21 ounces
Power source: battery
Center-fire Rifles and revolvers only.
Pros
Very compact and telescopic design that makes it easy to carry around. It comes with a protective case too.
It has an easy logging and viewing LCD screen. It provides both velocity and statistics at the time for viewing.
The chronograph is equipped with a 9v battery. The battery is quite easy to access without the need for any tool.
Provides 99% accurate measurement with electromagnetic sensors. It also measures projectile velocity.
Cons
Not a compatible chronograph with guns and rimfire
Magnetospeed sporter problems
Let us look at some of the issues you might have with the Magnetospeed sporter chronograph.
Does not sit on guns and firearms
This chronograph has a default ballistic mounting system; it also does not come with separate adapters inside the package. For this, it is only made to fit with centerfire rifles and revolvers.
Hence, you cannot fit it in regular guns, rimfire, shotguns, or even muzzleloaders.
The LCD screen does not have backlit
The LCD screen does not have a backlit system, which means you have to struggle to view the screen in low-light conditions.
Does not come with handy instruction
For guidance and using techniques, this chronograph does not come with a handy and laminated instruction booklet/ sheet. Beginners might find it overwhelming as they have to search all the internet for using it initially.
Carrying case is not efficient
The carrying case it comes with is way too small and does not fit all the accessories efficiently. For this, you need to carry an extra load for the accessories to fit in.
About magnetospeed sporter pr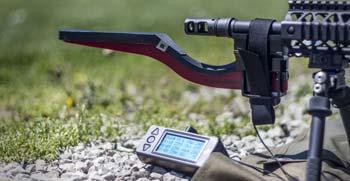 The magnetospeed sporter is a relatively affordable barrel-mounted chronograph compared to its competitors. It has a sleek and telescoping design and is ultra-lightweight to easily carry it anywhere you go.
The chronograph is instilled with electromagnetic sensors for accurately measuring the velocity of the bullet. Moreover, an easy viewing LCD screen displays all the required statistics all at once so you can and restore the data in the menu.
The entire sporter is powered by a 9v battery that is already included inside the package; there also comes a bayonet-style sensor and an integrated data cable inside the package.
Magnetospeed v3 vs. Sporter: Difference between the V3 and Sporter Models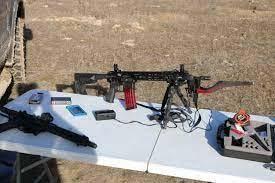 Construction
The v3 is constructed more rigid and heavyweight compared to the Sporter. You can pick the weight according to your comfort level to handle a chronograph.
Ergonomics
The design of these chronographs is pretty ergonomic because Magnetospeed has equipped it with an easy set-up design for the users to save time and energy.
You just require to tighten the strap, turn the knob to tight fit the chronograph securely with your gun, and insert the cables. The straps are quite stretchy and latched for a perfect fit.
Accuracy
The sporter is equipped with electromagnetic sensors for 99% accuracy in detecting bullet velocity. It also accurately measures true projectile muzzle velocity that the v3 cannot.
V3 also has sensors for calculating shot stats and other velocities. Therefore, the Sporter is ahead of accuracy than v3.
Performance
V3 and Sporter have a ballistic mounting system with diameters within 0.5-1 inches. However, the V3 performs and is highly compatible with all kinds of Centrefire, airguns, rimfire, several shotguns, and muzzleloaders because it comes with separate Picatinny rail adapters.
At the same time, the Sporter performs only with rifles and revolvers. Performance-wise, V3 is limitless.
Durability
Both of them are designed rugged and durable for long-term use. Even though the Sporter is lightweight and sleek, its durability is not compromised. The v3's cables are heavy-duty and wear-resistant too.
Ease Of Use
Both the barrel-mounted chronographs contain an easy-viewing LCD screen that increases their usability the most. Magnetospeed has taken the hassle to make your journey fruitful by including the instant-access display.
Their premium displays show statistics and velocities at the same time. With the buttons present, you can operate the menu to save, delete or archive any data.
However, if you are a beginner, the V3 will help you with ease because it comes with an expert guide handy manual booklet. However, Sporter does not include such.
Size and Weight
MS V3 is tougher and has a bigger body, for which it weighs 1.1 pounds. On the other hand, Sporter has a lightweight, telescopic and slim body size for which it weighs only 3.21 ounces!
Here, no one is the winner because the requirement of size and weight of a chronograph depends from user to user.
Price
From the price point, Sporter wins over V3. V3 costs at least 380 dollars in Amazon, the Sporter costs almost half of its price, which is 210 dollars.
Warranty
Magnetospeed provides all of their chronographs with two years of manufacturer warranty. However, the warranty is only applicable to the authorized buyer of the chronograph.
Magnetospeed does not provide a warranty of loss, theft, and intentional damage of their chronographs.
Ballistic Chronograph Buying guide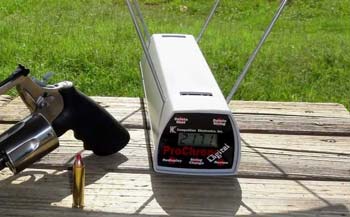 Choosing a ballistic chronograph can be exhausting, especially if you are new to this tool. But as a shooter, you cannot even deny how important a chronograph is; once you start using it, there is no going back. Therefore, to help you out, I will be describing a brief purchase guide.
High-technology
A chronograph equipped with modern technology will provide faster results, can record many shots and varieties of strings of shots at once and easily. This helps for a quick and helpful average calculation of variations in velocity.
LCD screen
Moreover, also look for an easy to view and read LCD screen for the chronograph. As you have to shoot in various light conditions, a chronograph with a backlit display to allow reading in low-light conditions will avoid frustrations while reading the screen. Therefore, a chronograph that is easy to view in multiple light conditions is not a must-have but comforting.
Simplicity with the operation
Simplicity with such a device can save you loads of time and energy because the tasks of setting it up, reading, recording, and calculating the entire mathematics carefully with accuracy can be frightening indeed.
Therefore, initially look for an easy-to-set piece, then look for the ones with the one-button operation to not have to go back and forth with multiple confusing buttons.
There are modern chronographs that you can connect with your device with the manufacturer app for an additional note. Then, record and calculate the readings directly from your mobile! So, you can pick one from such types of chronographs.
Compatibility
The last one is compatibility; it means whether the mounting type of the chronograph is compatible with your gun/ rifle/ firearm or not. You should know the mounting of your rifle; if it is ballistic or Picatinny or something else, then search for the chronograph that would mount there.
Magnetospeed is a popular name for shooting & hunting enthusiasts as it is one of the leading manufacturers for making the most important equipment for the purpose.
Magnetospeed has been manufacturing quality and reliable ballistic chronographs for years, which are highly equipped with modern technologies to make your shooting activity fun and accurate with all the velocities and statistics.
Frequently Asked Questions
Does MagnetoSpeed affect accuracy?
The magnetospeed chronographs are meant and made to find the muzzle velocity of data and other statistics involved for firing. It is not responsible for measuring the accuracy of your load. 
How accurate is LabRadar?
Labrador is made from similar technological features like high-end, premium radars for professional shooting and hunting. Hence, their accuracy level is made sure to the fullest for measuring various projectile velocities.
How accurate is MagnetoSpeed?
In their spec details, Magnetospeed claims their accuracy to be 99% perfect with the presence of highly technical sensors. However, the rest 1% depends on how accurately you can set up and use the chronograph.
How does a ballistic chronograph work?
The modern ballistic chronographs work using two types of sensors to measure the velocity and other stats. The chronograph screens contain those sensors in an o'clock position, which detect the bullet's passage.
How does a MagnetoSpeed chronograph work?
Magnetospeed chronographs use electromagnetic sensors to detect the velocity even in the harshest of environmental conditions. The sensors produce a voltage that is parallel to the magnetic field changes of the bullet.
What is a MagnetoSpeed V3?
Magnetospeed v3 is a ballistic chronograph that helps to measure out the velocity and statistics of a projectile in flight from guns, rifles, revolvers, etc.
Conclusion
Both the coronographs are well-made with extravagant features to make your shooting experience more fruitful. In the Magnetospeed v3 sporter, if you want to spend the least to get a hang of chronographs first, then you can start from the sporter.
However, if you have a shooting device other than rifle and revolver, then the v3 is the right choice for you. Despite this difference in price and compatibility, both the chronographs determine the statistics with 99% accuracy with their electromagnetic sensors.