M-LOK Vs MOE: The Real Winner is…
A major challenge that firearm owners face is finding a versatile attachment system for their weapons. M-LOK vs MOE will enlighten you regarding the best choice as per your need and comfort.
The MLOK and MOE by Magpul Industries have features such as low profile, strong grip, secure fit, streamlined look, affordable price, etc. Read on to learn about their differences and similarities, pros, cons, and in-detail comparison.
Let's get started!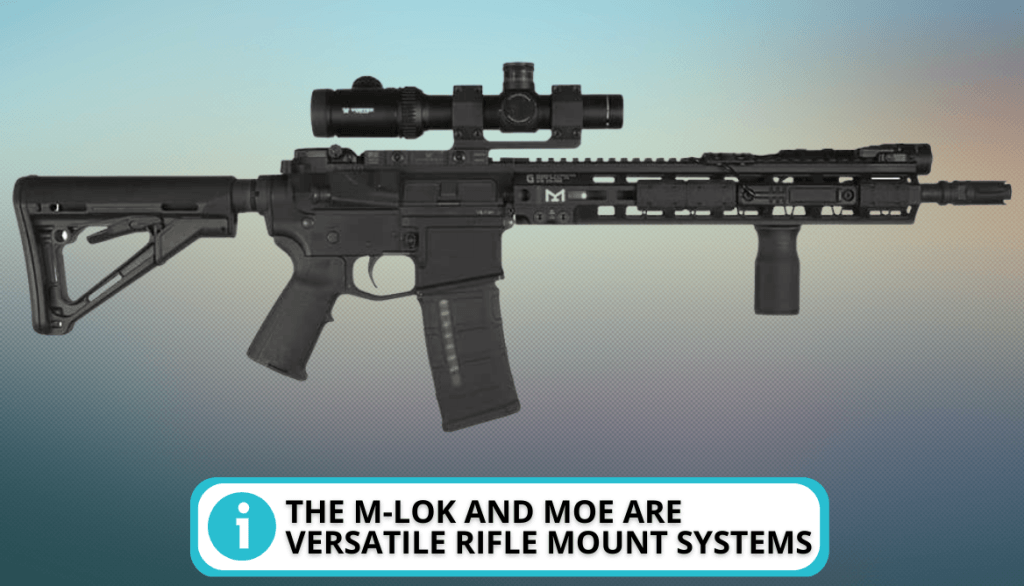 M-LOK vs MOE: Comparison
The M-LOK and MOE are introduced by the same manufacturer but they provide a very different type of utility for the user. To explore and understand both of them, let's dive in and compare them!
Below is a table of comparison for a mid-length handguard for an AR-15 for a quick reference as an example. Let's have a look at it.
Manufacturer's listed weight:

M-LOK slot at 2,6,10

(MOE slot on older models)
Installation and Use: Making it Easier!
M-LOK and MOE both install differently. While the M-LOK makes use of a T-slot attachment system for a speedy and easy installation/removal of accessories.
Meanwhile, the MOE requires the use of tools for some disassembly and also has a much more complex installation process.
Compatibility: The Perfect Match for Your Firearm!
The one thing that makes M-LOK special is its direct mounting capability. Both M-Lok and MOE systems are designed for use with a wide variety of firearms.
We are using them with each other, but that does not make them totally compatible. Some will fit and some will not.
For example, if you are using the Magpul MOE SL-K Stock and attaching the M-LOK QD sling points.
The SLK slot has a slot that can fit the QD sling point. Put the T-nuts on the slot and just tighten it.
There are many MLOK and MOE accessories that we use in the same way.
Here is a video for a better understanding.
Hassle-Free Attachment Method
Both systems have very different methods to attach to different accessories. Let's have a look at it!
To install the M-LOK you need to understand the T-nut system (T-slot). For example, on the handguard, you need to pre-set the rail. Here is how you do it!
Set the screws in the rail.
Using an L-key tighten the screws.
Adjust them to the right tightness. Note: Apply a thread locker for best results.
Set it on the handguard and position the T-nut facing longways.
Use an L-key to tighten and secure the rail.
Here is an interesting video guide to help you out.
While the MLOK has an innovative T-lock system, the Magpul MOE has individual screws there are tightened. Here is how you attach a Magul MVG (MOE vertical grip) for example. Let's check it out!
Remove the handguard from the rifle.
Take your handgrip and position it on the handguard.
Now take the screw and pass it through the handguard and tighten it to the handgrip using a screwdriver.
Install back the handguard to the rifle.
Check out the video for a better understanding.
Note: The main difference in attachment is that M-LOK uses a new system that does not have individual screws used to attach an accessory while the Magpul MOE does.
Accessories (e.g. Magpul RVG Vertical Grips, M-LOK lights, Lasers, etc)
M-LOK and MOE have a vast catalog of accessories available. But, LOK support even more accessories including third-party products such as:
Rails by Seekins Precision, BCM
Bipods by Atlas Bipods, Harris Engineering
Grips by BCM, Strike Industries
They all are a great fit for its system even more than quad rails.
Exploring the Versatile Purpose of the Accessories
The M-LOK and MOE series has slightly different approach in terms of usability.
M-LOK: It is designed with the idea to be lightweight and enhancing modularity. It allows quick installation without using any specified tools.
MOE: This series is made with a highly-durable and ergonomically superior grip and stock system. Both add a different kind of value to your firearm after installation.
Weight of Different Accessories
In terms of weight reduction, M-LOK has a minor upper hand over MOE. It has a more streamlined line of products made from lightweight and high-grade materials such as aluminum.
7-inch handguards = approx 5.9 oz,

12-inch handguards = approx 9.3 oz
On the other hand, MOE is polymer handguards. This gives M-LOK the edge over MOE in terms of total weight increase after installing it on the firearm.
The Truth About Magpul MOE Meaning in Guns
Several guesses are around the community regarding MOE's relation to guns and the most common translation is "Magazine Outside Extension".
For those who are not aware of the term, it means an external magazine extension that increases the total capacity of rounds in the magazine.
Some more interpretations are "Modular Optic Equipment, and "Magpul Original Equipment".
Whatever terminology and its meaning you go for, there is no second thought that MOE is a critical necessity for a firearm collector.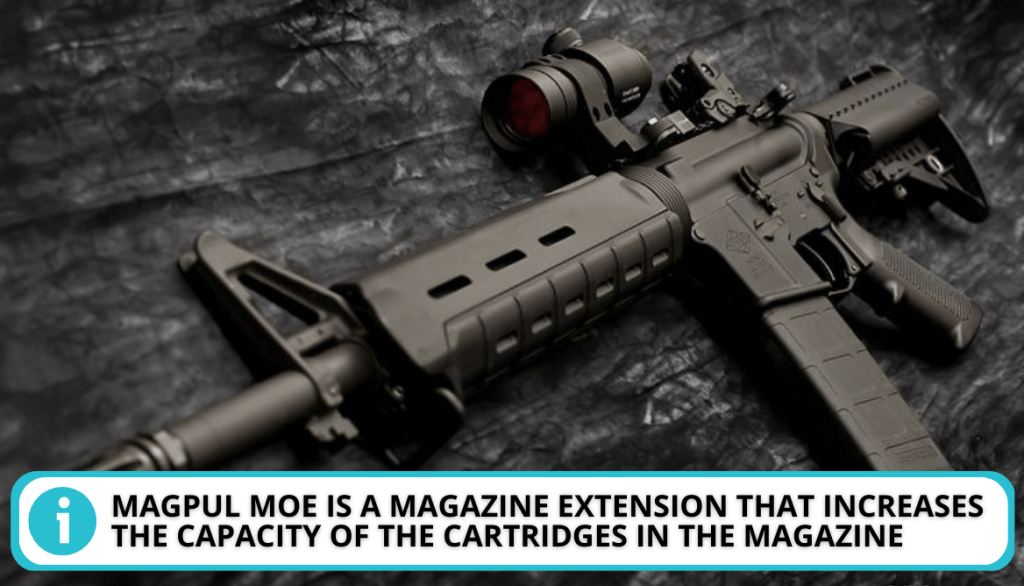 What Does M-LOK Mean in Guns?
It is an innovative attachment system for firearms that facilitates the attachment of a wide range of accessories (such as stocks, grips, rails, and bipods) to your gun.
One of the main crucial steps to take note of while purchasing the M-LOK Handguard is to decide the type of accessories you want to attach to the gun.
Also, its compatible with the accessories you have selected.
The notable feature that makes it popular is its versatility and utility for easy use.
There are different options in the market, decision making can be very tricky while choosing the right one. We advise you to thoroughly research before investing in any M-LOK handguard.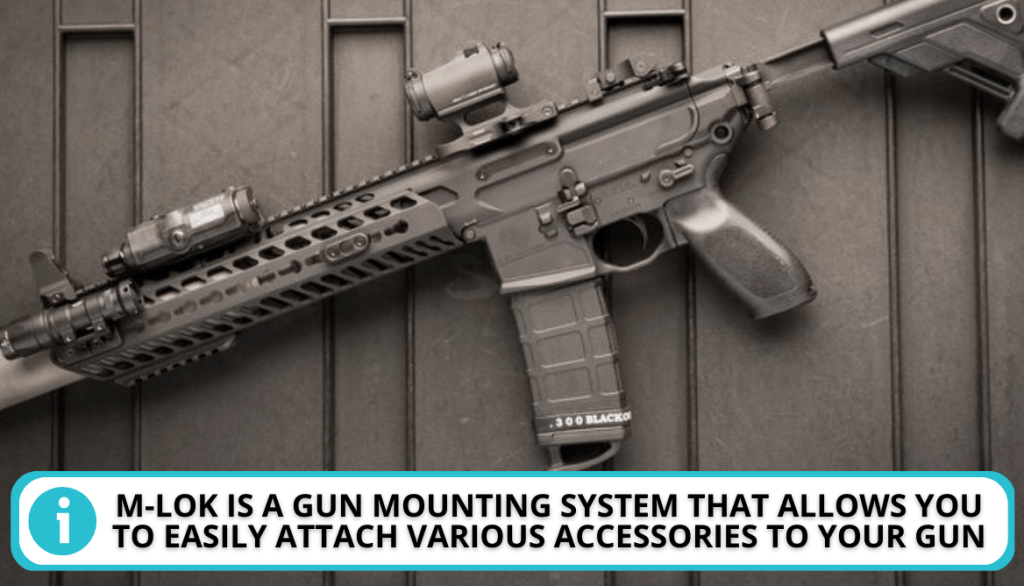 Does MOE Grip Fit M-LOK?
No, the MOE grips do not fit the M-LOK handguards. There are some complications to this answer. Let's check them out!
Types of grip: You need to understand that there are two types of grips namely MOE SL handguard and MOE K.
The Lock Mechanism: Making use of a locking mechanism, the MOE SL (free floating handguards) are compatible with the M-LOK slots but the MOE K isn't.
Need of SL Grip: You need a MOE SL grip to use on the M-LOK handguard
Note: You always have the option to choose a different type of grip that is compatible with the M-LOK handguards.
Magpul MOE Standard vs MOE M-Lok QD Sling Attachment
Magpul MOE Standard and MOE M-LOK QD Sling Attachment are different products manufactured by Magpul possessing distinct features and operational use.
The different features of Magpul MOE are as follows. Let's check them out!
Featuring a Picatinny-style rail on the top that can mount accessories the Magpul MOE Standard is a basic handguard.
It is for the AR-15 and other similar carbine-length rifles compatible with it.
More notable features are a lightweight design and a handgrip that maximizes comfort level.
Here is what makes the MOE M-Lok QD Sling Attachment special. Let's check it out!
For shooters preferring a quick draw and target acquisition, the MOE M-LOK QD Sling Attachment is their perfect ally!
This sling attachment point is compatible with the M-LOK.
It aids in rapid and easy attachment/detachment of a sling.
Notable features include tangle or snag-free design, enhances quick draw, and allows easy carrying of a weapon.
Is Your Magpul Fore-Find MOE or M-LOK?
The way to check out if the Magpul Fore-Find is MOE or M-LOK is the following:
Checking the Box Contents
The easiest way is to check the box and paperwork that comes with the product. It will have the details you are looking for.
Innovative Slot System
Another easy way to determine if your Magpul Fore-Find is the MOE slot system or M-LOK slots.
MOE handguards have slots at the bottom and sides of the attaching accessory. The M-LOK handguards have large-sized and rectangular-shaped slots in the same style. The size of the M-LOK or MOE slots easily identifies the difference.
How M-LOK System and MOE Differ from Each Other
To comprehend an in-depth understanding of the various complication and differences between M-LOK and MOE, let's dive into the Pros and Cons!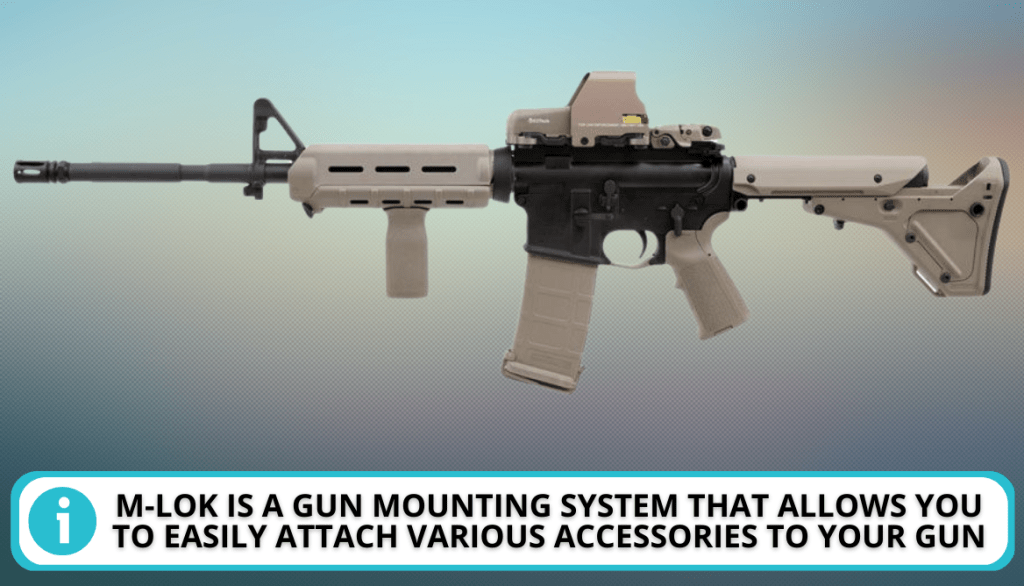 M-LOK Pros and Cons
Listed below are some of the pros and cons of M-LOK!
Pros
The M-LOK has a smaller diameter and you do not need an external rail to attach it.
Two additional levers help to secure your attachment in place ensuring a secure fit.
You have a wide variety of accessories that you can use such as optics, lights, lasers, rail panels, night vision, iron sights, etc.
The M-LOK system does not make your firearm heavy like quad rails.
Fits the majority of accessories on an M-LOK handguard without additional customization or drill holes.
Cons
M-LOK accessories may be exclusive and non-compatible with other attachment systems.
MOE Pros and Cons
Here are some pros and cons of MOE!
Pros
Provides a perfect handgrip and a comfortable experience while using shooting.
Picatinny-style rail systems integrated into the MOE stocks cater to various accessories.
They are an easy way to improve the ergonomics and operation of the firearm.
MOE attachments are a very cost-effective option.
Cons
Less streamlined design limits compatibility, versatility, and customization.
FAQ
Is MOE and M-LOK the same?
MOE and M-LOK are not the same things but they are related s both are a product of Magppul Industries. While MOE is a series of weapon accessories. M-LOK is one of the latest modular attachment systems for attaching accessories to the weapon.
Can M-LOK fit on a MOE?
Yes, the M-LOK fits on a MOE slot handguards using an adaptor plate. But, the MOE cannot fit on the M-LOK. The two are not fully compatible with each other.
What does MOE stand for the rifle?
MOE for rifle is a series of rifle accessories that are designed and manufactured and include grips, stocks, handguards, and magazines.
What is MOE in Magpul?
MOE in Magpul stands for Magpul Original Equipment.
Is MOE mil spec?
MOE is not mainly a mil-spec but some products such as stocks and grips are designed and compatible with mil-spec rails or tubes. The entire MOE series is not mil-spec compatible.
Conclusion
M-LOK and MOE both are suitable choices for accessory attachment to your firearm. It all depends on your needs and preferences too. But, after careful analysis, M-LOK wins the overall comparison. It gives the shooter versatility and compatibility more than the MOE.
Did you like M-LOK or MOE better? Which one suits your shooting style or preference? Leave your feedback in the comments section!