Leupold Deltapoint Pro Review: 11 Main Questions Answered!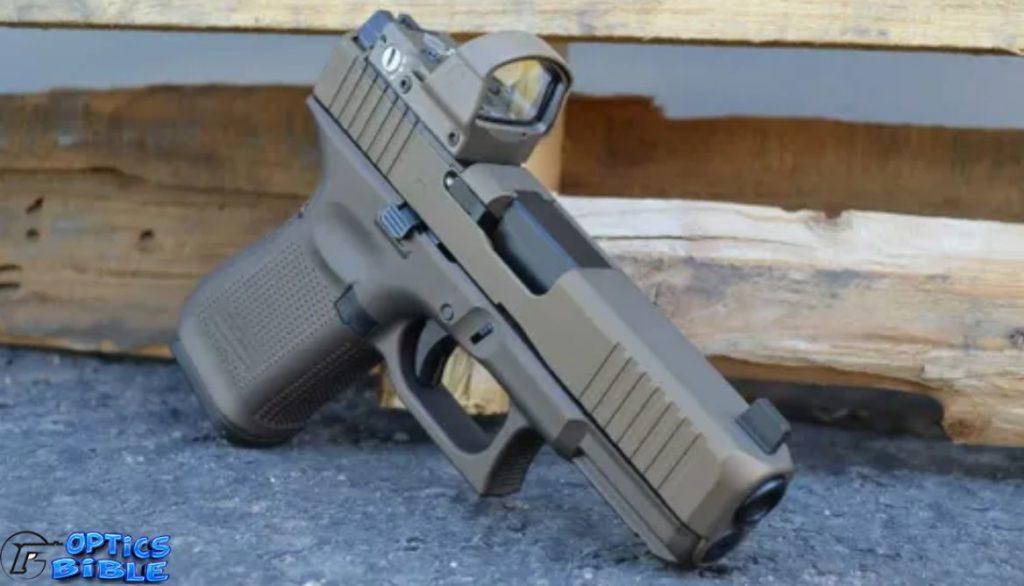 You may think that the default sight of your firearm is pretty great but you may be missing a lot. The main issue that shooters have while on a shooting range or during live combat is to have reliable optics.
Finding one in a budget that fits your cost estimate is something that is very challenging. What to do in such a situation? Make sure to select the best optics for the best budget. For example, Leupold Deltapoint Pro Review will enlighten you and broaden your horizons about optics and their versatility.
Optics have put that highest threshold of accuracy that default sights may never achieve. So, if having the best accuracy is your need. Then you better stick around to learn more.
Today I am going to review one of the best reliable optics. So, let's hop into the details and also shed light on 5 major details like durability, battery time, FOV, optics, and MST along the way that sets Deltapoint Pro apart from others.
Why is DeltaPoint Pro a Choice for Most People?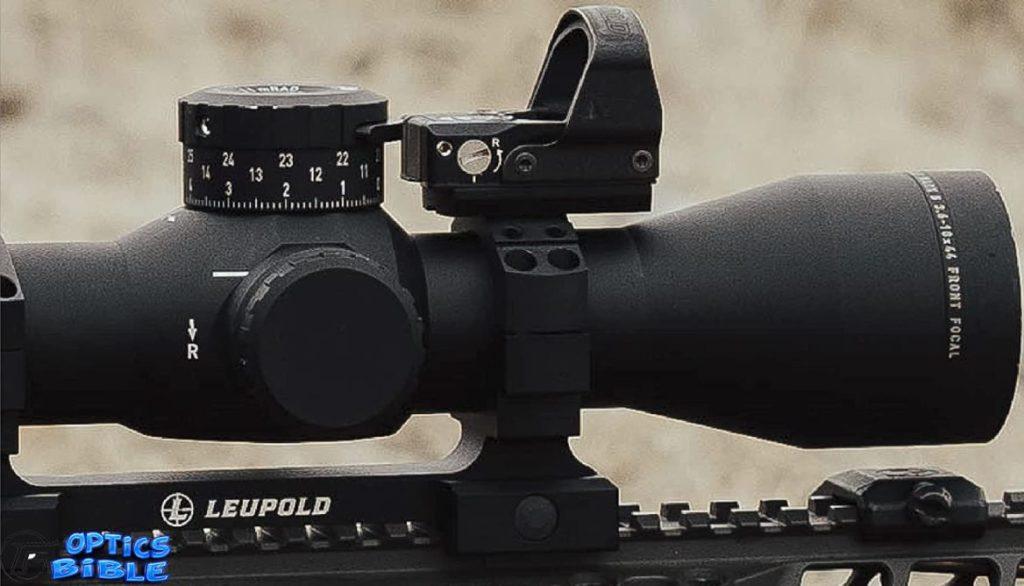 Leupold Deltapoint Pro is an excellent choice if you want red dot sights for your firearm. The optics are compatible with most flagship firearms out in the market.
Deltapoint pro gives you an advantage by having a built-in motion sensor technology. Let's shed some light on this modern-day beauty!
Pros of Leupold Deltapoint Pro
Let us look at what makes this sight a heavy competition in the market:
| | |
| --- | --- |
| | Deltapoint pro has a large Field of View (FOV). Allowing you to view more of the battlefield as compared to other sights. |
| | The battery compartment is mounted at the top in Deltapoint pro. Allowing easy access to changing the batteries without needing to unmount the sight or use a specialized tool. It takes hardly 15-20 seconds to completely change the battery. |
| | Tintless glass gives you that crystal clear sight. The quality of clear glass used in Deltapoint pro is impeccable. |
| | You can either choose a 2.5 MOA red dot or another version that is a 7.5 MOA Triangle when buying a Leupold Deltapoint Pro. |
| | The Deltapoint pro is very easy to become familiar with. Making it an ideal sight for even beginner-level firearm owners. |
| | While other sights have no battery-saving options. The Deltapoint pro has a motion sensor activation and auto turn-off to save that precious battery life. |
| | Most sights in the market have no warning sign for low battery or they simply have a very confusing indicator. The Leupold deltapoint pro has a very clear flashing sign for low battery. |
| | Quality and build are two things that are never compromised on Deltapoint pro. Hence, a rugged and durable product is always promised to the customer. You may be at ease as the glass and mounting device is highly resistant to shock and recoil of the weapon. |
Cons of Leupold DeltaPoint Pro
Every mount has its disadvantages too. Let's look at some limitations that the Leupold Deltapoint Pro has:
| | |
| --- | --- |
| | While most sights are compact in design and take less mounting space. This red dot sight is larger and takes up more space. |
| | The brightness control design in Deltapoint pro is very complicated and not the best suitable for professional use or military use. |
| | There are no auto-brightness options available to ensure adaptability to any lighting change or sensitivity. Hence, making it inferior to other sights in the market. |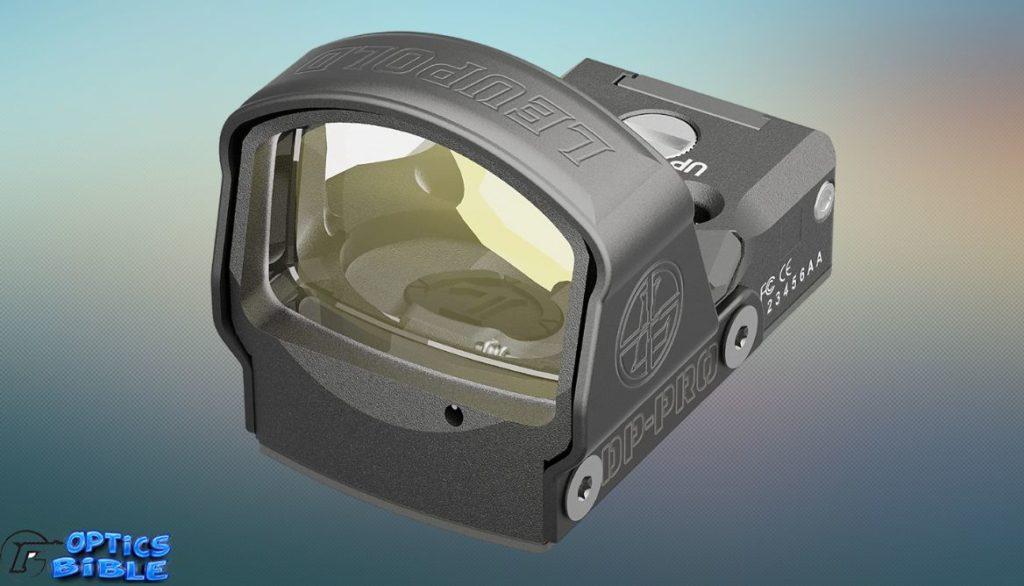 | | |
| --- | --- |
| | |
| | |
| | |
| | |
| | |
| | 2.5 MOA red dot, 7.5 MOA Triangle |
| Ideal Operating Temperature Range | |
| | |
| | |
| | |
Design, Construction, and Use
Most red dot sights have a two-screw fitting mechanism but Deltapoint pro has its own footprint. This widespread fitting makes it compatible with many firearms on the market.
Deltapoint Pro is compatible with a number of firearms such as Sig 226, HK P2000, Beretta 92F and 1911, Springfield CZ 75, and various models of Glock, Kimber as well as Walther.
As mentioned earlier, overall the design and build of the Leupold deltapoint pro are highly robust. And the price tag is considered affordable in comparison to other red dots in the market. You can rest assured when buying the Deltapoint pro.
The battery compartment being at the top of the optics is safe from any rusting from rain or water exposure. As for the overall optics, it is totally resistant to rust and it is waterproof. Making it a suitable addition to your collection.
Motion Sensor Technology (MST)
The motion sensor technology in the Deltapoint pro is something that efficiently helps you with saving a large part of your battery. When using the firearm, the motion sensor will ensure that the red dot is active.
While the firearm is idle, the motion sensor will automatically deactivate the red dot to save that precious battery time.
It is crucial to save that extra battery life when using a red dot sight. Having a limited battery time of maximum time of 300 hours on highest brightness and 1600 hours maximum time on lowest intensity. It is an advantage that no one can ignore.
Larger FOV glass With Better Natural Color and Slightly Heavier Weight
The Leupold deltapoint pro is a well-built red dot with a wide and larger FOV. The increased FOV is an advantage that you cannot deny. As a much larger view means a clearer view of the target.
The diamond coat scratch-resistant glass on the red dot makes it a very durable and efficient red dot glass. Occasionally, just wiping the glass with a cloth does the trick to clean it.
Battery Life and Function
The Leupold Deltapoint pro has some unique features when looking at the battery life and functions. First off, it comes with a single battery-operated red dot sight. The battery compatible with this sight is the CR2032.
The overall battery time for single battery use in Deltapoint pro ranges from 190-300 hours depending on the brightness settings. The motion sensor technology also ensures that much of the battery is saved when using the firearm.
Aside from this, some more added features are the 5 min sleep option that activates if the firearm is left idle. And, the low battery indicator flashes 10 times to denote the low battery level.
Overall, these features will ensure that maximum battery life from one battery cycle.
Range Time of These Red Dot Sights
When going to shooting you may well experience the ease of use. The large FOV allows you to have that extra room for the recoil of the red dot.
The Leupold Deltapoint has very versatile red dot optics that is even suited for competition pistol shooters on a range. You can always have a breath of relief that your red dot does not bounce out of your view due to distortion caused by the recoil.
Having such an extremely versatile sight featured in the Leupold deltapoint pro can be a great advantage when shooting the weapon on a practice range or live in combat.
Controls and Adjustments
Almost all red dot sights come with daylight bright settings. But if we look at the Leopold Deltapoint pro then we have a rather complicated brightness setting.
The red dot comes with eight brightness settings. A single button at the top of the sight increases and decreases the brightness of the red dot.
For instance, you have dimmed the brightness of the red dot to "4". Now if you press the button once then it will decrease to "3". Pressing it again will set it to "2".
Also, if you keep the button pressed for 2 seconds then the settings will move in the opposite direction. Meaning that the brightness will now increase instead of decrease.
Once the brightness level reaches the maximum or minimum level. The LED will flash 5 times as an indicator. This really helps when you are adjusting the levels according to your desire.
A recommendation for the best brightness level for everyday use is to set it to the maximum during the day and set the click to "dim" setting on the red dot. As the highest level can adjust easily during the day and as the day goes by you can decrease as per requirement.
Also, a smart choice would be to find a middle point of brightness as per your adjustment. A setting that works all day round for you without creating problems. This would save you the trouble to adjust it from time to time.
Reticle Options
The Deltapoint pro comes in two distinct variants of reticle options namely 2.5 MOA red dot and 7.5 MOA dot reticle. It all depends on your preference of the type of red dot you prefer.
A majority of shooters prefer the 2.5 MOA red dot deltapoint pro reticle while choosing. A small and crisp red dot is what most firearm owners prefer using.
The sight picture matters a lot to them. Selecting the best options according to the firearm, sight picture to reticle adjustment, and personal compatibility is a very important factor.
Getting the perfect shot while having the best target and sight alignment can be the deciding factor for the accuracy of your red dot. And Leupold deltapoint pro ensures this pretty well.
Height Must be Considered for Co-Witnessing
While most sights in the market fit perfectly with the stock rear and front sights co-witnessing without any error. You might need to adjust the DeltaPoint Pro a little bit.
The rear sight will match the adjustment but you need to buy an aftermarket front sight that will perfectly align with the rear iron sight. When adjusting the iron sights a calculation of 0.065″ needs to be added to flawlessly align the red dot sight with the front iron sights.
Durability. Only 2 Years Warranty
The Leupold deltapoint pro comes with a warranty of 2 years on the electronics. Aside from this, it has some pretty subtle features that help you as a firearm owner a lot.
The easy-access battery compartment has been engineered with water resistance that the Leupold pioneered modern waterproof technology offers.
Additionally, added features in the delta point pro such as tint-free glass and scratchless glass give unlimited eye relief to the firearm owner.
Alternative options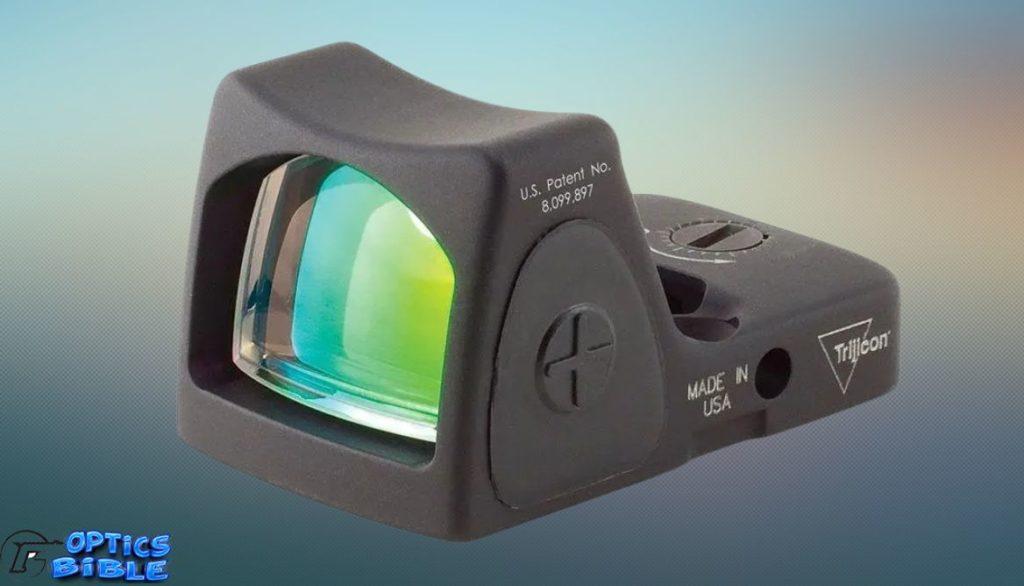 The Trijicon RMR is a battle-ready red dot that has proven its worth on many grounds. It is suitable for handguns and long guns.
Whether you take part in serious competitions or prefer a home defense. The Trijicon RMR will never disappoint you.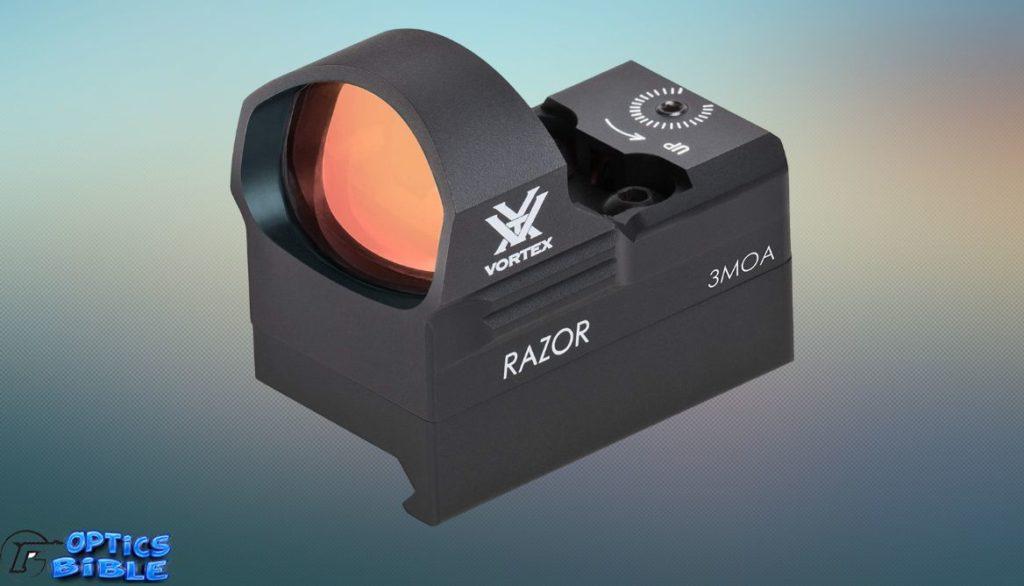 One of the most versatile red dots out there is the Vortex Razor Red dot. Being an open-top sight, it gives a very clear and crisp view to the shooter. This sight is no joke and is built for top-of-the-line performance enthusiasts.
The Holsosun 507C is a sight that is preferred by fast shooters. When we say fast shooting then we mean John Wick style or Desperado style quick gun slinging fast!
The reticle on this sight is so easy to use that even beginners have no problems with it.
Also, the red dot is very crisp and clear and allows you after target acquisition.
FAQs
Is the Leupold DeltaPoint Pro Sight Good?
If you are looking for an easy-to-use and hassle-free red dot then this is the best among all the red dots on the market. Affordability, durability, and large FOV are some of the most notable features of the optics.
Additionally, having a bold aiming point with its crisp clear glass quality while motion sensor technology (MST) are some extra parks that justify the price range.
Who Is the Leupold DeltaPoint Pro Suited For?
Whether you are a civilian that plans to get an optic for self-defense or hunting purposes. Or you are an on-duty law enforcement personnel. The Leupold Deltapoint Pro is suited for all situations and individuals.
The optics have been adopted by the US Department of Defense and the Federal Law Enforcement Agency which add major credibility to its quality build.
Can I Co-Witness My Handgun Sights With the Deltapoint Pro?
The Deltapoint Pro fits a bit higher on your handgun. So, to get the best co-witnessing you would need to buy an aftermarket iron sight for the front.
Is the DeltaPoint Pro Parallax Free?
The Deltapoint Pro is designed in such a way that it is parallax free to infinity. The only problem is when you are within a 5-10 yards range.
Usually, at such a range the shooter can easily shoot with the need of the optics or higher depending on the optics alone.
Does Leupold's Lifetime Guarantee Cover the Leupold DeltaPoint Pro?
Leupold covers a lifetime warranty on the Deltapoint Pro while the electronics are warrantied by the company warranty as per policy.
Conclusion
If you are not willing to tackle any technicalities with an optic for your firearm then the Leupold Deltapoint Pro is the best option for you. The ease of use it grants its user is unmatched. Aside from this, you can be sure that the build quality will ensure long-term sustainability.
Being compatible with pistols and rifles makes it a suitable choice for most firearm owners. So, if you plan to buy a rugged, affordable, and hassle-free optic red dot for your firearm. Buy Leupold Deltapoint Pro without a second thought now!