J Stevens Arms Serial Number Lookup: Year Codes Explained in Detail
Year Codes on guns by J Stevens can be confusing. Hence, we have created J Stevens Arms Serial Number Lookup and Decoding Guide to help you understand.
In this article, we will go over how are Stevens Arms Company serial numbers marked. Will do a side-by-side comparison of letters on arms and year of production, and also, present the chart of serial number ranges year-wise.
Let's not kill any more time and start reading!
Where Can You Find Serial Numbers on J Stevens Arms Company?
The Stevens Arms Co. marks numbers and capital letters anywhere on the exterior of the gun, which is surprising. Some guns have those on barrel clusters, barrel assembly lug blocks, or shot barrels. They are in a shape of a circle.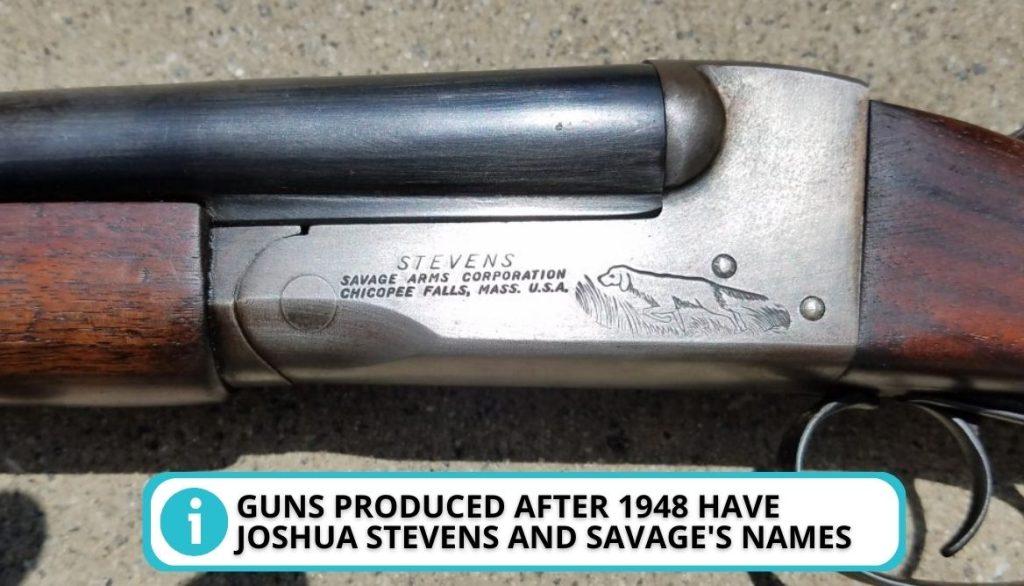 There is a number marking on it.
The letters and circles would be the same as the ones on the factory barrel but the numbers would be different according to our source.
Guns produced after 1948 have Joshua Stevens and Savage's names on them.
Military arms produced between 1949 and 1968 had letters of English instead of serial numbers. Each alphabet represented a specific year.
Please view the following table to learn more.
Note: Alphabets "O" and "Q" were not used.
J Stevens Arms Serial Number Range Beginning and Ending, Year-wise
During the year 1968, the Gun Control Act was introduced. The markings with only letters were changed now. Instead, it had 6-digit serial codes that followed letters ranging from A to E, later on to H branded on the frame's side. These letters did not relate to the manufacturing year.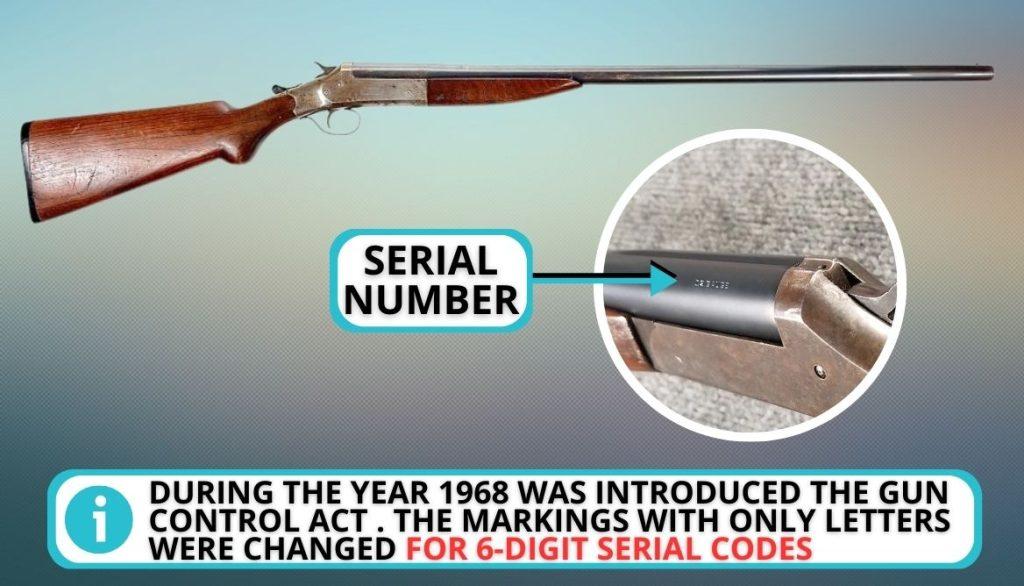 The table below puts the ranges sold in the market next to the year of the sale. Have a look.
Facts About J Stevens Arms Company Serial Numbers
We have collected the following facts to further help you place which year the guns belonged. Let's see:
From 1878 to 1913, Stevens did not have any letters on their guns, only numbers.
The letters appeared between 1913 to 1939 that represented changes in either mechanical design or manufacturing processes.
Guns from 1940 to 1948 did not have any numbers on them. Just 3 to 4 letters. They also had symbols such as diamonds, spades, hearts, etc to represent the inspector.
From 1948 till 1968 the symbol was replaced with a date code written as a letter plus a 1 0r 2-digit code. Savage-Stevens-Fox Standard Catalog of Firearms has its entries.
In 1968 new format of serial numbers was introduced (a Capital letter and 6 digits system).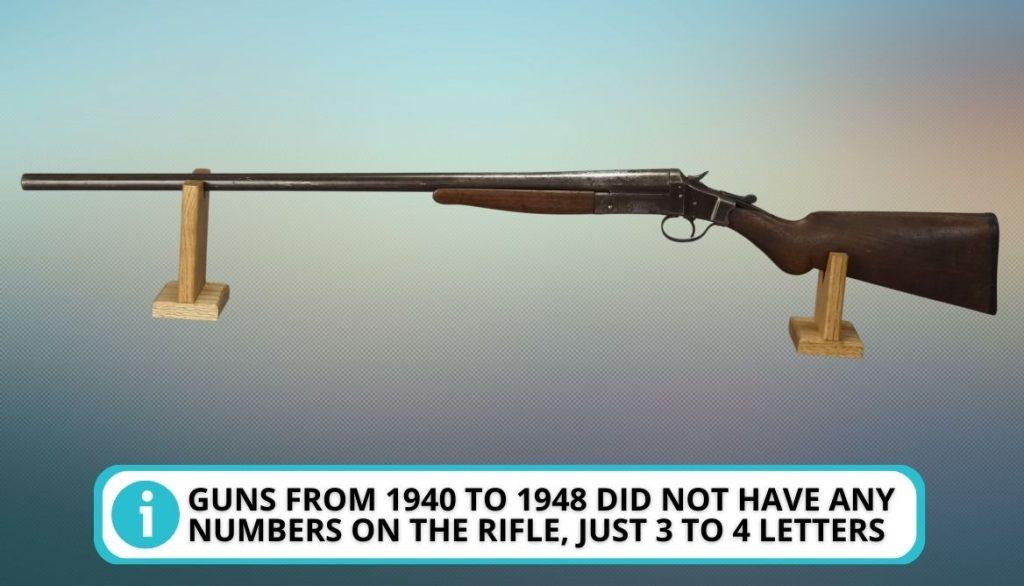 Stevens Serial Number Chart
A Stevens gun did not have a serial number instead, they have a date code stamped. Even if there were records of the firearm, it would be near impossible to serialize every gun individually. Many speculate that a great deal of the records perished during World War I.
Each letter code represented a year of manufacture e.g., A = 1949. You can then look at the number range of the Stevens model on the chart above.
They did not appear on a fixed spot on the gun and you need to remove the stock to find the code.
In 1968, the Gun Control Act was in effect and all guns got a serial. The date code is discontinued at this stage.
Stevens Serial Number Lookup: Additional Information
As we said before there are many guns that do not have serials or Savage model date codes to date. So tracking them is impossible. Although, to some extent, you can track the guns' with serial numbers. Here is how you do it!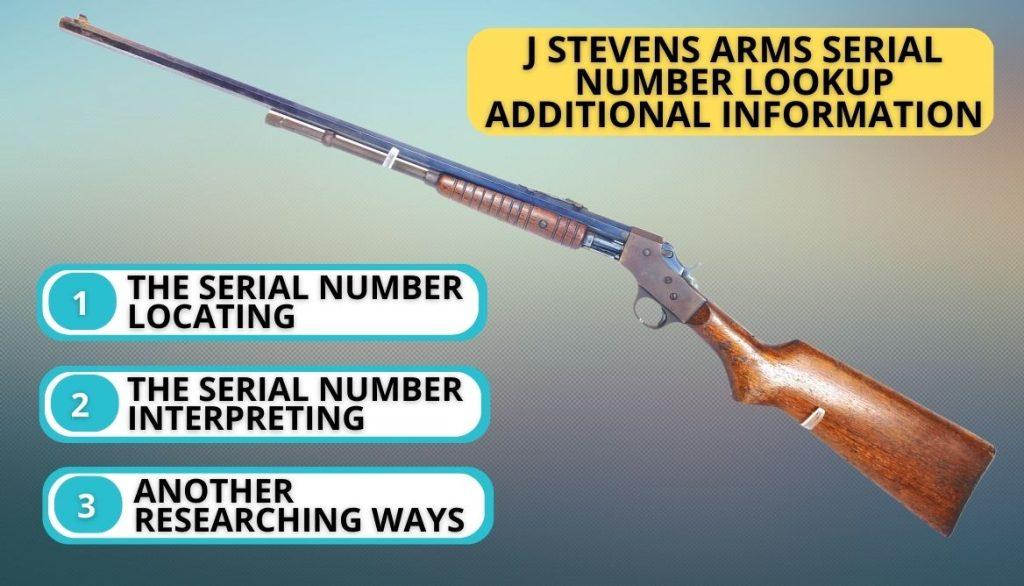 Locating the Serial Number
The serial number is on different parts depending on the Stevens model and production year. Here are some easy ways to locate it!
For rifles and Double barrel shotguns, Savage branded imported doubles shotguns: The serial number is found on the receiver or the barrel. Note: For some models, e.g., a double barrel shotgun's date is near the forend on the underside of the round barrel.
For pistols and revolvers: It is on the receiver or frame, the bottom of the grip frame, or the trigger guard.
Interpreting the Serial Number
In 1948, Steven arms model and Savage arms company/Savage Arms Corporation firearms date coded stamped their guns. It was an oval or circle-shaped stamp containing a letter, and a number.
Each letter code represented a year of manufacture e.g., A = 1949. To interpret the Stevens model number, you may use our database.
Researching the Firearm Another Way
If you are unable to determine the Stevens Savage Arms model of the firearm, then you can:
Contacting the manufacturer.
Ask for the help of an expert or appraiser.
Read related forums.
FAQ
Is there a website to look up a gun's serial number?
A website to look up gun serial number is the National Tracing Center run by the ATF. Other best sources are the official site of the firearm manufacturer.
Where is the serial number on Stevens's shotgun?
The serial number on the Stevens shotgun is behind the hinge pin or in front of the trigger guard on the bottom of the frame. It looks like a small circle that consists of a number and a letter.
When did Stevens start using serial numbers?
Stevens started using serial numbers on firearms for the first time in 1878. Between 1913 to 1939, they started using letter prefixes on their firearms.
When did Stevens stop making guns?
Stevens did not stop making guns. Instead, their current line of weaponry consists of rifles, handguns, and shotguns that are well-known around the world.
Conclusion
So, we got to learn that J Stevens has serial numbers either at the back of the hinge pin or ahead of the trigger. It comprises a letter and 6 number code. Although guns made before 1969 had a different kind of serialization.
It used letters to identify the year of manufacturing along with symbols to represent inspectors later replaced with numbers between 1-20 to represent that the gun is of the 20-fire arm batch.
Were you able to decipher the serial number of J Stevens arms and was our article helpful? Let us know in the comments section.