H & A Double Action no 6 Review: Pros and Cons
For most people, this weapon is a discussion starter due to its uniqueness and collector value. Let us shed some light and do a thorough h & a double action no 6 review to know more about this weapon. Let's go!
H A double action no 6 Review at a Glance
The H & a double action revolver in today's world feels like something out of a time machine. The revolver is a classic and for gun collectors, it is something that brings back some major nostalgia. Especially for those who love collecting antique guns, this is an invaluable addition.
Being a lightweight and lighter caliber weapon, it is a weapon that many people can enjoy shooting and have that feel of the "wild wild west"! You can find a forum community dedicated to this specific weapon.
The Bottom Line for the Allen Double Action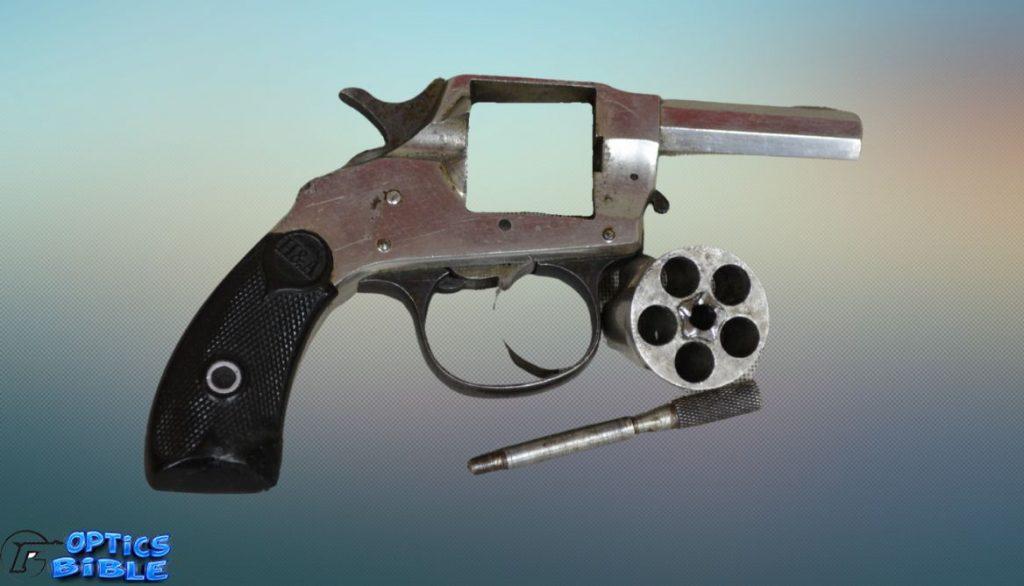 During its time in the mid-1800s and early 1900s, it was a weapon of great value. Having an affordable ammunition type. The Hopkins Allen double-action revolver was a marvelous addition to whoever wanted an amazing weapon to use. It was light, easy to carry, & concealable.
All and all as a collectible weapon it is a good find. But in the modern day, the Hopkins Allen double action no 6 is not something you would want to defend your life with. Low power weapon, limited ammo capacity, and rounds per minute make the allen double actions its own enemy!
Specs & Features
Let's go through the unique specs and features that this firearm has to offer you. It is truly a weapon that you may want to know about.
Specs
Caliber: .32 S&W
Action Type: Double Action
Markings for Identification:

"Hopkins and Allen Arms Co.
Double Action No. 6
Hopkins & Allen Arms Co.
Norwich Conn. USA" is stamped on the top strap.
"H & A" on grips, the serial number is on the front grip strap.

Barrel Length: 1 Inch
Barrel Shape: Octagonal Barrel
Sights: None
Stock Configuration & Condition: Hard rubber checked grips with H&A logo
Type of Finish: Nickel Finish
Features
The small size of the weapon makes it easy to carry.
A much thinner grip gives a more firm grip and better handling of the weapon.
Changeable barrels give you a margin of comfort if you love longer barrels on your weapon.
The ammo type (.23 S&W) allows easy recoil handling as you can barely feel any.
If you have an interest in hunting and are eligible by law to carry this gun along with your rifle or shotgun then it is a perfect fit to target smaller prey. Whatever suits your styles related to holstering!
Background
The history of the company that made this weapon dates back almost two centuries. The company originally was founded in 1868 by three partners namely S. S. Hopkins, C. W. Hopkins, and C. H. Allen with the company name Hopkins & Allen Manufacturing Co.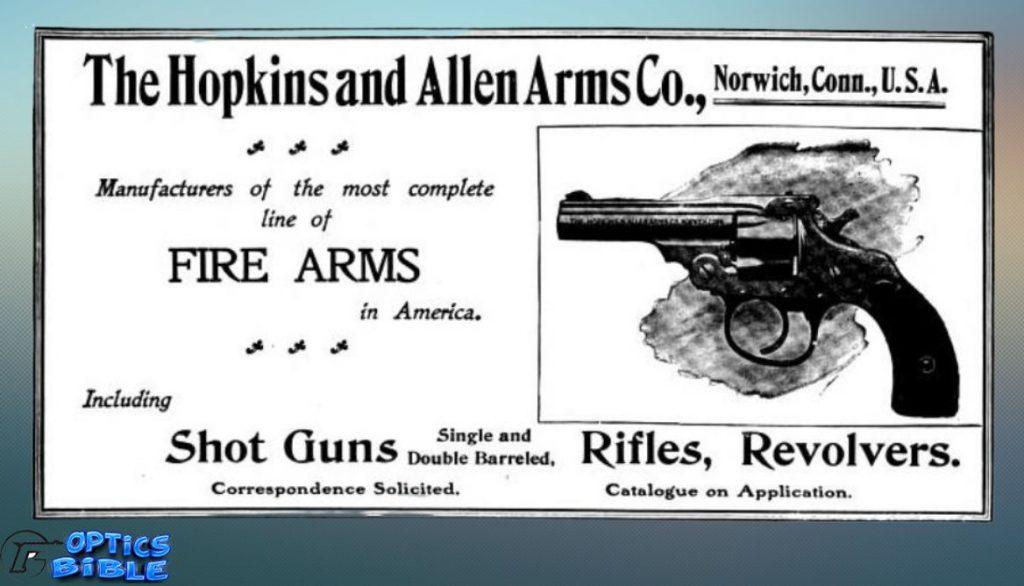 Later due to some circumstances the name changed to Hopkins & Allen Arms Co. Sadly in 1917 the company site went out of business and ceased to manufacture any more firearms to date.
Who Is It For?
The Hopkins Allen double action no 6 is a weapon fir for people who love to invest in collecting rare and old weapons. Although, a functional weapon it cannot compete with modern-day firearms of the same category. Hence, it is an excellent antique to share with friends and gun enthusiasts.
Also, it is greatly appreciated by firearm owners who know about its history and the struggle that this weapon has gone through. If you are an avid fan of cowboy movies or era then you would love to have a Hopkins Allen double action no 6 in your collection!
Fit & Feel
The grip may seem uncomfortable for one person to another. But generally, all firearms users have reported it to be pretty comfortable in comparison to other revolvers. They have defined it as "Do other revolvers have such a thin grip?". And surely, if you notice then you will see this firearm in any image gallery online or physically then you will know!
How Does It Shoot?
The Hopkins Allen double action no 6 feels pretty decent when firing using the .32 S&W ammo. With this specific ammo, you will not feel the recoil that you feel in comparison to modern-day pistol, rifle, handguns, or any other fired weapon.
If you casually use a shotgun then this revolver is a walk in the park for you! You can ask a member of any of the gun communities or even a gunsmith if this weapon is very easy to shoot and handle. Although, some tips from a professional will seem to prove helpful!
What Sets It Apart?
The price of the weapon and its affordability sets this weapon apart from others. While you may have a handgun, pistol, or various shotguns with accessories fitted to them. This revolver will still be cost-effective if you tend to choose it as a practice weapon.
Ratings according to parameters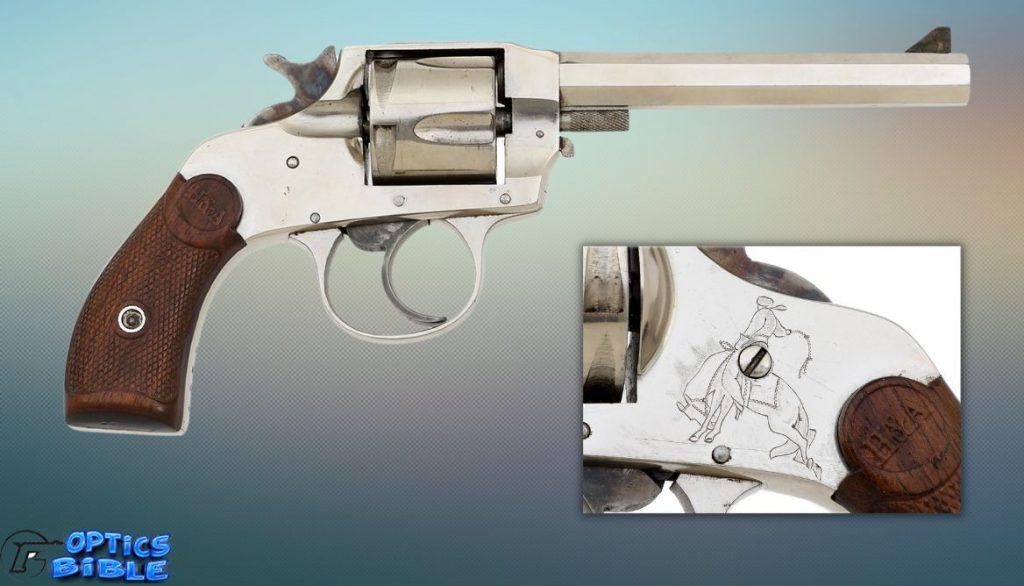 Reliability: In terms of reliability, we will rate the weapon. Being old, it can underperform at times. 3 out of 5!
Ergonomics: The weapon has a great feel and the ammo type does not give a hard recoil. 4 out of 5!
Accuracy: At short range, the weapon is quite accurate. But on the long-range, it does not hit a bullseye! 3 out of 5!
Customization: There is a decent amount of customization that can be done on the handle and with the barrel. 4 out of 5!
Value: The value of the weapon drops due to its condition and can greatly devalue. 2 out of 5!
Overall Feedback: As a collector item, it is great while as a primary weapon it may not be recommended. 4 out of 5!
Here are some aspects of the weapon in detail. Let's dive in!
Reliability
For a really old weapon, Hopkins Allen double action no 6 performs fairly well. But sometimes the extractor does not work well. It may be due to the bullet casings that we use today. Might be possible that there was a difference in the way they were manufactured in those days.
On the other hand, this weapon did not show any signs of malfunction or abnormality while firing. And firing 50-100 rounds with ease while having a minor extractor issue rarely is not a very concerning issue for the Hopkins Allen double action.
Ergonomics
At first, the trigger pull might seem longer than any other revolver but the double action no 6 is designed this way. At least, during those days it was! If you are using the .32 S&W rounds then you can hardly feel any recoil.
Accuracy
The accuracy of the Hopkins Allen double action no 6 is quite impressive for most people. But some people seem to not be compatible while they fire this revolver. A lot of guys tend to be either confused due to the grip or maybe the barrel design while they use these types of guns.
At a range of 25-50 meters, many shooters could shoot a target with ease!
Customization
The Hopkins Allen double action no 6 has customization options. You can change the barrel size! The factory-fitted 1-inch barrel can be replaced with a 4-inch long barrel. The gun's grip could also be engraved with some aesthetically appealing artwork, name initials, or a name.
Value
The Hopkins Allen double action can cost somewhere from $100 to $300 on average. But depending on the condition and exclusive engravings the value can go a little up. If it is in a beaten up or poor condition then the valuation will be even less than $100.
Overall Feedback the Forum Community Dedicated
For someone who loves shooting a revolver, the Hopkins Allen double action is an excellent choice. Low-cost and affordable weaponry at its finest! Being a 100-year-old weapon and still in running condition surely makes it a one-of-a-kind weapon.
Final Verdict about Allen Arms
If you are a collector or someone who loves to collect antique guns then this is the best choice for you. Also, if you like to target practice in a very cost-friendly way then the double action no 6 and .23 S&W will prove to be a blessing to you even in new outdoor hub activities.
Overall for a much more modern-day approach as a self-defense weapon or primary weapon of use. This is not recommended due to its low caliber round and limited ammo capacity. After reading this detailed review, would be willing to try this weapon? If so, try it and do give us your feedback!