Best Scope Rings for X Bolt: 3 Considerations Before Buying
Most people think scopes mounts are just the same, but that's not entirely true. The best scope rings for X Bolt rifles will increase your accuracy even when shooting longer distances.  
So, what are the features to consider when shopping for them? Read on to find out more best scope rings, their features, and the pros and cons of each for a full comparison. 
Scope Rings for X Bolt – Overview
It is essential to get the best scope rings to achieve maximum output with the Browning X-Bolt action rifle. The firearm has unique features, like the new three-lever feather trigger, which confuses shooters when looking for the right fit for the gun.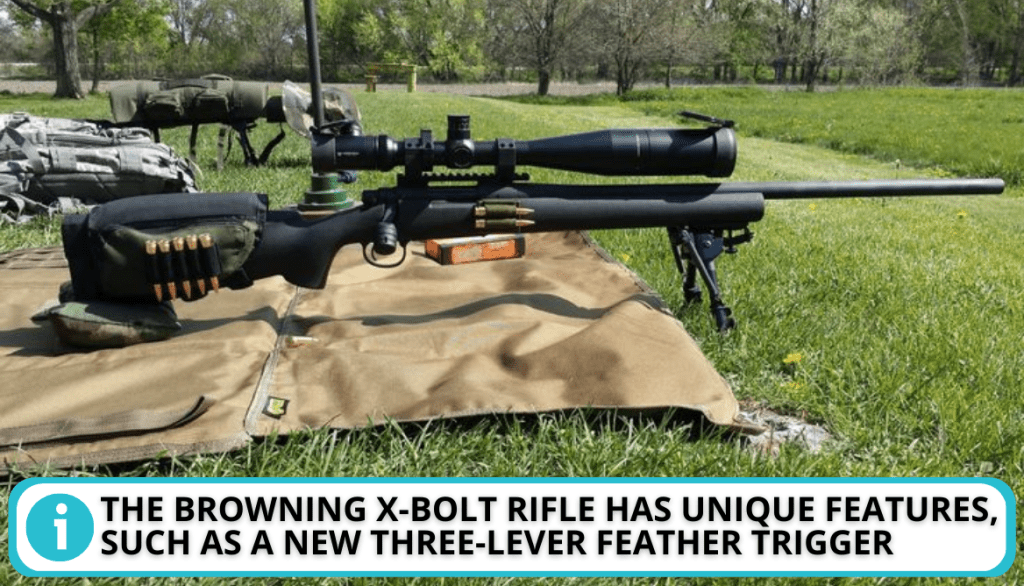 Your best bet is to acquire solid and durable rings that ideally fit and can withstand recoil from various ammunitions. The scope mounts listed below provide unique solutions based on their exceptional designs, offering options in different price ranges. These optic rings include:
Overview: What to consider when Selecting Quality Scope Rings
There are several factors to consider when deciding on the right mounting system. These include:
The model of your X-Bolt action rifle
Your shooting purpose
Variation of your optic, if it is a red dots, dovetail, weaver style, or Picatinny mounting system
The size and dimensions of your rifle scopes.
Our Top X Bolt Scope Ring Picks: Expert's Pick
Our list comprises quality scope mounts. If you are looking for a quick answer, here are the three top selections:
| | | | |
| --- | --- | --- | --- |
| | | | |
| | | | |
| | | | |
| | | | |
| | | | |
| | | | |
| | | | |
| | | | |
| | | | |
The Seekins Precision sight mount is popular for its accuracy, a crucial feature of the X-Bolt rifle. With the 4 Cap screws, it fits the gun and tightly holds your optic.
Seekins' Mounting System Specs
| | |
| --- | --- |
| | |
| | |
| | |
| | Aluminum; Machined 7075-T6 Billet |
| | 30Mm Tube .87" Medium 4 Cap |
| | |
Seekins Scope Rings are quality products with superior design, machined precision, and minute details: 
This mounting system is a 1913 Picatinny design crafted from rock solid 7075-T6 Aluminum, justifying the ring's quality and strength.
These sight rings include a center lug machined directly into the base. 
The 4 cap rings ensure the system is sturdy enough to hold your rifle under heavy recoil.
The rings are hard-coat anodized matte black for a long-lasting non-glare finish.
Seekins' User Convenience Features
Seekins gadget has an 8-inch clamping surface, typically more expansive than other models. The feature includes smooth edges for snag-free rings and avoiding hang-ups on drag bags and scabbards. Also, the product features the following heights for user convenience:
Low rings & medium versions
Medium-high, high, and extra-high 
AR height
Eye Relief Specs Explained
As the name suggests (Precision rings), the 4 cap screw rings significantly improve visibility features. Ensure you get the suitable screw variations for your mount system to be secure and maintain zero in challenging shooting conditions.
Pros
The 7075-T6 Aluminum is durable even under extreme shooting conditions.
These rings have a unique non-snagging make.
Configurations are convenient for both left and right-handed individuals.
Include an additional anti-glare feature.
Extremely durable through its hard casing 
Cons
Quite an expensive scope mount at $200
Only a single T-25 bolt is clamped to the rail.
The Zeiss Ultralight rings pass the eye test and are categorized as gold standard precision sight mounts for the X-Bolt rifles. They feature desirable factors for shooters, especially for accuracy over long distances. 
Zeiss' Specifications
| | |
| --- | --- |
| | |
| | |
| | |
| | Machined 7075-T6 Aluminum |
| | |
| | |
Zeiss is slightly heavier than the previous mentions but is still a lightweight ring, boasting various quality mounting and output features:
This quality scope mount features 1913 Mil-Std Rings, a compact design from critical components.
Rings are crafted to the best standards in terms of materials and high durability features for extended use and security during heavy-duty applications.
Like the Seekins' rigid construction, it is crafted from 7075-T6 Aluminum and has a low-profile design.
Zeiss has a non-snag highlight and machined radius on key edges for smooth integration and the scope's finish protection.
Zeiss' User Convenience Features: Eye Relief Specifications
Zeiss impacts the excellent eye relief results, ideal for 30mm, 34mm, and 36mm scope diameter versions. You can utilize the in-built level to ensure you set your optic at the correct setting to attain the perfect viability features. 
Handling Convenience
You'll easily handle this gadget through its in-built leveling system for visibility configurations. Additionally, it is an ultra-lightweight scope mount, making the rifle's overall weight, with everything mounted, manageable. 
Pros
The rings include a recoil lug machined directly to the base, thus no need to re-zero.
Features strong T-25 screws for a tighter fit
The design is simple and easy to install
Zeiss Ultra precision comprises a snag-free mounting design
This system has a liberal clamping space
Cons
They're fairly wide rings at 8-inches
There are better rings at a lower price
Nightforce Ultralite scope mount is also an ultra-light quality option with the X-Bolt rifle through its unique build and modification features.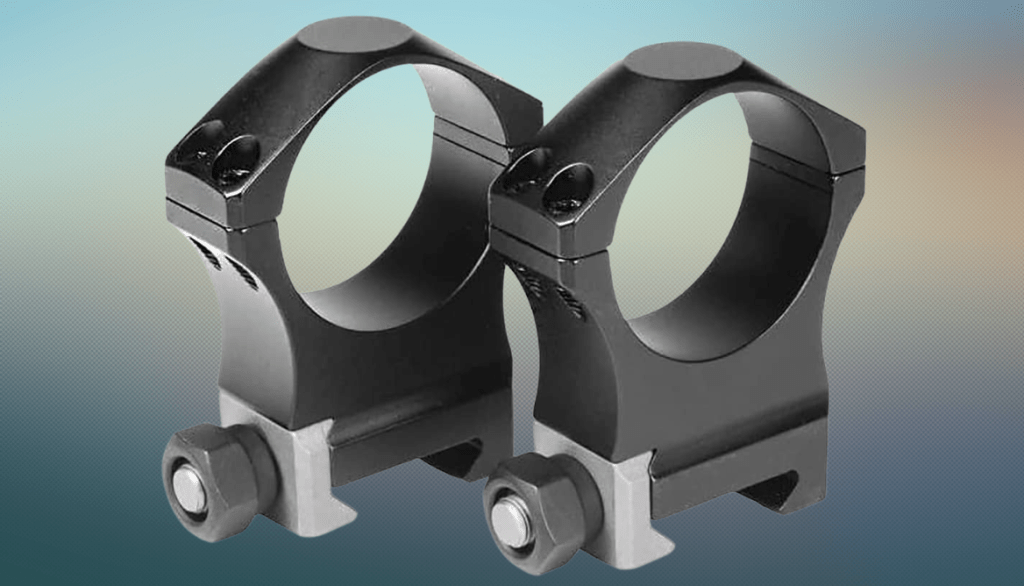 Nightforce Rings Key Features
| | |
| --- | --- |
| | |
| | |
| | |
| | 7075-T6 Aluminum (hard anodized finish) with titanium cross bolts |
| | |
| | |
You can find Nightforce X-Treme duty Ultralite rings in both 4-screw and 6-screw variations and will include the following features:
This pair of rings are from 7075-T6 Aluminum and titanium bolts & jaws, which offer you the results of a steel material at half the weight.
You are also guaranteed consistent performance with the rugged build, which can withstand heavy recoil.
They have a recoil lug that remains intact even after firing multiple heavy rounds.
Four screws and 6-screw versions come in handy when utilizing different optics diameters. 
The 4-screw version offers four heights with medium, 34mm sights. Their torque is ideal at 68 in/lb.
The 6-screw type, on the other hand, provides six different heights for the standard 30mm tube. Using a torque wrench, configure these screws to the ideal 100 in/lb modification. 
Nightforce User Convenience Features: Which is better between a 4 & 6-screw
You can use each variation for specific purposes, especially when needing exact configurations for certain distances. The 4 bolt ring gives you a reliable option for most applications, but you can depend on the six Ultralite ring screws for an extra 50% clamping force.
Pros
The gadget has impressive strength for an extra-light type.
Offers both 4 and 6-cap screw ring design
Provides alternating heights for 30mm and 34mm models
Leveling is accessible through the flat top on the cap ring.
Cons
Need for specific jaw torque setting.
Finding the right fit for your scope diameter can be confusing.
Many shooters are familiar with Vortex scope mounts considering their dominance in the market through a wide range of rifle products. Here is all about the Vortex Precision rings.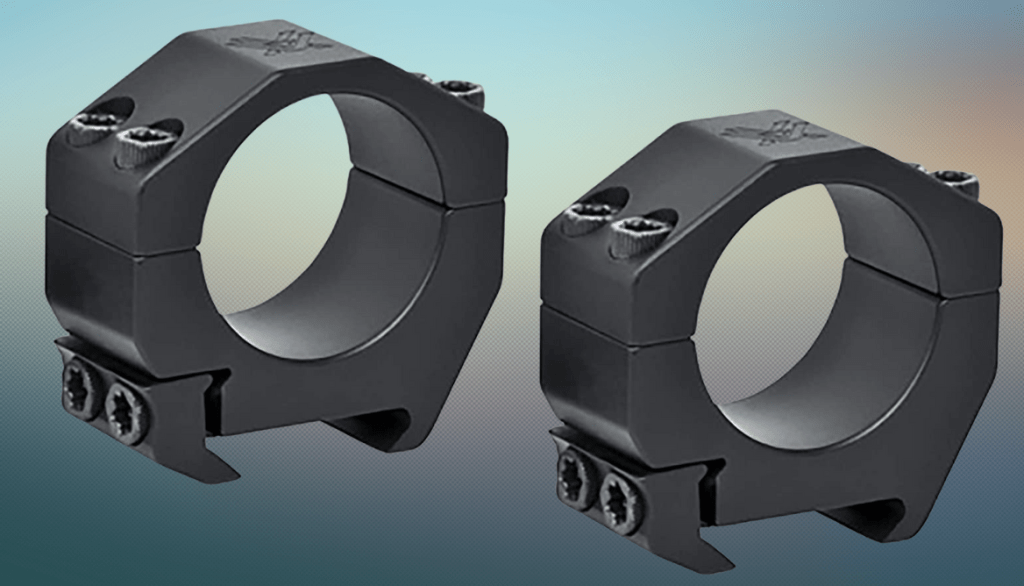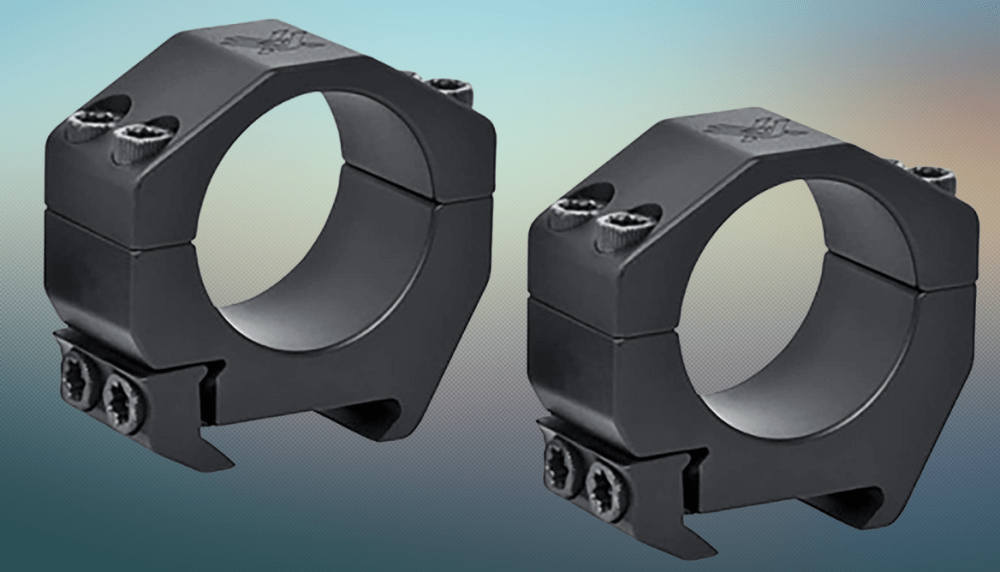 Precision Ring Key Specs
| | |
| --- | --- |
| | |
| | |
| | |
| | 30 mm & 1 low-inch diameter size |
| | Lightweight anodized 7075-T6 Aluminum |
| | Weaver rails/Picatinny mount |
Vortex Rings Product Description
Like our previous rifle scope rings, you can push these rings to the limit, as they boast excellent features for various applications:
The Vortex mounting systems are also crafted from lightweight Aluminum, 7075-T6, material, providing a solid option in challenging tasks.
The sight mount's ultralight weight is ideal for making the X-Bolt Rifle lighter, resulting in consistent precision and performance.
The scope mount has an integrated recoil lug to direct recoil allowing the use of heavy ammo like magnum bullets, resulting in better control and protecting rings.
Features Improving Users' Convenience: Eye Relief & Mount Type
Additionally, the aluminum alloy finish is scratch resistant, thus handy while hunting in the woods. This variety also holds on to zero, ensuring you can shoot round after round without reconfiguring your optic.
These scope rings are a weaver style and Picatinny model, machined to ensure efficient use with your X-Bolt firearm. Lastly, it has an ideal 0.9″ height off the mounting rail.
Pros
The rings are extra lightweight, ideal for the weapon's overall weight.
They are equipped with three rail-adjustment designs to fit various receivers.
The under-angled screw design is free from corrosion.
Also, its under-cut wedge design helps in precision.
Cons
It is difficult to attach the under-cut wedge.
Installing the different keys is also challenging.
Burris XTR SIG rings are worth your consideration if you're in the market for quality mounting options. Their effectiveness is enough to compete with the premium options in the market.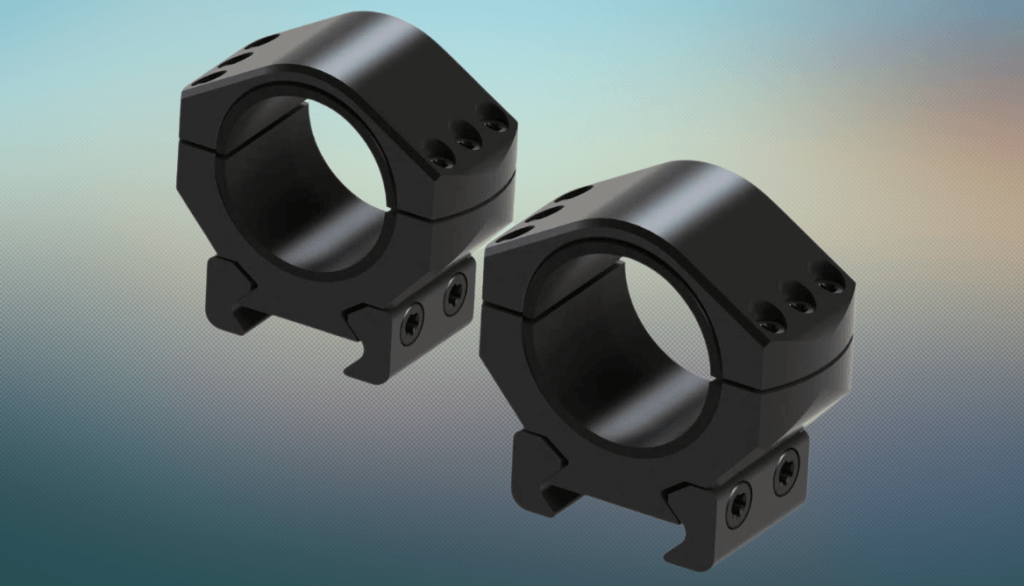 XTR SIG Specifications
| | |
| --- | --- |
| | |
| | |
| | |
| | |
| | |
| | Aluminum plus steel screw clamps |
| | Weaver style/Picatinny mount |
Most importantly, Burris tactical gadget is among the best scope rings, making them more effective with the powerful X-Bolt rifle: 
XTR scope mount delivers excellent strength, evident from its strong aircraft-grade aluminum material.
Their design is lightweight but rugged.
XTR SIG versions typically fit with any Picatinny system and many Weaver mounting designs.
A Pos-Align Insert system enables users to center scopes to attain optimum concentricity inside the mounting system. 
Shims which allow for natural elevation; +/- 5 MOA, +/- 10 MOA and +/- 20 MOA.
Additional Features: Visibility and Handling Convenience
The Burris rifle scope rings have perfect eye relief, as the Pos-Align tech helps improve precision at extensive distances. The gadget lets you virtually attach your optic without changing your sight settings. 
Pros
Has different MOA modifications for varying rings.
The three-cap screws ensure your mount and optic are secure.
It comes in an extra-hard case.
Provides an option for long-distance shooting.
Extremely durable with its aircraft-grade aluminum.
Cons
Heavier compared to other scope mounts.
It can be challenging to align internal mounting screws.
Our Verdict: Choosing from Our List
The discussed scope rings only differ in small details, thus requiring comprehensive analysis when deciding the right choice for you. A general tip in distinguishing the best rings with similar build material is through their weight, where the lightweight versions are perfect. 
If interested, the overall winner in our list is the Vortex optics rings which offer an all-around quality scope mount.
Nonetheless, the rest of our picks will deliver desired results with the X-Bolt rifle.
Things to Consider Before Buying X Bolt Scope Rings
It would be best to consider several essential pointers when choosing suitable bases and rings for your X-Bolt firearm. Here are the rifle and optic combination considerations you need to know:
Whether the Scope Rings Fit Perfectly
Firstly consider the variation of the X-Bolt rifle to know the exact dimensions ideal for the specific size. You'll have to know the appropriate ring types, as not all base variations are manufactured separately from the rings, where two-piece types are common.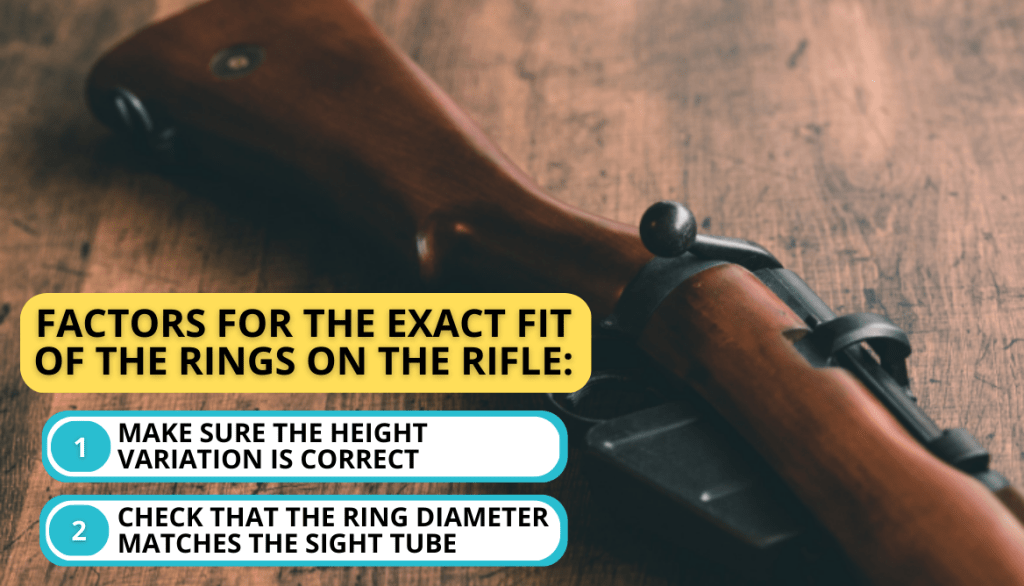 Finding the exact fit involves analyzing these aspects:
Ensuring the height variations are correct, allowing efficient shooting by avoiding unnecessary altercations, like contact with the barrel.
Confirm that the ring's diameter matches your sight's tube, while the height should fit the scope's objective bell.
Your Shooting Purpose
You wouldn't want to spend all your money on premium scope rings while your shooting purpose is effectively executable with a cheaper quality alternative. Different scope rings produce different results and depend on factors like range.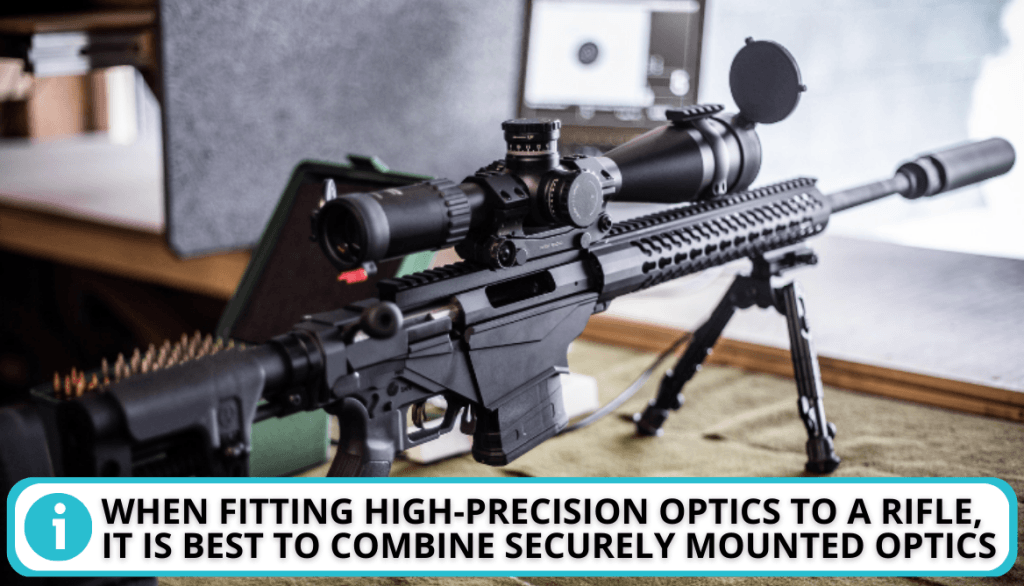 For instance, when installing a precision optic on a target rifle, your best bet is combining securely mounted opticswith the following factors:
Precision ring mounts
Hardware that's been precisely milled and then matched to guarantee accuracy in long-range applications
Variations with tight tolerances. 
Type of rimfire calibers you are using.
Price Factor
Rings crafted for more demanding situations and prime shooting purposes like long-range targeting are slightly more expensive than short-medium range versions. If you pay more, ensure your shooting goal deserves the ring type.
For instance: When mounting a $30 optic on a $150 rimfire version, you can effectively utilize rings crafted with less precision.
Appropriate Matting Up with Bases
Finally, checking whether the rings fit with the bases is crucial. Luckily, various modern guns have receiver slots that are compatible with rings coming with recoil lugs of a similar size. Here are things to consider:
Ensure they entirely match, as a slight mismatch in size can lead to significant output differences.
Understand that most 1913 Picatinny systems aren't compatible with Weaver-style mounts, while Weaver lugs are often too sloppy with Picatinny models.
Go for Browning-style rings, like those listed in this blog post. 
Height Specifications for Browning X-Bolt Scope Rings
As mentioned, you achieve different heights depending on the ring mounts' brand and your scope's objective. Check the following table for more information:
| | |
| --- | --- |
| | |
| | |
| | 0.300" Intermediate (medium) height |
| | |
Ring types come in 4 and 6- screw variations with different modification heights. Whether selecting a low or a high-height version, other factors like weight and rail system also come into play.
Browning X-Bolt Torque Recommendations
The correct torque settings for rifle scope rings depend on the gadget's build quality on both the rings and the sight in use.
You can check with the brand's specs for the proper configurations, but typically most versions will fit at 15-20 in/lb.
You'll need to set the torque value on rings attached to bases (bottom bolts that thread perpendicular to the barrel of your gun), generally heavier than the cap screws.
Usually, the recommended torque settings for these base screws are 35-60 in/lb.
The Ideal Variety Between 2-, 4-, or 6- Cap Screws
You can easily dismiss a one-piece construction (2 cap screws), which generally exerts pressure at the center of your cap and mounting system. However, they are ideal for smaller optics meant for precision shooting. 
Therefore, you can utilize the other cap-screw versions, which include:
4-screw caps: These are ideal mil-spec rings with the perfect threads for fitting purposes. 
6-screw caps: Three screws on each side tightly fit your scope mount. These cap screws minimize slippage, while their most significant drawback is attaining the correct torque for each screw. 
Attaching Browning X Bolt Scope Mounts to Action
You can utilize different mounts with various rings if their tube dimensions, types and objective lens sizes complement each other. Generally, the X-Bolt ring models are easy to attach and detach. You can select from the following options: 
Integrated bases and rings 
Rings fit on a single or two-piece rail
Separate rings and bases
When building a mounting system that offers ideal precision features and overall output, feel free to select the ideal type or style. However, note that you easily damage your sight when using the wrong setup.
An Intake on X Bolt Locatile Option
Wrapping up, you can utilize Lok-Tite or other thread-holding components for tighter screws to ensure your mount stays in place even after firing multiple rounds. This is a good solution if you can only afford specific mounting screws or repairing bolts with a loose connection.
FAQ
How tall is an X-Bolt ring?
An X-Bolt ring has a standard of 1.93″ for 34mm and 44mm scopes.
Do I need high or low-scope rings?
High or low-scope rings depend on how low you get, whereas a higher height is ideal if you have low cheekbones.
Who makes Browning Xbolt?
Browning X-Bolt rifle is a product by Browning Arms Company (an American firm).
Are Browning bolts accurate?
Browning X-Bolts are known for their quality, including excellent accuracy features, especially after acquiring the right mounting system.
How high should a 50mm scope ring be?
A 50 mm scope ring should stand a standard height of 0.300 inches. 
Conclusion
That's all we have regarding browning X-Bolt scope rings, and you can depend on the provided options to offer a quality output in your applications. Feel free to explore different brands when testing your ideal optic mount.
If you're in a dilemma, Vortex and Nightforce Ultralight mount rings are ideal options for the X -Bolt rifle. Despite their lightweight design, they offer quality performance and are made for the long run.
So, which scope ring would you select and why? Comment below with the information and suggest other topics we can cover.