Best Scope Rings for Tikka T1x: Comparison by 4 Parameters!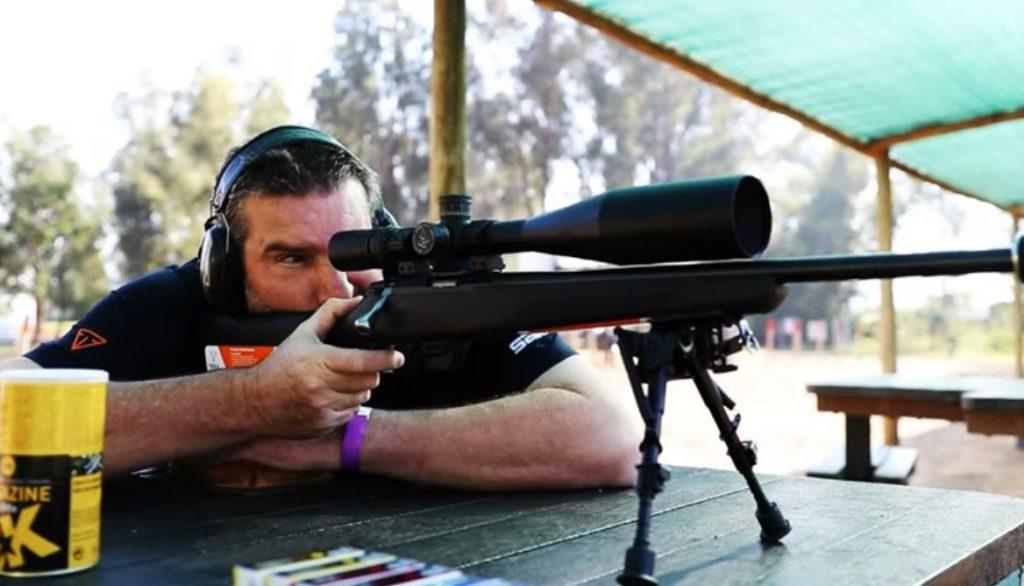 Finding the best scope rings for Tikka T1X is confusing to many shooters, with the Tikka brand regularly upgrading its accessories.
In this article, we'll go through quality T1x scope rings and the key parameters and dynamics when selecting a scope base or ring. Here is a run-through of aspects you'll learn in the write-up:
The best Tikka T1x scope ring
What are the key features to look for in a good mount ring or base
Similarities and differences between mount rings and bases.
Let's get into it!
Tikka T1X Rimfire Calibers Overview
The T1x is an invention coming right after the T3x and T3 models, a great move for the brand to get into the rimfire industry. T1X is the company's first bolt-action rifle, and you can get the new 22LR, available in two models:
MTR with a synthetic stock
UPR with a carbon fiber adjustable stock.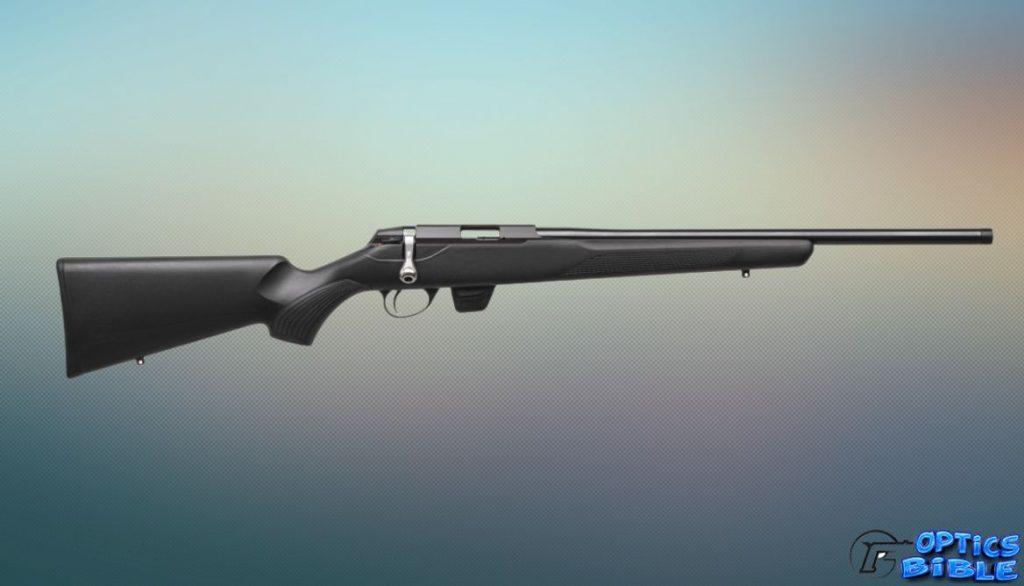 Features
These calibers include a synthetic reconfigurable stock, a 10-round mag caliber, and 60 degrees screws throw, which you'll appreciate.
Generally, Tikka rifles are lightweight, precise, and reasonably priced rimfire firearms ideal for home protection, hunting, or target practice at the range.
Accessories
Regarding the growing need for rimfire rifles, accessories like scope rings are now readily available in designated stores.
Therefore, you can find a ring to fit your shooting purpose, mount system, and budget.
Tikka T1x Scope Rings – Explained
The dynamics of scope mounts (rings and bases) still apply in the rimfire rifles, and there are aspects put in place to ensure each user is catered for when using T1x scope rings.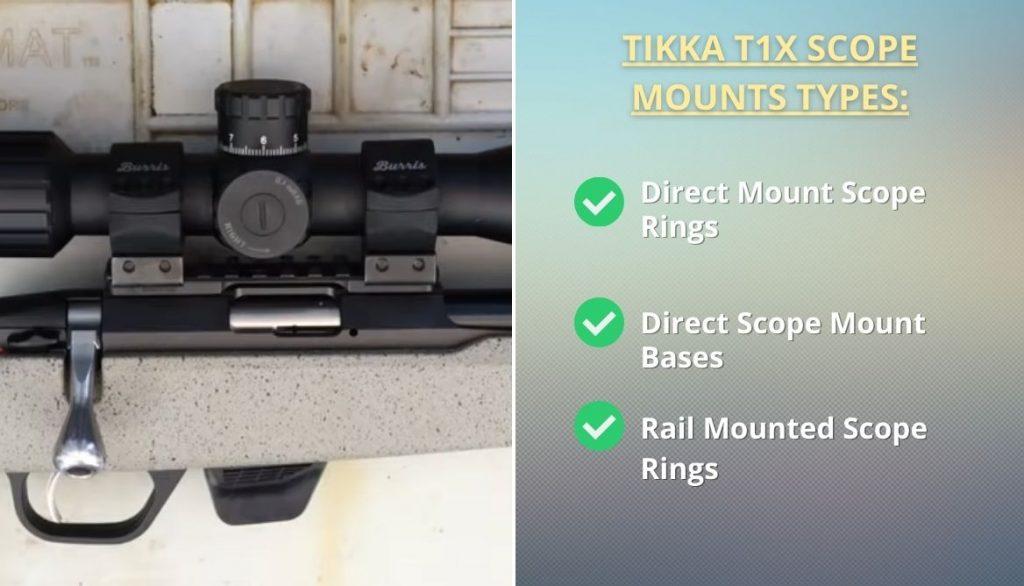 There are different ways to mount these rings and bases on your rifle.
Direct Mount Scope Rings: In this approach, they are crafted to be screwed straightforwardly to the upper side of the receiver with no bases needed.
Direct Scope Mount Bases: These scope bases are ideally installed on your rifle's barrel and offer a direct way to mount your scope bases. Regarding T1X rifles, you can attach bases to the drilled and tapped receiver as an attachment point for the rings.
Rail Mounted Scope Rings: The T1x rifle also includes an 11mm rail system, thus the automatic approach of selecting ideal mount rings for the rail size. Interestingly, this is the same size as the CZ 455 firearm.
We will go deeper into other aspects of scope mounts later on, including the utilization of aftermarket products when choosing the ideal scope mount rings for your Tikka rifle.
| | | | |
| --- | --- | --- | --- |
| | Opti-Lock Scope Rings - Stainless | | |
| | | | |
| | | | |
| | | | |
| | | | |
| | | | |
| | | | |
| | | | |
| | | | |
| | | | |
| | | | |
This Optilock scope mount base is crafted from solid steel to guarantee proper alignment with your choice of rail system. The scope base has a blue finish and is ideal for Tikka rifles.
It will help if you ascertain the caliber of your gun and the corresponding action type before selecting the appropriate scope base.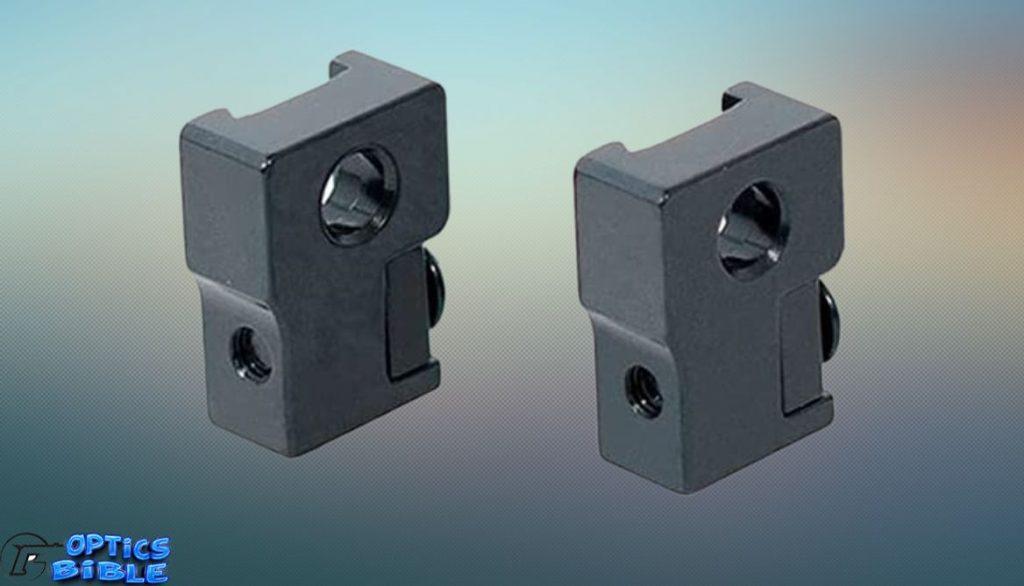 Durability Aspects
You can depend on the steel material to adequately protect your mounting system and the scope when shooting in challenging contexts.
Moreover, the protective sleeve prevents scratches and damage to the scope body during installation.
Installation Convenience
The scope installation product comes with a base (pair) and the receiver in the box, and you can be assured of a smooth process, thus no need to visit a gunsmith or contact customer support.
However, contact the mentioned parties for help if you face any related issues.
Pros
The base holds scope mounts perfectly to offer better optical performance
Steel material protects both the scope and the locking system
Well priced considering its output
Cons
There are reported size and fitting inconveniences.
This blued finish is quite similar to most Tikka T1x scope rings regarding the features you will enjoy as a shooter.
The Optilock has a 30mm size that provides the ideal alignment to help your optic reach optimum visibility, including getting generous eye relief.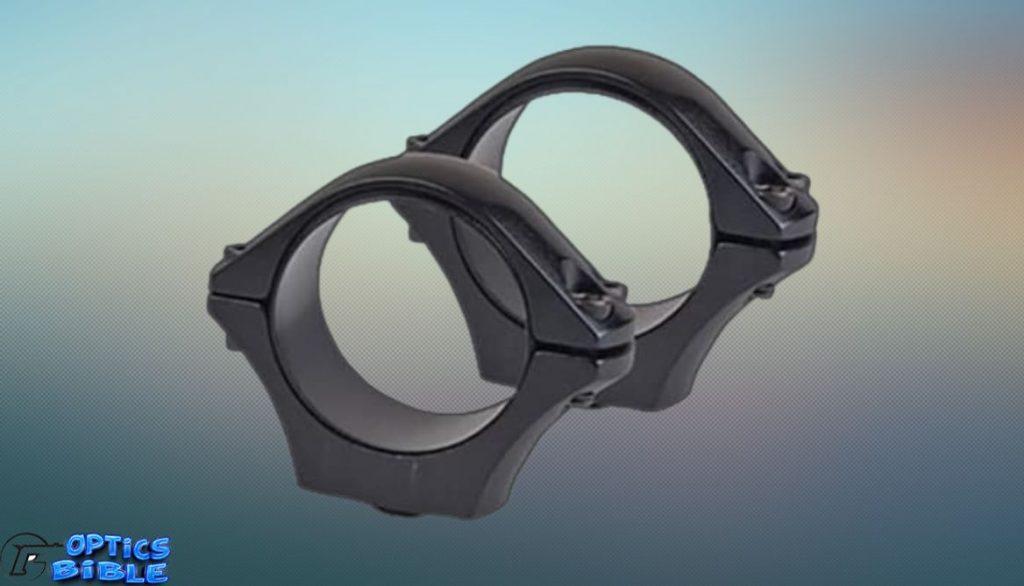 Moreover, the Optilock offers different installation specifications for low, mid, and high heights.
Durability aspects
The spherical scope mounts come covered in steel to perform consistently regardless of the rounds shot or weather conditions.
Installation Convenience
The 30mm varieties can easily be installed to the bases or the rifle's Picatinny rail system.
Additionally, with the spherical make, attaching your scope is quite convenient, regardless of the tube's length.
Pros
The steel make is convenient in challenging situations.
A variety of height specifications are ideal for different ranges.
Cons
Reported errors between mid and low settings.
This scope mounting pair has a diameter of 1″/25.4mm and fits both Sako and Tikka weapons. They come in four different heights: extra low, low, medium, and high. 
Additionally, you can get stainless steel in extra low, low, and mid settings.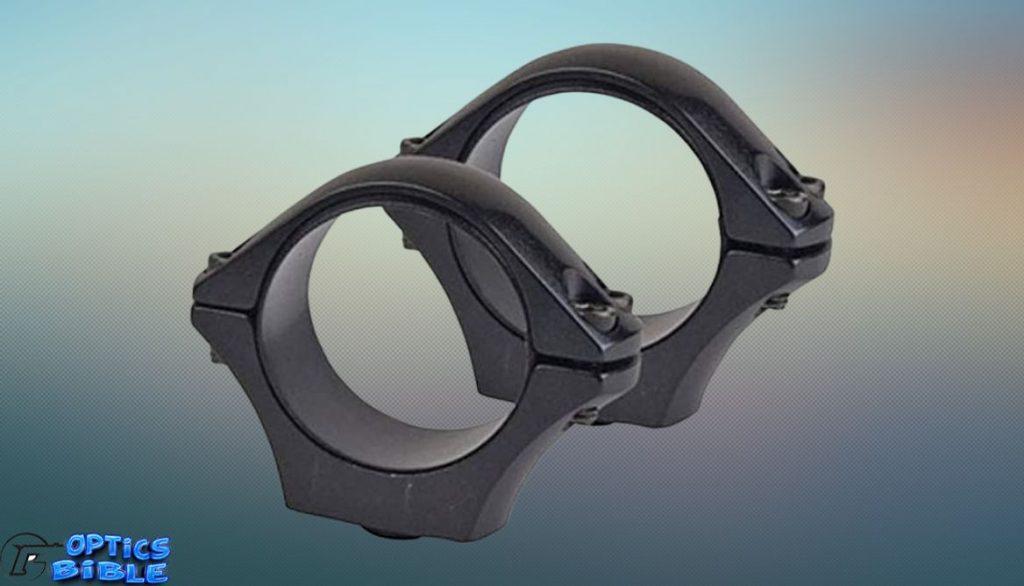 Durability Aspects
These scope gadgets are also spherical and crafted from solid steel, protecting them from minor damages, including;
Damages from accidental falls
Scratching and scuffing, especially when mounting
The best durability aspect has to be the ability to protect your scope mounts during heavy recoil or weather conditions.
Installation Convenience
The scope mounts are patented for easier fastening of the spherical build. The hex keys coming with the clamshell-packed pair aid the mounting process.
Pros
Optilock rings feature a patented spherical fastening ring
Easy mounting to the scope
What are the Best Tikka T1x Scope Rings or Scope Bases?
We have gone through some quality scope ring pairs and bases for Tikka T1x scope mounts, which mainly differ in finish preferences or mounting methods.
Mounting methods specifications play a role when looking for the ideal gadget. Firstly, here are ring variations if you are in the market for such for your Tikka rifle.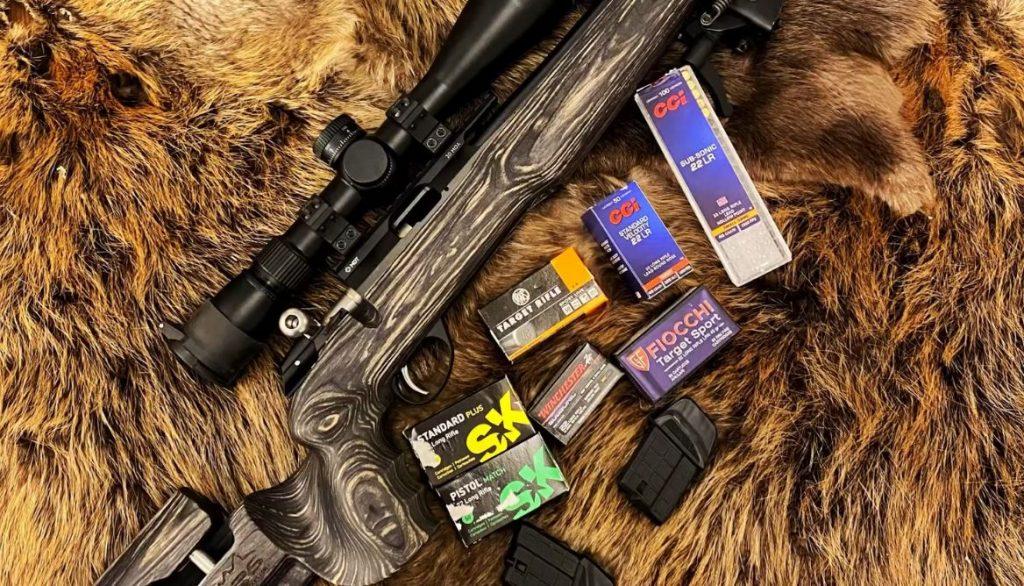 1. Tikka T1X Direct Mount 1" Rings
| | | |
| --- | --- | --- |
| | | |
| T1x Lightweight Low Rings: | 1 inch - 36 mm lens diameter | |
| T1x Lightweight Medium Rings: | 1 inch - 44mm lens diameter | |
| T1x Lightweight High Rings: | 1 inch - 50 mm lens diameter | |
2. Talley T1X Direct Mount 30mm Rings
| | | |
| --- | --- | --- |
| | | |
| T1x Lightweight Low Rings: | 30 mm - 36 mm lens diameter | |
| T1x Lightweight Medium Rings: | 30 mm - 44mm lens diameter | |
| T1x Lightweight High Rings: | 30 mm - 50 mm lens diameter | |
If you prefer rail-mounted options, you'll find the following types helpful, and they are marked as CZ 455 types. Through our research, we can ascertain that the CZ varieties sync with the Tikka scope mounts. Here are our selections on the best-railed scope mounts.
3. Talley T1X 11mm Rail Mounted 1 Inch Rings
T1x 11mm Rail Mounted Low Rings:

1 inch - 36 mm lens diameter

(Similar to CZ 455)

T1x Lightweight Medium Rings:

T1x 11mm Rail Mounted High Rings (Same as the CZ 455)
4. Talley T1X 11mm Rail Mounted 30mm Rings
T1x 11mm Rail Mounted Low Rings:

30 - 36 mm lens diameter

(Similar to CZ 455 )

T1x 11mm Rail Mounted High Rings:

30 mm - 44mm lens diameter Rings (Same as the CZ 455)
Understanding the Differences Between Tikka T1x Scope Mount, Rings, and Bases
With the development of Tikka manufacturing tech, related aspects like scope mounts are also being upgraded. Therefore, we now have different installation methods for mounting systems and scopes. 
It would be best if you take caution to avoid choosing the wrong mounting method, as the dynamics involved can be confusing. With that in mind, we have gone through these different scope mounting systems to help you understand their differences.
As mentioned earlier, the scope mounts rings and bases are categorized as:
T1X Direct Mount Scope Rings
T1X Rail Mounted Sight Rings
Tikka T1X Scope Mounting Options
T1X Direct Mount Scope Bases
1. T1X Direct Mount Scope Rings – Best for Close-Mid Range Shots
The Tikka's receiver is screw-tapped to provide a straightforward installation of optic rings. The scope mounts rings in this method allow you to mount directly to the upper side of the receiver; thus, no bases are needed.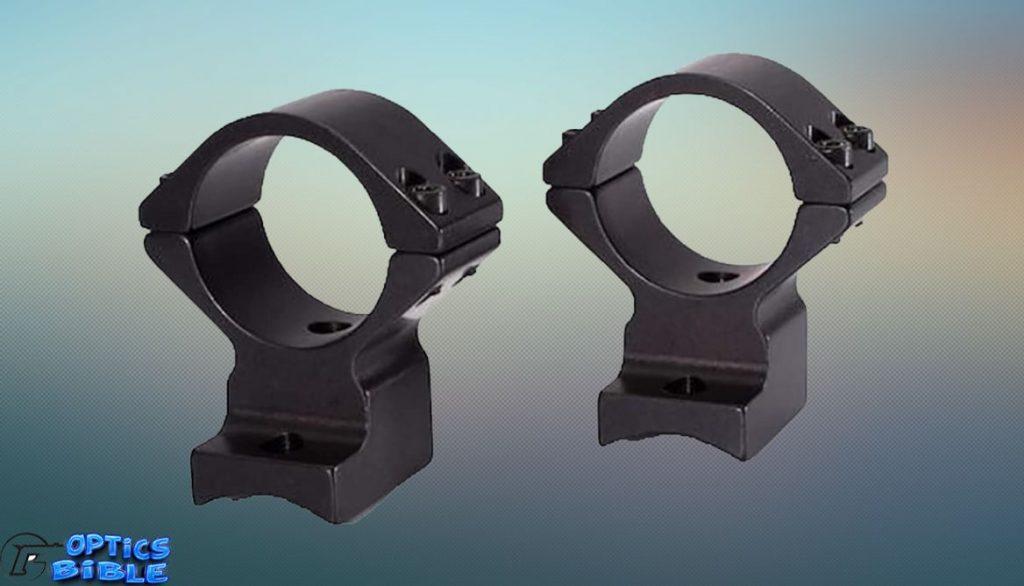 Like with most versions, ensure the height of the model you pick can fit the objective size of your rifle optic.
2. T1X Rail Mounted Scope Rings – Best for Long-Range Shooting
The T1x also comes with an 11mm rail system; thus, the automatic approach of choosing the appropriate scope rings for the rail size.
We advise you to forego Weaver rails, which are ¾ inches wider than the 11mm and might cause installation and fitting errors for your scope mounts.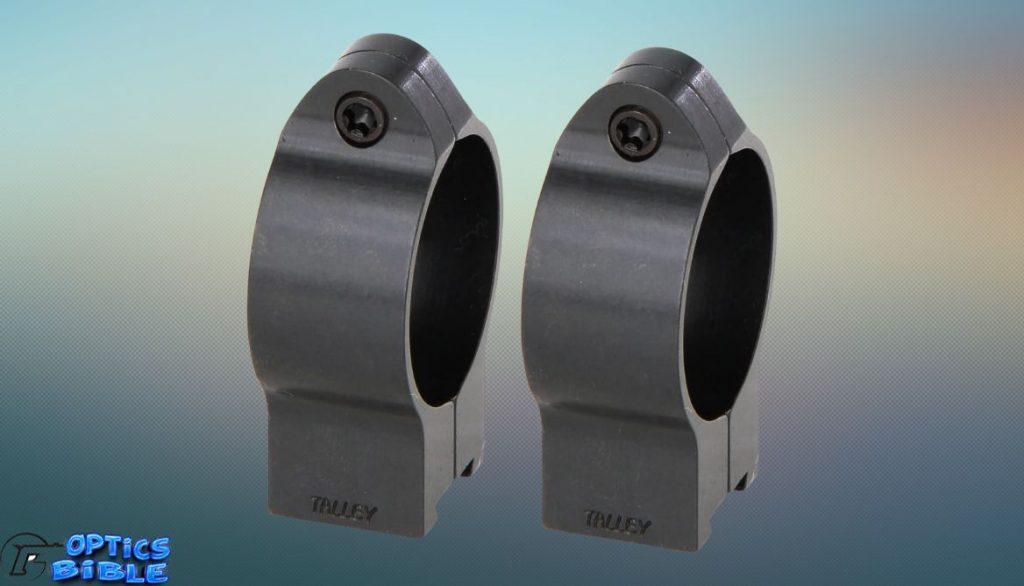 For easier recognition of the perfect fit, understand that traditional standard Weaver rails (¾ inches) are from the U.S.A, while the 11mm types are manufactured in Europe.
Nonetheless, many optic rings are exclusively designed for 11mm rails; therefore, going for these gadgets is more secure/relevant than risking your scope mounts with the Weaver rail fit.
3. Tikka T1X Scope Mounting Options
There are follow mounting options for Tikka T1X Scope.
11mm Scope Mounts Accessories for the Weaver Rail
If you only want scope rings for your Weaver rail and find no need to purchase the 11mm type, your best bet is acquiring an accessory to cover as a direct mount. The accessory changes the 11mm to ¾ inch Weaver rail option.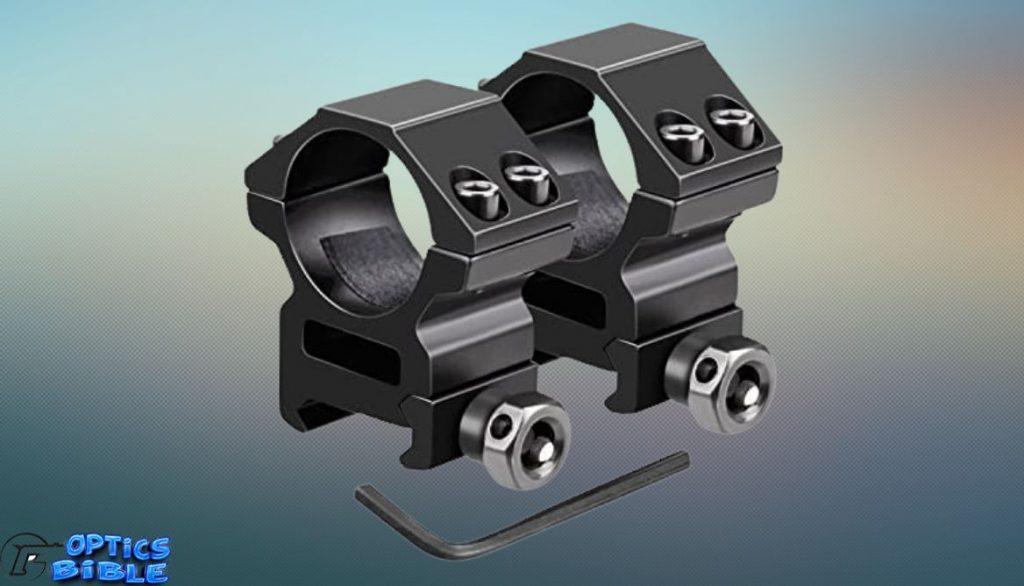 There are, however, disadvantages to this method, which include:
There are already ideal 11mm gadgets to use instead of the accessory
The aftermarket product is pricey
You might compromise (even if its slightly) the performance of your scope, mainly during tough shooting conditions
Picatinny Rail Mount Accessories
Typically known as the 1913 Picatinny rail system, it differs from the Weaver mode and provides a better mode of windage and elevation configurations. Therefore, it is a common rail system amongst shooters for the following reasons:
It provides options for long-range shooting purposes, as you can adjust the reticle settings conveniently.
With an ideal Picatinny mechanism, all the parts and gadgets work in sync to give a better optical performance.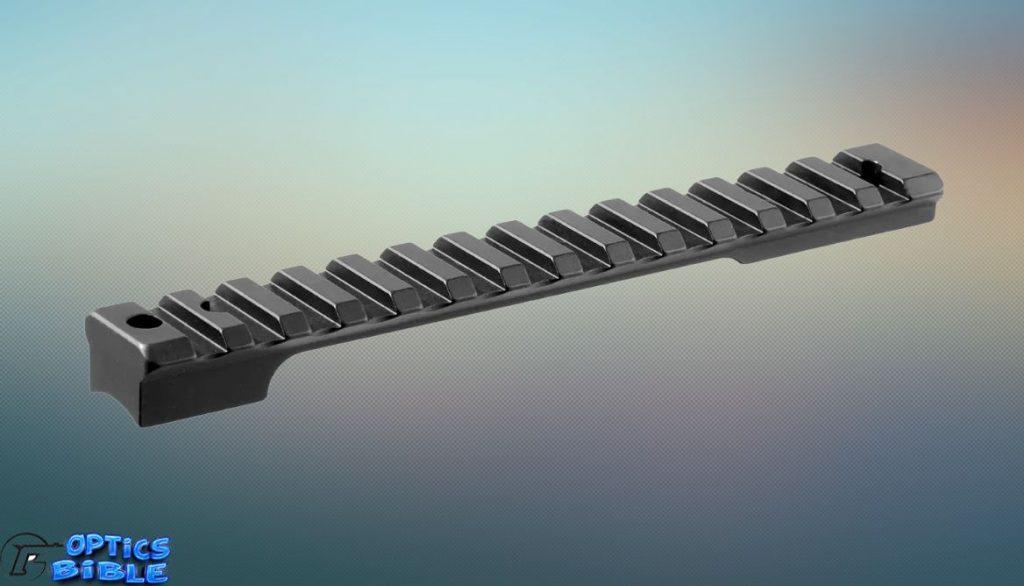 4. T1X Direct Mount Scope Bases
Scope bases are ideally installed on your rifle's barrel and provide a direct way to install the bases. For the T1X, you can utilize the tapped and drilled receiver as an attachment location for the rings.
Verdict – Best Among All
So, which mounting method is the best for T1x rifles? The battle is between the direct mount methods and the utilization of a Picatinny system, where the Picatinny mode is the best of the two.
The adjustability aspects improve the rail method, as you can utilize it conveniently over extended distances with your Tikka rifle.
As for Scope Rings for Tikka T1x all of them are good in their own way. However, for the best scope rings for Tikka T1x, we would choose the Bretta Optilock 30mm version. They perform ideally in extra mid and low settings, in addition to their steel make fitting any installation system.
FAQ
What size is the Tikka dovetail?
Tikka's specialized dovetail design measures 16.5 mm. 
What height scope rings should I use?
The perfect height is 0.625″ – 0.25″ when utilizing reticle options under 20 MOA. You'll need more clearance when using 20-40 MOA.
How many inch pounds should scope rings be torqued?
The ideal tightening for Tikka T1x varieties is 20-25″/lbs.
What scope mounts for Tikka T3X Lite?
Talley optics mounts provide the best option, the T3X Lite, due to their reliability, flexibility, and durability that fit professional uses.
How do I know if I need low or medium-scope rings?
1. Calculate the height of half of the optic's widest point (usually the objective bell of the sight)
2. Understand the height from the bottom of the ring mount to its middle.
3. Choose a height that is slightly more than half of the widest area.
Conclusion
There you have it on the best Tikka T1x scope rings and bases and the ideal mounting process to apply with them. The base variation edges the rings if you use a Picatinny rail, while the rings are perfect for a direct installation method.
So, which scope mount ring or base would you prefer?
Leave a comment below with your answer, and tell us which mounting mode fits you best.