Best Scope Rings for Savage 110 Ultralight: 7 Attachments Discussed
Choosing the best scope rings for Savage 110 Ultralight can be a challenging task. There are several options in the market for your firearm. Below, we have handpicked the best rings that won't disappoint you.
Also in the article, we will discuss, important information such as ring specs, and the pros, and cons, of attachments for the Savage centerfire rifle. Let's get started!
An Insight Into Savage 110 Ultralight
The Savage 110 Ultralight is a highly specialized rifle. What makes it so special?
It is a centerfire rifle with a lightweight build so carrying it so super easy.
The carbon fiber-wrapped stainless steel barrel is built to offer pinpoint accuracy and efficiently dissipates heat.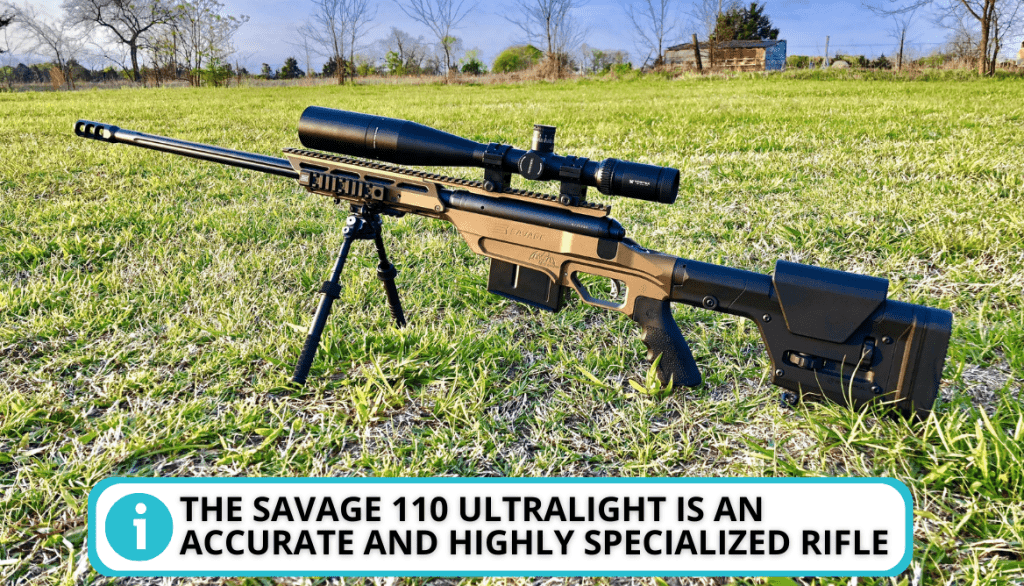 The best scope rings size for this firearm is the:
Can accommodate a tube (scope) of 1-inch diameter.
The height of the rings (low or high rings) will be according to the size of your scope's objective lens and receiver (height).
Using a "ring height chart" can help you make the adjustments needed for a specific setup. To make things easier for yourself, use a scope mount kit as it includes the rings and base for your firearm.
Using the suitable ones will help you secure and adjust the rings accurately. Let's have a look at the top picks.
Precision and tactical rifles

Precision and tactical rifles

Hunting and competitive shooting

Competitive long-range shooting, law enforcement

and military operations

Hunting, Competitions, Custom builds

Built-in tape reduces slipping and marring

of scope

Hex screws

for scope adjustment

Perfect for All 21mm Picatinny/ Weaver Rails

Picatinny and Weaver-style rails

Picatinny and Weaver-style rails

Picatinny and weaver rails
Our Top Picks of Savage 110 Ultralight Scope Rings
The mounting system or scope rings allow scope tubes to perfectly fit on the rifle. We have selected some of the best compatible choices for the Savage rifle. The scope rings are selected for a rock-solid fit on screw holes, long-distance application, eye relief, durability, and pricing.
Some scope rings even offer additional multiple screw holes for a firmer grip on the scope, Talley rings, and a larger screw size for easier attachment or detachment, etc. Some rings do not require any type of specialized tools and you can fit the scope mounts with common tools.
Comparing our top picks will ensure that you can select the most suitable choice for your Savage centerfire rifle. Let's dive in!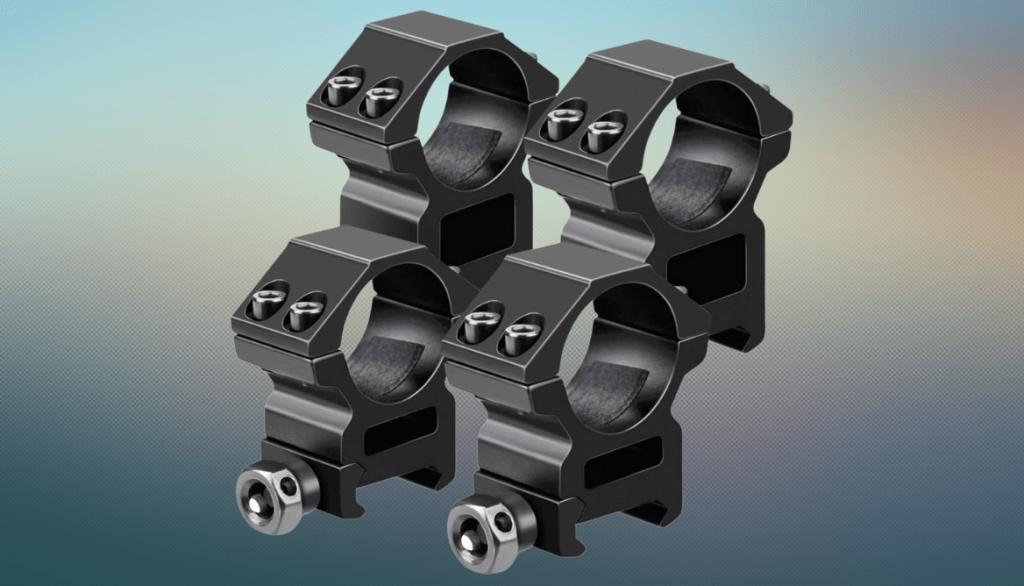 The Weaver Modkins scope mount provides you with versatility, durability, and weight reduction due to its innovative design. The one-piece build integrated recoil lug ensures that your scope is placed reliably and securely onto the screw holes. These are amazing rings for most firearms. Let's shed more light on it!
Weaver Modkins Scope Rings Specification
| | |
| --- | --- |
| | Precision and tactical rifles |
| | Hunting and competitive shooting |
| | Built-in tape reduces slipping, and marring of scope |
| | |
| | Perfect for All 21mm Picatinny/ Weaver Rails |
| | |
| | |
| | |
Pros
One of the most cost-efficient scopes in the market.
Can fit all 21mm Picatinny and Weaver rails.
Lightweight and does not cause strain on your arm.
An excellent securing mechanism for scope tubes.
There are 4-screws for secure installation of the tube.
Easy installation process.
Cons
Screws are thick for some weaver rails.
Special Note
You get 2 pcs medium and 2 pcs high profile rings on purchase. It is suitable for various scenarios such as adventure shooting, and even military training.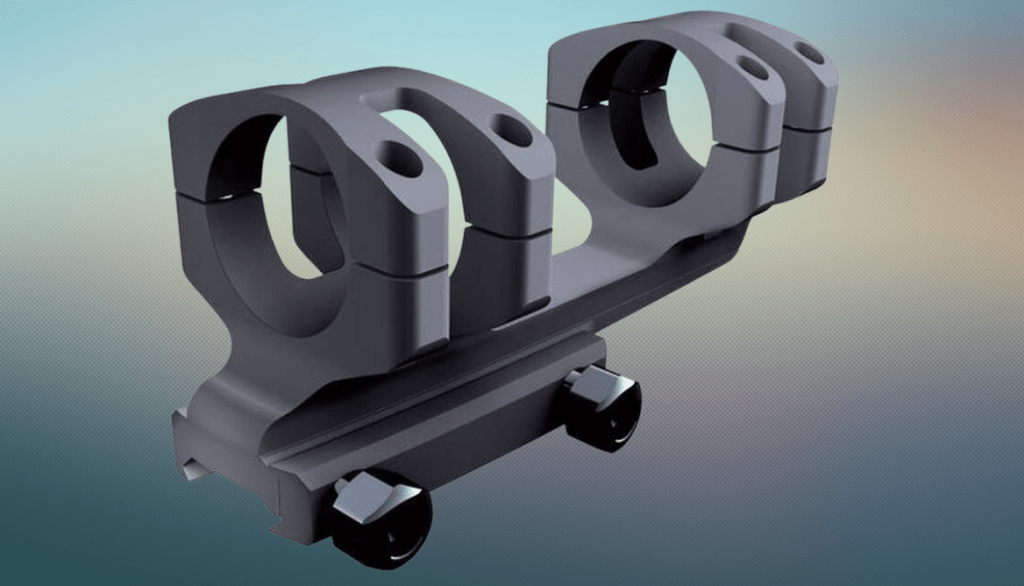 Designed for tactical rifles, the Nikon Black Cantilever is an extremely durable and lightweight attachment. It enhances your shooting experience and offers advantages (for example: accuracy, eye relief, etc) making it easy for you to target. Let's learn more about it!
Nikon Black Cantilever Scope Rings Specification
| | |
| --- | --- |
| | |
| | Competitive long-range shooting, law enforcement, and military operations |
| | |
| | |
| | Picatinny and Weaver-style rails |
| | |
| | |
| | |
Pros
Made from durable high-grade materials.
It is lightweight.
The quick-release mechanism ensures easy attachment and detachment of the scope.
High level of durability with a rugged design.
Excellent for military combat situations.
It provides essential mounting flexibility.
Cons
Only compatible with scopes of 1-inch making a selection of scopes very limited.
Special Note
Be sure to choose scopes that are only 1 inch in diameter. As the scope is not compatible with other types. Your options may be limited but rest assured the other advantages are unmatched.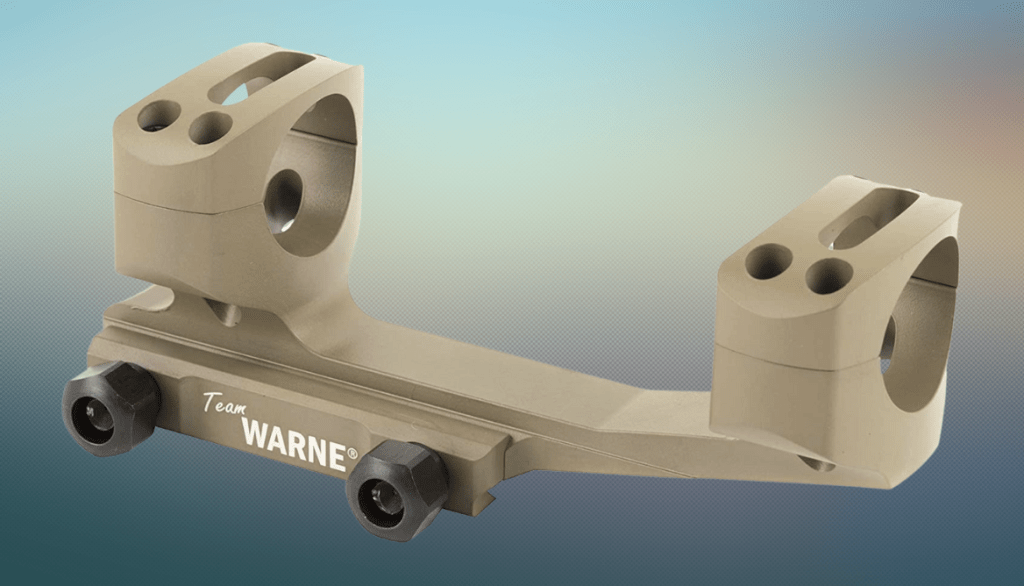 The Warne Gen 2 Extended features a 1/2″ tactical nut attachment system for screw holes enabling easy and quick installation without the use of any specialized tool.
It is designed for precision and easy carry. Made from high-grade lightweight aluminum alloy, it offers 20 MOA cant that assists in long-range shots. Let's learn more about it!
Warne Gen 2 Extended Specification
| | |
| --- | --- |
| | |
| | Hunting, Competitions, Custom builds |
| | |
| | |
| | Picatinny and Weaver-style rails |
| | |
| | |
| | |
Pros
It is super easy to install.
The build quality is superb and high-grade materials are used for its construction.
Steel-threaded inserts can prevent any type of stripping.
Durable and easy to mount on your rifle.
It has an extended cantilever design.
Cons
Not available in multiple colors.
Special Note
They are hassle-free scope rings. The sling bow on the rings helps you fit the top rings back into the exact fitting. The hard anodized coat prevents scratches and damage from impacts.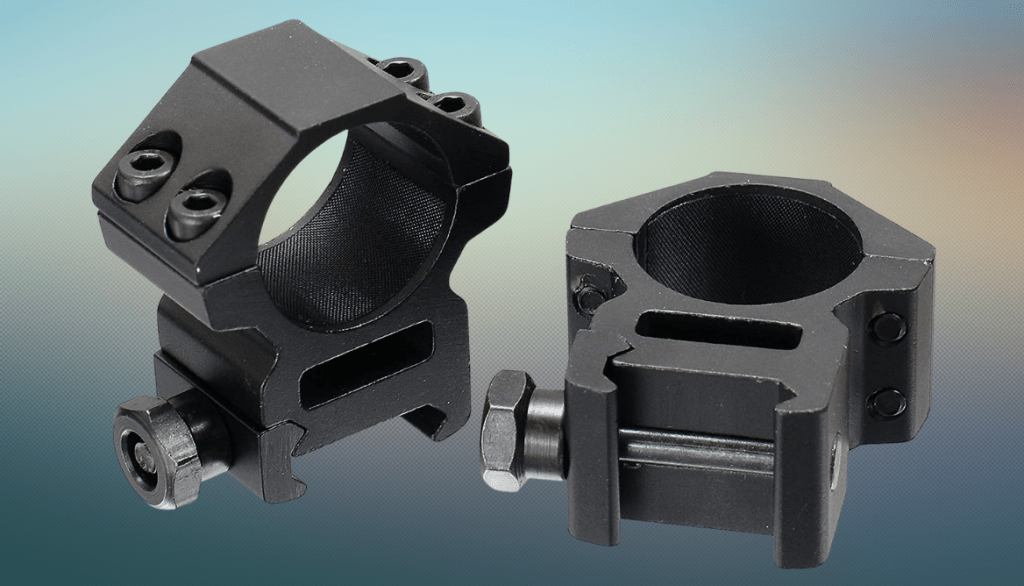 If you are looking for a heavy-duty, affordable, and secure mounting mechanism then the Accushot rings are the best fit for your requirement. Made from high-grade materials, they offer comfort during recoil and precision-based performance. Let's find out more about it!
AccuShot Weaver Scope Ring Specification
| | |
| --- | --- |
| | Precision and tactical rifles |
| | |
| | Hex screws for scope adjustment |
| | |
| | Picatinny and weaver rails |
| | |
| | |
| | |
Pros
A 2-pcs units scope with a high level of durability.
4 hex screws with each ring ensure maximum grip and security for the tube.
A very affordable option if you are on a tight budget.
These scopes offer a high level of compatibility with most scopes.
The installation process is very easy.
Cons
Not the best option for scope tubes with 0.75 diameters.
Special Note
The anodized matte finish prevents the scope from scratches and it is suitable for almost all rifles and crossbows.
Different Ring Mounts/Attachments for Savage 110 Ultralight
You can find a wide range of attachments for the Savage centerfire rifle. Each attachment modifies and enhances it differently, providing you with an excellent experience. Let's learn more about them!
1. Dovetail Rings
If you are using a dovetail mount then you will notice groves to attach the scope or any other accessory. These mounts:
Have a curved base that fits perfectly on the rifle's receiver.
Their weight class makes them suitable for hunting and helps you to maneuver quickly across the terrain.
Have a sleek look and minimalistic design which is highly appreciated by hunters and shooters.
Dovetail Rings Features
Let's check out some of the Dovetail rings features!
They are used for airguns or rimfire rifles.
Available in 11mm or 3/8 inch size.
Lightweight and compact design.
They are not as common as other mounting systems.
Require special tools to install.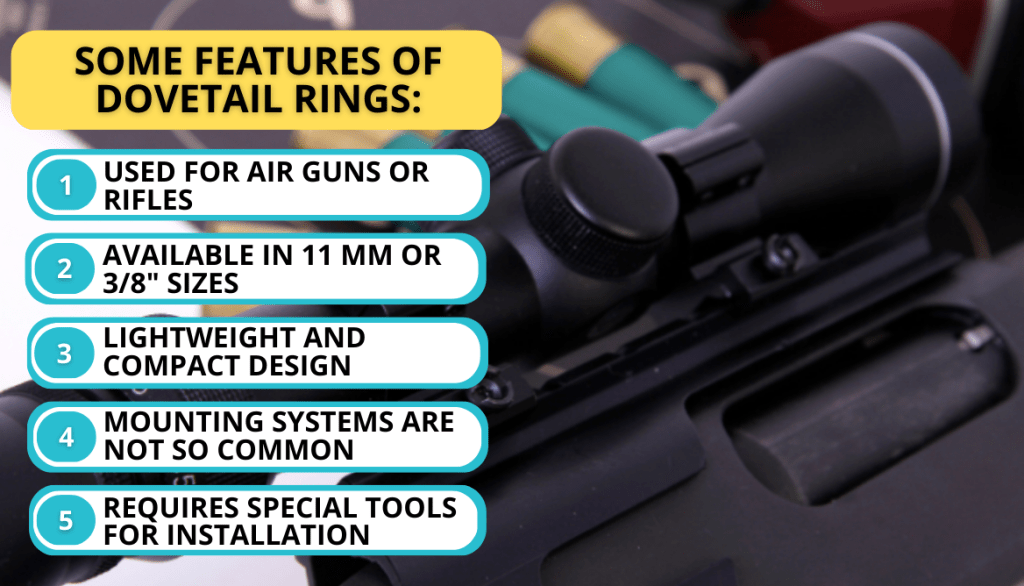 2. Picatinny and Weaver Rings
The most popular mounting systems in the market are the Weaver and Picatinny mounts:
They can mount scopes or other accessories in the series of slots. Note: A rail (weaver) is usually installed using screws into the Torx screw holes.
They can fit on a large variety of firearms such as rifles, shotguns, and handguns.
Weaver mounts have crosswise slots and a flat base. While the Picatinny mount or Picatinny base has the same design but the slot size and spacing are wider.
Picatinny and Weaver Rings Features
What makes them special? Let's dive in!
Compatibility with a wide range of firearms and added accessories.
They assist in maintaining zero (sight adjustment to ensure hitting the bullseye) even after continuous recoil.
The ability to mount several types of optics makes them ideal. Note: Accessories mount only rail holes instead of screw holes.
Most common mounting systems and readily available from even a local gunshop.
Very easy to install and detach using the weaver-style base.
Red Dot Attachments
If you want to mount a red dot sight on your rifle then a red dot attachment is the smartest option. Their ability to mount on a Picatinny or Weaver rail and provide a sight picture is a perfect addition to your collection.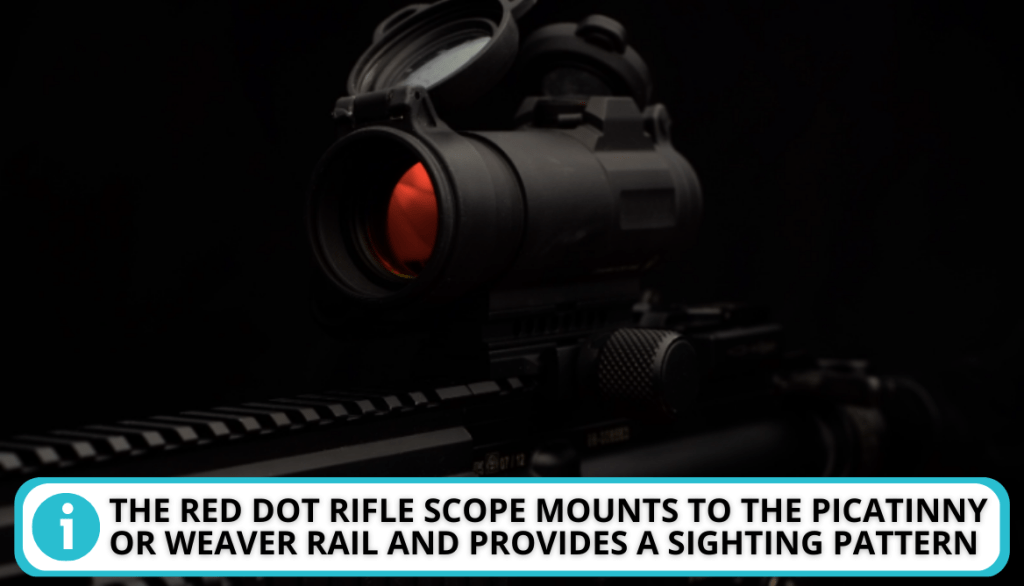 On purchase, they will have a mounting system exclusively for it to fit so you do not need to spend on a mounting plate. Let's check out their advantages!
Ideal for close-range target shooting situations.
Even with both eyes open, the target acquisition while using a red dot attachment is unmatched.
They have a versatile range of brightness settings to allow an edge in different light conditions.
A compact and lightweight design makes them easy to carry.
With a suitable mounting system, they can be mounted on the firearm.
Ring Height and Size for a Scope Tube
For a ring height, you need to measure from the top of the base to the center of the ring. Choose rings having a sufficient height to fit ideally even if the objective lens is large-sized. Let's look at some important features determining ring size!
The size of the objective lens and firearm receiver is the criteria for choosing the best height.
Ring height provides optimal sight picture.
Lower ring height offers a more streamlined appearance.
Ring height is essential in determining the interference with the iron sights or performance of the firearm.
Perfect ring height increases the accuracy of the rifle.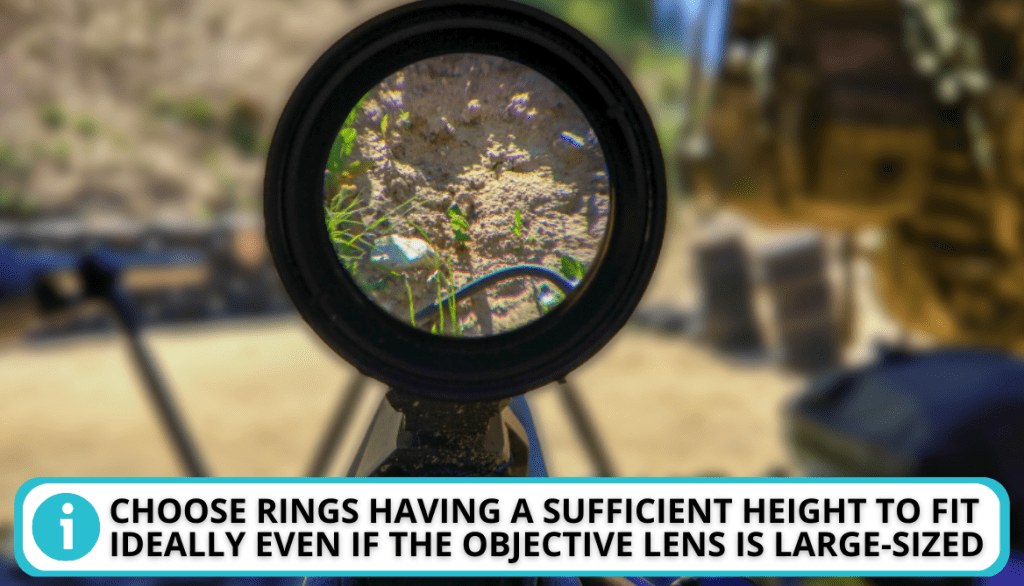 The best and easiest way to describe a ring size is its design to fit the diameter of the tube perfectly. Let's shed some light on its qualities!
A size of 1 inch to 34mm or larger may be available for perfect alignment.
When coupled with the right ring size, the tube is secured and does not move even after recoil from a Savage round. Some mounts in the market are compatible with different ring sizes.
Mounting systems or slot spacing can be limitations for ring sizes.
Ring size is crucial for accuracy and prevents interference with other accessories while shooting.
Specialty Rings
As the name suggests, they are designed for very specific firearms and for specialized functions. They are highly customizable as per the requirement of the rifle or they offer a unique mounting solution e.g., offset mounts or mounts that fit for pistol caliber carbines. Let us shed some light on their features!
They offer custom fit and operation.
Enhance the ergonomics of a rifle for better grip and feel in hand.
Special tools or expertise may be required to fit them on the rifle.
Not available in most retailers or shops.
They can improve the accuracy of the weapon greatly.
Quick Detach Attachments without Mounting Screws
A quick detach attachment is a modern-day innovative system that allows the detachment of the accessory with the use of a lever located at the bottom. While screws or bolts pose a time-consuming and troublesome procedure.
The quick detach attachment can ready your firearm without the use of any tools, especially for a specific screw head. Simply flicking a lever with take off the scope from the rail of your rifle. Let us learn more about it!
It commonly has a repeatable zero when you re-attach the accessory.
There is no risk of wearing out the treads or compatible screws (size) as there are none like screws or bolts.
Provides a stable and firm connection between the rail and the accessory.
It is compatible for use in various accessories such as scopes, bipods, red dots, and more.
They can be used for different weapon classes such as rifles, machine guns, snipers, crossbows, and more.
Over Verdict
All of the above-mentioned scope rings along with the mount are excellent options but it all comes down to your need and personal preference. To select a riflescope ring for your Savage centerfire rifle, you should consider the weight, durability, compatibility, and price.
Our favorite among the best scope rings product is the Accushot Weaver Scope Rings for your Savage centerfire rifle. Here is why they are the ideal choice!
Accushot Weaver Scope Rings
They offer Picatinny or Weaver-style rail. The Savage centerfire rifle uses a Picatinny rail system.
The Accushot is made from high-quality aircraft-grade aluminum for maximum durability and long-lasting performance.
The medium profile is the specialty of the Accushot Weaver Scope Rings. They are suitable for hunting and offer a secure and stable mounting platform.
FAQ
What size scope rings do I need for a Savage Axis?
For Savage Axis, you need 1-inch size scope rings. You will not require any extra tools or mounting hardware.
Will a Savage 110 scope base fit a Savage Axis?
The 10/110 bases cannot be fixed on the axis. Try finding a suitable rifle with a 2-piece mounting base pre-installed. Or, choose an appropriate scope for the savage axis.
Is Savage 110 short or long action?
No, the Savage 110 Tactical is not a long-action rifle but a short-action rifle.
What are offset scope rings?
Offset scope rings move the scope a distance of 3/4" to the left or the right from the center axis.
Conclusion
Scope mounts are the base for rings and choosing the best combo of both will ensure that the rings set perfectly on your firearms with the help of screws. Experiencing amazing short-range and long-range applications is what all shooters want. You can always do a test fit first to check the screws before you perform scope mounting of your new scope.
Which scope rings did you like the most? Why did you choose those rings? Let us know in the comment section!