Top-4 Reliable Best Scope Rings for LPVO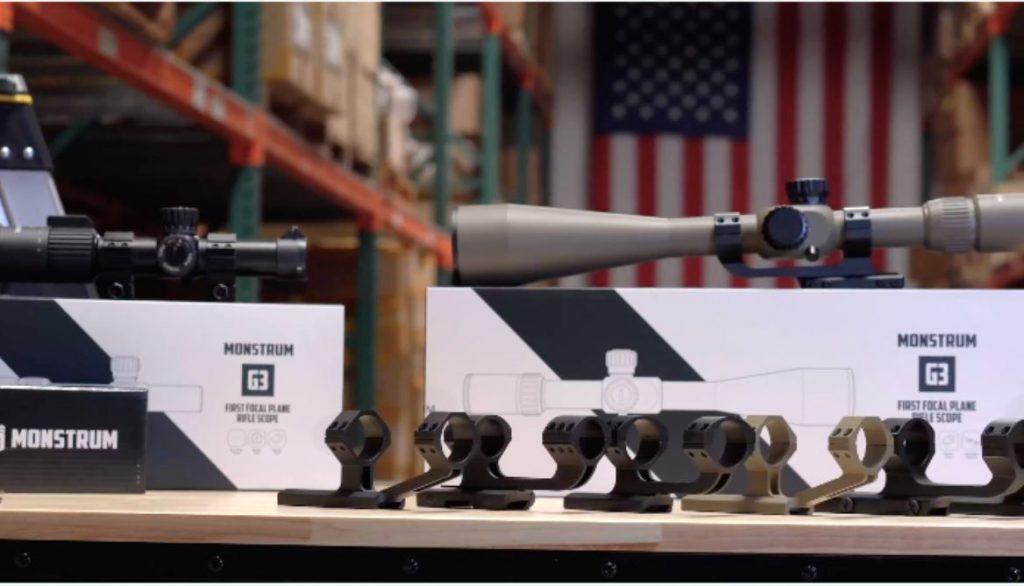 Scope mounts are designed to provide a stable and secure platform for optics. Scope rings hold the scope while wrapping around the base. This allows the user to easily adjust the position of the optics to align with his eye. 
This post will identify the best scope rings for LPVO, factors to consider when choosing an LPVO mount, and the types of scope rings.
Let's dive into it.
Best Scope Rings for LPVO: Our Top-pick
| | | | | |
| --- | --- | --- | --- | --- |
| | | | | |
| | | | | |
| | High strength aluminum 7075 T6 | CNC milled 7075 T6 aluminum | Weight aircraft grade aluminum | |
| | | | | |
| | for 30 and 34 mm scope tubes | | | |
| | 7,64 х 4,41 х 3,27 inches | 5,94 х 4,45 х 2,83 inches | | |
| | | | Cantilever mount, M1913 Picatinny | |
| | | | | |
The Geissele Scope mount is part of the Geissele SOPMOD Certified Series, which includes Geissele products used by top-tier military and counter-terrorism units across the United States Special Operations Command (USSOCOM). 
The lightweight Super Precision mount makes it extremely attractive for LPVO. The Super precisions are by no means a cheap option for mounting your scope, but they are exceptionally well built.
Material
Geissele ultra-precision mounts are composed of 7075-T6 high-strength Aluminum. The entire mount is machined from a single piece of hard coat anodized Aluminum to provide the best possible return to zero.
This enables you to add pockets and ribs throughout the mount to increase strength and rigidity.
Clamp System
Geissele mounts are held in place by a time-tested nut and bolt system capable of providing 1,400 pounds of clamping force per nut. The clamping force of this system is up to three times that of any other lever system, and precision machined shear lugs help keep the optic on the receiver during recoil.
Weight
The Geissele super precision weighs 7.1 oz; this makes it a powerful choice for a low-power value optic.
Sizes
The Giselle is fitted with 30 mm and 34 mm scope tubes.
Rail Integration System
The Gisselle mount has Picatinny rails which offer a series of slots that offers different scope mounting positions allowing for more flexibility when adding a scope or accessories to your firearm.
There are eight Picatinny sections and four shear lugs on the mounting surface.
Line Bore Operation
This ensures the best possible fit to your scope's body, allowing you to apply proper torque without the danger of crushing or injuring the scope's body. In addition to that, the mount has cap locations that can handle a variety of scopes.
Pros
Its light weight makes it easily portable.
Very durable – it is made from high-strength Aluminum.
Less costly compared to other scope mounts.
A nice anodized finish.
It holds zero consistently and is precision machined.
Improved Nut and Bolt Clamp Design
Cons
It does not feature a quick detach mount.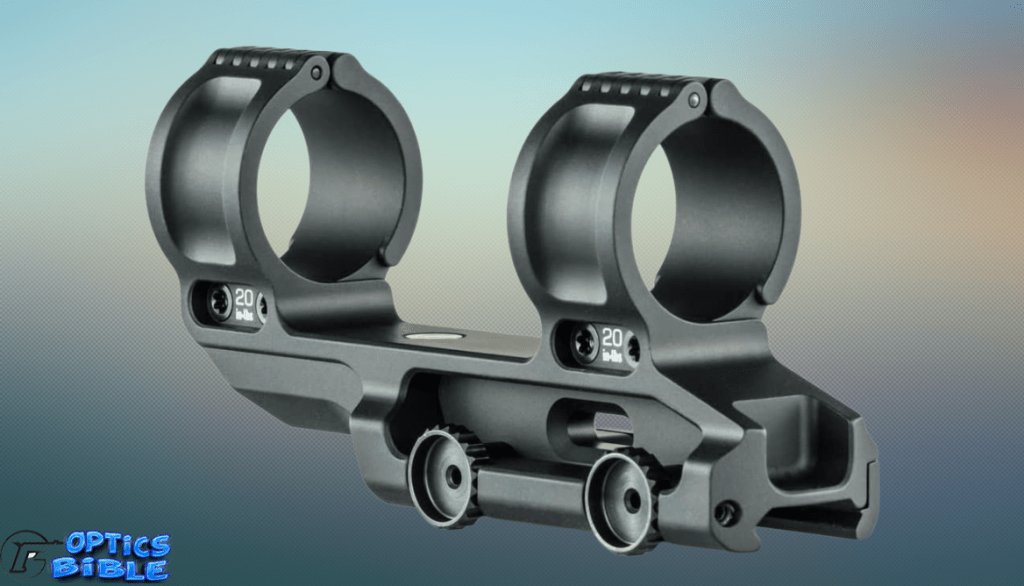 The Scalarworks Leap Mount is a high-performance cutting-edge 30mm rifle scope mount. It features a built-in set screw that allows you to square your scope with your mount in record time.
Material
The leap scope mount is designed to be the lightest QD scope mount without sacrificing strength. It is CNC milled from 7075-T6 aluminum billet, which is used when ultimate strength and durability are more important than cost considerations.
Weight
The Scalar-works Leap Scope mount combines lightweight with ultra-high performance design to create one of the lightest, least intrusive, and easiest-to-use scope mounts on the market today.
The LEAP/MRO mount weighs 40.0g (1.41oz) and 1.8g (0.06oz) screws.
Sizes
Like the Geiselle mount, it has 30 mm and 34 mm scope tubes.
Rail Integration System
The Scalar works leap mount features a MIL-STD-1913 Picatinny Rail and a quick detach mount, Which can easily be attached and removed. The LEAP holds its zero even after being removed and reattached.
Other Key Features
Besides the features listed above, the Scalar works Leap mount also includes the following:
Kick adaptor
The LEAP mount is designed to make installing a pistol red dot optic easy using their KICK adaptor. This allows you to mount a cantilever pistol red dot sight. The Side Kick enhances your sighting system by adding a reflex sight in the optimal offset position.
Excellent machine work
It has no burrs, hard edges, or tool marks. The coating is a lovely, even, deep, non-reflective black. The clicks are positive, and once mounted, it does not shift as there are no throw levers or other devices to torque, oil, or apply loc-rite.
Innovative structure
Its foundation incorporates various structural elements to improve overall performance. A large diameter tubular section in the front resists torsion caused by side impacts, and a wide beam bridge in the back resists recoil-induced oscillations.
Visering
The low-profile design does not interfere with viewing or manipulating the scope's adjustment turrets. Tapered screws are screwed into the base, increasing structural rigidity. A multi-link hinge eliminates the risky and time-consuming setup.
The split rings are created from the ground up to be lighter, lower-profile, and easier to use than traditional ones.
Click drive
It is the most effective quick-detach mechanism available. A fluted crown requires only the torque of your hand to clamp the mount onto a rail securely, and it is entirely recoil-proof thanks to the force of a spring-loaded ball detent.
This mount employs Scalarworks' patented Quantum quick-detach mechanism for repeatable zero, quick mounting, and quick removal when necessary.
Pros
It is incredibly light.
Very durable – it is made from high-strength Aluminum.
Features a quick detach mechanism.
Bomb proof
self-leveling
Perfect finish and quality.
Provides easy and accurate mounting.
Innovative design with great features.
Cons
Quite costly compared to the other mounts
3. ZRO Delta FRZ Cantilevered QD Mount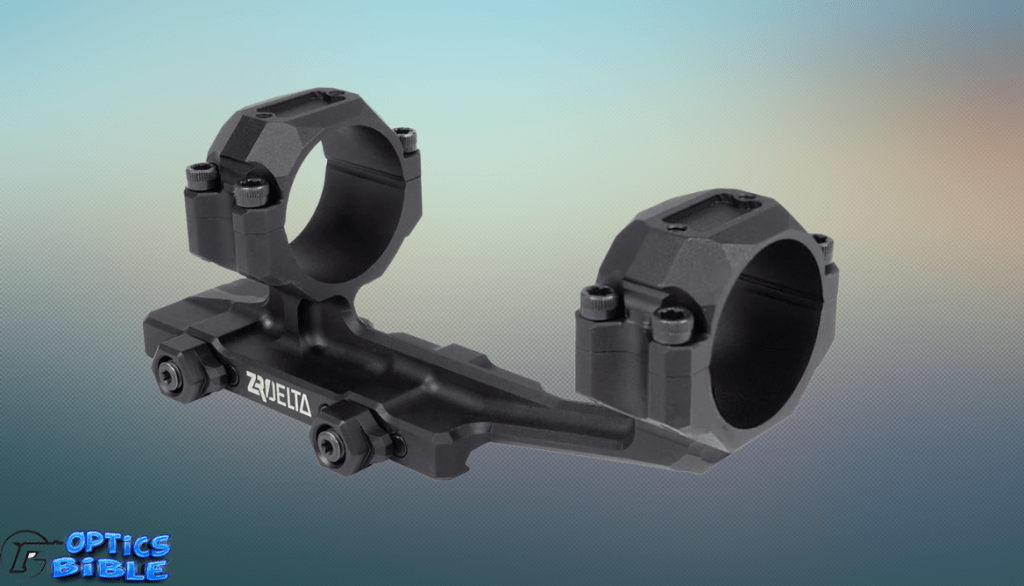 The ZRO Delta has a 0.0MOA point of impact shift when dismounting, remounting, and interchanging optics or optical accessories.
The FRZ features ZRO Delta's StealthCuts, which reduce the mount's weight and provides a streamlined aesthetic.
Material
Each mount is made from aircraft aluminum and Mil-Spec hard coat anodized black.
Besides this, the ZRO Delta has two mounting solutions:
Free Return to Zero (FRZ™—pronounced 'freeze') and the Static mounting solution.
The patent-pending FRZ mounts allow the user to quickly remove and replace the optic and mount with as little as 4-inch pounds of tool-less hand pressure. At the same time, the static designs are intended for dedicated, non-removable applications.
Weight
The ZRO Delta weighs 7.2 oz, slightly higher than the Geiselle super-precision.
Sizes
The ZRO Delta offers lightweight, aircraft-grade aluminum rings in 0.9″, 1.0″, 1.25″, and 1.5″ heights, which are compatible with any brand of the riflescope.
Mounting Interface
The ZRODelta FRZ Cantilever QD Scope Mount 34mm can be fixed to any M1913 Picatinny mount rail. 
The ZRO Delta Cantilever mount structure has a long projecting beam fixed at one end, which sits directly above the gun's receiver when attached to other mounts.
There are two types of cantilever mounts: one-piece and two-piece.
One-piece mounts – only a single ring is used. It is stiffer and offers the weapon more stability. It also provides outstanding assistance. Because they are taller, these mounts are ideal for tactical rifles.
The disadvantage of one-piece mounts is that, when it comes to bolt action rifles, the one-piece mount is cumbersome and can get in the way of the receiver, making it difficult to load rounds directly into the chamber.
The two-piece rings are lighter than the one-piece rings but provide more room between the scope body and the receiver, allowing for faster clearing of jams. Hunters prefer them because of this feature. They are less in height than a one-piece mount. However, the two rings must be aligned with each other.
Pros
It's lightweight, which makes it easily portable.
Less costly compared to other scope mounts.
An excellent impressive sleek design.
No MOA change when remounting.
It features a quick detach mount.
Cons
The one-piece mount may be cumbersome and can quickly get in the way of the receiver, making it difficult to load rounds directly into the chamber.
The Vortex Pro Cantilever Mount is a high-quality, reliable choice for attaching your scope to your rifle.
This 30mm scope mount is designed specifically for AR-style rifles and features a cantilever design that allows for perfect eye relief and a wide field of view.
Whether a tactical shooter or a long-range hunter, the Vortex Pro Cantilever Mount is an excellent choice for attaching your scope to your AR-15 rifle.
Material
The billet 7075 T6 aluminum used in the construction of the Vortex Optics sport cantilever Rings is anodized with a Type III hard coating for maximum durability and to withstand the rigors of tactical operations and long-range shooting.
There are four retention points, two on each side of the ring. With the rings, you'll get a hex wrench and screws, plus a lifetime warranty and free shipping from Vortex.
Durability
These rings are more costly than average because they are crafted from aircraft-grade Aluminum built to last longer than most of their rivals. Similarly, the Type III hard coating is easily scratched.
Weight
The Vortex optics sport cantilever weights 6.7 oz.
Sizes
Regarding AR-15 rifle scope mounts, the Vortex 30mm Cantilever Riflescope Mount is one of the best, because:
It is very adaptable and comes in two and three-inch offset options to give you more choices for eye relief.
The Vortex sports mount's 2-inch offset sets the scope forward, allowing for proper eye relief and head alignment.
Rail Integration
The integral mount comprises the base, ring, and screws directly into your rifle. Because of this, you need to make sure that the integral mount you buy fits your specific rifle. This way, the screw holes not only line up with where the rifle has screw holes, but the screws are of the correct size.
The dovetail mount system is also standard. The dovetail mounting interface allows the rings to be installed wherever The 3/8′′ and 11mm are two of the most popular dovetail rail sizes.
The Vortex Pro cantilever mount is also easy to install, with a simple two-piece design that attaches to your rifle's Picatinny rings. It's compatible with both in-spec and out-of-spec rail systems, so you can trust it to fit your rifle securely. And with its low profile design, it won't add unnecessary weight or bulk to your rifle.
Pros
Its light weight makes it easily portable.
Very durable – it is made from high-strength Aluminum construction.
Less costly compared to other scope mounts.
Very easy to install.
An excellent anodized type 3 finish.
It holds zero consistently and is precision machined.
The rings are smooth and concentric.
The Vortex Limited Lifetime Warranty backs it against the manufacturer's defects.
It has a cantilever mount that enables ideal weight distribution and mount orientation.
Provides good eye relief.
Cons
It is incompatible with an Arasaka leveling kit.
Best Value LPVO Mount
Different LVPO mounts have different features.
The Geiselle stood out in terms of its high-strength aluminum material.
The Scalar works impressed with its key features and lightweight.
The ZRO Delta is an excellent mount for its different configuration sizes.
The Vortex is compatible with most in-spec and out-of-spec rail systems.
Highest Quality LPVO Mount
The Scalar works leap mount stood out as the best scope mount in terms of quality. Its unique features, for instance, the intelligent structure, Quick detach mechanism, and durable machine work made it a high-quality LPVO mount.
Scope Rings: Factors to Consider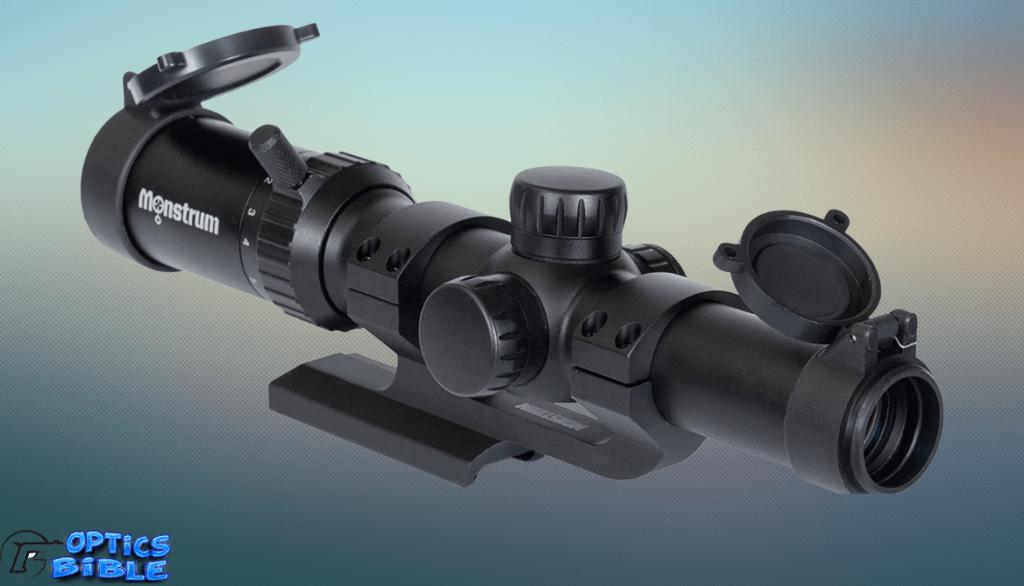 Many low-power variable optics (LPVO) mounts are available on the market; the best scope mounts will depend on your specific needs and budget. Here are a few things to consider when choosing an LPVO mount:
Weight
The quality of the mount is determined by the material used to build it. Both Aluminum and Steel are suitable materials for the scope mounting rings.
Lightweight designs are always the better option since they are more comfortable to use on the pitch and can be carried for long periods.
A low-quality aluminum alloy will make a low-cost mount.
Steel is undoubtedly more durable, but it's also undoubtedly heavier.
Durability
Externally, the scope mount should have the ability to withstand scratches, dents, and movement without losing zero or damaging the magnification.
Look for a mount made from high-quality materials that can withstand your firearm's recoil.
Eye Relief
An extended eye relief scope, such as those found on scout rifles, allows for more space between the eyes and the eyepiece, allowing them to be positioned further down the rifle.
The eye relief is determined by the particular rifle scope you are using. If you don't achieve eye relief after your first mount, adjust the scope mount backward or forward on the rail until you have a full, clear, and better view.
Scope Height
Low, medium, and tall are the most common heights offered by scope ring manufacturers.
A low cheek rest is standard on most AR-15s and flattop rifles. If you mount your scope too high, you will have to elevate your head and be unable to use the cheek rest, which is very uncomfortable.
Higher scope mount rings are required if you have lower cheekbones or cannot get low enough on the rifle stock to look through the scope comfortably.
Here is a few things you should consider about the scope height:
Ensure your scope's objective lens has enough room to sit on top of the receiver without touching the barreled action.
When mounting a scope, find a height appropriate for your rifle and shooting position. Check that the rifle has a comfortable cheek rest and that you can look through the scope quickly and precisely.
To get the most out of your scope's elevation adjustment range, mount it as close to the receiver as possible.
Rings and Optics
Scope mounts enlarge proportionally to the size of the optic. This means that the scope sits higher off the top of the barrel.
To ensure that the rings you're considering will fit your rifle scope, measure the exact height of the rings from the top of your receiver and ensure that the clamping system correctly fits the tube diameter.
Some scope rings provide a low-profile mount for a scope while other optical components call for rings with a high profile. If your scope has a 30mm main tube, it is necessary to use a scope ring with a 30mm diameter. 
Mounting Interface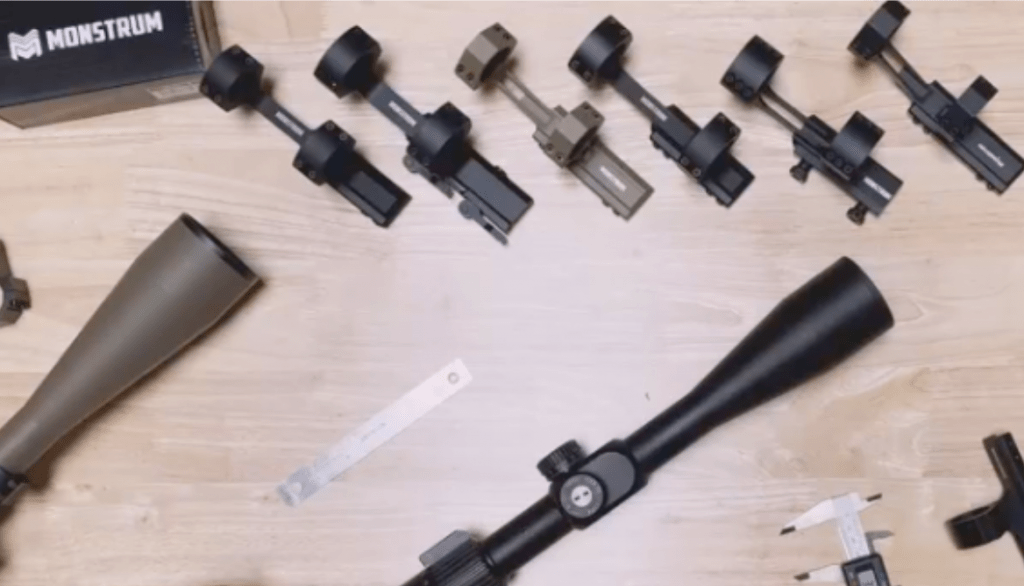 You will need a mounting system that is appropriate for your weapon. some of them include:
Picatinny mount rings – However they dont always function with AR 15 platforms. This is because the handguard and receiver are distinct components. It is also essential to ensure that if you have a scope with a 30mm tube, you must have a 30mm mounting system.
Quick detachment (QD) systems – They are the best bet for the bases you select. They enable you to mount and dismount your scope quickly. The quick-detach (QD) mount includes the Weaver rails.
Finding the base compatible with your rifle and the rings compatible with the base will guarantee that you have the correct mounting rings.
Compatibility
Make sure the particular mount is compatible with your LPVO and firearm. Choosing a mount with good repeatability is also necessary to remove and reattach your LPVO and have it return to zero.
Price
LPVO mounts range from around $50 to several hundred dollars. Determine your budget and look for a mount that offers the features you need at a price that fits your budget.
FAQ
What height scope mount for LPVO?
The FAST LPVO Mount series comes in 30mm and 34mm sizes to fit all major commercial and military scopes. It raises the mechanical centerline of the scope to 2.05 inches above the rail.
How high of scope rings do I need for a 50mm objective?
Depending on how your scope mounts to the firearm, most 50mm or more significant objectives require a taller scope ring. You may need mounting rings that are an inch to one-half inches tall.
For a 50mm riflescope such as the ZeroTech Trace Advanced or an Aero Precision Ultralight Mount with a 30mm tube length, a good height would come to around 0.300 inches.
Is lapping scope rings necessary?
Lapping the rings smoothens the inner surface so that they fit more evenly and securely on the scope and increases the internal diameter.
What happens if you over-tighten your scope rings?
When the scope ring is over-tightened or over-torqued, it can deform the scope; this leads to erratic movement in the erector system, misaligned components, and inaccurate shots.
Over torqued scope ring will dent or crease in the outer tube of the scope.
Does lapping a barrel improve accuracy?
Yes, lapping a barrel can improve accuracy by reducing the amount of friction between the bullet and the barrel and by creating a more uniform surface in the bore.
However, it's important to note that lapping a barrel is a reasonably advanced gunsmithing technique and should only be attempted by those with the proper knowledge and tools.
Conclusion
We have reviewed the best scope mounts for your LVPO by weight, size, material, and mounting interface. All the scope mounts considered proved to be reliable and outstanding. However, we recommend the Scalar works leap mount due to its lightweight and unique features.
Which scope mount did you love? And what did you love about it?
Feel free to leave your comment below, and remember to share the post with your friends.