Best scope for Ruger 10/22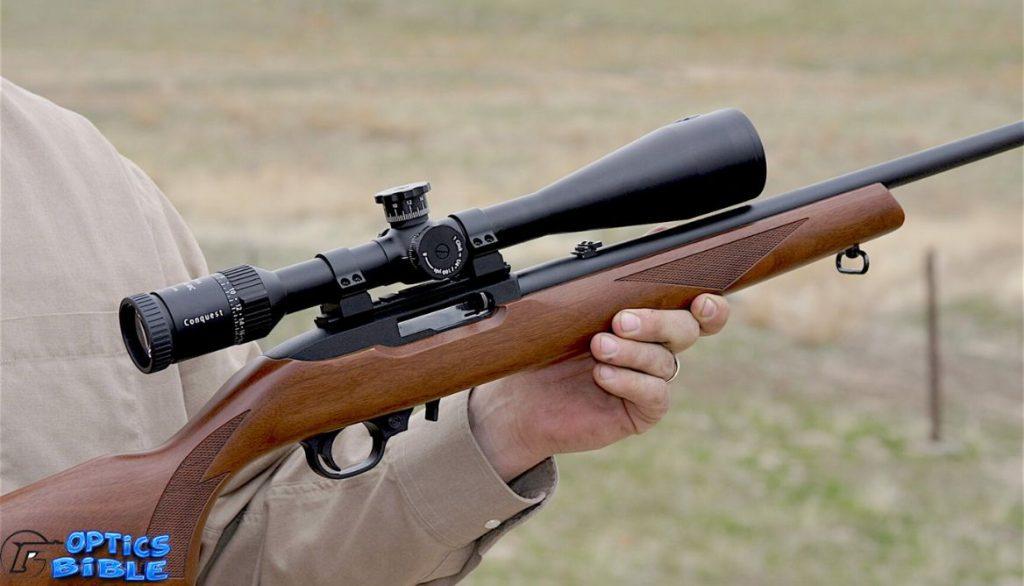 The Ruger 10/22 has many of the qualities necessary to be the best survival rifle, including its dependability, versatility, adaptability, and durability.
Adding a scope to the Ruger 10 can enhance the shooting experience greatly! Rifle scopes increase accuracy, eliminate issues of low light, improve target acquisition, and fully multi-coated lenses provide quality sight pictures.
Still, in the market, the best scope for Ruger 10/22 come in many variations and features packed into them. Now let us decide what lens is perfect for your Ruger 10 for eliminating the problems!
Why should you trust me?
Being a gun enthusiast, I have been testing out various scopes and red dot sight on the Ruger 10/22. And with great pride, I can say that many had passed with flying colors. It all depends on what type of scope or red dot sight you need to fit on the Ruger 10 to suit your shooting style.
Also, the type of environment you want to make use of a certain scope or red dot sight. In order, to make things easier I have listed the best choices and the features they have to make things easier for you.
Best Scope for Ruger 10/22: Our Top-Pick
Scopes enhance the shooting experience for the target shooter. And adding a scope to an already amazing firearm is one of the best things you can do. Here are some scopes that will blow your mind!
| | | |
| --- | --- | --- |
| | | |
| | Vortex Optics Crossfire II Adjustable Objective, Second Focal Plane, 1-inch Tube Riflescopes | |
| | Bushnell Optics Drop Zone-22 BDC Rimfire Reticle Riflescope with Target Turrets, Matte Black, 2-7x/32mm | |
| | Simmons 3-9x32mm .22 Waterproof Fogproof Matte Black Riflescope | |
| | Leupold VX-Freedom Rimfire Riflescope as the best red dot sight scope | |
| | Vortex Diamondback Tactical 4-16×44 FFP (30mm tube) | |
| | Nikon ProStaff Rimfire with BDC Reticle | |
| | Athlon Optics Neos 3-9x40 Second Focal Plane Riflescopes | |
Reviewers laud the Crossfire II line's top-notch lenses, which provide excellent quality. At an unbeatable price, it offers accurate performance that enables you to fire your shot without wasting ammunition.
A lifetime warranty is included for the finest possible customer service. You will be at a loss for words if this isn't a decent scope! It has my highest recommendation.
Some amazing features of the vortex optics crossfire:
Finger adjustment MOA clicking mechanism in the Vortex Optics Crossfire
It's a common need for those who shoot with a 45-70. The Vortex Optics Crossfire II, thankfully, does not have this problem. This type is so convenient because its reset turrets are capped, allowing for swift finger adjustments.
You may quickly and simply make modifications in the field after a simple sighting of the scope.
Using a single-piece, hard-anodized aluminum structure suitable for use in aircraft
This model is hard anodized aluminum and is made in a single, streamlined piece. Some of the strongest metals on Earth can withstand harsh circumstances. When you add in the scope's nitrogen purging and O-ring seal, you have a device that is completely impervious to water and fog.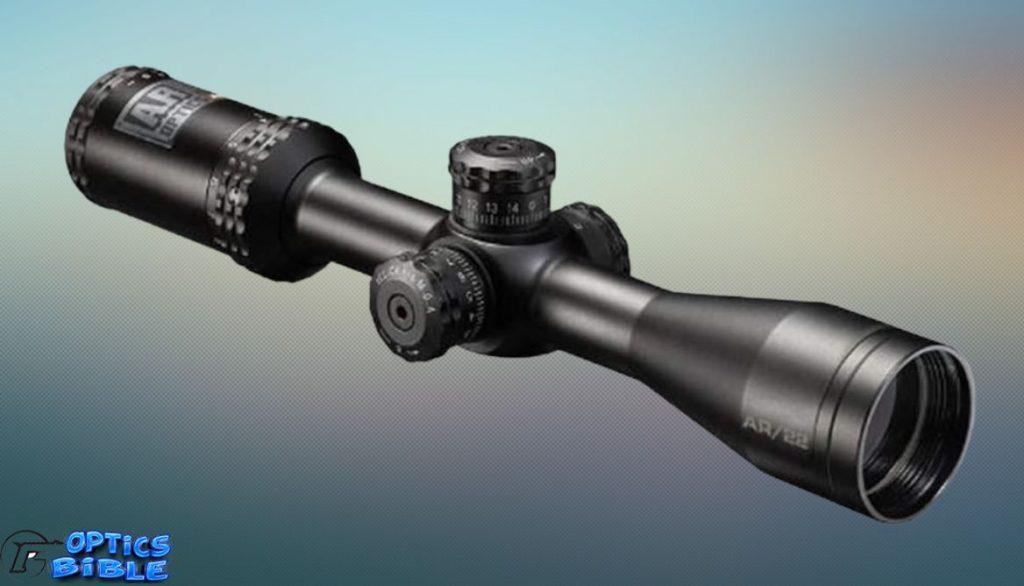 An inexpensive choice for the demanding shooter is the Bushnell 1-4×24 rifle scope. The Multi-X reticle, optimized for intermediate precision, is included in the scope's optical system, and the fast-focus eyepiece expedites the process of zeroing in on the target.
Notable Features:
Inverse parallax
A side focus parallax adjustment is a unique feature of this mid-tier scope. The parallax of side focus may enhance long-range precision.
Because of this, the model is perfect for those who enjoy shooting long-range targets or who hunt varmints like prairie dogs and squirrels.
Magnification options range from 2x to 7x
When shooting at targets from near to medium range, this is another ideal scope to have. This scope's adjustable magnification power of 2x to 7x can help you acquire and engage targets with greater precision. At 100 yards, it still does extremely well, although it's best used for targets at 50.
Unmatched optics for your Ruger 10
The scope's objective lens is multi-coated, as indicated. When using this scope, the clarity and brightness of the images you view will not come as a surprise.
The glass quality is so transparent that the objective lens functions excellently in dim light. The clean sight image it provides is another plus of the rapid focus eyepiece.
Excellent build quality
Straight out of the box, you'll be able to see that this scope is of high quality. A sturdy one-inch tube is used in its construction. A little more than 11 inches is the length of the scope.
With its sleek matte finish, it's the perfect addition to any AR-22 rimfire rifle. It won't rust or scratch easily either.
Super simple to operate
The scope's user-friendliness is another area in which it excels. It's easy to make changes to the elevation and windage because of the target turrets.
By contrast, the BDC reticle eliminates the need for the operator to guess while shooting at greater ranges.
Finally, this range is quite simple to home in on. There is no need to keep track of how many times you have clicked to reset to zero.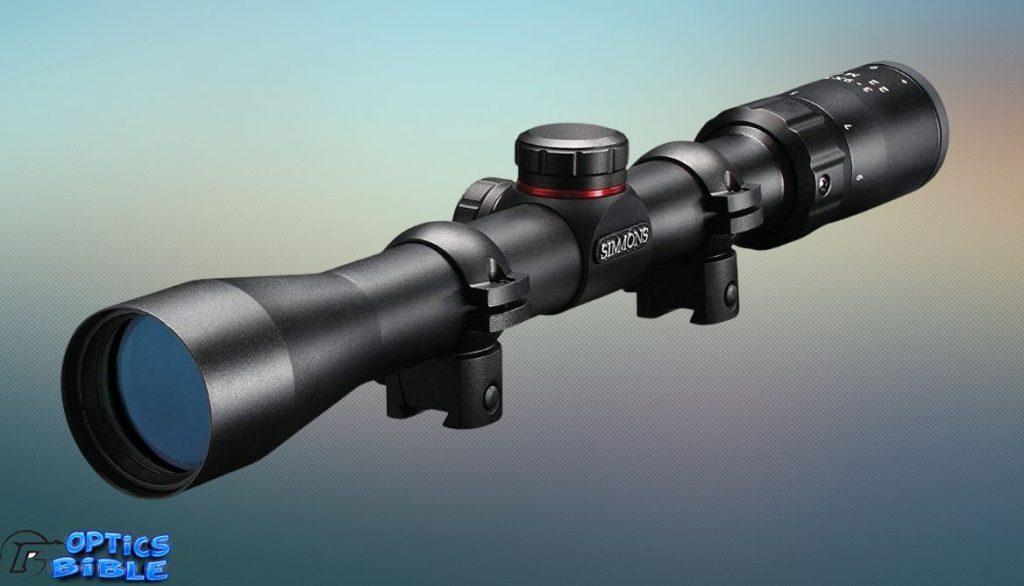 This scope is a part of Simmons' line of high-quality riflescopes, known for their robust construction and extensive set of features. These scopes, with their completely fully multi-coated lens and a full complement of mounting rings, offer exceptional on-game performance, dependability, and value, hunt after hunt.
Using the SureGrip knobs, you can make adjustments with ease, even when wearing gloves and using your Ruger 10. Further, regardless of magnification power, the eyepiece maintains a comfortable 3.5-inch eye relief distance.
Features:
Optical performance that well exceeds expectations at a set price
Even though it is priced in the middle, the optic quality of this scope is not anything to be sneered at. Detailed images may be obtained at 50 yards with this scope. This scope still produces respectable results out to 100 yards.
The fully multi-coated objective lens helps cut down on glare and gives you sharper vision. Additionally, the eye relief is a whopping 3.75 inches.
SureGrip rubber surfaces
The average hunter is the target audience for this scope. A user's constant exposure to the elements, such as rain, is problematic. The rubberized section of the scope makes it much simpler to grasp, especially when wearing gloves.
Due to its quality, this scope is perfect for small game hunting in every season and in all conditions.
Lens protection against water and moisture
The hydro shield lens coating further makes this scope suitable for usage outdoors. Because of this function, the objective lens may still provide a crisp visual image even if it's pouring outside. In other words, its scope can be relied upon to provide high-quality images even in the midst of a monsoon. It is a multi-coated lens that offers the best protection against external variables.
Simple controls for windage and elevation
This scope's windage and elevation controls are stiff but simple to use. Adjustment knobs can be shielded from damage and extended wear using threaded caps. Sealing the glass with a cover can help protect its optical properties from the effects of moisture.
Rapid target acquisition is built into Simmons 511039 scopes
The Quick Target Acquisition (QTA) also known as the rapid target acquisition function is unique to this manufacturer and is included in the rimfire optics for rimfire rifles. All in all, it facilitates simple target-zeroing for the user. At close range, every second counts when it comes to killing the animal, therefore this function is essential.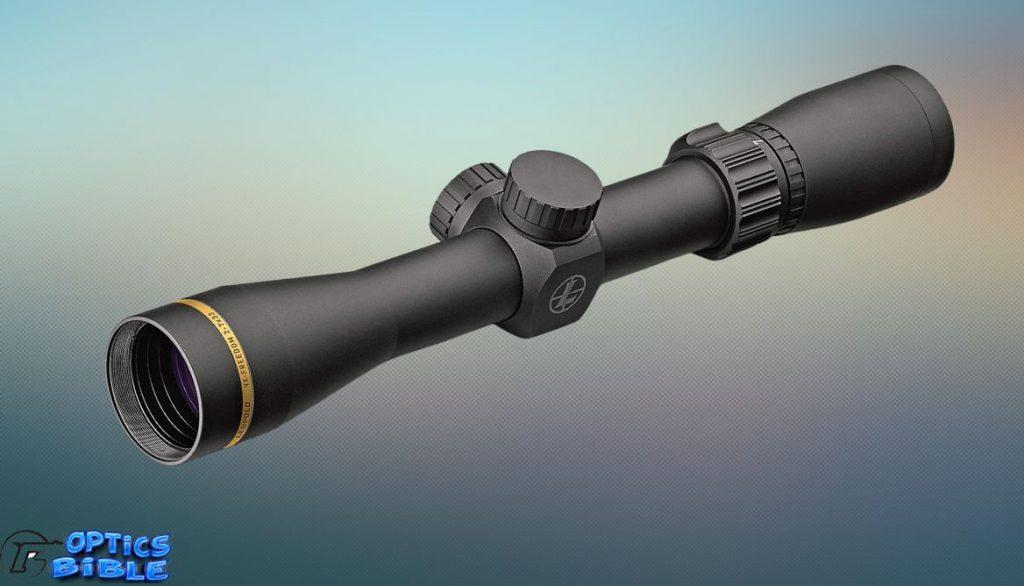 Many hunters and outdoor enthusiasts rank Leupold scope among the top brands of hunting scopes. The firm has been producing and releasing a variety of hunting scopes and accessories for quite some time now. When you take a look at all the Freedom Rimfire scope has to offer, you'll realize why so many experts and amateurs praise it as the greatest.
Reasons to buy the Leupold VX-Freedom Rimfire Rifle scope:
American Made – Quality is what we deliver!
The fact that they don't stop there is also a big deal and makes their scopes one of the best scope for Ruger 10 on the market. You may rest assured that only high-quality materials and workmanship went into the making of this scope, as it was made in the USA. This rimfire scope was made in the USA, so your purchase will go directly toward helping local economies and people.
Controlled lighting system
You should realize right off the bat that the optics on this scope are unparalleled. You can count on getting a clear picture of your prey or target regardless of the lighting or weather conditions. And the Twilight Light Management system is largely responsible for this. This technique achieves perfect harmony between light transmission, glare reduction, and contrast in the final product to provide a clear picture in any lighting condition.
Many people believe that the Diamondback Scope is the best scope the business has to offer. The scope's adjustable magnification and extensive viewing area make it well worth the additional cost. It allows a lot of light through, so it may be used both during the day and at night. This Vortex Optics Model employs a premium precision-glide erector mechanism. This makes it such that zooming in and out is simple for the user.
Some amazing scope features are as follows:
Rugged
You should look for a rugged optical system in your scope. Specifically, this one. It has a 30mm tube that is seamless. The device can withstand a significant amount of force without breaking. The nitrogen purging process ensures that this quality scope is impervious to moisture and fog. In this way, the rifle scope may be utilized reliably in any condition.
Superb image
When going on a hunt, it's important to have a powerful quality scope that can deliver crisp, clear images. Poor image quality makes it harder to focus and take a clear picture. You won't have any problems at all with this. The scope's multi-coated lenses provide a clear image no matter the lighting conditions.
Precision
Check out the exposed turrets and parallax knob while you're at it. The windage and elevation may be readily adjusted to suit your needs. With the turret's easy adjustment system, you can fine-tune your aim in a flash and fire off a shot without wasting time.
Extended range
Keep in mind that this item performs best at long range. This red dot sight is ideal for long-range shooters. It's ideal for longer shorts because of its 4x magnification range of the objective lens. Those who plan on performing a lot of precision shooting from long distances should go with this option.
All Nikon Prostaff scopes, including the Rimfire models, were upgraded in the coming years. The key feature of the revision was the implementation of zero-reset turrets and improved coatings.
The zero-reset turrets and enhanced lens coatings improve light transmission, and the shooter may sight in and then return the scope to zero using the adjustment ring.
The Nikoplex BDC reticle and 50-yard parallax are standard features of the Nikon Prostaff Rimfire model. You may have noticed that the ocular end of recently released models comes with a square sticker indicating that it is an upgraded version.
Scope Features:
Design for multi-coated optics
This is a unique selling point of this scope that sets it apart from similar products. The practically perfect light transmission of this quality scope allows for vivid, high-contrast image quality.
The multicoated optical design of the scope allows for clear views even when the sun has set.
Huge relief for the eyes
There is a lot of room for eye relief, at 3.6 inches, in this Nikon ProStaff Rimfire scope with a BDC reticle.
This feature makes it simple to grab your rifle, mount your scope, and determine your eye relief. In addition, the eye relief of 3.6 inches makes it highly unlikely that the scope's end would fly off and smack you in the face during recoil.
The magnification range Is 3x-9x
This scope's magnification ranges from 3x to 9x, which pairs well with its 40mm objective lens. Scopes of this reputed power are excellent optics for use at both far and close range. Most people would agree that even at 9x magnification, the scope provides satisfactory quality.
Incredibly user-friendly, this Nikon pro staff 3-9×40 mm scope for Ruger 10
The Nikon Prostaff 3-9×40 mm scope's user-friendliness is another key feature. This Nikon pro staff scope is easy to use even for those with no prior familiarity with optics. For instance, the windage and elevation controls make a distinct click and noise when turned.
Hardened and robust
This scope for Ruger 10 is built to survive the harshest of environments. The item is resistant to moisture, fog proof, and impact resistant. The scope lenses are durable enough to be taken outside without fear of damage from the elements or accidental drops.
The Athlon Neos line of scopes is an excellent choice for anyone looking for a budget-friendly but high-quality first scope. The 3-9x40mm version comes with an eye-etched reticle, so it should be compatible with just about any rifle.
Being a multi-coated lens and made of aircraft-grade aluminum, this lens is something that is a steal for its price tag! The BDC 500 IR has bullet drop compensation indications to help you hit your target with more precision. The BDC 22 RimFire is a dedicated rimfire rifle scope.
Multi-layered protected lenses
Multi-coating has been added to the already-bright 40-millimeter objective lens to further increase light transmission. In bright sunlight, this helps lessen reflections and glare.
No matter the weather or other factors, the Athlon Neos will perform admirably. An additional layer of protection against fogging in cold and humid conditions is provided by the nitrogen-purged tube. The scope is protected from moisture thanks to its airtight construction.
Etched glass reticle
All of our glass-etched reticles are designed to last and perform at the highest levels of precision. As the reticle is fixed in the SFP (Second Focal Plane) sight, the magnification may be adjusted without affecting the reticle's position.
The scope's tube, made of aircraft-grade aluminum, is as sturdy and lightweight as the rest of the instrument. In comparison to multi-piece tubes, the single-piece tube's structural integrity and moisture resistance are superior.
Rimfire Scopes: Key Features
Rimfire scopes are best at short ranges and they can have a parallax that could be in a range of 25 to 50 yards. Some Advantages of the best scope are as follows:
Compact Design
Compared to scopes on regular rifles, scopes are more compact since they are shorter, lighter, and have smaller objectives. This modest form factor is a better match for the proportional needs of a rimfire rifle's smaller frame.
Parallex Free (Parallex Adjustment at 50 Yards Range)
Shots from a rimfire rifle tend to be closer to the 50-yard range than the 100-yard range, hence scopes are typically calibrated to be parallax-free at 50 yards rather than 100 yards for long-range shooting. Hence, parallax adjustment is a crucial part of the process.
Affordable
While $150 will get you a decent regular riflescope, that same amount will place you in the upper echelon of the rimfire scope market. This is the secret to the best budget scope.
The manufacturer of a centerfire scope has no idea whether it will be mounted on a.22 Hornet or a 300 Remington Ultra Magnum, thus the budget scope has to be overbuilt to accommodate either caliber.
The best scope for Ruger 10 is calibrated for use with rimfire ammunition, which is known for its low recoil.
Versatility
Rimfire shooters have never had so many optics to choose from for their guns. Some of the most common types of models are 4x fixed power and 2-7x variable power.
When shooting at short distances, some rimfire shooters and hunters prefer the convenience of a reflex sight.
Focal Planes and Reticles for Target Shooting
Your ability to shoot accurately at longer distances will not be compromised by the small size of the rimfire scope because of the inclusion of a 2nd focal plane. The 8mm exit pupil found on many of these tiny scopes allows for a higher degree of sharpness and contrast. The field of vision of this .22 rifle scope is 32.4 feet at 100 yards, making it ideal for longer shots.
Since the 1980s, reticles have undergone extensive redesign and improvement. The duplex crosshair is one well-known illustration of this concept.
It's denoted by four thick lines that originate at the circle's border and gradually thin out to a tangle of finer lines and hash marks at their intersection. The more precise lines and indications aid in zeroing down on a certain target.
Scope Features such as Rimfires and Parallax
When the crosshairs seem to float in and out of focus, you may fix this with a feature called parallax. Adjusting the parallax is necessary when the sight image is distorted because the target and lines do not lie on the same focus plane within the tube scope.
This is all related to parallax in some way. Extreme conditions, such as shooting at very close range or very far away, reduce accuracy. Because of this, the effect of switching between focus planes is amplified to the point that it serves no practical use.
There are also pre-set models that have a fixed parallax right out of the box. However, manual parallax correction is available on some scopes. If the parallax is set, a rimfire scope can operate without any parallax at medium ranges.
We suggest a variable parallax that can be adjusted from 50 yards down to 25 yards for use with a Rimfire or while hunting small animals (about 20-25 yards). A precision match scope will benefit most from this item. The parallax adjustment has to be higher for longer ranges.
Application for Rimfire Rifles
Rimfire rifles and scopes are usually used for small game hunting or competition purposes. They are some of the most accurate and easy-to-use gadgets on the market. So, if you love to level the field with accuracy and affordability then this is the scope for you.
Magnification
In optics, "power" describes the maximum degree to which a scope may increase an object's apparent size. You may have predicted that this isn't a major factor when discussing Rimfires, and you'd be correct. Having a magnification of 30x would be quite useful for long-range shooting.
The best magnification setting available for a Rimfire rifle is 16x. High-powered choices are unnecessary, in contrast to when employing Centerfire. The most effective scopes are either 2-7x, 3-9x, or 4-16x magnification.
FFP or SFP
When comparing FFP with SFP, each approach has benefits and cons. The first focal plane provides long-range performance, making it ideal for open-country hunters. A second focal plane reticle is visible in low light transmission, making it ideal for hunters venturing into dense forests. There is a place and a time for both systems. The hunter should select a scope that works best with his or her preferred method of hunting.
Mounting Options
Rimfire comes in two very different mounting options namely "Rail mounting" and "base and ring setup".
How to Mount a Scope on a Ruger 10/22?
The Ruger 10 is one of the most preferred .22 caliber rifles around the world. And if take a scope with you to a shooting range for a hunting expedition then it is a whole different story.
Scopes make targeting easier and offer clarity, ease of use, and extreme accuracy. And when you add it to an already accurate rifle then it is fun to use. Let us help you solve the mystery of attaching the best scope for Ruger 10. Here are some easy steps:
Note – Before doing anything. Please make sure that the rifle is unloaded and safe to handle for any other task.
The Rail Setup:
Step 1. Firstly, you need to pull back the bolt handle and lock the bolt by initiating the safety feature. This makes sure that your rifle can be handled without any danger.
Step 2. The Ruger 10 comes with already installed screws for the mount. You need to use an appropriate-size screwdriver that can remove the screw. The scope for Ruger 10 also comes with a ring setup which is a different type of setup.
Step 3. Now the next step involves placing the adapter onto the receiver. You will have to put the screws back without tightening them.
Step 4. Now you need to start tightening the screws on the scope for Ruger 10 without fully doing it. Start with the screw at the front and either go clockwise or anticlockwise. Make sure that all screws are secured properly.
Step 5. Now you need to release the bolt. And make sure to retract it several times. Also, ensure that the bolt snaps on its own. If the bolt is moving properly without any hindrance then it was a success.
Note: If it causes problems then the length of the screws is the source of trouble and would need changing.
Step 6. Till now you would have securely and successfully installed the adapter. Now a scope base and scope can be attached.
Now consult the instruction manual that came with the scope. Check out how the scope and base will be installed properly on the Ruger 10.
Step 7. You have now successfully installed and scope!
Materials
You do not need a lot of materials to install the scope. Most of the things you need are in the stock setup. The items are listed below:
Scope base
Scope ring
Workbench
Vice
Leveler
Degreasing agent
Set of screwdrivers
Attaching the Base
People will tell you that lapping is a good idea for setting up the base and ring to prevent torque issues. If the scope is maintained at an obtuse angle, torque problems can arise.
However, I must now instruct you to track for the correct rings. You can depend on the ring to provide your gun pinpoint accuracy. And no lapping of any type is required for that purpose there.
If you want to be extra careful when screwing in the final bolt, you can use a thread-freezing solution of blue color.
Attaching the Rings
The rings for your rifle are very specific according to the scope. And they will fit exactly according to the scope adjustment. If you have selected a scope then be sure to carefully read about the base and ring setup that comes along with it.
Eye Relief and Scope Placement
At close range, scopes often do not suffer from parallax after being focused. As a result, the gun will recoil more forcefully when the ammunition is shot.
Leveling the Rifle and Scope
This first step is crucial because it sets everything up for success. Use extreme caution when carrying this out. If you hold the Ruger 10 at an angle while shooting, the bullet drop compensation limits it and it won't travel in the direction you expect it to.
Adjust the barrel clamp on the Ruger 10 so that the index is at the level of the barrel. The leveling reference should then be positioned perpendicular to the barrel. Make the necessary adjustments to your Ruger 10 level now.
The barrel clamp must be made level with the micro adjuster now. The scope should be positioned at the base of the rings. The next step is to tighten the screw, but not all the way.
Be aware that you'll need to slide or rotate your scope in rail and base configurations. Therefore, you shouldn't fully tighten the screw.
You should adjust your eye relief now. Remove the Ruger 10 from the vice while holding it in the same steady manner you always have. Now is the time to adjust the breadth of your view.
The scope's field of view will only be complete once you've adjusted it to your eyes. Let the shadow go. They must not maintain appropriate eye relief.
Put your Ruger 10 back on the vice. See to it that the scope mount on the barrel clamp is properly attached.
So, it's time to adjust the turret's level. Take out the turret, and adjust the leveler. Your scope should be set so that the bubble on the reference level coincides with the level on the barrel clamp. Continue to snug up the screw. Give only one or two turns at a time, at most.
FAQ
What size scope should you put on a 22?
The ideal Ruger 10 22 scopes will have a weight of about 12-18 ounces and a scope length of a maximum of 11 to 13 inches.
What scope is recommended for a Ruger 10 22?
Some famous options for the Ruger 10 22 are listed below:
1. Simmons Truplex .22 Mag Riflescope
2. Tasco Rimfire Series .22 Riflescope
3. Crimson Trace Brushline Pro 2-7×32 BDC-Rimfire
4. Vortex Optics Crossfire II 2-7×32 Rimfire Riflescope
5. Bushnell TRS-25 Red Dot
6. Leupold VX-Freedom Rimfire MOA Riflescope
Can you put a scope on a Ruger 10/22 carbine?
Yes, you can attach both rail setups or the ring and base setup on a Ruger 10/22 carbine.
Where do I buy scope rings to mount on my Ruger 10/22?
You can buy the scope rings from various manufacturers and it depends on your budget and need. Some great scope options are as follows:
1. Monstrum Ruger 10/22 Rifle Scope Rings with See-Through Base | 1 Inch Diameter
2. Monstrum Dual Ring Scope Mount Compatible with Ruger 10/22 | 1 Inch Diameter
3. Vortex Optics Hunter 1-inch Riflescope Rings – Medium Height (0.87 in)
What distance should I zero my 10/22?
The typical zeroing distance for a.22LR is between 25 and 50 yards. As could be expected, the drop becomes unacceptable at ranges above 100 yards. If your gun has a non-flat trajectory, like most, you should zero it in at the farthest distance you plan to usually shoot.
What is the maximum effective range of a .22 LR without a scope?
Without the best scope, it is effective up to 150 yards (140 meters) for target shooting, the .22 LR's effective range is typically much shorter. The ballistics of the cartridge makes it difficult to adjust for the significant "drop" after 150 yards. So, keeping the bullet drop compensation in mind is also necessary.
Are There Many Configurations For 10/22?
Among the rimfire rifles, there is a great deal of customization for the 10/22. In 2015, Ruger produced 11 distinct 10/22 variants (not counting dealer-specific models). There were three variations on the Carbine, two on the Tactical, one on the Takedown, and one on the Target, with the Sporter and the Compact only available in a single variation each.
Conclusion
There are many that claim that they are the best scope for Ruger 10 in the market but only you can decide what is best for you.
Before making up your mind keep in mind about important features of a scope. Reticle options, lens quality, build quality, target acquisition, accuracy, performance in dim light, and magnification options are some things you might look at before purchasing a scope!
With a thorough read of our article, you might have decided to invest in the best scope for Ruger 10/22 or red dot right now!
If you loved reading our informative article then feel free to share it among your gun enthusiasts and hunter communities. Or, you can even drop the link on your social media to let others know about the advantages of the best scopes on the Ruger 10!