4 Best 1-Inch Scope Rings for Picatinny Rail: Comprehensive Guide
For those who enjoy shooting or hunting, having a reliable and accurate scope is crucial to hitting your target. The best 1-inch scope rings for Picatinny rail can provide a secure fit even after multiple heavy reoil shots.
Whether you're a novice or a seasoned shooter, finding the right rings can make a difference in achieving precision with your shots. Read on to learn about the top picks, their specs, pros, cons, lapping method, and cope mount types. Let's get started!
An Insight Into the Scope Rings and Picatinny Rail
Here is what you need to learn before diving further:
Picatinny rails can be described as the standard mounting platform allowing the attachment of different accessories such as scope rings.
A scope ring ensures that the tube of the scope is securely held in place on the rail. Not all scope rings can achieve this on other mount systems.
This guarantees accurate shots even during long-distance shooting.
Picatinny rails are famous for their snug fit and consistent mounting system able to withstand heavy recoil and quick installation.
They also improve the precision of your shots while aiming down the sights.
Best 1-Inch Scope Rings for Picatinny Rail: Top 4 Сomparison
Investing in quality scope rings that can fit on multiple scope mount systems is a smart choice. There is a large variety in the market to choose from.
Material used, weight, price, features, and compatibility are some of the major factors that firearm owners will check before selecting the best scope rings. We have narrowed down your choices to the most reliable and top-of-the-line ones. Check out the list below to learn more!
Burris Optics XTR Signature Rings

Modkin 1'' Weaver Scope Rings

AccuShot Picatinny/

Weaver 1-inch Rings

Aircraft-Grade aluminum alloy

Weaver-style and Picatinny rails

Weaver-style and Picatinny rails (21mm)

Weaver-style and Picatinny rails

Weaver cross slot and Mil-Spec Picatinny style Tactical Ring Bases and rails

Precision Rifles, Tactical Rifles, Hunting Rifles, Slug Guns, Muzzleloaders

Hunting, Training, Adventure

Long Range Shooting and Hunting
The Burris Optics XTR Signature Rings are specifically designed for tactical situations. These scope rings offer excellent snug fit for your rifle scope.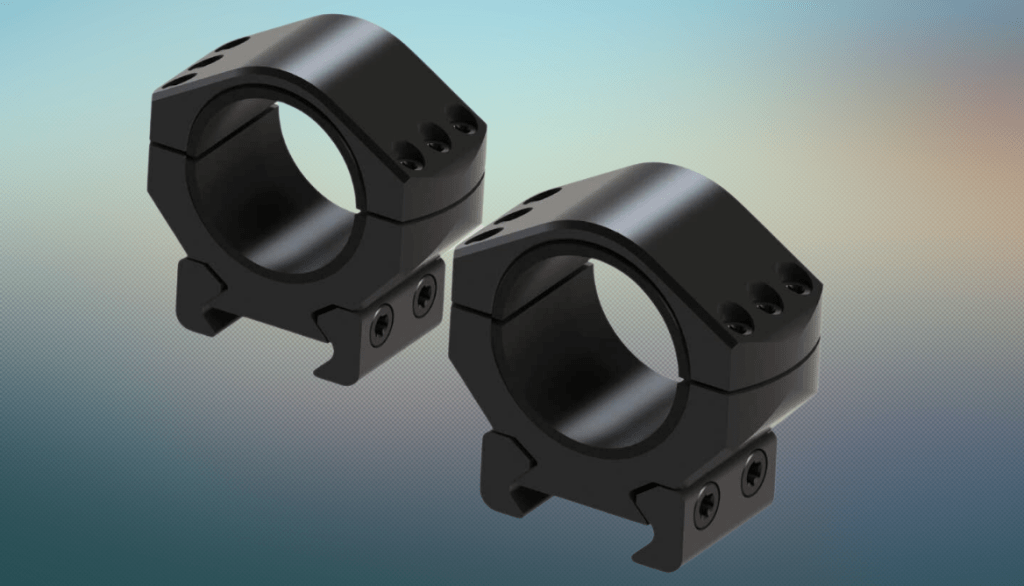 Their build material does not add much weight to your firearm as compared to steel rings. They are best for Precision Rifles, Tactical Rifles, Hunting Rifles, Slug Guns, and Muzzleloaders. Let's learn more about them!
Specifications of scope ring
| | |
| --- | --- |
| | |
| | |
| | |
| | |
| | Weaver-style and Picatinny rails |
| | |
| | |
Pros
Highly cost-effective scope rings for your firearm.
Helps prevents slight misalignments of the scope installed.
Lightweight, durable, and rugged design for a longer lifespan.
These rings are very easy to install.
The ring set comes with MOA-based inserts.
Cons
Exclusively compatible with Picatinny rails but can be used with some weaver mounting rails.
For more details, check out this video.
If you are looking for competitive level accuracy then the Modkin 1" Weaver Scope Rings are your best bet! These scope rings are a crucial part of your inventory when going for hunting, competition, or even if you are training on a mil-spec rifle.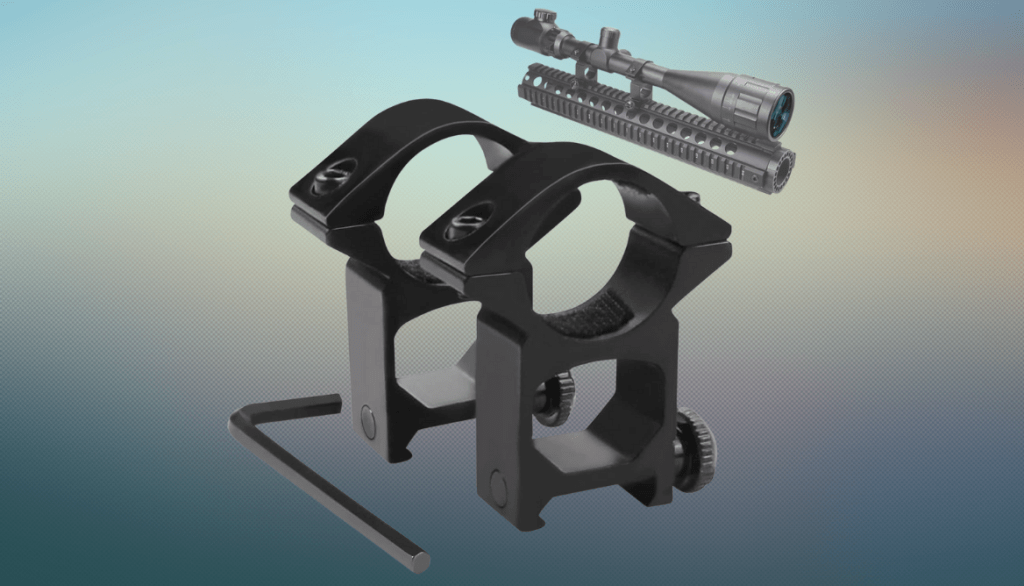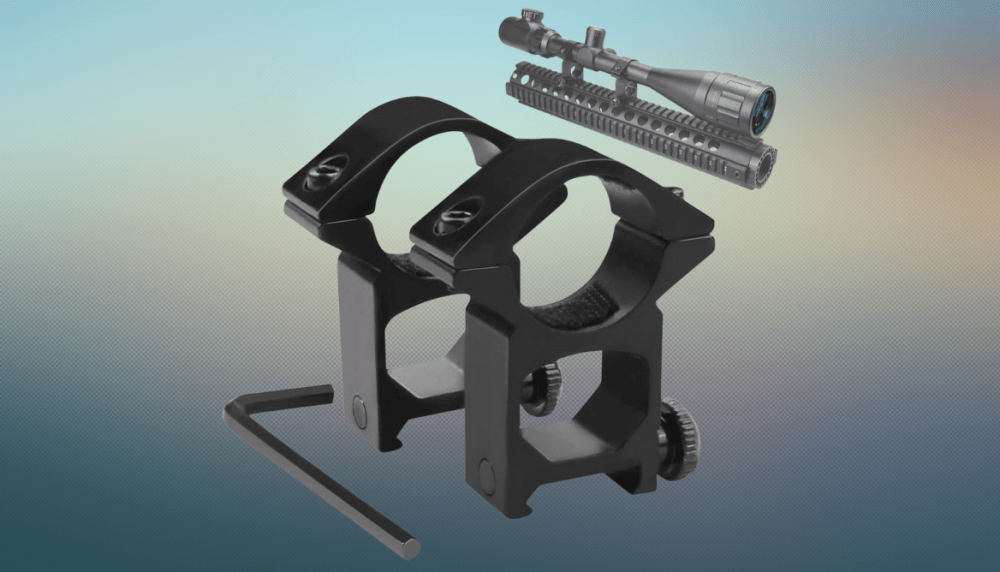 They are best for Hunting, Training, and Adventure. Let's learn more about this fantastic product!
Specifications of scope ring
| | |
| --- | --- |
| | |
| | Aircraft-Grade aluminum alloy |
| | |
| | |
| | Weaver-style and Picatinny rails (21mm) |
| | |
| | |
Pros
Made from high-grade materials for enhanced durability.
The scope clamp screw and rail clamp screw makes attachment and detachment an easy process.
The scope comes with "built-in tape" which guarantees that the scope does not deviate or slide.
While these scope rings are mounted, you can even use the iron sights and scope as per your preference.
They are also perfectly compatible offering enhanced performance with most AR rifles.
Cons
Over-tightening the screws near the scope can result in stripping the mount.
The AccuShot Picatinny/Weaver 1-inch Rings are machined to perfection and applied with a black matte finish with an anodized layer. It is to ensure that scratches and impacts do not damage the scope rings.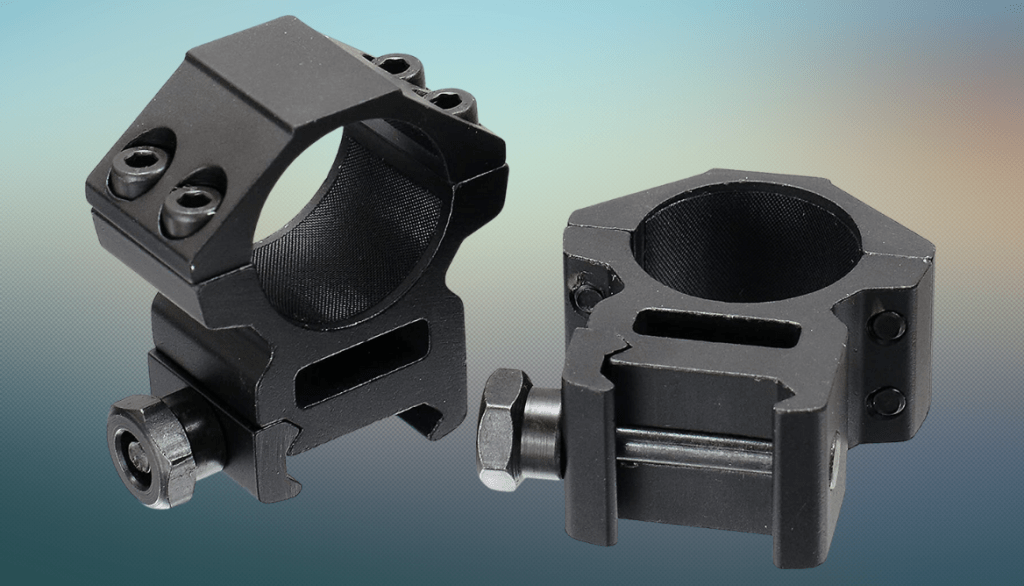 You get hex screws ensuring retention and user-friendly operation. The rings enhance your rifle performance by securely mounting your riflescope with no room for the tube to slip out of place. They are best for Hunting. Learn more below!
Specifications of scope ring
| | |
| --- | --- |
| | |
| | |
| | |
| | |
| | Weaver-style and Picatinny rails |
| | |
| | |
Pros
These rings are excellent in maintaining a perfect zero for a long time saving you time on adjustment and alignment (flexible ring mount).
You can easily install the scope rings without many problems and adjustment after installation is super easy.
The rings guarantee a sturdy fit and help prevent even minor deviations in your scope.
Have the ability to hold well against firearm recoil even after ~100 rounds.
You can expect to invest less and get more after getting these rings.
Cons
The screws might strip out if you over-tighten them.
Here'sa glimpse of these rings.
Known as one of the best scope rings in the market, these medium dovetail rings are a robust ringing system. While most scope rings have only 2 screws per piece the Warne is quite generous in this aspect ensuring a snug fit to assist the shooter.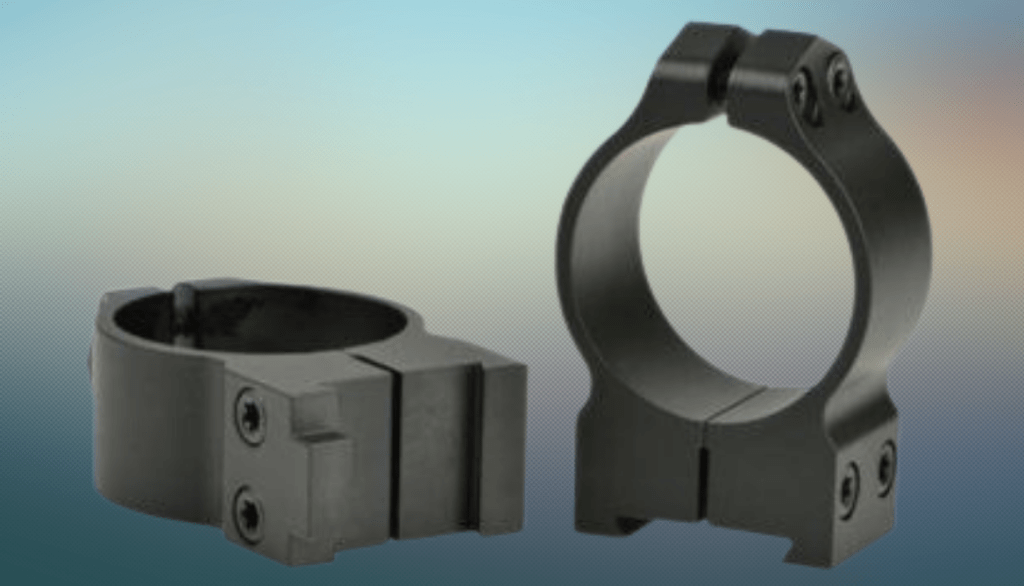 They are specially made for CZ 550 rifles allowing maximum accuracy, utility, and stability when aiming down the sights. They are best for Long Range Shooting and Hunting. Here's more detail:
Specifications of scope ring
| | |
| --- | --- |
| | |
| | |
| | |
| | |
| | Weaver cross slot and Mil-Spec Picatinny style Tactical Ring Bases and rails |
| | |
| | |
Pros
Top-notch build quality using high-grade materials providing excellent compatibility for your rifle and optic combination.
They have a fixed attachment system for ease of use.
Extremely unique design offering enhanced performance.
One of the best mid-range priced rings that offer a sturdy fit for your scope.
The rifle scope rings have 4 screws each that help to hold the tube and can handle recoil without any issue.
Cons
It can only be used on CZ category firearms as scope and rifle combination.
Criteria for Picking Our Best Picks
Picking the best rings for a Picatinny rail made us consider some of the significant factors such as:
Material and build quality,
Compatibility with the rail,
The height of the rings,
Capacity to withstand the recoil
But, we have listed below other most important factors that will help you narrow down your selection from the many varieties of rings available in the market for your firearm. Let's check it out!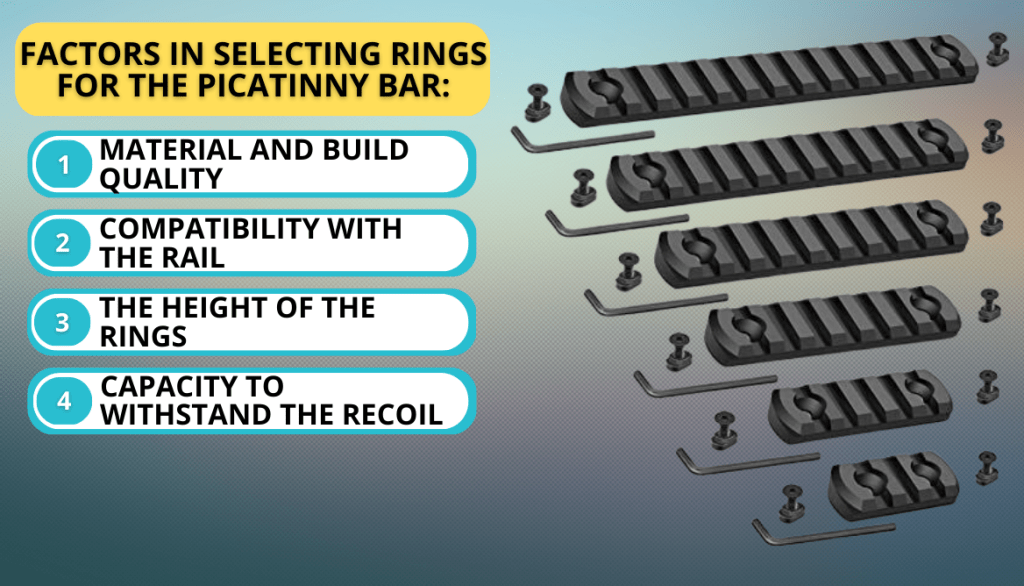 Construction Quality of Product
How well the rings are built is a very critical factor in considering that specific ring for your firearm and Picatinny rail:
The rings are manufactured using different materials such as steel, aluminum, and titanium.
Each type of material has a specific quality and unique characteristics being used for a scope mount.
Example: Titanium is the most durable material to exist and it is lightweight as well, aluminum is very lightweight but not extremely durable, and steel is durable but it is heavy.
Functionality
Here's what you need to know:
One of the main functions of 1-inch rings is to keep your scope firmly in place, preventing it from shifting or moving during recoil or other impacts
Also, many of the rings have features such as quick-detach mechanisms or adjustable height options to make things smooth for shooters.
So, it's important to consider these functionalities before making a decision.
Price
Always remember to never sacrifice performance, quality, and efficiency over price. Most rings are within the price range of a few bucks or a couple of hundred bucks.
While the price may be a very important factor for many, it is not the top priority. Investing in a high-quality ring is better than investing in a low-budget and under-quality product.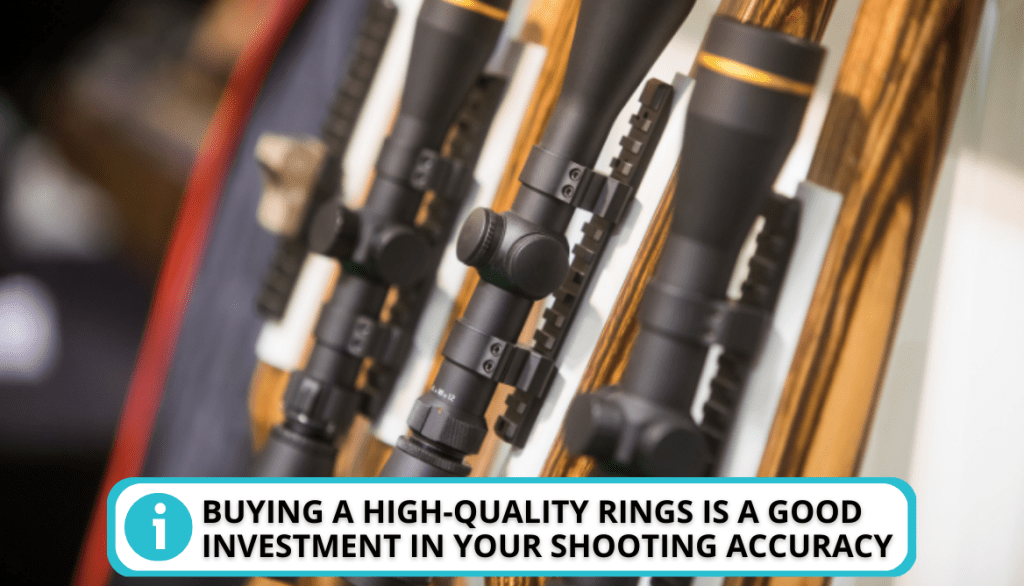 Process of Lapping the Scope Rings (Picatinny Rail)
In case there is a lapping rod in use, lapping is an excessive step that guarantees that your scope is firmly secured and there is less probability for the tube to misalign over time. Here is how you lap the scope rings!
Apply a fine layer of lapping compound in the internal area of the rings.
Make sure to mark both rings with a pencil or grease pen to identify the front and back rings afterward.
This also helps to know which side has to face the muzzle.
Do not make any changes to the configuration of the mounting system. As you want them to be precision matched during the assembling process.
Now, secure the lapping rod into the rings (just like you do with a scope tube). Although, tighten it enough to hold it in place so that it can slide freely as per needed. Note: Do not properly secure it right now.
move the rod in a backward and forward movement couple a of dozen times. This is done to examine "wear" patterns after you have disassembled the lapping rod from the rings.
Redo the process to remove the surface finish (~75%).
For more insights on the Lapping of Scope Rings, you can check out our detailed article (please add a link to that article).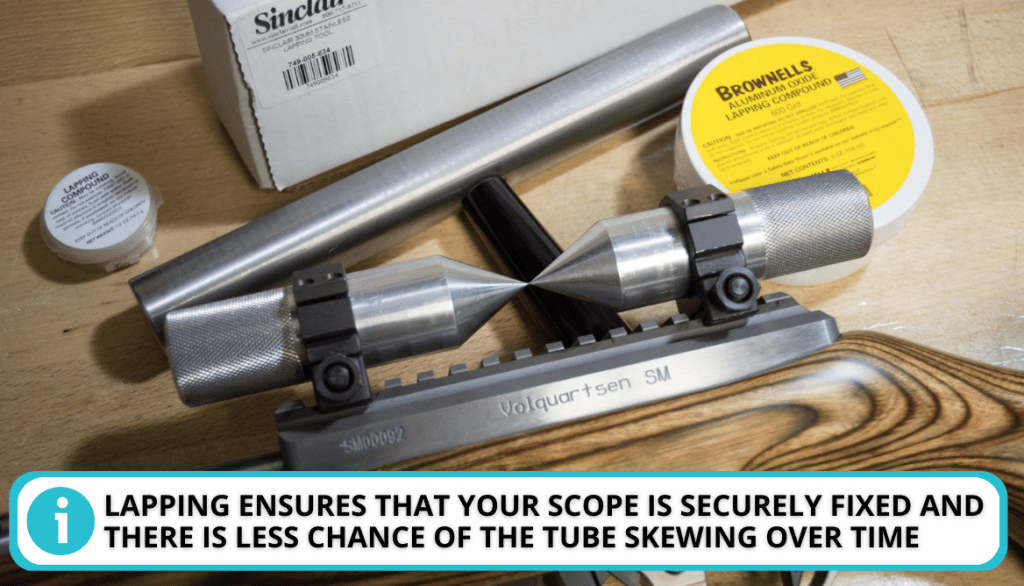 Different Types of Scope Mount
There is a large variety and types of scope mounts available in the market. Each specific model or type fulfills a certain requirement or brings a set of advantages for the shooter to avail. Here are some of them mentioned below!
Specialty Mounts
These types of mounts are very rare in the market as they are precision matched for a specific or special purpose in comparison to a standard mount.
Several brands are designing customized mounting systems for users to efficiently utilize the scope's special attachments.E.g., a cantilever mount that offers enhanced eye relief and the ability to attach multiple accessories to a firearm.
For these mounts, the ring size is standard but the mounting system is highly-customized to tailor specific needs. E.g., competitions, operations in military situations, etc.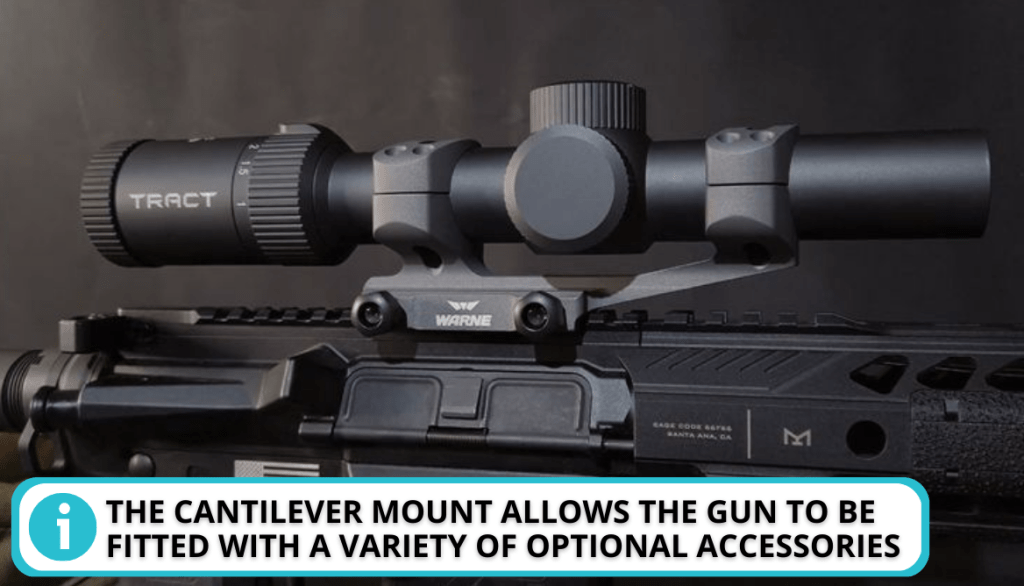 Dovetail Mounts
These types are the most basic and easy-to-use mounts.
You will find them very common for rifles as compared to other forms of firearms.
Two grooves are "miled" onto the rifle's frame and receiver. Then your scope will be attached to these two grooves.
The specialty of a dovetail mount is that they ensure zero interference.
You will not find any dents or spaces that are used to tighten the bolts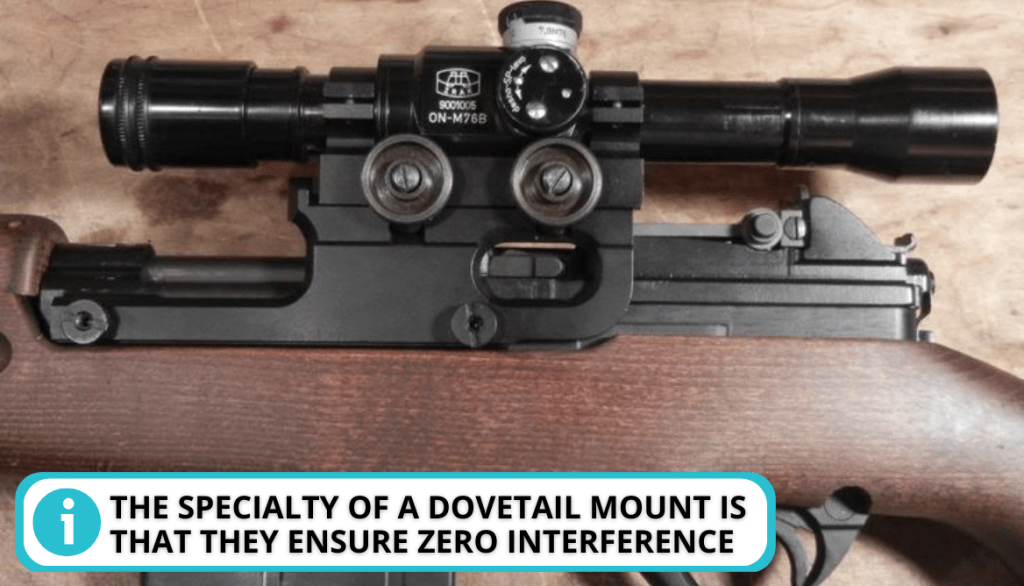 Weaver and Picatinny Mount
These two mounts may look similar but they have very different durability in terms of performance.
You will notice slots cutting across the mounts and much wider edges as well as flat tops.
Weaver mounts are not very versatile and they do not follow a standard design. Instead, you may notice narrow and fewer slots on the rail.
Also, the weaver ring cannot fit into the rail slot of a Picatinny rail.
In comparison, the Picatinny rails are extremely versatile, they are compatible with Picatinny and weaver rails due to the presence of larger slots and a standardized build.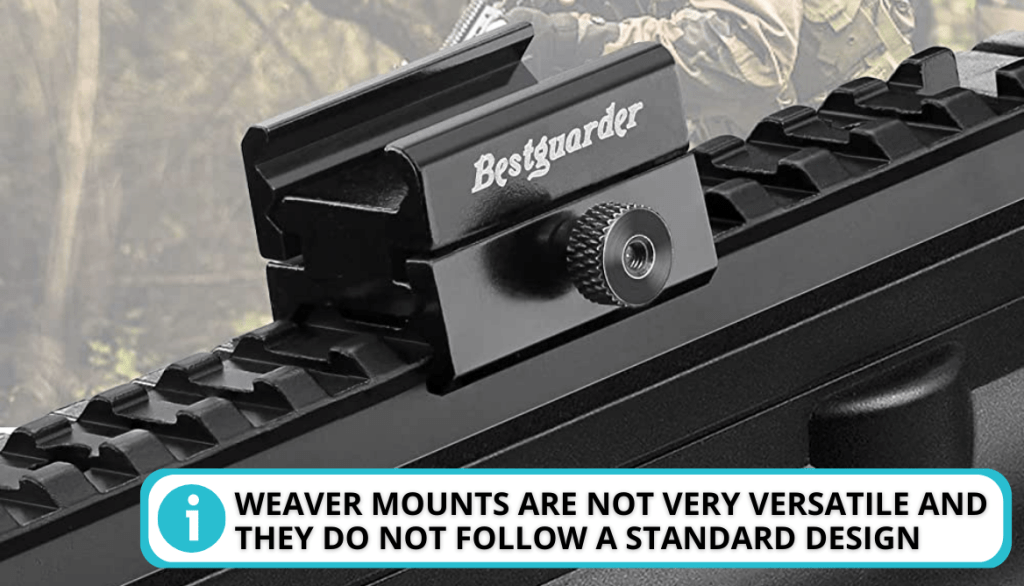 Attachments Rings
On a firearm, two main components go hand-in-hand to attach the scope. The mounting base and the rings. You will find every firearm to have a very specific and different mounting setup and similarly scopes also have different dimensions.
As mentioned earlier in mounts, there are numerous attachments that a shooter can attach to the firearm for a specific purpose. To do so, there are different types of rings you need to use. Let's take a look!
Dovetail rings
Picatinny rings
Weaver rings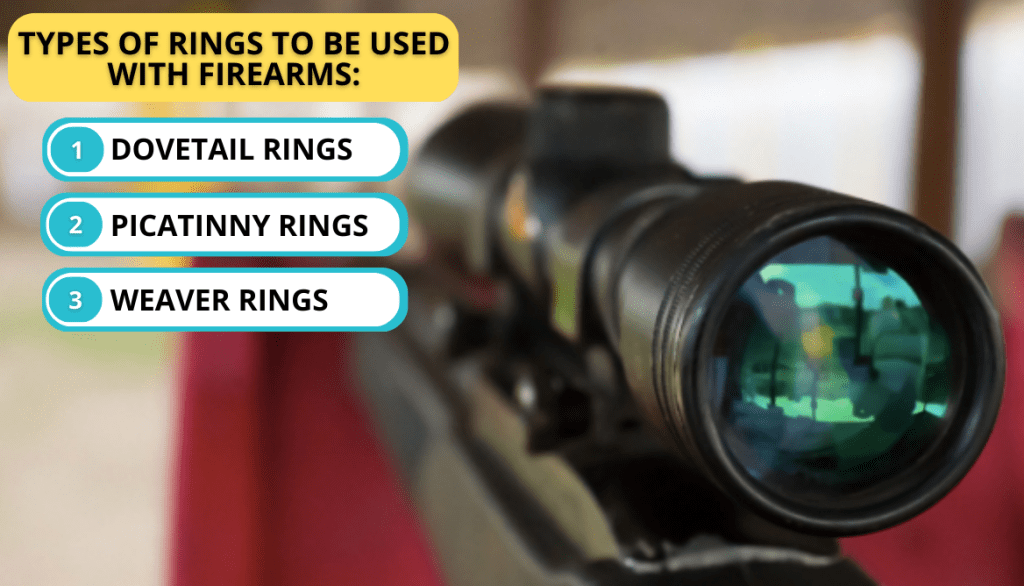 Pro tip: Before buying an attachment, make sure to check the rifle specifications for compatibility with the rings. And, also double-check the mounting type that you are using for your firearm.
Size of the Scope Tube
Scope tube size may vary but the standard sizes most common in the market are 30mm and 1-inch diameters.
You should always ensure that you are buying the correct-sized rings for your scope tube. Opt for rings that fit perfectly.
Small size rings will cause a dent or damage the tube, while larger ones will not hold the tube in place.
Several leading brands have realized the need to manufacture scope rings for the two sizes mentioned above to assist shooters in mounting the scope tube easily.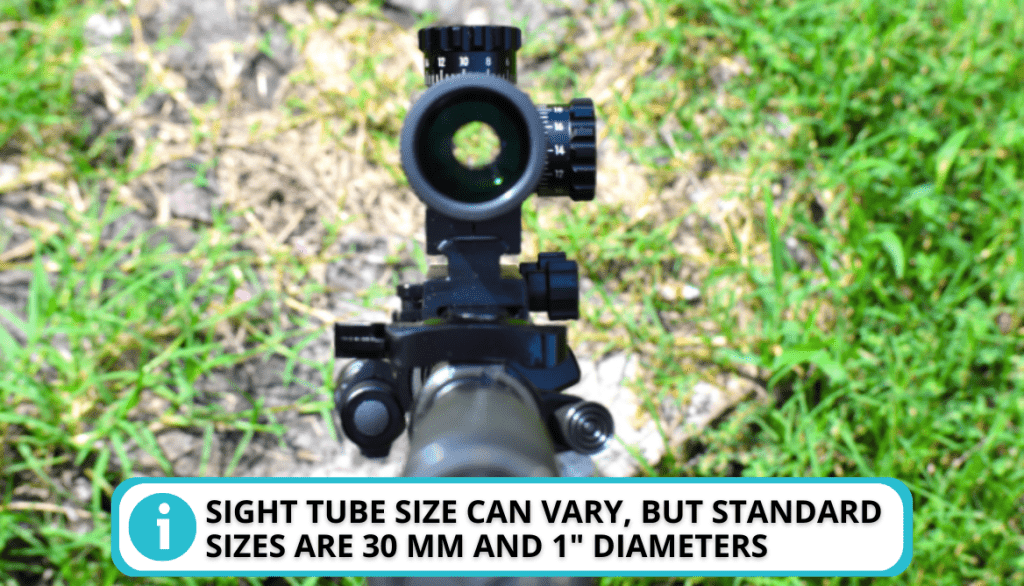 Pro tip: The scope ring should always ensure a "snug fit" meaning there is no space allowance between the rings and the tube. This guarantees the prevention of the scope's minor misalignment due to recoil.
Ring Height for Close or Long Range Shooters
Another critical factor for selecting scope rings is the ring height! If the objective lens is larger then the height of the rings needs to be half an inch (0.5 inches) taller than the objective lens diameter.
Pro tip: Refer to the last number written in the scope's description to have an idea of the best ring height.
Specialty Rings for Rifle Scopes
Some shooters use special mounting bases that require specialty rings compatible with that system. There are some famous rings such as integrated bubble levels, dual-ring attachments, etc.
Verdict
There are many ring brands in the market. To name a few famous options, Seekins Precision Scope Rings, Leupold Rifleman Scope Rings, Vortex Rings, etc are pretty famous among shooters. But, we have narrowed down the choices to the very best!
All the rings mentioned above are excellent choices but we would like to recommend the Burris Optics XTR Signature. Why these rings? Read on!
Sale
Burris Optics XTR Signature Scope Rings
They are precision machined for the best fit on most weaver-style rail and with a Picatinny mounting styles/rail system.
Famously known for their accuracy.
Made from high-grade materials ensures a rock-solid build.
Their unique design ensures that the shooter is safe from recoil even if the scope has a larger objective lens.
FAQ
What size scope rings do I need for a 1-inch tube?
For a 1-inch tube, you need 1-inch size scope rings. The size of the rings should match the diameter of the scope.
Will Leupold rings fit Picatinny rail?
Leupold rings fit Weaver style and Picatinny rails both without any problem. The low profile appearance of the rings is compatible and perfectly fits into the overall rifle setup.
What type scope rings fit a Picatinny rail?
The type of scope rings that fit a Picatinny rail is weaver rings. Regardless, of any type of scope you are fitting, you will need these types of rings.
The angle for a Picatinny rail is a 45-degree angle on the surface of the firearm. A pro tip is to maintain an angular tolerance (45° +/- 20') when setting the rail on the surface of your firearm.
No, all Picatinny rails may not have the same width. But, the standard numbers of the MIL-STD – 1913 rails are equally measured. The width will have a measurement of 0.206″ and the spacing between the slots has a length of 0.394″.
Conclusion
Ultimately, selecting the best 1-inch scope rings is a major factor in achieving traits such as precision and accuracy. But, you also have to consider factors such as build quality, adjustability, and compatibility that fulfill your requirements and go well with the whole mounting setup.
Which scope ring did you like the best and which mounting style do you usually prefer? Let us know in the comments section!