ATN IR850 vs IR850 PRO Long Range IR Illuminator in 2023
In the complete absence of light, we turn blind as our eyes need the presence of light to be able to see. In the case of absolute darkness, while hunting, where there is no presence of light is perceived and our eyes fail to function properly, the need for an IR illumination emerges as they offer visibility.
The IR illuminator is an innovative tool that gives you the ability to be able to see, even in complete darkness. This tool emits infrared light or infrared radiation that the human eye cannot sense, however, a night vision device can.
An IR laminator throws wavelengths that are longer than visible light and can be sensed as a heat source. This heat is captured by a night vision goggle in order to provide a vision.
There are several excellent IR illuminators out there that offer various types of ranges, clarity as well as features and functionalities. Two of the most prominent IR illuminators are from ATN, which are IR850 Pro and IR850 Supernova.
Both of them are highly praised for their excellent performances and functionalities. Keep reading the article to learn about ATN IR850 vs IR850 PRO and to know which is more superior, so that in case of your demand, you can make a better decision on which one to get.
Comparison Table of ATN IR850 Pro vs. ATN IR850 Supernova
| Features | ATN IR850 Pro | ATN IR850 Supernova |
| --- | --- | --- |
| Image | | |
| Construction | Aircraft Grade aluminum | Aircraft Grade aluminum |
| Finish | Hard Anodized | Hard Anodized |
| Lens Material | Aspherical Glass | Aspherical Glass |
| Wavelength | 850 nm | 850 nm |
| Beam Angel | 2.4° | 5° |
| Operating Temperature | -20° C to +40° C | -20° C to +40° C |
| Operation Mode | 4 | 4 |
| Battery | 18650R Rechargeable, 3.7V Lithium-Ion | 18650R Rechargeable, 3.7V Lithium-Ion |
| Runtime | Up to 60 Hours | Up to 60 Hours |
| Waterproof Rating | IPX8 | IPX8 |
| Length | 7 Inch | 6.9 Inch |
| Weight | 10.7 oz. | 11.6 oz. |
| | Check Price | Check Price |
ATN IR850 Pro Long Range 850 mW Infrared Illuminator Review
A smart tool to increase the ability of the digital scope, the ATN IR850 Pro Long Range 850 mW Infrared Illuminator will ensure you an excellent performance by providing you with double the range.
With the benefit of extreme illumination, an ideal solution for long-range, this illuminator also boasts durability as well as ease of use. An illumination range up to 300 meters, even in complete darkness, this infrared illuminator is set to take your night-shooting capability to a whole new level.
It features a high-power LED emitter that makes it a great tool that will surely be a huge upgrade over the stock illuminator you've been using till now. Furthermore, it features four modes of operation which makes it more convenient.
5%, 30%, 70%, and 100%, all four settings can be easily set so that you can have a preferred illumination in any situation. All you need to do is to turn the brightness control right, and you will see the changes in the modes.
These modes also have an impact on the battery level of this product which we will take a bit later. Besides, the construction is also made with high precision as it features very high-quality aircraft-grade aluminum.
Apart from the build, the lens along with the power IR diode is all glass which ensures integrity as well as performance. Because of such a durable design, you can take it to any rugged hunt without worries of any failure.
About rugged conditions, this infrared illuminator is also excellent in any weather condition, especially against rain due to its IPX8 rating.
Due to the O-ring waterproofing seal, water will always remain outside as they have no entry ticket while maintaining solid performance in as low as -20° Celsius.
However, better to keep the O-ring lubricated after 9-12 months so that the waterproofing remains functional. But how long will it operate? Well, as it uses a single lithium 1860 battery which comes with a charger also, the operation duration is well satisfied.
As mentioned before, it comes with 4 operational modes and at 5%, you will experience a battery life of 60 hours, whereas, at 30%, it will operate for around 28. However, if you change the mode to 70%, 7 hours is your time period while 100% mode will only serve you 3.5 hours.
Although, mounting an infrared illuminator can be a bit challenging, but not in this case, thanks to the easy mounting facility. Just unscrew all the screw of the mount which comes with the box.
Place the top part of the mount on top of the illuminator where the lower part will go under. Use an Allen key wrench to tighten up the screws. Now put it beside the scope for optimal performance. However, the application of too much pressure is discouraged.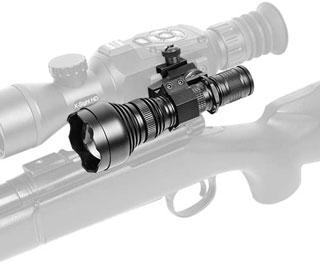 Even though it is made from durable materials, the weight of this is not that much, only 10.7 ounces or 380 grams. While being light, this is also quite compact, as much as 7 inches in length which makes it very easy to carry around without you noticing the heft.
Specifications of ATN IR850 Pro
| | |
| --- | --- |
| Construction | Aircraft Grade aluminum |
| Finish | Hard Anodized |
| Lens Material | Aspherical Glass |
| Wavelength | 850 nm |
| Beam Angel | 2.4° |
| Operating Temperature | -20° C to +40° C |
| Operation Mode | 4 |
| Battery | 18650R Rechargeable, 3.7V Lithium-Ion |
| Runtime | Up to 60 Hours |
| Waterproof Rating | IPX8 |
| Length | 7 Inch |
| Weight | 10.7 oz. |
Pros:
With the 4 operational modes, this infrared illuminator is excellent when it comes to providing illumination in an effective manner. Because of that, even you're running low on the battery, just use 5% illumination for a longer period of usage.
This night vision tool comes with some of the exceptional features that will undoubtedly enhance your experience a lot.
This tool is great when it comes to focusing. With its easy focus adjustment, you can set the focus any time with minimal effort.
Its aircraft-grade aluminum body just excels at any condition. Throw it or use it, impacts will not put a dent in it.
Unlike most other illuminators that come with a complicated mounting system, this does not feature that. Its easy mounting facility will save you time and hassle.
Cons:
Even though, it 4 operational mode is very convenient in any situation, the ring that is used to adjust the modes is not that impressive. Some users have complained about the ring being functional or effective.
What is Included in the Box?
This infrared illuminator also come with few handy goodies within the box, which are;
IR Illuminator
Battery
Battery Charger
Mount
ATN IR850 Supernova Long-Range Infrared Illuminator Review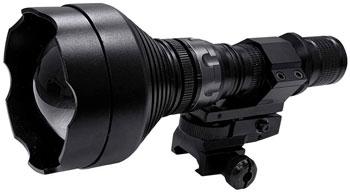 The ATN IP850 Supernova is an upgraded version of ATN's high-performing IR850 pro with a much longer range along with a higher max power range in a longer and heavier form factor.
With the help of more intensity settings, the ATN IR850 is far more superior in comparison to IR850 Pro when it comes to power. With this infrared illuminator, the range you'll get is around 800 yards. Due to its 2200 mW maximum power output, it can cover longer-range effortlessly.
In case of any situation when the availability of light is very low and the game is at long range, this illuminator will get you covered. This illuminator is expected to enhance your range by 4 to 5 times in comparison to any standard IR blasters.
Just like the ATN IR850 Pro, this also comes with 4 operational modes that can help you in several situations. Able to illuminate at 5%, 30%, 70% as well as 100%, no matter how much illumination you will need at any hunting condition, you will get the most practical output.
Speaking of hunting, conditions can be very tough in the jungle. To able to withstand all the hassle of the hunting needs, its Aircraft Grade Aluminum construction is done keeping that in mind.
With the added reinforcement of a hard-anodized finish, the durability of this illuminator is top-notch. Besides, its aspherical glass lens will help you to correct focus aberrations while maintaining structural integrity.
Not only the durability is important, but also the operating duration. And therefore, just like the IR850 Pro, this is also equipped with a singular 18650R battery that will serve you long enough.
However, the duration will immensely depend on the mode you're operating at. At 5%, you'll get a battery life of 60 hours whereas 100% output will serve you for 3 and a half hours.
Moreover, most users complain about how complicated it can be to mount an illuminator which the IR850 Supernova solves flawlessly. With just an Allen key, you can easily unscrew all the four screws of the mount and put them all together within a few minutes. However, better not to put excessive pressure.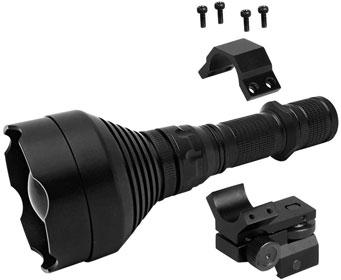 Besides, hunting in the open will leave you exposed to the natural elements, and rain or water is one of them. So save this infrared illuminator from water, it comes with an IPX8 rating which ensures water protection.
The O-Ring seals the components tightly so that the water cannot get in. But this is something that should be maintained well. Lubricating the O-Ring at regular intervals will ensure long-term waterproofing.
Even though this illuminator features some excellent functionalities, the size isn't a killer. With a much subtle length of only 6.9 inches as well as a weight of only 11.6 ounces, this IR illuminator is easy to carry.
Carry with your rifle or carry in your hand, you will barely notice the tool which makes it very convenient in any survival condition where light and fast-moving is vital.
Specifications of ATN IR850 Supernova
| | |
| --- | --- |
| Construction | Aircraft Grade aluminum |
| Finish | Hard Anodized |
| Lens Material | Aspherical Glass |
| Wavelength | 850 nm |
| Beam Angel | 5° |
| Operating Temperature | -20° C to +40° C |
| Operation Mode | 4 |
| Battery | 18650R Rechargeable, 3.7V Lithium-Ion |
| Runtime | Up to 60 Hours |
| Waterproof Rating | IPX8 |
| Length | 6.9 Inch |
| Weight | 11.6 oz. |
Pros:
The construction of this IR illuminator is exceptional. The Aircraft-Grade Aluminum ensures no matter how rough you go with this, it will withstand that easily. Also, the hard-anodized finish makes this attachment even more powerful and durable.
It is featured with an excellent LED which is able to emit an extremely powerful beam. This beam will ensure you a longer range compared to other models that will help you to acquire a target at a higher distance.
Its IPX8 waterproofing is extremely convenient. This makes it an ideal solution where the presence of water or rain is very predictable. In case you're hunting besides a lake or a rainforest, this will serve you flawlessly.
This is very versatile due to its adjustable operational modes. Depending on your own preference, just adjust its functionality according to any mode that suits the best which will give you the most efficient performance. The modes also enhance the battery life.
This illuminator comes with a decent runtime. At the lowest setting, you will experience a run time of 60 hours.
Thanks to its easy mounting system, you can mount this your rifle effortlessly and quickly.
Cons:
Based on a few users' experiences, the mount is not supported with limited number of rails which can be less convenient.
What is Included in the Box?
This infrared illuminator also come with few handy goodies within the box, which are;
IR Illuminator
Single Lithium Battery
Battery Charger
Easy Rail Mounting System
ATN IR850 Supernova VS ATN IR850 PRO
Both the products of ATN, the IR850 Supernova and the IR850 Pro are excellent illumination tools that will enhance your nighttime hunting and shooting capabilities.
In any given situation, where the presence of light is near to none and the night vision sights are failing to function properly, both of them will perform excellently with their most convenient features as well as functionalities.
However, even though both of the products are technically the same, differences are noticed in the case of performances as well as specifications. Based on the features and abilities, both differ on several scales.
Despite the presence of difference that can be said to be very subtle, the slight edge that the IR850 Supernova gives above the IR850 is crucial in demanding conditions.
So, here are a few of the differences that we've noticed while using both the ATN IR850 Supernova and the ATN IR850 PRO side by side;
Range factor Difference
The range is a huge differentiating factor while comparing these two. In the case of range, the supernova is a clear winner with its much higher range, which is ideal for longer range shooting. The IR850 Pro has a range of 400 yards whereas the IR850 Supernova has a range of around 800 yards, around double the capability of the IR850.
Besides, while comparing to any other standard infrared illuminators in the market, the IR850 Pro will double up your range where, on the other hand, the IR850 Supernova will increase your range to 4/5 times.
Beam Angle
Moreover, the IR850 Supernova has a beam angle of 5° whereas the beam angle on the IR850 pro is only 2.4°. Because of the higher beam angle, the beam of the IR850 supernova will have a greater field of view compared to the other one.
This gives a significant edge to the IR850 Supernova over the IR850 Pro as you will see more with it. The Supernova will ensure you enhanced visibility that the Pro will fail to offer and therefore, while hunting, the hunt will be on your radar more.
Easy to carry and who is the Lightest
The IR850 Pro is a bit lighter than the IR850 Supernova. While Supernova weighs 11.6 ounces, the weight of the Pro is around 10.7 ounces, almost an ounce less than the other. This makes the IR850 Pro comparatively easier to carry around while mounted on your rifle as well as while carrying in hand.
Size Comparison
When the size is in caparison, they are almost identical. However, the length of the IR850 Pro is around 7 inch whereas the length of the IR850 Supernova is 6.9 inches, which makes it a tad bit compact. Although such a difference will not impact much on the convenience of the product, the impressive size of a longer length within a lighter form, the IR850 Pro surely deserves credit.
Battery and Mount
Although the IR850 Pro is an excellent infrared illuminator, the users have repeatedly complained about the loose fit of the mount as well as the battery issues with some models. In the manual of the IR850 Pro, it is mentioned that the output may not be consistent with any other rechargeable battery other than the provided ones.
However, in the model of IR850 Super, such issues are expected to be resolved. Even though there are still complaints regarding the mount on the Supernova, the battery issues are experienced to be resolved.
However, the issues with the mount are comparatively less vital this time as fitting is much better now. The only problem is with the versatility of the mount which is still limited.
What IR light comes with ATN 4K pro?
With the ATN 4k Pro, the ATN IR850 within the box. Other things that come along with the scope as well as the IR illuminator, are;
Sun-Shield
Mounting Hardware
Batteries
The whole package makes it very easy for anyone to start using the scope right away, without the need for anything else as most of the essentials are provided. Everything you need to mount on a rifle, everything you need to hunt in the night all are provided so that you can be as ready as you need to be with the scope.
What is an IR illuminator?
An infrared illuminator, also known as an IR illuminator, is a tool that is essential for nighttime hunting. It's like a flashlight that a naked human eye cannot detect, however, a night vision device can surely.
What an IR illuminator does is, emits light which is in the infrared spectrum which also can be called infrared radiation. This light has a wavelength that is longer than any other visible light and this can be exposed as heat.
This heat is then captured by a night vision device, either a scope or a goggle. And this is how, without any presence of light, with the help of an IR illuminator, you can see in the complete darkness with the help of any night vision device.
Where do you put IR illuminator?
In order for the IR illuminator to perform the most optimally, it is highly recommended to put the IR illuminator as much as close to the scope.
It should be ensured that the beam of the IR illuminator is parallel to the line of sight of the scope so that they both can work together perfectly.
So better to put the IR illuminator beside the scope. Most of the IR illuminator comes with a mounting ring which makes it easier to mount the tool there.
What's the best IR illuminator?
There are several good quality and high-performing IR illuminators available in the market. However, not all of them are the best but some come superior compared to others and vice versa.
After using a lot of the IR illuminators for the past few years, the ATN IR850 Supernova is what we consider to be the best IR illuminator that can be found in the market at the moment.
This IR illuminator has an excellent range which is ideal for long-range visibility and precision. The build of this tool is exceptionally durable and rugged. Besides, it is also IPX8 waterproof.
No matter what's the weather condition is, it will perform as neatly as expected. Also, the four operating mode makes it highly battery efficient. These are the reason why this is, what we consider the best IR illuminator.
What are infrared flashlights used for?
IR flashlights have several valuable purposes and they can bring quite a lot of benefits to our daily activities. Most importantly, IR flashlights are used in security cameras where the presence and the movement of burglars are noticed as recorded.
Another use of IR flashlights is in nighttime hunting or monitoring where animals are monitored or hunted in the dark of the night. As IR illuminators will ensure you great visibility even when there is no presence of light, they are excellent not to scare animals away.
Also, law enforcement personnel use IR flashlights for security purposes, mostly in near to no-light scenarios.
Conclusion
Both the IR850 Pro vs. IR850 Supernova are two of the best IR illuminators out there, available in the market. However, in comparison of both, the IR850 Supernova gets an edge due to its longer range, wider field of view, less issue facing as well as reliable performance.
Both of them can be noticed as identical twins, but differences are present and they can be crucial. With that being said, the IR850 Pro is by no means a bad product whatsoever.
Both of the products are their own distinctive features, are made to attract people with different needs. It solely depends on you to look for which characteristics want in your IR illuminator and make the best purchase decision.
Hope this article gave a better understanding of IR illuminators as well as which ones are the best and which ones to choose. Check our other coverings on optics and hunting so that you can have better understandings of other areas as well.