300 Nomra vs 300 PRC: 5 Parameter-Based Detailed Comparison Guide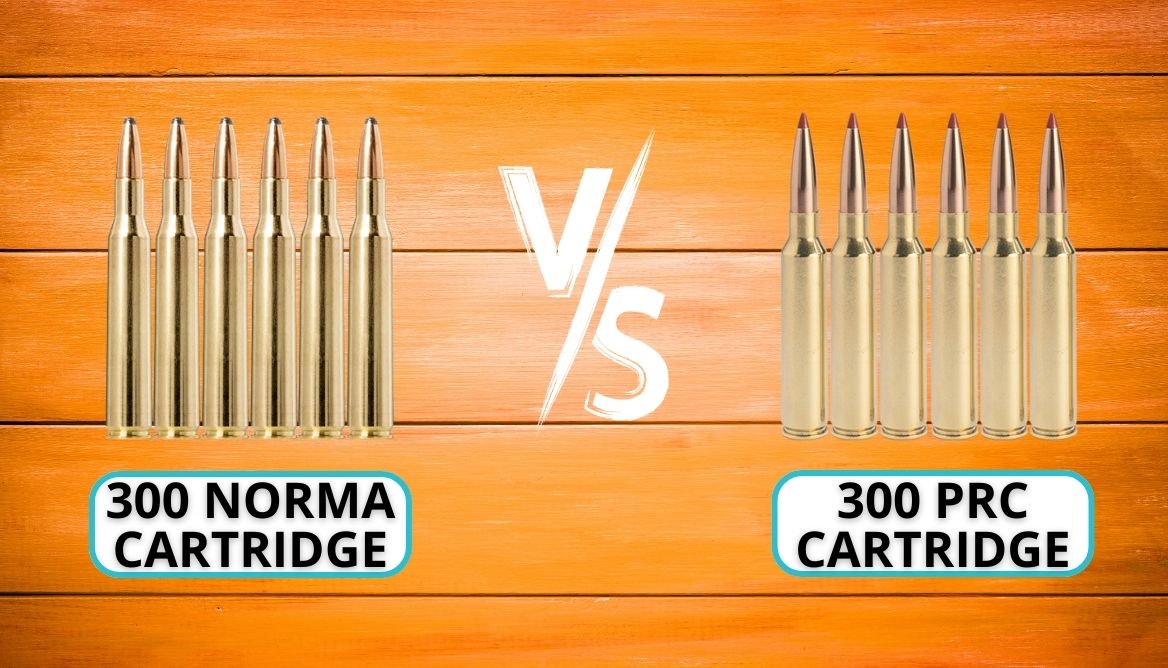 Are you struggling to decide between the 300 Norma vs 300 PRC cartridges for your shooting needs? No need to worry, as we aim to provide you with a definitive answer.
So, continue reading as we will dive into the specifications and performance traits of both cartridges, enabling you to make a wise decision. So, what's the wait? Let's get right into it!
300 Norma vs 300 PRC
Both these ammunition options have their unique characteristics and applications despite being almost the same bullets.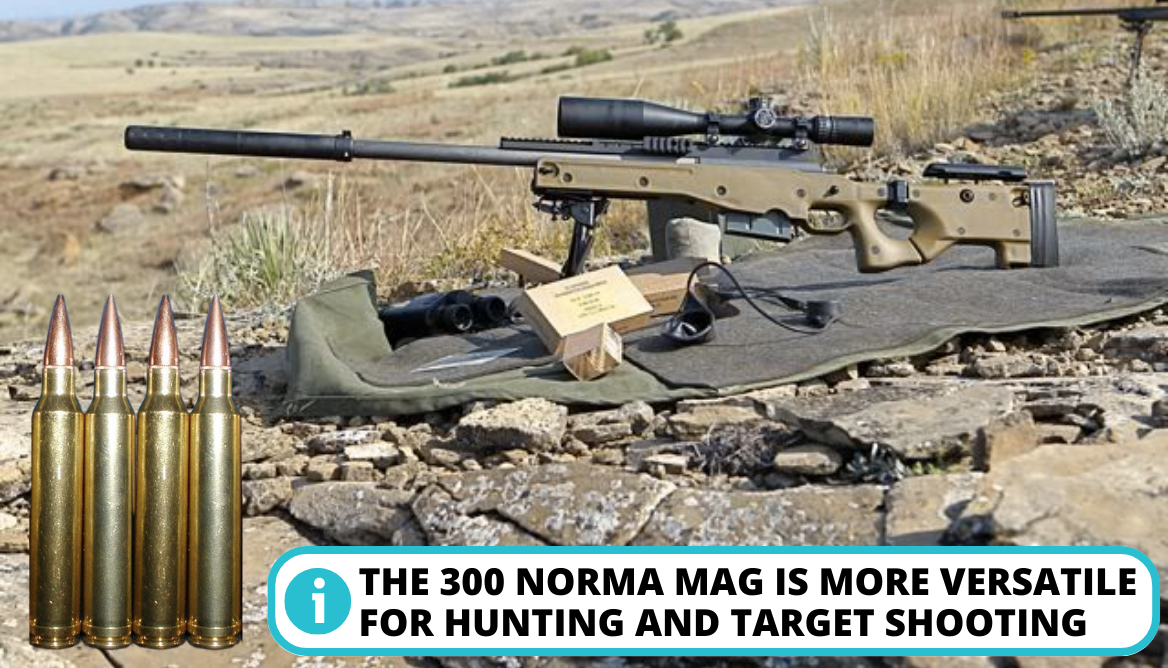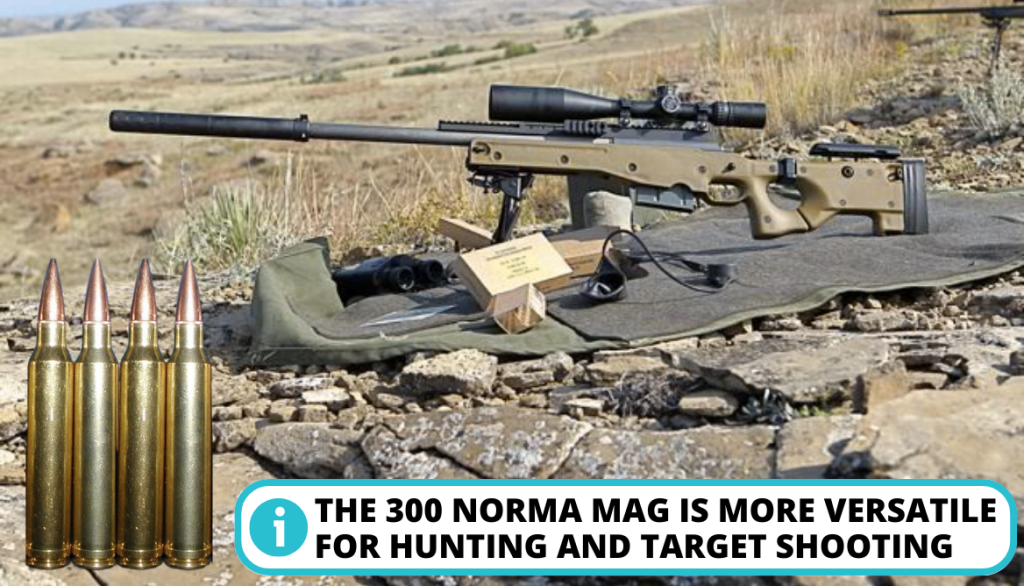 The 300 PRC is a relatively new cartridge. If you are in search of ammunition for target shooting, it proves to be an excellent choice.
On the other hand, the 300 Norma Mag is more versatile for hunting and target shooting. It has high muzzle velocity and less bullet drop.
Later on, we will explore the ballistics of these rounds, comparing their trajectories, recoil, accuracy, etc. So, stay with us to discover more!
Cartridge Specifications
Now, let's shift our focus to the specifications of both the cartridges:
300 Norma
300 PRC
Exploring Ballistics
Here are the ballistic characteristics of both the factory ammo:
300 Norma
300 PRC
5 Different Performance Traits – Which is Better for Long-Range Shooting?
When it comes to performance traits, both these factory rifles exhibit various aspects that contribute to their overall effectiveness. Let's now explore them in detail:
1. Recoil: 300 Norma vs 300 PRC
The recoil of a firearm is an important consideration for shooters as it affects accuracy and comfort. In terms of recoil, both the 300 Norma and 300 PRC cartridges generate a significant amount of energy. It is because these are heavier bullets with high powder capacity. They are of the same caliber as well.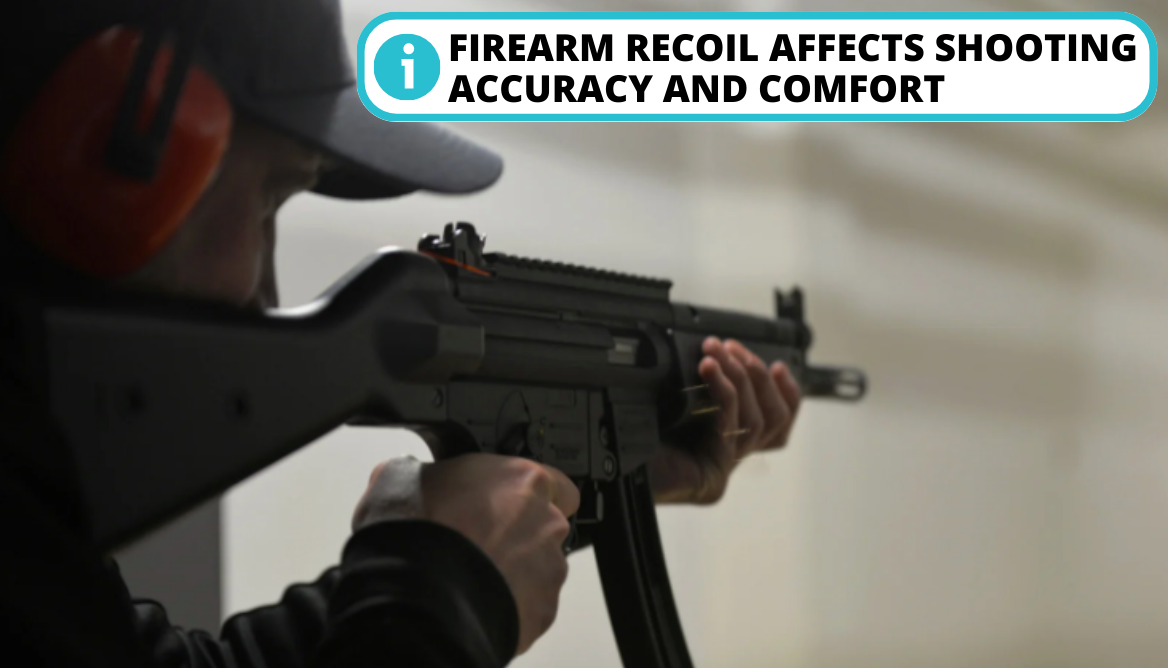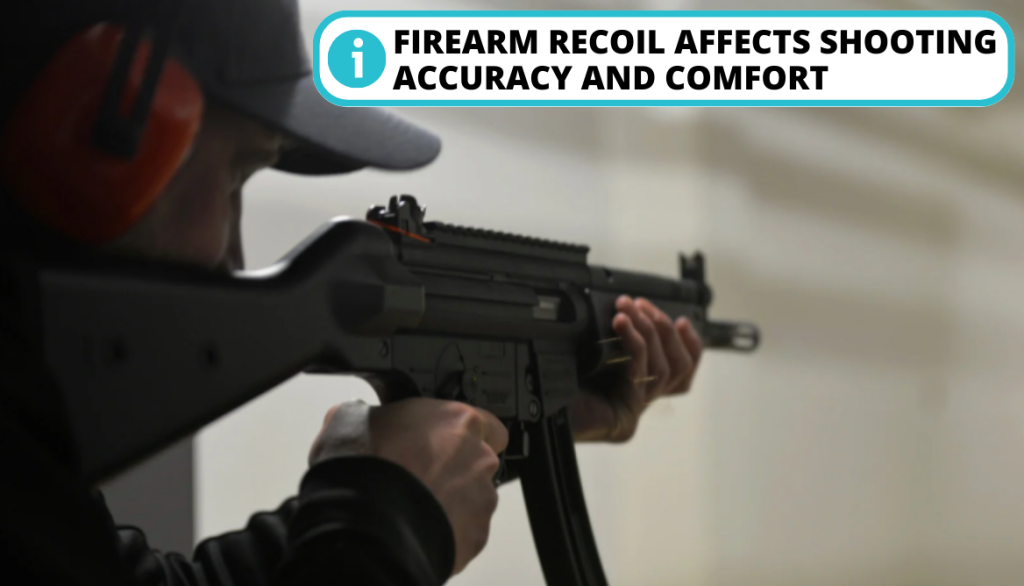 300 Norma
The 300 Norma produces substantial recoil due to its high velocity and energy. Shooters using such firearms are going to experience a noticeable recoil impulse on extreme ranges. But it can be mitigated with proper shooting techniques.
300 PRC
On the other hand, the 300 PRC cartridge also delivers a stout recoil. Although it is slightly more manageable compared to the 300 Norma. Its recoil can still be felt, especially when shooting heavier bullet weights.
You might think that it has the same powder as the Norma but this is not the case. The norma with more power is able to shoot faster.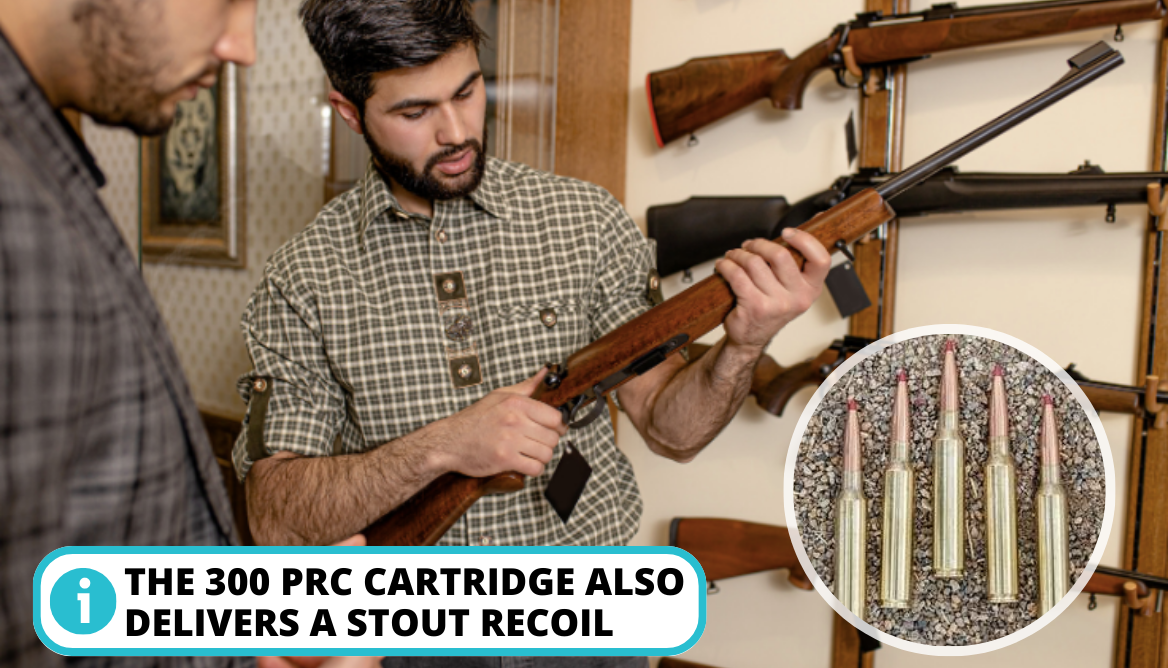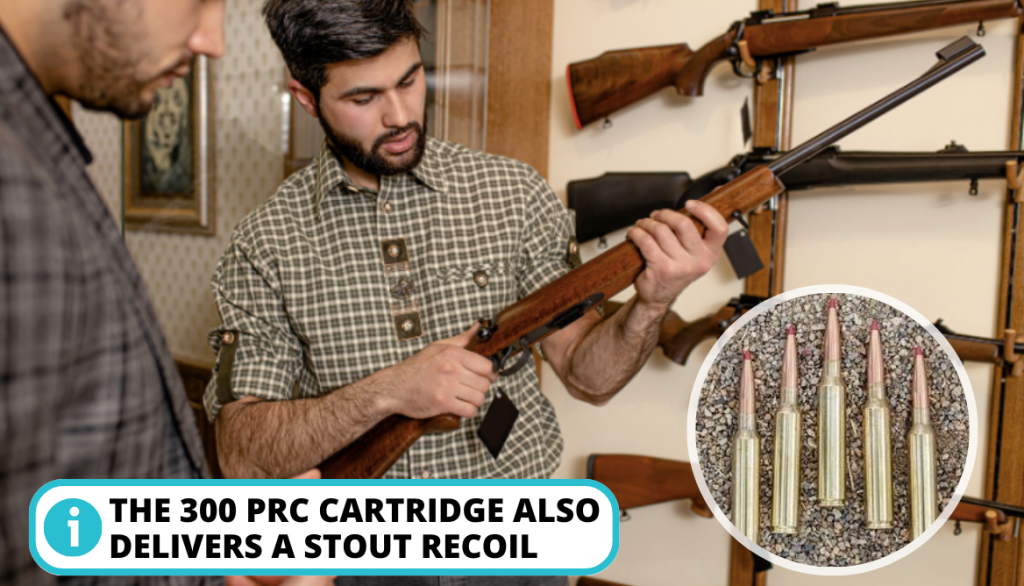 Perceived Recoil
It's worth noting that individual perception of recoil varies based on factors such as:
Firearm weight
Stock design
Muzzle devices
Shooter experience
So, it is possible that you might find more recoil with a particular cartridge. Increased barrel length helps in maintaining less recoil as it adds to the weight of the rifle. We recommend trying out both cartridges to assess tolerance and comfort. Then you can choose the one that produces less recoil.
Winner: The PRC stands victorious in this category due to less pressure level.
2. Barrel Life: Using Factory Ammo
Barrel life is an important consideration when evaluating the long-term performance and cost-effectiveness of a cartridge. You can get these rifles in different barrel lengths. Let's learn how it comes into play when dealing with these cartridges.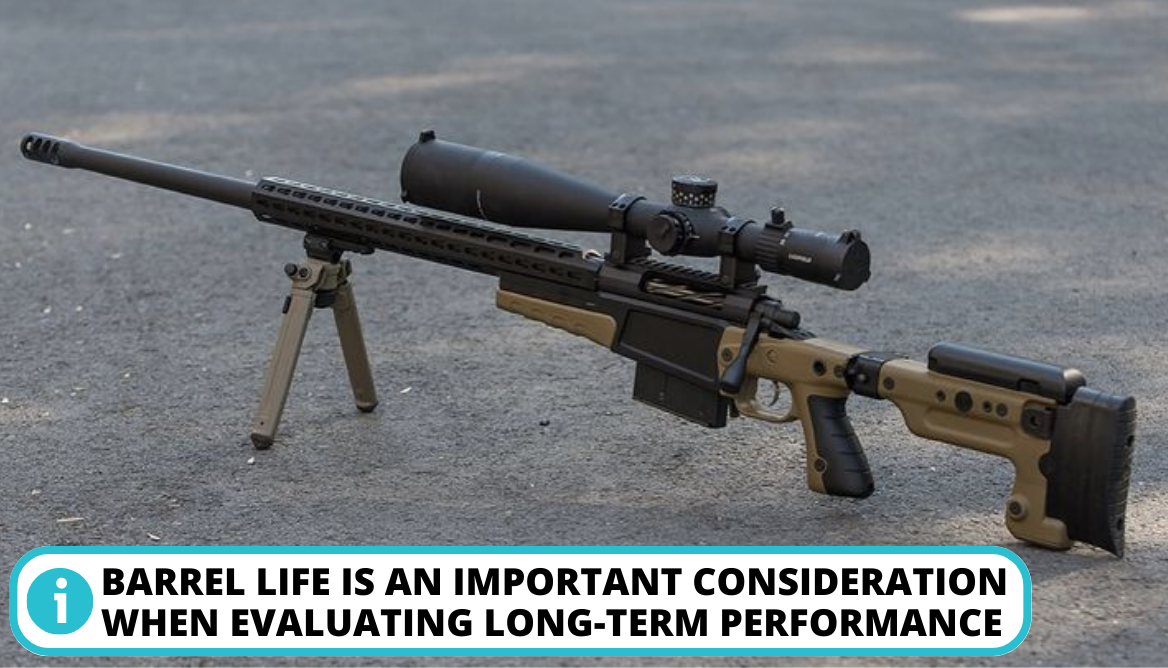 300 Norma
Due to its high pressure and velocity characteristics, the 300 Norma Mag generally has a shorter life compared to the PRC variant. High chamber pressures and velocities do accelerate barrel wear.
It leads to a decrease in accuracy over time. The life of the barrel ranges from approximately 1,500 to 2,500 rounds before needing a replacement.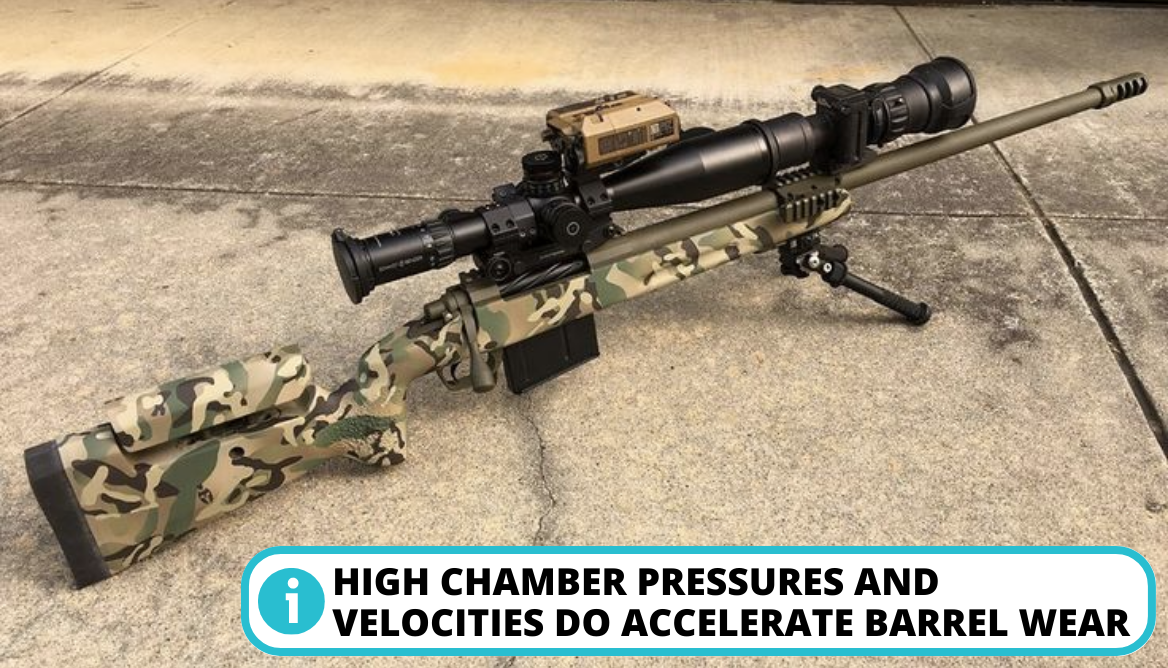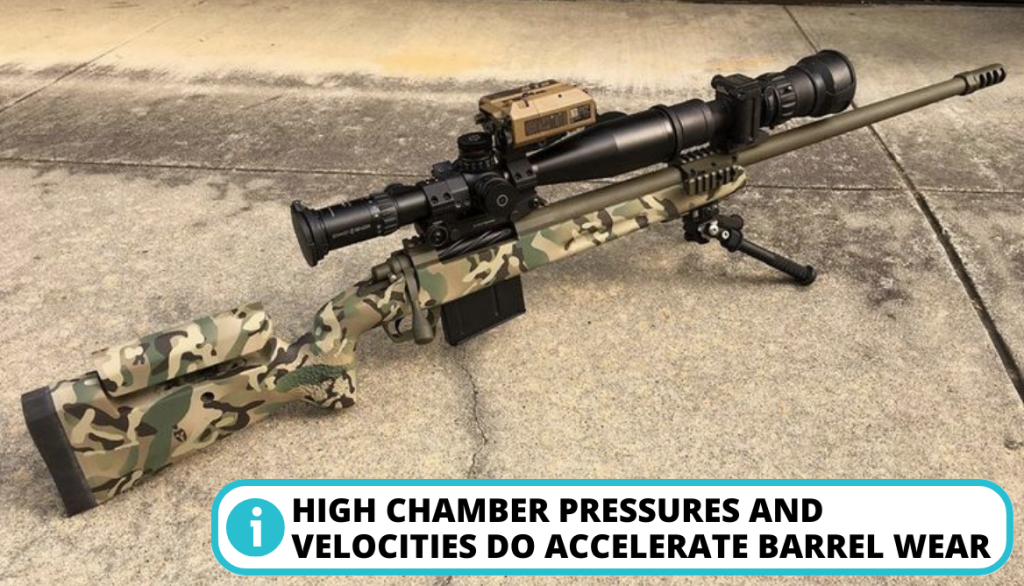 300 PRC
The 300 PRC tends to have a relatively longer barrel life. With its slightly lower chamber pressures and velocities, it offers a more extended service life for the barrel. Depending on shooting conditions and maintenance practices, it might last anywhere from 2,500 to 3,500 rounds before requiring replacement.
Winner: The PRC takes the lead here too due to efficient powder-burning characteristics resulting in longer barrel life.
3. Trajectory
Trajectory plays a crucial role in determining the accuracy and effectiveness of a cartridge at various distances. Both the 300 Norma and 300 PRC cartridges exhibit distinct trajectory characteristics for long-range shooting.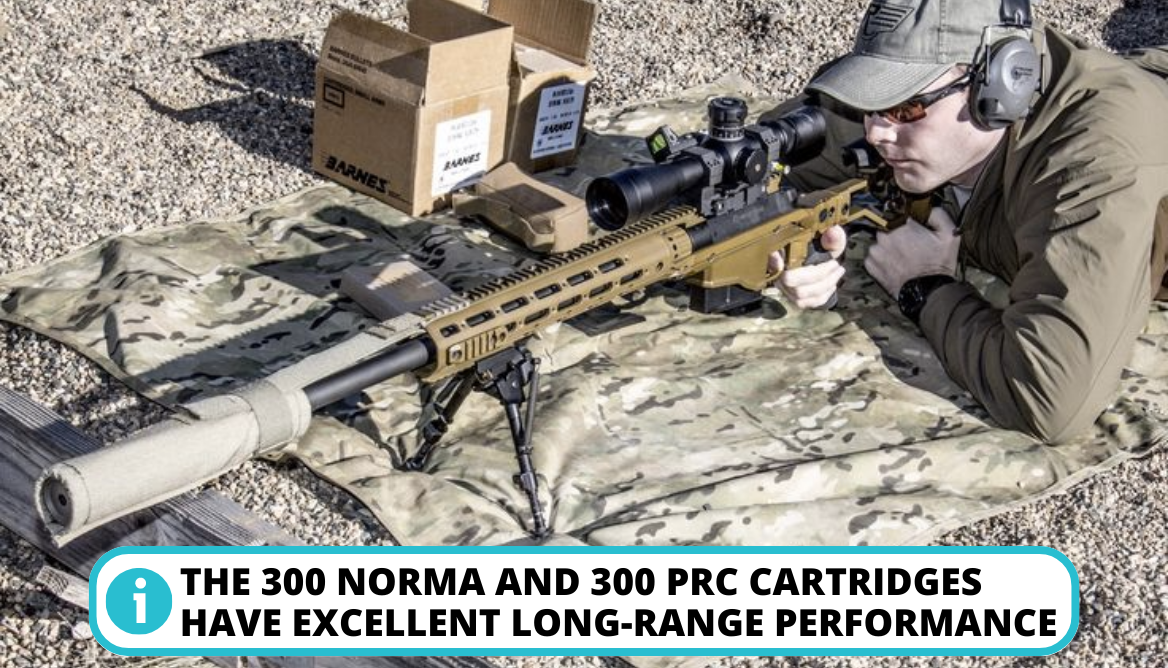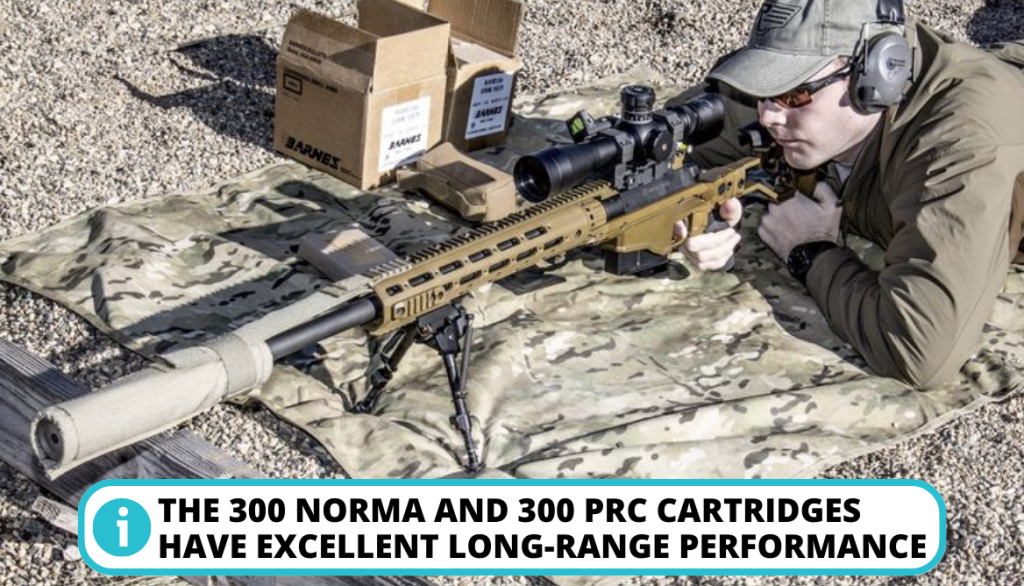 300 Norma
The 300 Norma typically demonstrates a relatively flat trajectory.
The higher muzzle velocity and aerodynamic bullet design contribute to a flatter bullet flight.
So, it results in less bullet drop over long distances.
This flatter trajectory is advantageous for shooters engaged in long-range precision shooting.
It makes target acquisition easier and also lowers the holdover.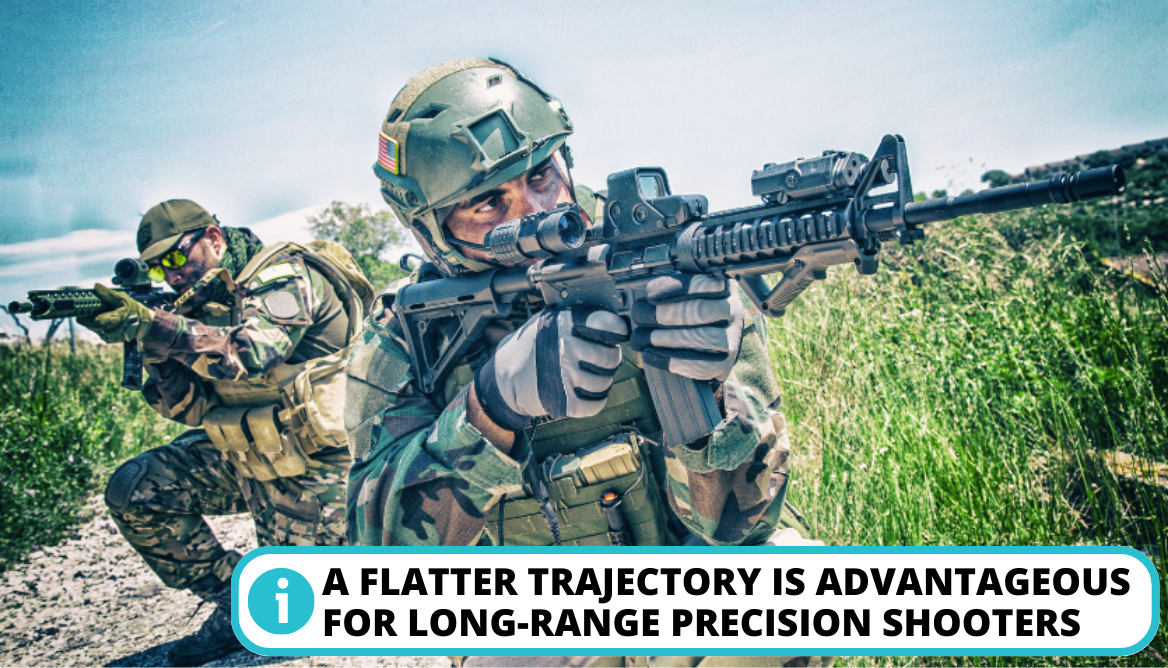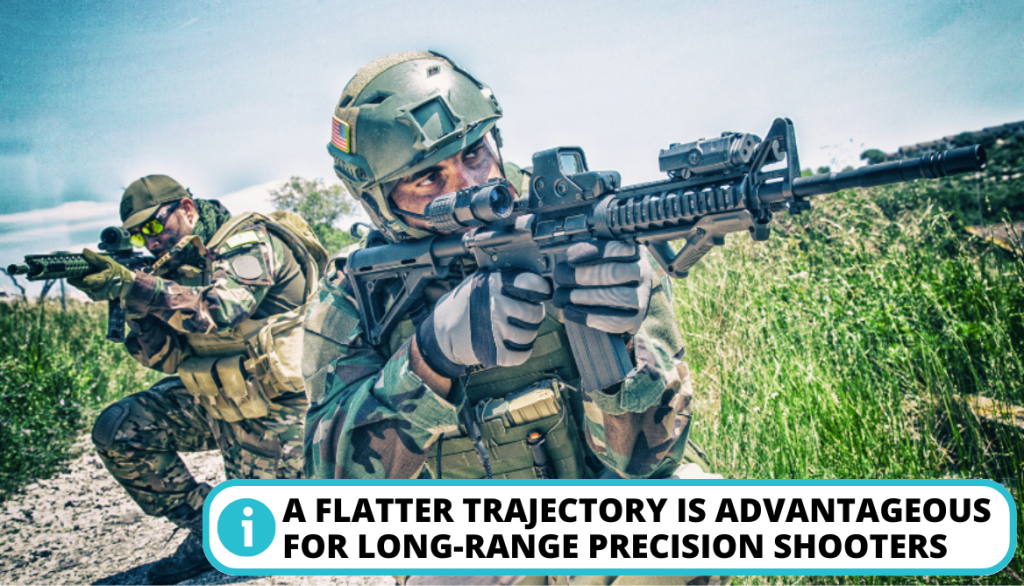 300 PRC
The PRC also exhibits a commendable trajectory but with a slight bullet drop compared to the 300 Norma Mag. While it does have a steeper trajectory, it still maintains excellent long-range performance.
Winner: Things get different here as 300 Norma stands victor in this category due to higher muzzle velocity. However, do remember that barrel length and bullet weight can affect the trajectory too. The ballistic tables can help you in this regard.
4. Accuracy: Long-Range Precision Shooting
Accuracy is a fundamental aspect of any cartridge, as it directly impacts a shooter's ability to consistently hit the intended target. When comparing the accuracy of the 300 Norma and 300 PRC cartridges, several factors come into play. Both are known for their inherent accuracy potential due to the same bullet.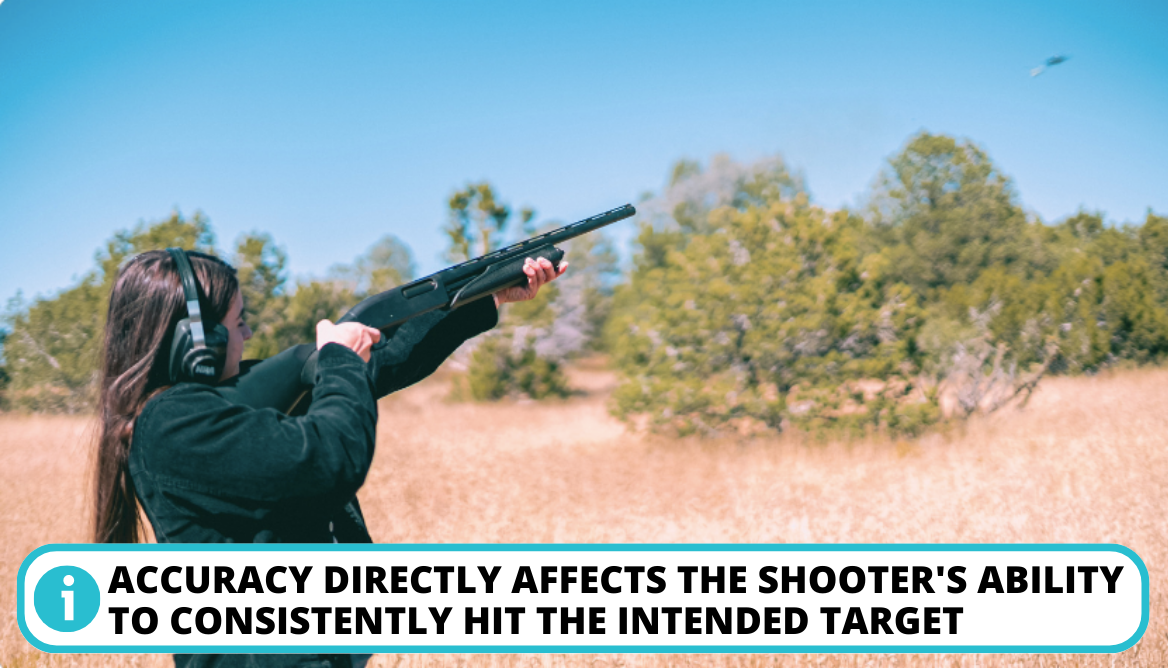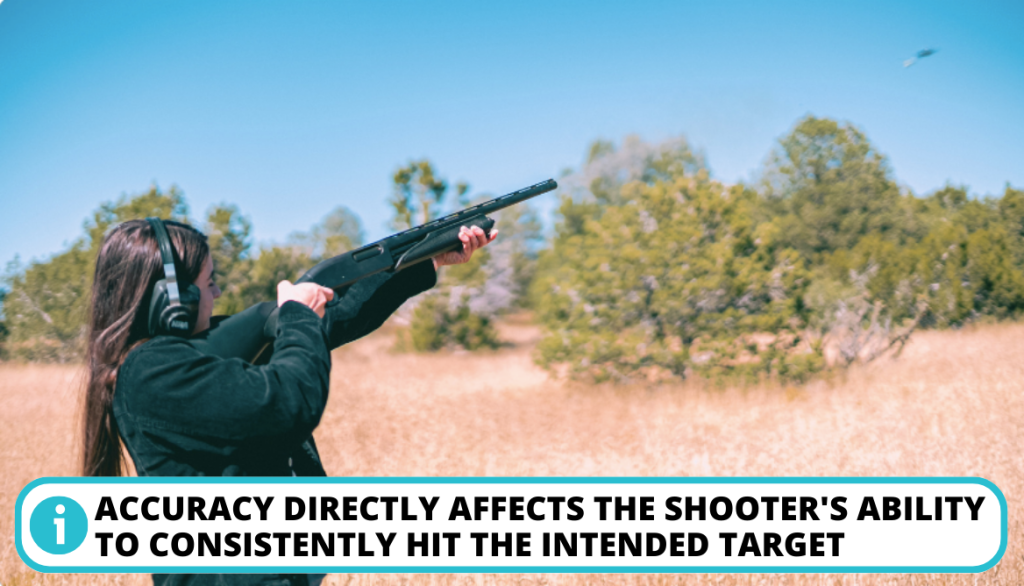 However, achieving optimal accuracy depends on various variables, including:
The firearm platform
Ammunition quality
Shooter proficiency
Environmental conditions
300 Norma
The 300 Norma Mag has a reputation for excellent accuracy, particularly at extended ranges. Its high muzzle velocity, coupled with advanced bullet designs, contributes to consistent and precise shot placement. Shooters who prioritize long-range precision shooting should find the 300 Norma Mag to be a reliable choice.
300 PRC
Similarly, the 300 PRC cartridge is also very accurate. Its optimized design and efficient ballistics aid in achieving tight groups and consistent performance. With proper ammunition selection and a well-tuned rifle, long-range shooters can achieve impressive accuracy with the 300 PRC.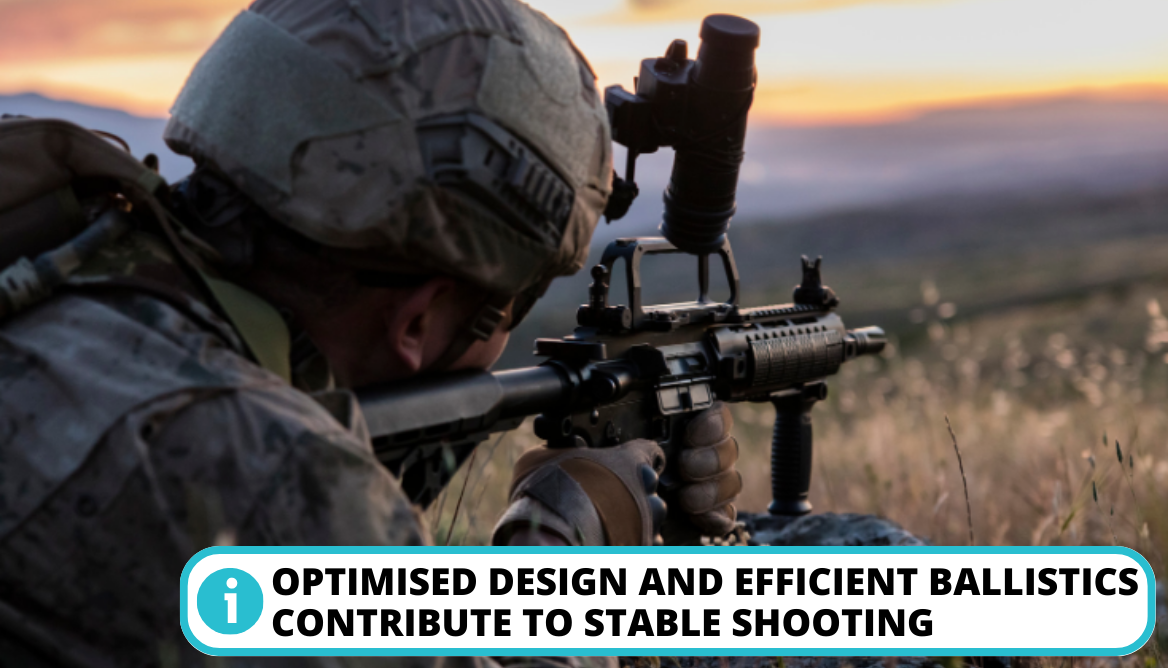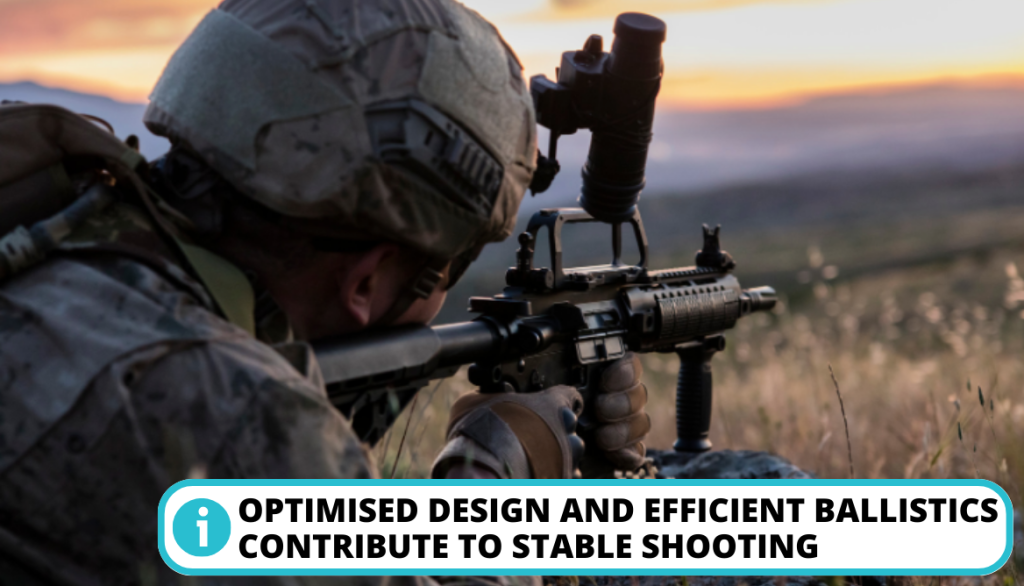 Winner: This specific category results in a draw as both cartridges prove to have greater accuracy.
5. Ballistic Coefficient
The Ballistic Coefficient is a critical factor in determining the aerodynamic efficiency and performance of a bullet. It quantifies the bullet's ability to overcome air resistance as it travels downrange.
When comparing the Ballistic Coefficients of both cartridges we can gain insights into their respective long-range capabilities.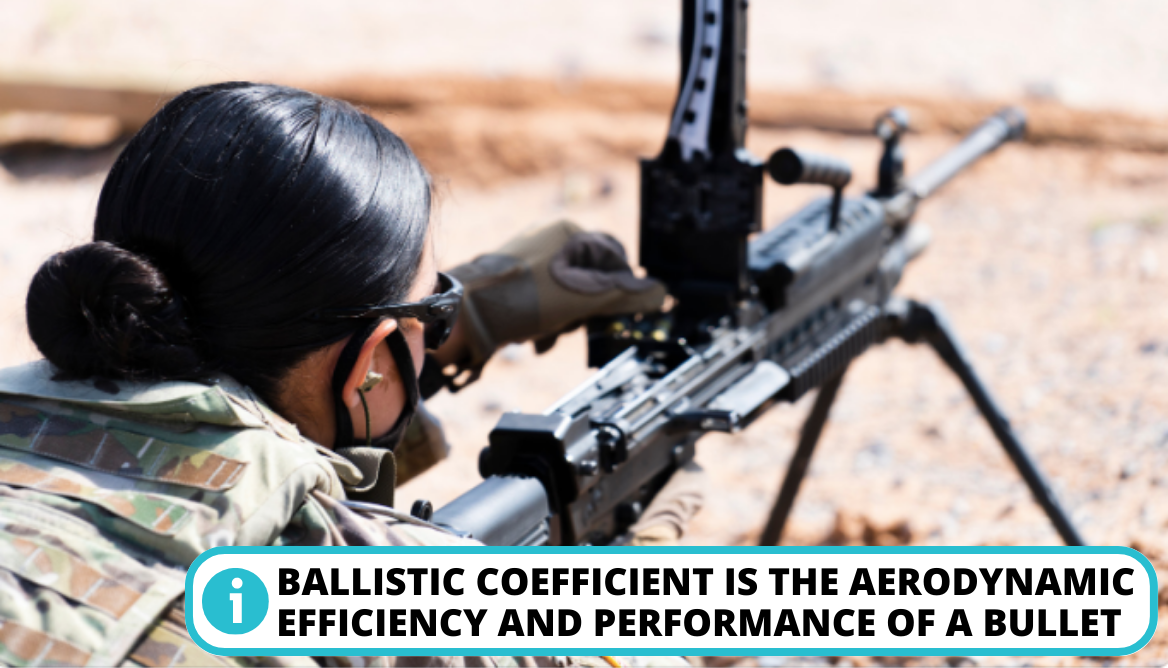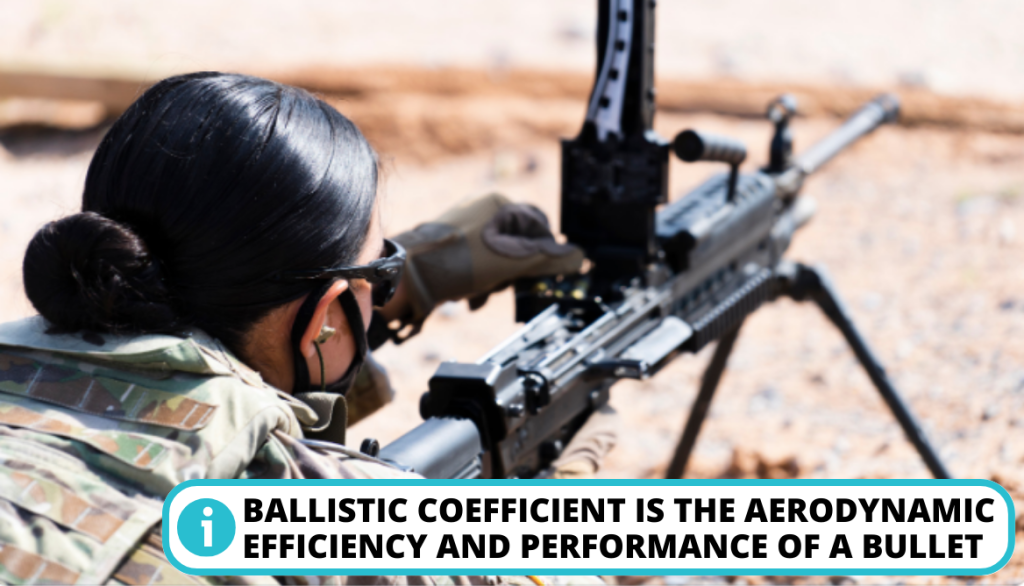 300 Norma
The 300 Norma Mag cartridge typically offers a slightly higher Ballistic Coefficient due to its streamlined bullet designs. Higher values indicate improved aerodynamic efficiency, resulting in reduced air drag and better retention of velocity downrange. So, it is a great choice for long-range shooting.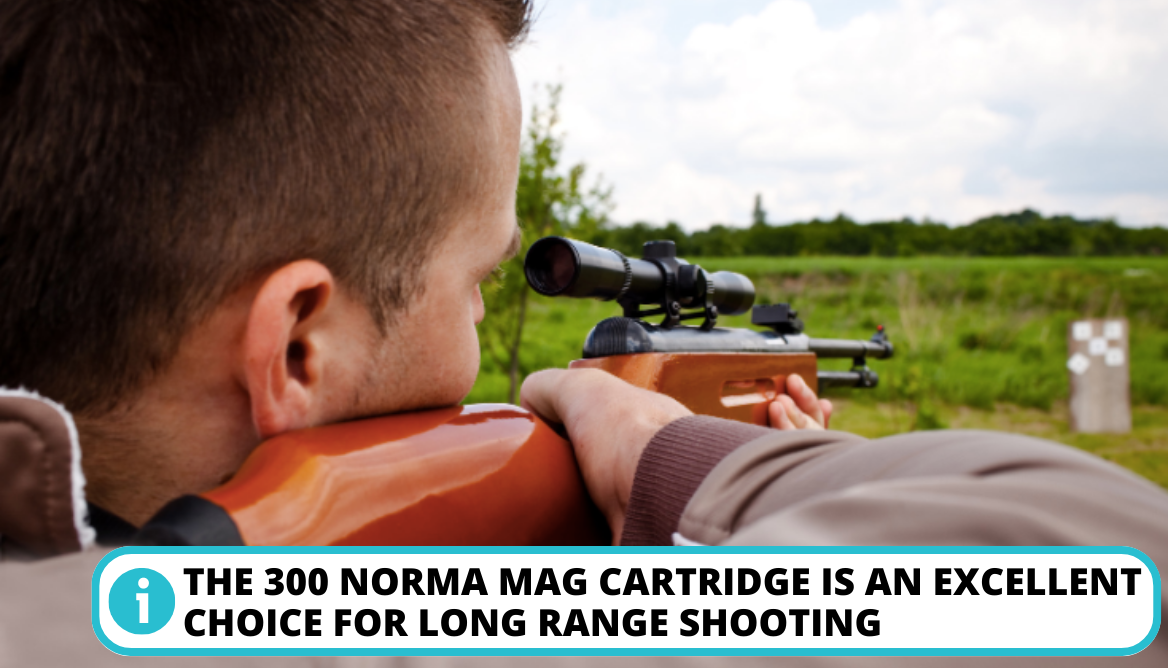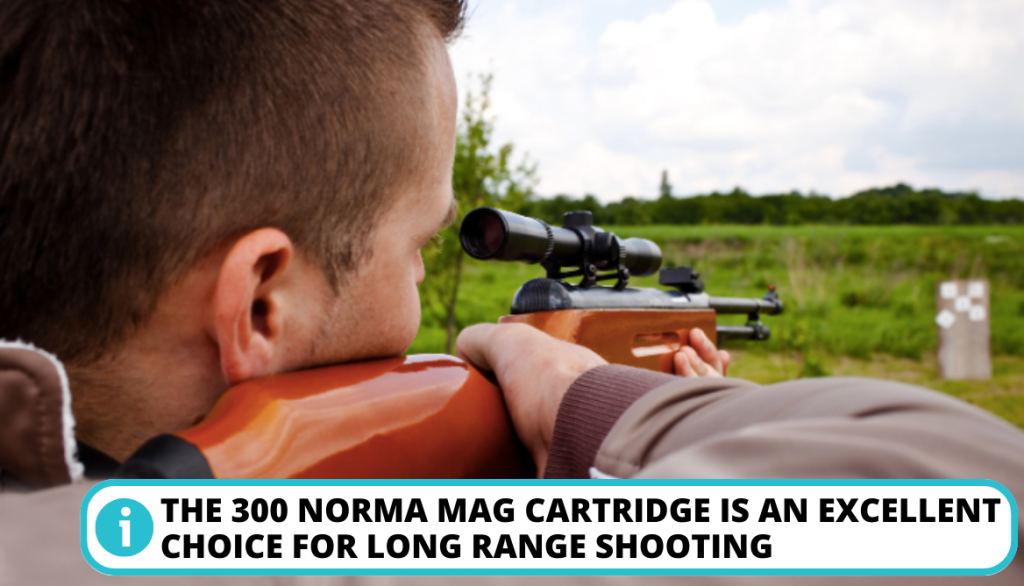 300 PRC
This new cartridge exhibits respectable ballistic coefficients. Although generally slightly lower than those of the 300 Norma Mag, but still good enough for excellent long-range shooting. This allows the 300 PRC to maintain energy and resist wind drift reasonably well. So, it is also a favorable choice for target shooting.
Winner: The Norma wins in the final category due to better aerodynamic efficiency.
You can also check out this helpful video to see how Norma competes with the popular 300 Win mag.
Final Verdict
Both the 300 Norma and 300 PRC cartridges offer impressive performance and are well-suited for specific shooting applications. Consider the following reasons when considering each cartridge:
Why the 300 Norma?
Greater Trajectory: Having a flatter trajectory, the Norma will fulfill your long-range requirements.
Proven Accuracy: The 300 Norma Mag is known for its inherent accuracy potential. With meticulous load development and proper rifle setup, you can achieve tight groups and consistent performance at extended ranges.
Proven Ballistics: The Norma also excels in Ballistics making them an ideal choice for shooters and hunters.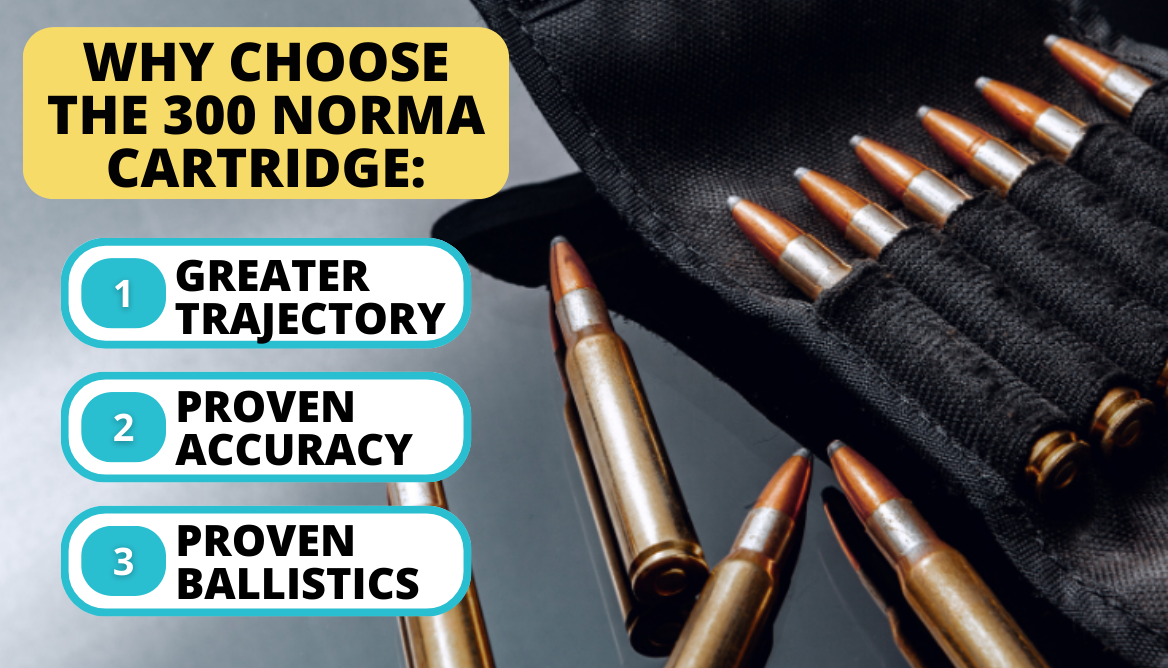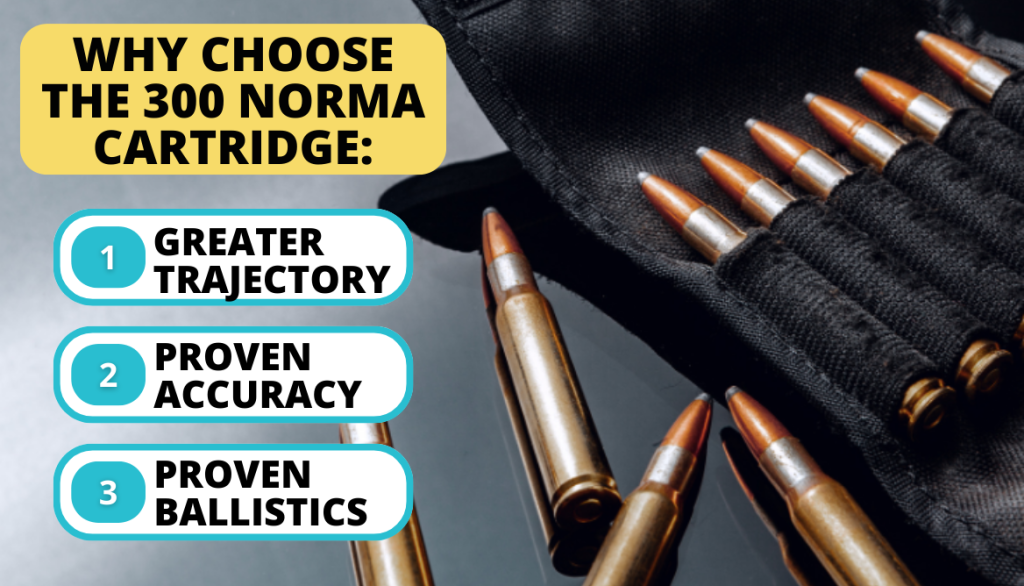 Why the 300 PRC?
Long-Range Performance: The 300 PRC is specifically designed for long-range shooting. It offers excellent downrange energy retention making it a formidable choice for precision shooters.
Barrel Life: The 300 PRC generally exhibits a longer life compared to the 300 Norma Mag. Its slightly lower chamber pressures and velocities contribute to extended barrel longevity.
Increasing Popularity and Availability: The 300 PRC has gained significant popularity among long-range shooters and hunters. This growing interest has led to increased ammunition availability.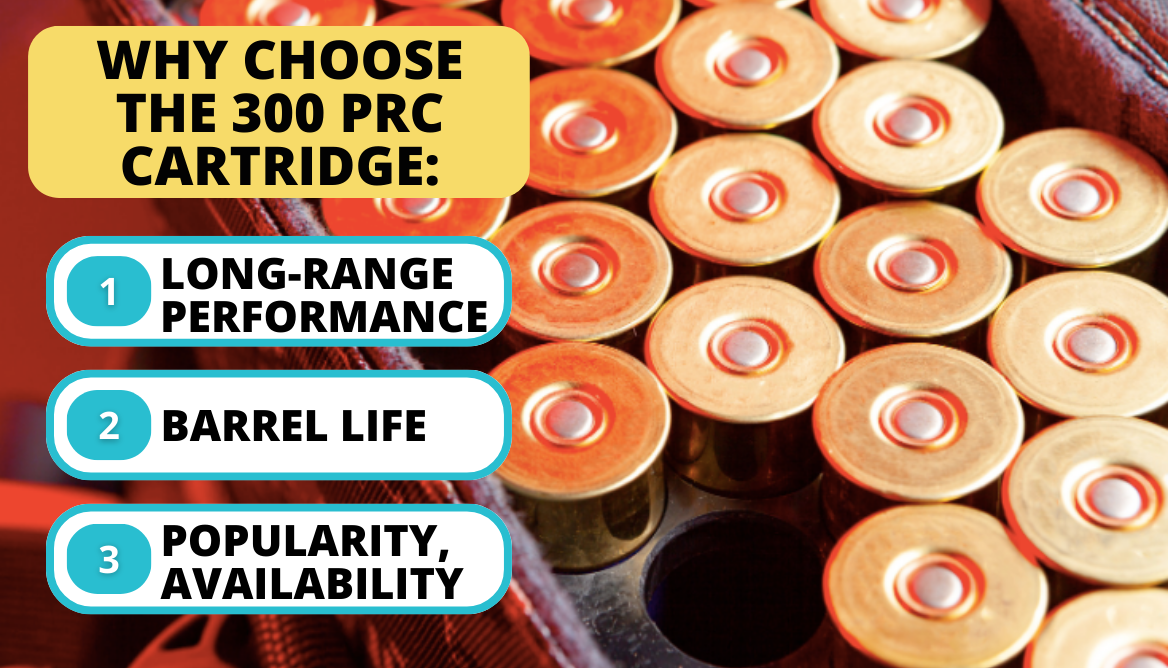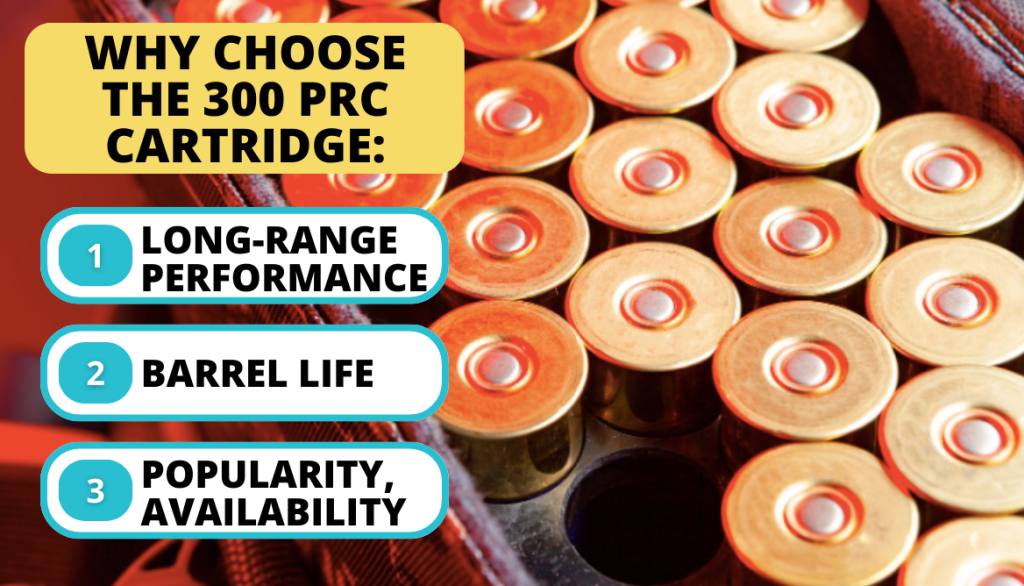 FAQ
Is 300 Norma better than 300 PRC?
The comparison between the 300 Norma and 300 PRC is subjective and depends on individual preferences and shooting needs. Both cartridges offer impressive performance. The determination of which is better comes down to factors such as intended use, long-range capabilities, and personal preferences.
How much does a 300 Norma cost?
The cost of 300 Norma ammunition can vary depending on factors such as brand, bullet type, and quantity. On average, a box of 20 rounds of 300 Norma ammunition can range from approximately $120 to $150. It's advisable to check with local firearms retailers or online ammunition suppliers for current pricing and availability.
What barrel for a 300 Norma with a PVA?
A high-quality stainless steel barrel is a recommended choice for a 300 Norma with a PVA. The specific contour and length can be chosen based on personal preference and shooting requirements.
Is a 300 Norma a hot load?
Yes, the 300 Norma can be considered a hot load due to its high muzzle velocity and energy. However, it is important to use appropriate load data and follow recommended safety guidelines.
Conclusion
So, the final say is that choosing between 300 Norma vs 300 PRC is pretty difficult. Both have their own unique characteristics. If you are particularly interested in versatility and want a more precise shooting experience, then the Norma comes out superior. But, the PRC is better when it comes to recoil management and barrel longevity as it produces lower chamber pressure and velocities.
However, both cartridges do excel in shooting over a long distance. In the end, the choice between these cartridges depends on specific shooting preferences, intended applications, and priorities.
Which one did you like the most and why? Share your favorite in the comments!