Remington Squeeg-E Review [Excellent for Cleaning Shotguns]
Remington Rem SQUEEG-E Gun Cleaning Kit is designed for shotgun enthusiasts. This cleaning kit has a special and innovative design which is ideal for cleaning shotguns.
Check: How To Remove Rust from A Gun
It has special chemicals added to ensure a speedy cleaning process. The 36-piece set includes all of the supplies that you need to clean shotguns, hand-held rifles, or handguns.
It ensures that you do not need to buy additional pieces of cloth to clean your firearms. This Remington SQUEEG-E review makes sure that all of the details about the product are covered. 
Remington Rem SQUEEG-E 22/223Caliber/5.56-mm Gauge Reviews in 2021
The 36-piece kit includes everything you'll need to clean any conventional rifle, pistol, or shotgun. It comes with a full set of Remington's revolutionary Squeeg-E pull-through barrel cleaners. Squeegee barrel cleaners remove the need for mops and patches.
Thus, they save your time and money. They also ensure that you don't have to dispose of used patches often. It includes complimentary bronze brushes, three-rod cables, a rapid snap handle, nylon brushes, and brushes made of brass, etc.
Other featured products include a mat with 12×28 inches diameter, a cloth, cleaner, and lubricating oil such as gun oil. The gun cleaning kit is packaged in a unique green bag with a shoulder strap.
Some may think that cleaning a gun is a tedious task. But this Remington kit makes everything much easier. Although the market is flooded with plenty of gun cleaning kits, this tool is one of the most effective ones. The accessories that are included in this tool make it efficient.
Key Features of Remington Rem SQUEEG-E 22/223 Caliber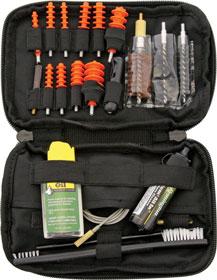 Includes Bronze Brushes
A number of bronze brushes are available with each Remington kit. The high-quality bronze brushes remove the excess carbon build-up in the barrel. While choosing a kit, be careful to select one that comes with bronze brushes.
High-quality bronze brushes are one of the most important features of this Remington kit. 
Nylon Brushes
Nylon brushes are incorporated in larger cleaning kits like this Remington gun cleaning kit. Whenever the bronze brush isn't appropriate, the nylon brush is used.
The difficult areas of pistols, handguns, and rifles can be reached with nylon brushes. They help to effectively clean the areas of guns that cannot be cleaned by bronze brushes. 
Double-ended Cleaning Brushes
These toothbrush-style brushes are similar to the brushes that attach to your cleaning rod. They may be used to clean the exterior of your rifles, pistols, shotguns, and other firearms.
The double-ended brushes are highly efficient. Available in many options such as nylon, steel, or brass, these brushes are an excellent addition to the Remington kit. 
Includes Gun Oil
Gun oil is an essential element to clean your rifle. The Remington SQUEEG-E kit comes with a canister of gun oil. It keeps your handgun lubricated and protects it from corrosion.
All-in-one oils and solvents, as well as lubrication-specific oils, are available with the gun cleaning kit. A combination of the Remington gun oil and cleaning solvent is the best choice to clean your firearms. 
Special Gun Mat
A firearm mat might be a fantastic investment if you're cleaning a firearm that has a lot of parts to be reassembled. Buying a gun mat separately is a hassle, which is why the Remington kit comes with a gun cleaning mat.
The unique gun mat in this kit can be an excellent work surface, especially because it prevents chemical stains. 
Pros:
Comes with a carrying bag
Comprehensive cleaning system
Precise control
Includes bore cleaner
Cleaning brushes are included
Cons:
Using Guide of the Remington SQUEEG-E Kit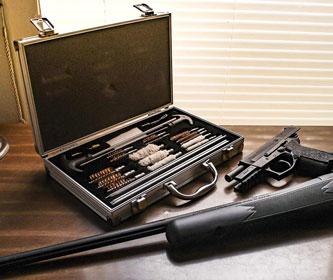 There are several components in this gun cleaning kit and they all have specific purposes. Follow the guidelines below to perfectly clean your guns. 
Wash Your Hands
Firstly, be sure to wash your hands before cleaning the gun. This will prevent contamination in the inner and outer parts of the gun. You must clean your hands and wear gloves if you don't want the oils to be absorbed into your skin.
Disposable black nitrile gloves are the best choice for someone who has been cleaning guns for years.
Empty Your Gun
Secondly, ensure that the ammunition is out of reach. If your gun is loaded, there's a chance you'll unintentionally discharge it while cleaning it. There's also a risk you'll accidentally fire a box of ammo. So, double-check this step.
Disassemble the Gun
According to the instructions of a user manual, disassemble the gun before cleaning it with the Remington gun cleaning kit. If you can't follow the instructions of a user manual, look for tutorials on Youtube. Finally, disassemble the gun accordingly. 
Utilize the Cleaning Brushes
Use the bronze bore brushes to clean the inside of the gun. The bronze brushes are usually used to remove the heavy carbon build-up inside the barrel. Additional accessories such as nylon brushes may be used to clean the delicate parts of the handgun. 
Apply Lubrication
The next step is to apply a good lubricant once you are done cleaning the gun. This lubricant will prevent the accumulation of dirt on your handgun. As a result, it will prevent the build-up of gunk. 
Clean the Exterior of the Gun
Finally, clean the exterior of the gun. You could use the bronze brushes from the Remington kit to clean the exterior. Alternatively, you could use a wide-angled toothbrush. Scrape off the dirt and rust from the parts of the gun that require cleaning. 
People Also Asked About Remington Squeeg-E
Why should you use a gun cleaning kit?
A gun cleaning tool should be used to prevent the accumulation of debris and moisture inside the gun.
Does cleaning a gun produce a foul smell?
The chemicals associated with cleaning a gun may produce a foul smell or fumes. Thus, be sure to ensure proper ventilation in the work area.
Final Word
A gun cleaning kit is a mandatory item for those who own handguns or rifles. Every gun cleaning kit is different, and each of them has different usage procedures.
Be sure to use a good-quality gun cleaning kit like the Remington Rem SQUEEG-E kit. Hopefully, this Remington SQUEEG-E review will help you to make an informed decision about purchasing this item.