Glock 23 vs 27: 16 Parameters that Help You Choose the Best
It can be daunting to choose between Glock 23 vs 27 since both guns have similar features and performance.
The following is an in-depth write-up analyzing these two weapons to determine the best handgun to suit your needs. Read through to understand the parameters distinguishing these guns.
Glock 23 vs 27 – Overview
The comparison table below will hint at similarities and differences between Glock 23 and Glock 27.
| | | |
| --- | --- | --- |
| | | |
| | | |
| | | |
| | | |
| | | |
| | | |
| | | |
| | | |
| Dimensions ( LxWxH) (inches): | | |
| | | |
| | | |
| | | |
| Trigger Distance (inches): | | |
| Polymer design line of sight (inches): | | |
| Steel makes line of sight (inches): | | |
Glock 23 and 27 Primary Specifications
Numerous features, particularly on the gun's design, should better guide you in understanding your weapon's dynamics. Below are the key characteristics of the G23 and G27.
Glock 23 Primary Specs
The G23 is an improved version and has the following primary features.
Compact gun
Magazine limit: 13+1 rounds
Long-range reach: 50 meters
Ideal recoil management and reduced muzzle flip
Glock 27 Main Specs
G27 is smaller than the G23 and is designed as a better model of the G26. It has the following main features.
Subcompact gun
Weight & size Specs: Lightweight gun with perfect concealability plus a small length of barrel and grip
Magazine capacity: 9+1 rounds
Reach: Short-to-medium range (30-35 meters)
Glock 27 vs 23: Magazine Capacity and Physical Specifications (Primary Specs)
There are specific handgun features that you should take note of when comparing the 23 and 27. These attributes are mainly physical factors that play a role in the ease of everyday carry and loading of ammo. 
Frame Features: 23 vs 27 Handguns
The G23 version is one of the initial compact designs based on the Glock 19's make, another reduced-size gun from the G17 version. Similar to regular small-frame handguns, this compact-size gun has interchangeable slide systems.
Meanwhile, the Glock 27 is a sub-compact 2nd model of the first Glock 26 version. Its frame size is an introduction to address the disadvantages of the initial compact design. Therefore, most G27 guns have better interchangeability features.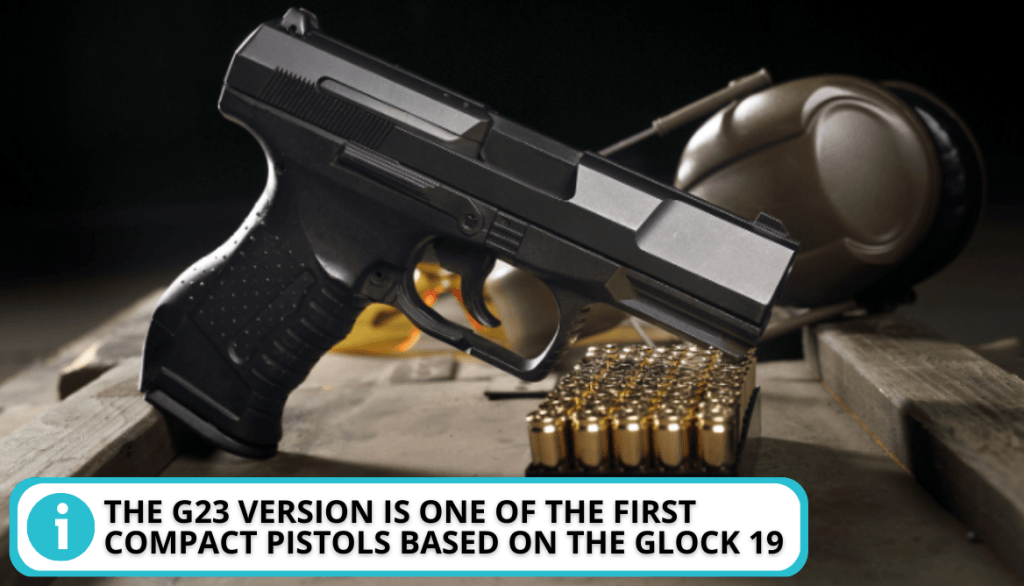 The Winner: The G23 version has the best frame specifications. The extensive details on the frame make handling G23 more convenient.
Weight Comparison: Glock 23 VS Glock 27
A gun's weight comes into play in terms of recoil management and durability, a factor highly considered in these Glocks.
G23 handgun: Is 7.36″ long, weighing 31.22 Oz.
Glock 27: Measures 6.50″ in length and has a total weight of 26.46 Oz.
These are their masses with loaded magazines (40 S & W caliber). You'll find that each weight is manageable, only differing in bullet impact handling.
The Winner: You'll like G27's ultralightweight nature, which outshines the G23's weight details.
Grip Specifications: Glock 23 VS Glock 27
The G23 has a long grip in addition to the backstrap design, allowing you to customize it for more control. The extended version is ideal for recoil and muzzle flip and complements the follow-up shots.
A G27's grip is a smaller version whose convenience isn't guaranteed. Your solution is to acquire modern G27 models with added dual recoil springs that reduce the kickback.
The Winner: G23's grip size specification is ideal, with better comfortable handling, and protective features.
Accuracy Capabilities – G23 vs G27
The guns' sizes impact their accuracy. Shooters with larger hand surface areas will tend to struggle with a baby Glock 27. However, the vice versa is also true, thus a need to confirm if the grip is comfortable for more precise shots. 
With a longer barrel, you'll love the accuracy of the G23, which also comes into play when shooting over an extended range. On the other hand, the 27's trigger fires at a higher velocity, making precision more of the marksman's problem. 
The Winner: The accuracy in G23 is better through its larger details on its grip and barrel.
The Gun's Shootability & Reliability Factors – G23 vs G27
Featuring a full frame, G23 provides a better four-finger hold, a rare advantage with the G27, where your pinky might be uncomfortably free. However, there's room for an extended grip or magazine to correct any size errors. 
Despite the G27 not offering the best handling features, its longevity, and reliability are impressive. Together with the G23, you can rely on them to provide quality service in the long run. Here are some of the user convenience features for these excellent Glocks.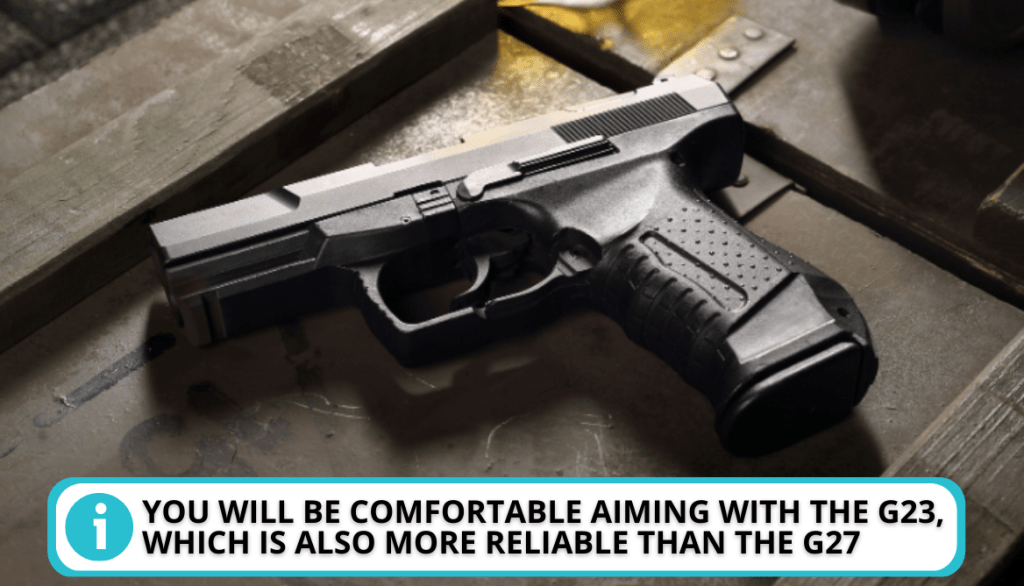 There are no unintentional magazine drops with both weapons
The G27 is not selective with ammo.
There are different solutions for errors in the form of aftermarket accessories.
The Winner: Again, you'll have a convenient time targeting while using the G23, which is also more reliable than the G27.
Concealing Ability: G27 Vs G23
Despite their size difference, these weapons are concealable. The Glock 27's lightweight design and sub-compact size make it easy to disguise.
The 23's concealing ability could be better, but it's manageable with average-sized adult hands. In addition to good concealment, this gun's size has the following pros:
Impacts on its ability to reduce recoil 
Improving accuracy during simultaneous consistent shots
It is a concealed carry with a well-sized magazine, ensuring you always have enough bullets.
The Winner: The smaller G27 has better ergonomics, thus being easier to conceal than the G23.
Cartridge Capacity: G27 Vs G23
You'll love the G23 handgun's magazine, carrying 13 rounds of S & W in the magazine, while the smaller variety only takes 9 bullets of the same cartridge. The weapons, however, have one additional ammunition in the chamber. 
As mentioned, the larger version can handle heavy cartridge recoil, while G27 needs to address the impact with the help of aftermarket accessories. Interestingly, the Glock 27 can use different varieties of bullets.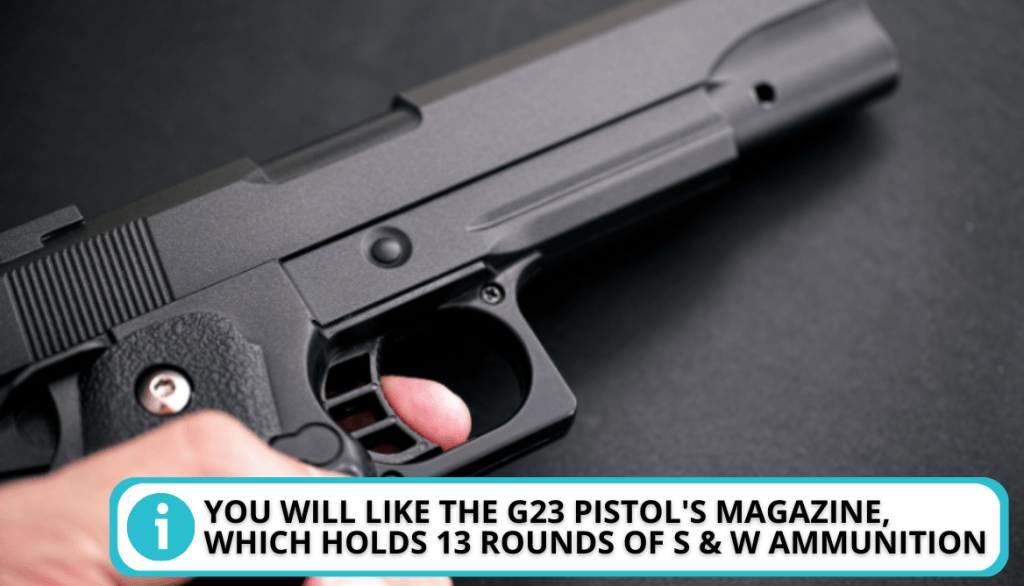 The Winner: G23's magazine capacity is larger, holding 13 bullets, compared to G27's, which can only accommodate 9.
How Safety Locks and Performance Give Value to Each Glock
Apart from recoil management, knowing your gun's safety features and performance capabilities is essential.
Here are the dynamics of these features impacting a gun's value.
Safety Lock Features
Like most quality brands, the Glocks have an ideal safety and trigger system, including these technical safeties:
Automatic
Passive
Independent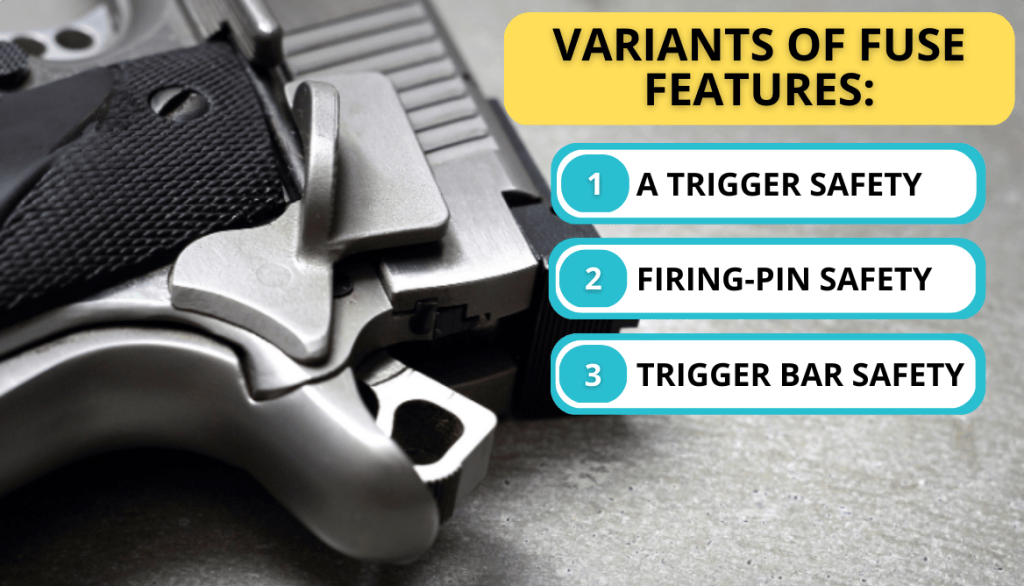 However, these safety locks disengage immediately after pulling the trigger, where the independent factor allows you to bypass either feature securely. Additionally, there are more safety designs which include the following: 
A trigger safety. A small lever is integrated into the trigger to halt its unwanted movement. You'll need to act on the lever and trigger to fire simultaneously.
Firing-pin safety. This comes in handy in case of releasing the trigger without shooting, where it automatically re-engages through its spring structure design.
Trigger bar safety. Is similar to the safety ramp mechanism, which utilizes the rear section of the trigger bar. This way, the pin is stopped from sliding forward after pulling the trigger.
Close-up Photo of a trigger system.
Performance Features: Range Specifications
As mentioned, both Glocks give a cut-throat output in a head-to-head comparison. Their effective ranges are another factor that significantly determines their value and market pricing. 
The G23 has a max range of 50 meters and an interchangeable magazine release catch, which you can move to either side. The G27 covers an approximate distance of 30-35 meters, and factors like an ergonomic hold and integrated trigger guard complement your aiming.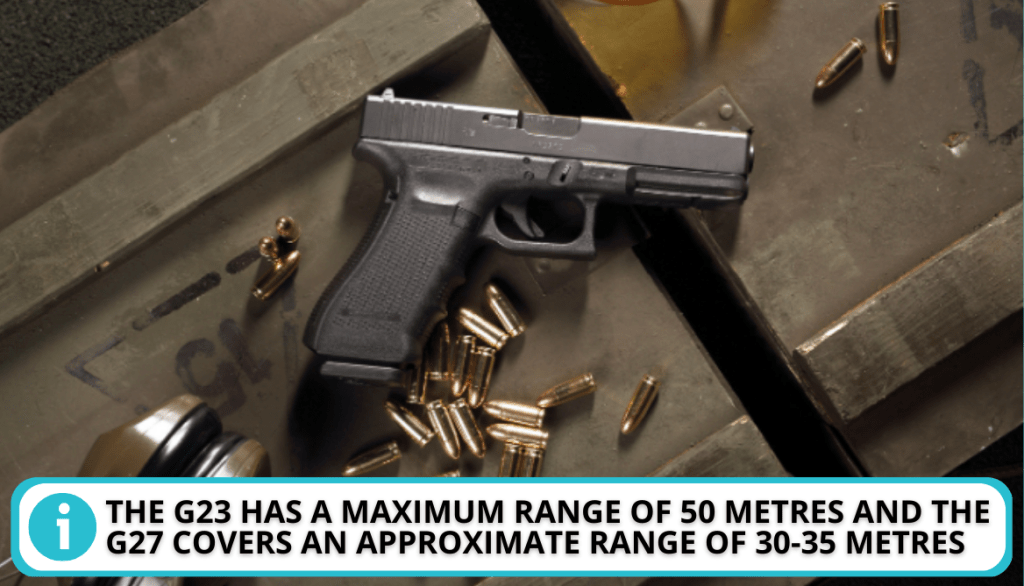 Our Verdict: The Best Version
The G23 is a great handgun, winning in accuracy, reliability, and recoil management, where its size (frame, barrel, and grip) complements its quality output. Meanwhile, the 27 is the best conceal weapon thanks to its smaller size. It also has more incredible cartridge velocity. 
Nonetheless, despite major differences like recoil control, their performances come close, thus the confusion on which one to pick. Your intended use should guide you, and you can also select both as they are easy to bring along and perfect as larger rifle back-ups.
FAQ
What's the difference between Glock 23 and 27?
Glock 23 and 27 mainly differ on the cartridge proportions, whereas the bigger 23 version handles more 40 S & W rounds (13+1 at a time), compared to 27's 9+1.
Why the Glock 23 is the best?
The Glock 23 is the best through its frame and grip size details, which help in accuracy and recoil management.
Is a Glock 27 a good carry gun?
A Glock 27 is an excellent subcompact weapon, through its small size, making it an ideal self-defense weapon.
Do police use Glock 27?
Police use the subcompact G27 for its ideal size, making it easier to draw on duty. 
Is a Glock 23 too big to carry?
A Glock 23 is bigger than the G27 but is easy to carry since it perfectly fits your hands and gun compartments. 
Conclusion
That's all we had on comparing G23 vs G27, where the long-barreled gun wins regarding overall performance. With their output differences slim, you can depend on the G27 for various purposes, taking advantage of its superior concealment capability. 
So, which Glock version would you prefer? Comment below with your answer, and tell us your review if you've used either gun before.