EOTech EXPS2 vs EXPS3: Which Red Dot Is the Best?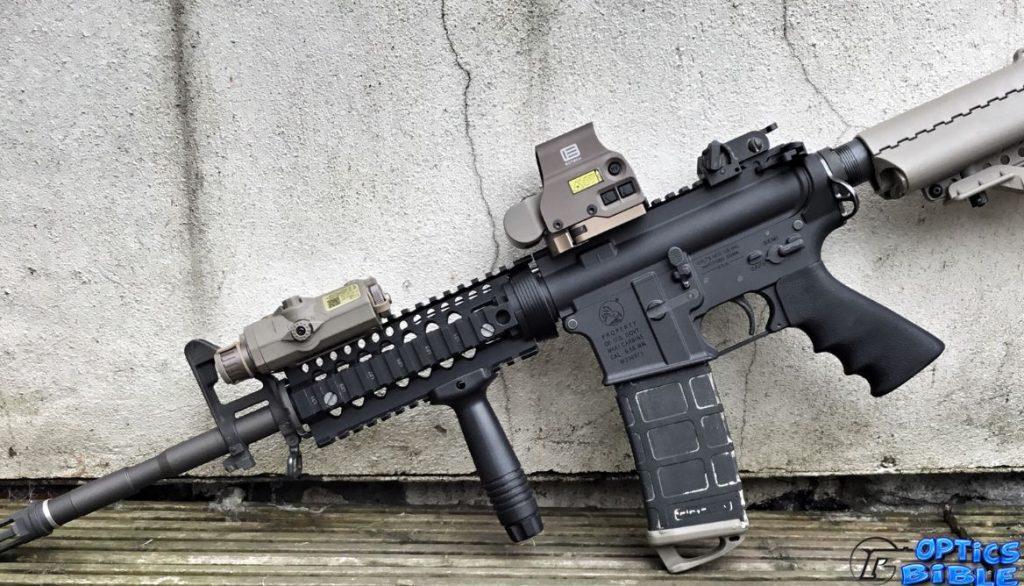 Most shooters are torn between EOTech EXPS2 and EXPS3, especially since both holographic sights offer great magnification and light gathering.
This article takes you through which red dot takes the lead based on performance. We will focus on the following:
Which is the best optic between EOTech EXPS3 vs EXPS2?
Aspects that separate the weapon sights
How do the brands compare with other varieties in the market?
The installation process
Do the two optics offer value for their price?
Let's get into it!
Quick Answer: Which Is the Best Between EOTech EXPS3 vs EXPS2?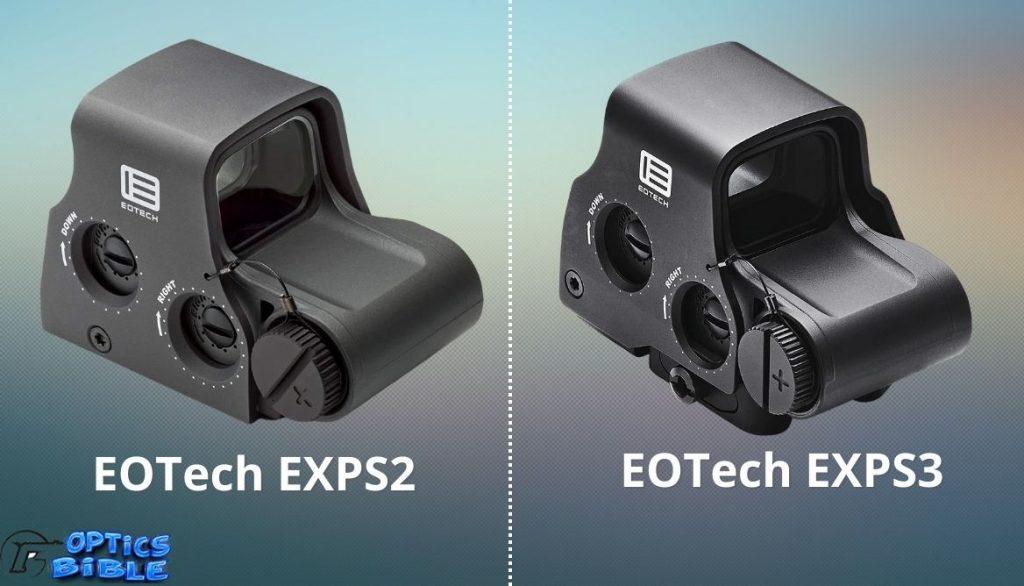 EOTech crafts the EXPS2 and EXPS3 varieties. EXPS3 is more effective in three different ways:
Night vision compatibility: It displays clear images of your target even in total darkness.
The optic has a four-dot reticle plus the normal one and two-circle dot reticle.
It has a higher underwater assessment, effectively functioning up to 33 feet.
Furthermore, since the EXPS2 is cheaper, it lacks night brightness settings and thus is not night vision compatible as the improved model.
However, they're both exceptionally high quality and two of the most popularEOTech products in the market.
Comparing EXPS2 vs EXPS3 Features and Night Vision Compatible (Table)
Adaptable to recoil, fog &

water resistant

Adaptable to recoil, fog &

water resistant

123 Lithium battery

Battery life: 600-1000 hours

123 Lithium battery

Battery life: 600-1000 hours
EOTech EXPS2 vs EXPS3 Review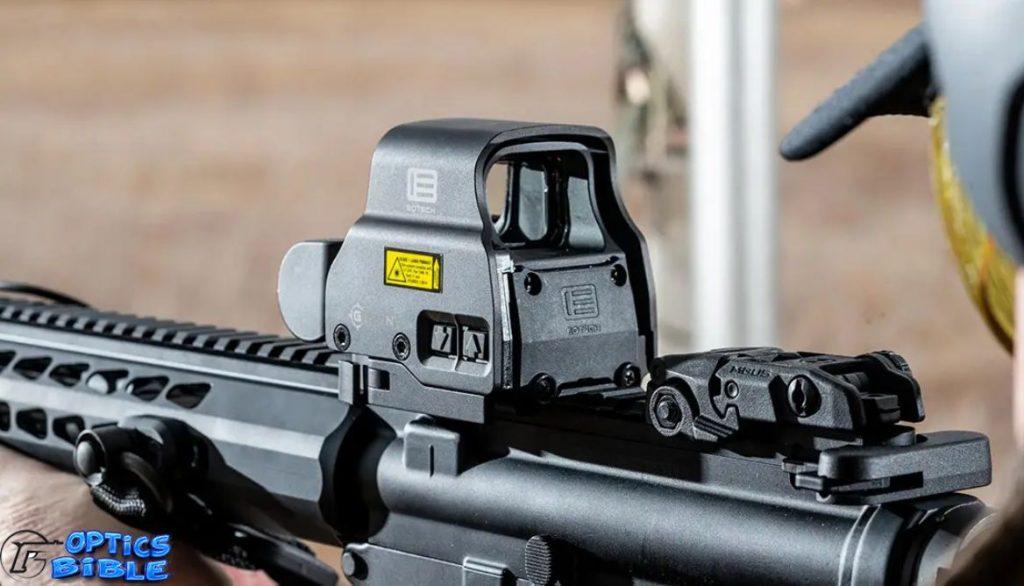 As EXPS2 and EXPS3 are under one brand, their functionality is similar. 
They are also alike in terms of usage, where they are ideal for both long and medium range shooting. 
To understand which has an edge, we undertook 45 hours of test work using 14 different parameters to distinguish which is right for you. Part of our findings include:
The EOTech EXPS2 is easy to operate. You only need to press a side button to increase or decrease brightness settings during the day.
On the other hand, the EXPS3 version is highly adaptable. You receive similar settings, but you can also shoot without any light, thanks to itsnight adaptable features.
Let's look at EOTech's night vision devices and analyze how their specific designs distinguish the two optics. 
Glass Quality and Reticle Options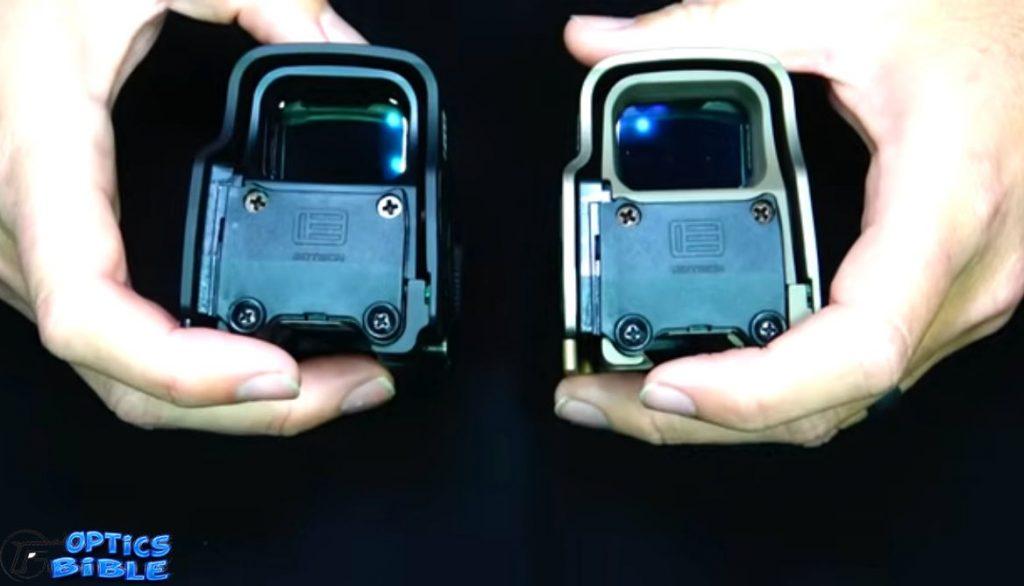 The glass quality of these holographic sights is quite impressive, in addition to being internally sealed.
They all have anti-reflective coatings as well as a unique display. You can get a broad view without blind spots and an undistorted image. 
Also, its quality covers accidental damages such as clips or scratches.
The biggest distinction comes in terms of reticle quality. However, the two have regular reticle options (one and two red dots).
EXPS3's variations are superior to those on the earlier version, which only extends to the two dots variation. 
The EXPS3 has a quad-dot, and the normal 68 MOA rings and 1 MOA dot.
Reticle illumination displays:
One red dot
Two red dots
Four red dots
Eotech's 4-Dot reticle works with specific types of ammunition and velocities. The model code ends at -4.
EOTech's Battery Life Specifications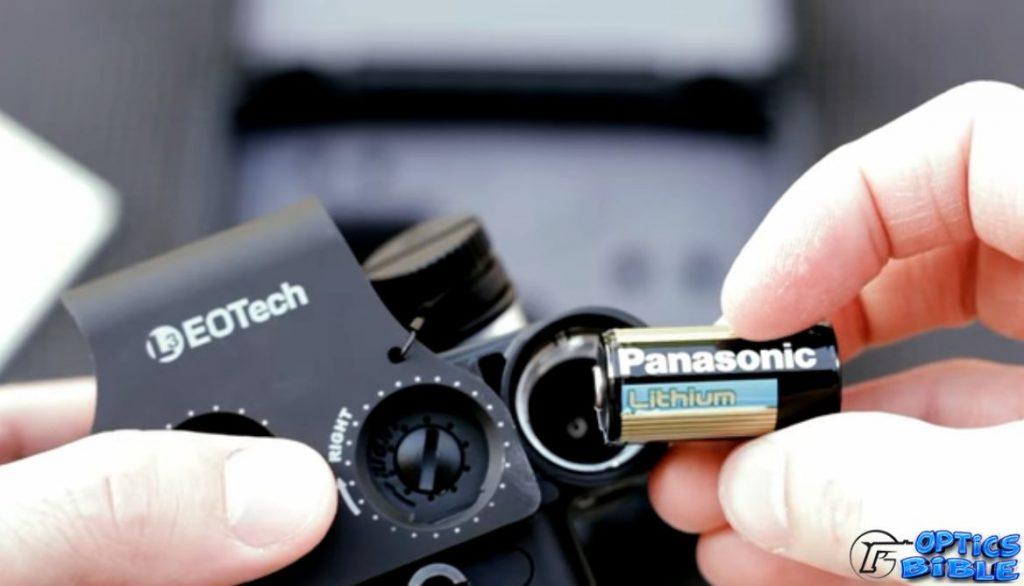 Battery life is an important aspect when purchasing an optic. Eotech's scopes use the 123 lithium option. 
This type of battery lasts 600-1000 hours before needing a replacement.
The flickering reticle will notify you when to replace the used one. Furthermore, a battery life check automatically occurs after turning the optics on.
Another interesting fact about this specification is that the installation and removal process is simple.
You'll start by unscrewing the battery cap to access the old one. When installing the new one, the positive side must be facing up.
Battery compartment – show the plus | Photo
Be cautious, as the threads can be confusing. When you fix the cap back, ensure they align well before tightening them.
Eye Relief & Eye Box Features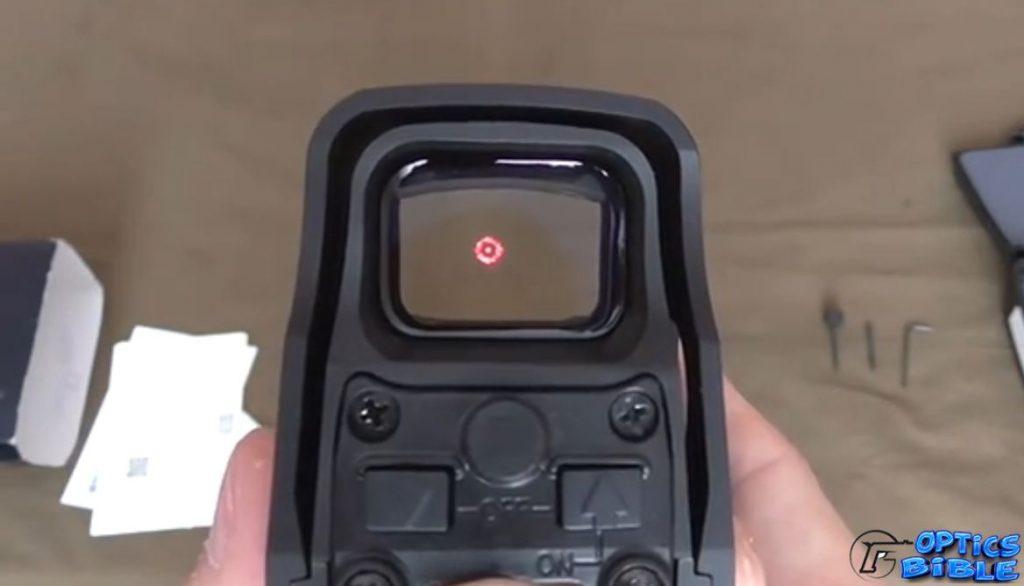 EOTech's devices offer dependable eye relief. With no eye strain, you get a clear view that performs well with iron sights.
Moreover, rather than looking via a tube, this sequence has a big colored dot vision window on each product to cancel out tunnel vision.
Although both are parallax free, the EOTech EXPS3 is a bit higher in eye relief. The EXPS2 has a 100-yard aiming range and offers 4″ of eye clarity, also working well under 50 yards. 
Nonetheless, the newer variety includes anti-glare and anti-reflective aspects that minimize eye strain while enhancing precision over longer distances.
Durability & Weight Specifications
Both optics have an extended time of quality performance, as they are waterproof and adaptable to recoil. Most importantly, the glass durability is one to go for in both. It performs well regardless of weather conditions.
Both red dot sights are 11.2 oz. (317.5g) in weight. Weight and size, like most bolt action gadgets, are a factor in the rifle's overall weight. 
Since the EOTech EXPS3 is newer, it has components that have the edge over the older version in terms of durability.
Windage, Elevation & Brightness Knob
Both weapon sights' windage and elevation configurations are on the right side. This placement is essential in action, especially when changing your aim. 
Since EXPS3 supports clarity in dark situations, you can find an additional side dial for configuring the NV. 
It also offers you ten more brightness settings levels that are simple and efficient.
Mounting of the Night Vision Equipment
EOTech sights have a quick detach system that works perfectly with mounted iron sights.
It is easier to mount with the quick detach lever, and they also take up less rail space than other optical devices.
Both optics tie in this category as EOTech mounting process is uniform in all scopes. It is an easy process aided by tools you get in the box after purchase.
EXPS3 and EXPS2 Control Dynamics
Both devices have similar dial locations, power capacities, and MOAs. They all at 100 yards utilize:
0.5 MOA modifications per click
40 MOA windage/elevation configurations
Sunken design on the side dials to minimize snag points
User-facing raised on/off
The only major distinction in control dynamics is the button placement.
The Holographic Sights' Height Variations
Both of the products have a similar height. They are 3.8 inches long, a standard measurement. 
Their size and mass influence the total mass of the firearm, but this won't influence how you shoot.
Night Vision Compatibility
Night vision illumination configurations are ideal for switching from daylight to minimum or no lighting situations while hunting or in tactical/self-defense.
The EXPS3 device, with its quality reticle for passive night vision, has the edge in this category.
There might be no specific brightness configurations for it, but the sight automatically dims the red dot reticle, a unique feature that makes it stand out.
You can still work with the EXPS2 version, but the model-3 is better while shooting in low light.
The Weapon Sights Availability
You might be aware of Eotech's popularity in the night sights market, thus the high demand for the two optics.
The improved EXPS3 version is a favorite for many, making it more scarce.
Nonetheless, they can all be found in Eotech's approved stores, like Amazon and other online retailers. 
The Rail Space Factor
The EXPS2 and EXPS3 have the same size and weight, making them small enough to fit perfectly into your rifle's less rail space. 
Therefore, you'll have space for both magnifiers and necessary accessories. 
The small size also helps to avoid snagging on bushes or clothing. 
The Button Placement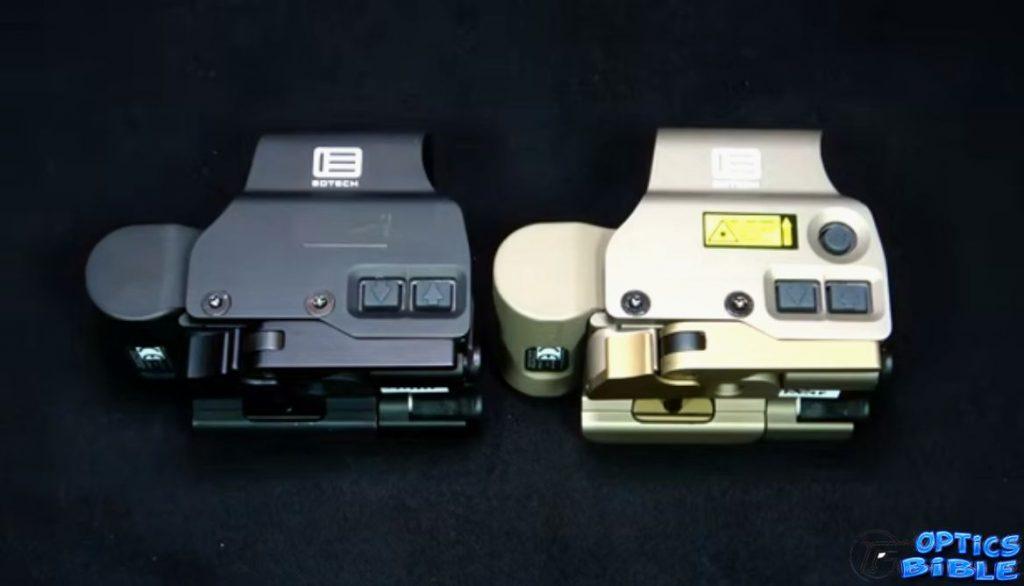 The EOTech EXPS3 model has rubber push-buttons on the left side, while the EOTech EXPS2 variety has rear control buttons. 
These dial dynamics allow the user to preset setups for defined lighting conditions or anticipated use with a gun light.
What's Included In The Box?
The EXPS red dot sights come packed with several components, including a quick detach lever (QD) to make the installation easier.
You'll also find mounting screws and a standard HEX key. The one in the EXPS2 design is slower than that in EXPS3. 
To make matters simpler, switch the HEX screws with thumb screws for detachment without using any tools. 
Price Difference
The cost of the EXPS3 product, due to the quad feature, is higher than that of the EXPS2 version(Red Circle-Dot Reticle). 
Their price difference is around $100. Therefore, if you want the brilliance of the EXPS2 but it has the night vision aspect, investing the extra $100 or so in the EXPS3 makes sense.
FAQ
Can You Use EXPS2 With Night Vision?
As mentioned, the EXPS2 is not night vision compatible, and you would need to add the extra bucks for the EXPS3 feature. 
Does Eotech Have a Lifetime Warranty?
Eotech offers a limited lifetime warranty. Any defective sight will be replaced or repaired for free within 30 days of official purchase from respective stores.
How Many Years will EOTech Last?
The reticle's illumination will typically die after 15 years of consistent use.
Which is Better: EOTech or Vortex?
While running on CR batteries, the Vortex brands will run 500 hours more than EoTech's, which utilizes alkaline versions, and the battery life goes for a maximum of 1,000 hours. 
Do Special Forces Use EOTech?
Yes, EoTech is a manufacturer of the holographic weapon sight 533 that is strong enough to withstand military shooting conditions. To be precise, it can take up to 3,500 Gs of recoil in under a second.
Should EOTech be Blurry?
The brand's reticle is crystal clear and appears fuzzy because it is a true Holographic sight. That is, as opposed to a Red Dot with the Circle reticle, which is projected onto the glass.
Conclusion
That's all we have regarding the best red optic between EXPS3 and EXPS2. The EXPS3 is a clear winner, but the latter is also a quality optic addition to your arsenal.
So, which holographic weapon sight would you pick and why? Please feel free to comment below and remember to include other aspects we can research for you.