Best SKS Scope Mount: Which SKS Mount Should You Choose In 2023
SKS rifles have been in the market for quite some time, thus causing the need to find and purchase the best SKS scope mount that can integrate modern aspects into the traditional rifles.
We shall look at six SKS devices available and analyze which fits your purpose and budget. Here are key points to be discussed in the following article. 
The best SKS scope mount in the market
Features to consider in a quality scope mount
How to install an SKS mount
Benefits of upgrading your SKS accessories
Let's get started!
Top 6 Best SKS Rifle Scope Mounts: Comparison Chart And Brief Overview Of The SKS Mounts
There are distinct specifications that come into play when deciding the optimum performance of an SKS mount. Here are the parameters we shall utilize in our article:
Manufacturer/brand
The material used; how durable is it?
The dimensions; the role played by the length of the mount
Gun rail system
Dimensions

(LxWxH: inches)

Top double-sided rail, 27 slots
The selected brands are specially chosen for their reputation in the market for supplying quality SKS rifle products. 
You'll find that all our mentions are crafted from aircraft aluminum material. Most use lightweight versions, which come in handy in the overall weight of your weapon and durability.
Scope mount dimensions and gun rail system come into play when deciding aspects like eye relief and the general field of view. The longer your mount is, the more rail slots it will have. 
Regarding scope ring varieties, you want to choose one that fits your optic perfectly while providing rigidity in challenging shooting conditions.
To start us off is the Wipboten variety, which is not designed as an assault option and is only meant for red dot scopes. 
Wipboten offers a reliable option if you are an archer and want to hit those distanced targets easily.
So, what are the dynamics and specifications of this device?
Mount Quality And Fit System
Wipboten's mount quality is quite impressive over short distances. You'll rarely encounter any issues with the mount quality over distances between 7-10 yards.
You can crank the windage configurations for total output to improvise on errors created after a shot. 
Additionally, the SKS rail spacing performed relatively well over distances under 50 yards, where you won't need to return to the zero point after consecutive shots. 
Over ranges from 50 and 100 yards, there is the need to return to the zero point every time. 
On the other hand, wipboten's perfect fit system is another excellent feature of the device. The clamp shifts efficiently and easily without using tools on every side rail tested.
Also, the mounts' lever might be challenging to open once closed, but this is likely due to over-tightening its adjustment system, which is commonly a user's error, not the gadget's.
Eye Relief
The perfect length for the mount allows for minimal eye strain when in use.
You can select a red dot with the best view and be assured it fits on this scope mount.
Wipboten's Installation Process
This gadget is easy to install and unmount using a side rail system. 
To install the SKS rifle mount, the lever on the side should face downwards.
Finally, adjust the lever upper left side to lock and ensure the mount fits tight. 
If you need to change the lever's screws, apply the pressure upwards to easily access the screw when unmounted.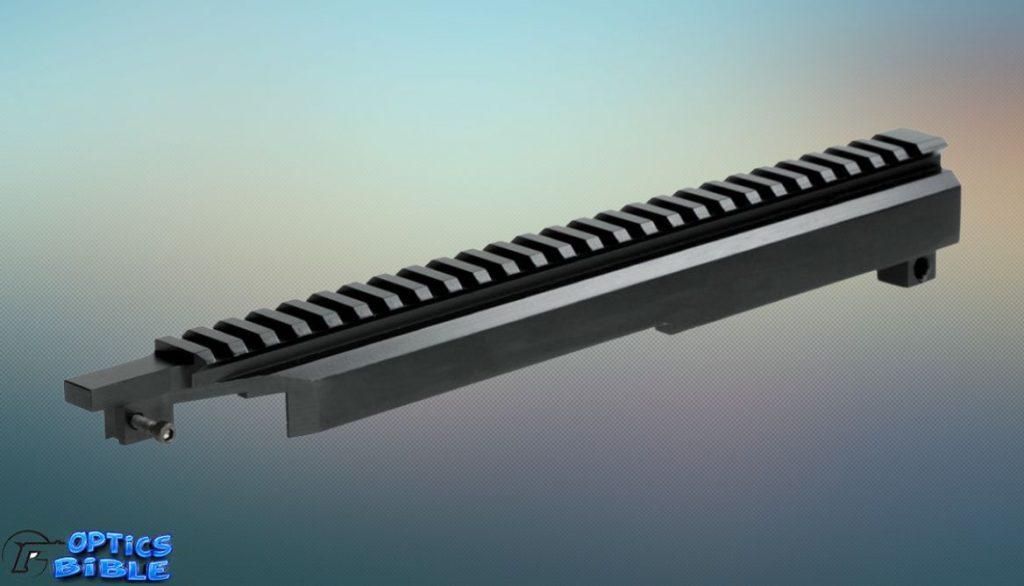 The SM8670 is crafted from aluminum and fits well with any SKS rifle through its unique mounting system, as discussed below. 
Sun Optics' length on the mount is excellent and gives you a playroom with your eyepiece or standard iron sights.
Additionally, there is enough rail spacing with 26 slots available.
Sun Optics Mount Quality And Fit System
The durability aspect is impressive on the mount's quality, as it includes a shell deflector on the side, adding value to its already generous price.
As mentioned, it is relatively easy to fit the Sun variety on various SKS rifles. With its rail system, fitting your front sight will be convenient, on top of ensuring its safety from recoil punishment through its aluminum design. 
Eye Relief
The 26 rail slots allow eye strain control, with room available to move your rear sight.
Therefore, you can adjust eye relief depending on the weapon you the Sun mount on. 
Installation Process
You'll find installation tools in the box after purchase, and again, you don't need a gun expert, but only require under 10 minutes for the process. 
Make the front-end pins lose, as it is the primary lock for the Sun product. Slide the gadget on your SKS rifle and lock it, then ready your scope for installation. The SKS rail mount is essential when deciding which spot fits your vision. 
Trust the mounting system to go long periods without needing adjustment.
Matador is more tactical with its full-length rail mount.
This SKS variety is a modern-day mount system, giving you options with newer SKS rifles, modern optics and accessories. 
One aspect the Matador scope mount succeeds in is its eye relief adjustability that allows vision versatility. 
Mount Quality And Fit
This receiver rail mount transforms your SKS into a tactical rifle, allowing you to accurately see in on any target. 
The aluminum design protects the mounting system, covering it in challenging shooting conditions. 
Most importantly, it has an in-built deflector for bullet shells' impact without doing any damage. 
Their unique design system for the SKS rail slots makes it possible to replace the rear sight and dust cover.
Eye Relief
The Matador rail mount is 10 inches. Depending on which weapon you mount the Matador variety on, you'll have enough eye relief adjustability.
This is in addition to the gadget holding at zero for the convenience of not readjusting every time.
Installation Procedure
Matador's rail system is pretty easy to install. 
The mount parts are easy to understand and operate; just like various SKS gadgets, you slide it on your SKS rifle. 
The scope mount and fit system are guaranteed to serve you for a long time if installed appropriately.
During our test, the mount did last for around 1000 rounds without bulging out of place. 
Magwedge is one of the best scope mount with its 27-rail slot system. 
The gen 2.5 is the latest Magwedge variety and is a quality receiver mount to serve you with different SKS weapons and modern optics, unlike other SKS scope mounts.
Mount Quality And Fitting Features
Experts consider the Gen 2.5 long rail enough for any necessary adjustments. 
Another quality feature is its length, which is enough to install an iron sight or a scope efficiently. For co-witnessing, ensure you utilize see-through rings, to get optimum performance from the mount.
The parts adjustability is ideal. For instance, you can pull the pin, and the rail tilts upwards, allowing you to clear your SKS easily.
Therefore, it fits perfectly on your rifle and locks in any scope you utilize on the Magwedge mount. 
Magwedge SKS Eye Relief Feature
The 27 slots come into play when adjusting for better eye relief. 
In addition to the configurable rings, you can easily control eye strain by moving your optic to the most suitable position.
Also, the top rail has a tunnel vision design that comes in handy with any original iron sights.
Installation Process
The Magwedge SKS scope mount has a rear pin that attaches the device to the rear iron sight. 
As mentioned earlier, the gadget is long, making it easier to mount on an SKS rifle. 
Instead of the ordinary pin, Gen 2.5 system comes with a pull-pin version. Installing it will involve pushing the mount in and sliding the pin to lock.
To remove the mount, grab the ring and pull it while pushing the rail tilts up. 
Feyach provides a reliable option for those specifically looking for scope mounts.
The Feyachi variety, as crafted from alight aluminum, thus weighs less.
Mount Quality And Fit System
You'll love this lightweight SKS scope, which is durable in rough shooting conditions.
Also, Feychi's design necessitates holding at zero without any issues after shooting around 1000 rounds.
The rear mount system has a 1-inch diameter scope ring with a center scope height of 1.59 inches. The size is perfect to fit in various quality scopes and allows them to take heavy recoil consistently.
This Feyachi SRM12 variety provides ultra relief for easily adjusting windage and elevation.
Moreover, you can expect the gadget to be compatible with the rifle's accessories, including rear iron sights. 
Eye Relief
With the excellent lock system, the mount allows for easy eye relief with the perfect grip on your scope. 
Confirm with both rifle's attachments and scope measurements to project the perfect positioning for your vision.
Installation Process
Like other SKS variations, the installation process is simple. You can easily detach it if you want to align it in a different direction. 
Lock it by tightening the firearm rings without necessarily using additional tools. This SKS variety is recommended if you have attachments on your weapons.
Monstrum: Best For Long Distances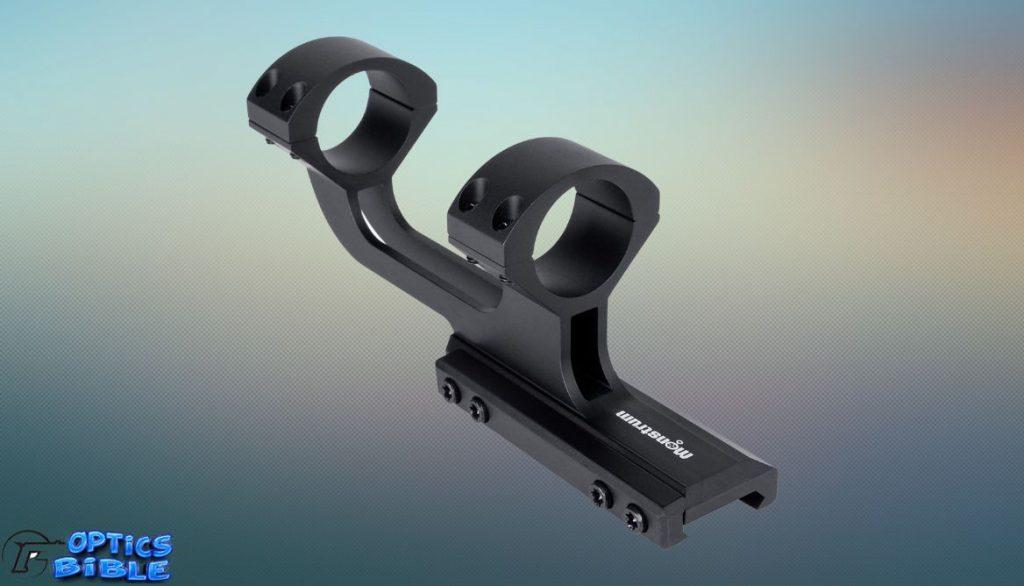 The Monstrum mount is perfect for long-distance scopes with a magnification of 6×24 and above. 
The Monstrum SKS variety comes in 3 MOA versions; they are:
0 MOA: Able to zero your scope at short to mid ranges
20 MOA: Capable of zeroing the optic at long distances
30 MOA: Zeroing ability for advanced tactical long-range purposes.
Below is the rest of Monstrum's details.
Mount Quality And Fit System
Monstrum crafted this gadget using aluminum for long-term use.
Additionally, the mount system has dealt with the recoil through the integral recoil stops. 
You don't have to worry if you own a long optic, as the scope rings spacing is 3 inches wide. Also, it can carry 30mm tube scopes, supporting the weight fully and giving enough rigidity in all shooting conditions.
The 20 and 30 MOA versions are angled upward. When zeroing your scope, the angled plane allows for a greater range of elevation correction. Also, the Monstrum mount is ideal for zeroing in from a long distance.
Eye Relief
You'll be impressed by this mount's effect on the quality of your view. 
Unlike the Feyachi variety, Monstrum provides additional spacing between you and your scope. You can adjust to the perfect eye relief with excellent complementation of necessary dials. 
Installation Process
Monstrum gadget comes with screws mountable to any rear mount and picatinny rail rifle, and the process is relatively straightforward. 
The mount base system comprises custom locking bolts that fit smoothly into your Picatinny rail. They are guaranteed to retain zero points against powerful recoil.
It is also simple to fix your scope on the mount rings, and you can be guaranteed a long service before needing further adjustments.
Qualities To Look For In SKS Scope Mounts
Don't just go for the outlook. There are lightweight versions that might outshine the best scope mount seller head-to-head in a shooting field.
Before we look at the features to look out for, here are the various types that distinguish SKS optic mounts.
Categorization Of SKS Optic Mounts
Rear Vs Forward Stock Mounts
Your preferred mount will determine the scope type you'll install, making its location critical.
Rear Mounts: It is a traditional design in most rifles that can be utilized with modern shooting equipment. With this type, you can install any receiver cover mount. The use of a rear mount is quite costly,  as it also requires extensive filing.
Forward Mount: You can use them conveniently while replacing standard iron sights with a rail system or attach using screws if you are using a Chinese type. The sturdy base boosts their durability and accuracy aspects. However, it is important to note that you can use forward mounts when utilizing scout scopes or red dot sights.
Receiver Cover REplacements
SKS receiver mounts are a low-cost choice allowing you to install traditional optics easily. Nonetheless, these rear mounts are extremely difficult to use because they require extensive filing to attach accurately.
Forward Stock Mounts
A forward mount uses screws to protect the rails fully. The forward scout scope mount is extremely secure but only utilized on a Chinese type (type 56). 
You'll be required to clean your rifle without detaching the scout scope mount from the rails if necessary.
Receiver Mounts
Receiver mounts are varieties that go above a receiver and are the most popular on the market.
These versions can use any eyepiece, including red dot sights. They are also extremely safe, a factor that its long rails influence. 
The disadvantage is that they are a bit costly and must be detached when cleaning. They also put a stop to the use of stripper clips.
Iron Sight Replacements
Mounting options which substitute iron sights are inexpensive and simple to install. If you own a red mount, you can utilize this mounting type.
With the varieties of SKS explained, here are qualities to look for in good SKS optic mounts.
Weight And Length
SKS rifles have a platform that is frequently upgraded to be perfect for hunting.
You will need to find a mount with the right dimensions to fit your purpose. To help with the selection task, getting lightweight and precise scope mounts is a great solution.
If you intend to go for long-range hunting escapades, you'll need space to attach a scope with a larger circumference or is generally high-powered.  
On the other hand, you'll require a shorter mount version that doesn't block the bolt when you want to access the ejection port or use the stripper clips.
Durability Aspects
You are traditionally accustomed to finding a mount that maintains zero over time and doesn't rattle out of sync with use.
Because the SKS's material absorbs a round's impact, the force is dispersed to gun parts and other components. Ensuring your scope mount is made of high-quality steel and aluminum to withstand the recoil and accidental drops. 
Design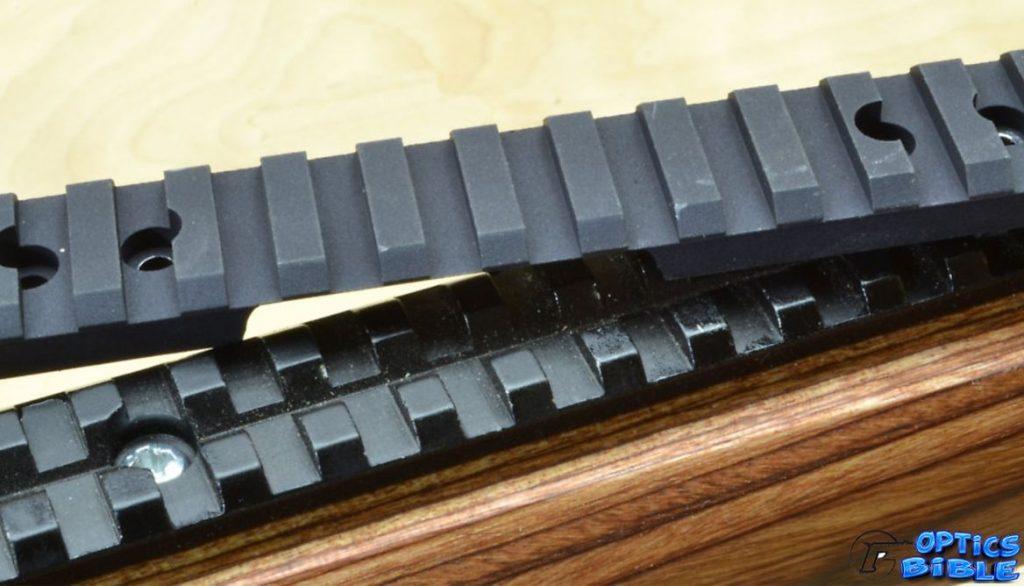 You are on the right track if you own Picatinny rail versions or weaver mounts. Weaver models are standard quality, whereas Picatinny versions are dynamic. Ensure the scope mount has a see-through medium if you want to keep using your iron sights.
Fitting Quality
Whichever mount you prefer, the finished product should accommodate your optic and the additional accessories you intend to install on it.
Consider customizable products for the SKS's variability. Moreover, you want a mount variation that can fit with as little modification as possible.
Benefits Of Upgrading Your SKS Scope Mounts
The Utilization Of Accessories
By improving your scope mount, you can use more equipment for the SKS. Rails and side adapters allow you to attach accessories like flashlights and lasers.
Safety Advantages
Various SKS accessories include a deflector to minimize or cut off recoil entirely.
Your safety and that of your gun and accessories can be considered the main advantage of SKS products.
Stability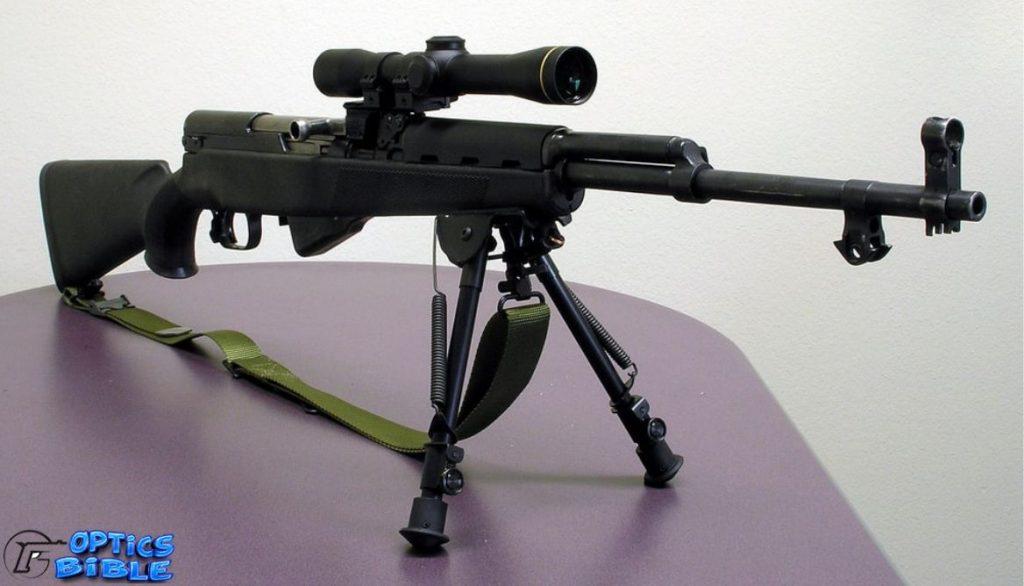 The best SKS scope mounts offer a stable foundation for your scope. AD adapters enable easy set up or removal of accessories for cleaning or when in harsh conditions.
Moreover, a stable scout scope mount allows you to modify the height and eye relief to get into an appropriate shooting position.
Accuracy
The best scope mounts provide increased accuracy and precision, which you can seamlessly zero in by upgrading. Some systems have see-through styles to help with the installed iron sights.
Scoring Better
Upgrading your scope also automatically betters your scoring while shooting.
How To Install Wipboten Mount
Installation:
Ensure the lever is facing downwards. Push it upwards if you need to adjust its screws.
Push it on the rifle's system and ensure the process is smooth all the way. 
Finally, adjust towards the upper left side to lock your mount. 
Frequently Asked Questions
Should You Use A Scope On Your SKS?
The SKS was never intended as a scope mounting option. When you want a scope, the options listed are some of the best SKS scope mounts to off reasonably decent mounting systems.
Why Is It So Hard To Mount A Scope On An SKS?
Installing an SKS scope mount is easy if you understand the fitting design, including the screws or lever and any other locking system. Some are simply push-and-lock dynamics.
What is A Scout Scope?
A scout scope is a variation mounted forward of the receiver on the gun's barrel. They are typically light and compact, with low magnification and good eye relief.
Are All SKS Mounts The Same?
No, SKS products come in different varieties to accommodate a wide range of SKS accessories. For instance, not all come with a rail or ring system.
Conclusion
That's all we have on the top 6 SKS products and the matters you should consider before purchasing or upgrading a mount.
So, which mounting option has impressed you and why? Leave a comment below with the answer or any additional information you'd like to add regarding the discussed topics.