Best Shotshell Reloading Press: 5 Products that are Worth Buying
A reloading press facilitates the loading process by bringing together the various components of a cartridge, including the case, primer, bullet, and powder. In this article, we will help you identify the best shotshell reloading press: their specs, pros and cons, and the different types of shotshell presses.
Before deciding on the reloading press, read our reviews.
Top Shotshell Reloaders For 2023
| | | | |
| --- | --- | --- | --- |
| | LEE PRECISION II Shotshell Reloading Press | MEC 600 Jr Mark V 410 Shotshell Press- 2.5″ Shell | Ponsness Warren 375C Du-O-Matic Shotshell Reloader |
| | | | |
| | | | |
| | | | |
| | | | |
| | Safety charge bar with shot bushing | | |
| | | | |
| | Built-in primer feature with aluminum plate | Original equipment manufacturer priming mechanism | Built-in primer feature with aluminum plate |
| | | 3 bushings for every gauge | 3 bushings for every gauge |
| | | | |
| | | | |
Editor's Best Pick of Shotshell Reloaders
All the Shotshell reloaders have awesome features for your reloading:
The Lee Precision II shotshell is best for its versatility and quality.
The MEC 600 Jr Mark V 410 shot shell Press is best known for its consistency, speed and user-friendly design.
The Hornady 095100 Lock-N-Load Auto stands out due to its fast production speed.
The LEE PRECISION II is a single-stage Shotshell Press. It can produce several shells quickly; we have outlined the specifications below.
LEE PRECISION II Shotshell Reloading Press 12 GA

safety charge bar with shot bushing

Built-in primer feature with aluminum plate
LEE PRECISION II Shotshell Reloading Press 12 GA Features:
Versatility: Shotgun rounds of 12, 16, and 20 gauges may be used in this machine. Shotgun shells typically come in one of these three standard shot sizes. However, if the Press is changed to 16 or 20-gauge, it can't be used with 67.5mm shells.
Reloading pace: The Lee precision shotshell press has an exceptional progressive reloading process speed of 100 rounds per hour. That's fast enough to allow you to prepare five or six boxes of shells in an hour.
Spent shells casing: The performance with new casings is adequate, but this is the ideal pickup if you want to reuse old cases.
Primer punch and casing seater: The Lee precision shotshell reloader is finely made and has a slider that rapidly propels out fresh shells constantly.
Superb build quality: it's made with aircraft-grade aluminum and premium plastic. Hence, it's reasonable to assume that it will serve you well for a considerable period.
Powder bushings: This reloader press includes 16 powder bushings in the following sizes (in cubic centimeters): 198, 189, 180, 171, 163, 155, 148, 141, 134, 128, 122, 116, 110, 105, 100, and 095.
Shot Bushings: The eight-shot bushings included with the Lee Load-All 2 Shotshell Press are sized 1-7/8, 1-3/4, 1-1/2, 1-1/4, 1-1/8, 1, and 7/8 ounces.
Weight: Compared to the other shotshell presses, the Lee precision shotshell reloader weighs lightly at 1.77 kilograms
Pros
Very easy to work with – New users have praised the reloading process's ease and seamless operation.
Lightweight and convenient to transport.
Versatility – it is Capable of firing rounds of various gauges, including 12, 16, and 20
Very quick production rate of 100 rounds per hour.
Low-priced enough to be a good deal.
Superb quality assurance from a trusted manufacturer ensures it will last a long time.
Cons
It takes a lot of time to become good at it.
The MEC (Mayville Engineering Company) 600 Junior Mark V 410 shotshell Press is one of the best shotgun reloading presses. This reloading Press suits the occasional backyard shooters, target shooters, and hunters, It has incorporated these features:
MEC 600 Jr Mark V 410 shotshell Press-2.5″ Shell

Original Equipment manufacturer priming mechanism

3 bushings for every gauge
MEC 600 Jr Mark V 410 Press- 2.5″ Shell Features
Production rate: The Mec 600 Jr Mark v single-stage reloader can effectively and swiftly reload many shotgun rounds simultaneously. It has the capability of producing 120 shells per hour.
Action: The MEC shotshell reloader has a single-stage cam action; This makes it easy to load shotshells into the magazine and chamber of your firearm while preserving the crimp. While in operation, it may be stopped for inspection or tweaking of the die.
System: It has a "Spandex" crimp starter, which ensures the system is always in the optimal position regarding the shell and good shell performance.
Priming feature: The MEC press features an original equipment manufacturer (OEM) priming mechanism. The separately available MEC 285 CA Primer Feed provides automatic priming. Priming feed autoloaders are available from MEC as an add-on.
Versatility: The versatility and dependability of the Mec reloader derive from its straightforward design. You can expertly reload shotgun shells with just a few minutes of setup.
Shotshell length: The length indicated on the 600 Jr. Mark V reloading press is the standard size for most rounds, which is 2.75 inches. If required, the Press may be adjusted to create 3-inch shells.
Durability: Regarding durability, the unit's construction is of the highest caliber. Steel structure makes the 600 Jr. Mark V suitable for usage in the great outdoors.
Pros
Adaptable layout, which makes it user-friendly.
Ideal for mass shell reloading.
No special skills are needed to set up or reload the ammo.
This kind of Press is renowned for its lifetime and remarkable resilience.
Cons
Price. Despite its high cost, the investment is worth it due to its many helpful features.
Sometimes, there may be an overflow of materials between reloading points.
The Daddy ammo 12 gauge single stage press is entirely manual; thus, a single shotgun round requires considerable time and effort.
Using this hand loader, it is simple to reload 12 gauge shotgun shells.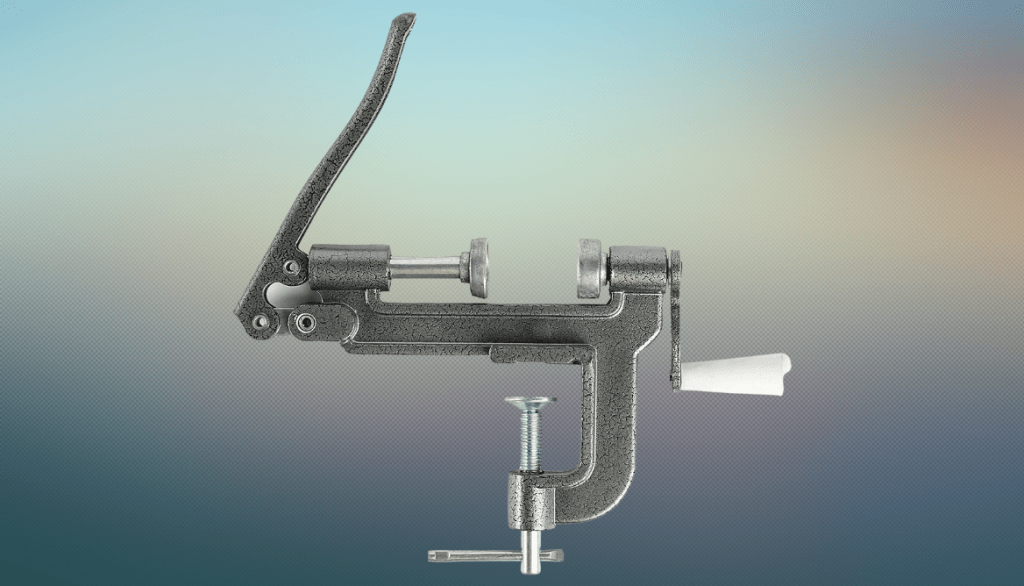 Plastic bushing with six slots, evenly spaced around the circumference
DADDY AMMO 12 Gauge Shotgun Reloading Press Features
It has the following characteristics:
Shell length: The Daddy ammo shotshell press works with 2.5 inches diameter shells.
Production capacity: The Daddy ammo reloader produces 50–60 rounds per minute. Yet, this volume is exceedingly difficult to attain, and a more acceptable estimate is 40 shells per hour.
Superb Quality: Despite the low price, the Daddy Ammo shotshell press has a very high build quality. In addition, an aluminum crimp starter of superior quality is supplied.
Affordable: One of the many benefits of purchasing this reloading Press is its reasonably priced price.
There is no chance of any minor spillage: The DADDY AMMO 12-gauge roll-over crimper does not need lubricants or oils.
Pros
Convenient and user-friendly
Long-lasting design
Superior dependability when reloading
Excellent value for the price
Cons
It has a low reloading speed which makes it unsuitable for mass reloading.
4. Ponsness Warren 375C Du-O-Matic Shotshell Reloader
The Warren 375c shotshell reloader is one of the best shotgun reloading presses. It is more expensive yet has significant practical benefits.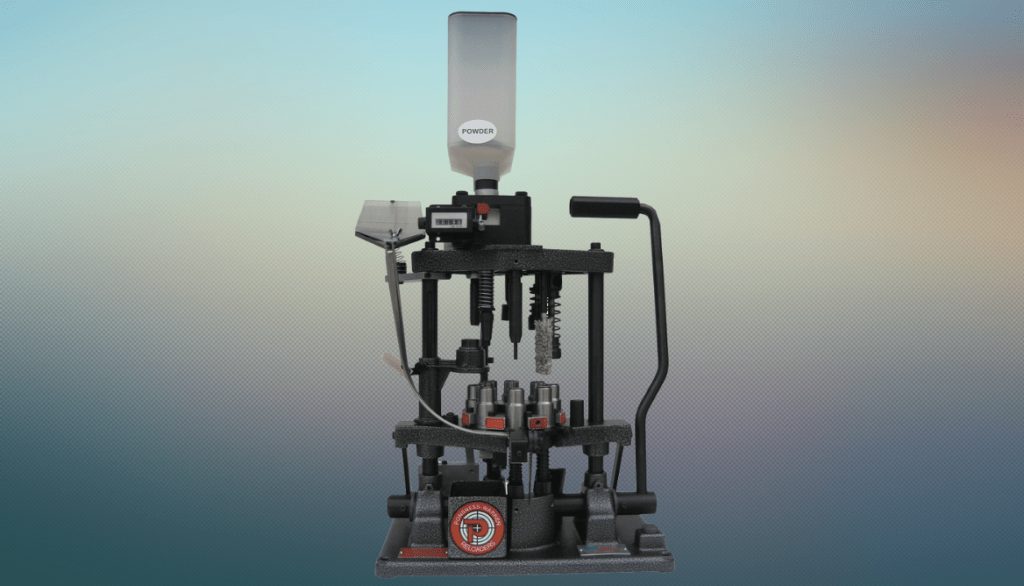 Ponsness Warren 375C Du-O-Matic Shotshell Reloader

Built-in primer feature with aluminum plate

3 bushings for every gauge
Ponsness Warren 375C Du-O-Matic Shotshell Reloader Features
Gauge: The Ponsness shotshell Press accommodates 12 gauge and.410 gauge shells.
Production rate: The Production capacity of Ponsness warren is good. Although it is a single-stage reloader, it outperforms the competition by a large amount, generating up to 150 rounds every hour.
Powder coating: The machine's powder-coated finish and double-construction frame provide the highest levels of durability and performance.
Charging ring: The Ponsness shell reloader features a positive lock charging ring that prevents the powder from escaping and a bushing access port that makes inspecting and replacing the bushings simple.
Pros
You won't have to worry about accidental material leaks.
Capable of reloading in large quantities
It has a tough powder coating.
Suitable for use with a broad range of casings
Cons
It is highly priced.
There may be a better shotshell reloader for a beginner.
Hornady Lock-N-Load AP is a progressive shotshell Reloading Presses by Hornady. It is an innovative press. During loading, the die resizes the shell and retains it enclosed.
Each station utilizes a spring-loaded ball-check bearing to ensure the size die is correctly centered.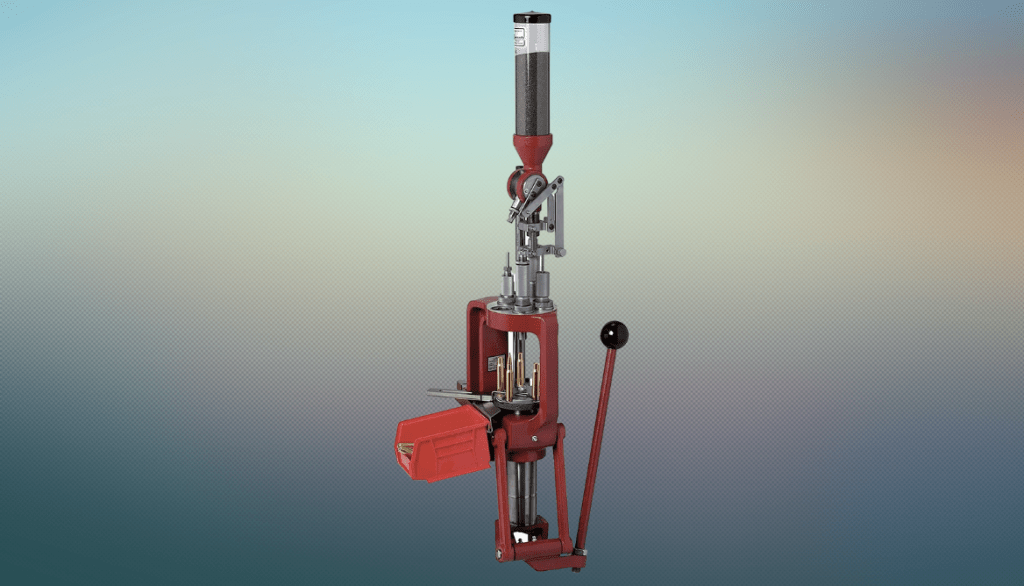 Hornady 095100 Lock-N-Load Auto

Removable spent primer tray

Plastic bushing with four slots, evenly spaced around the circumference
Hornady 095100 Lock-N-Load Auto Features
Retention spring: This machine is equipped with a universal case retention spring, and a complete reload may be sent from the last station with a single lever stroke.
Accuracy: With its multiple patent-protected features, the progressive reload system from Hornady is one of the best shotshell reloaders that operates at lightning speed and pinpoint accuracy.
Quick-change load bushing: The 5-station rapid change bushing system makes switching out components possible in minutes, saving both time and effort.
Metering system: Powder changes in the Hornady Lock-N-Load AP Press are as simple as pressing a button, thanks to the pressurized metering system that measures powder.
EZject Technology: The EZject technology ensures you never worry about damaging a cartridge again. The powder drop is triggered once a case is present.
Pros
This shell-making tool is leak-proof, allowing you to create without worry.
You won't have to worry about accidental material leaks.
It has a very efficient production speed.
Cons
The Hornady reloader is highly priced compared to other shotgun shell reloaders.
What is the Best Shotgun Reloading press?
The best shotshell reloader will vary depending on your needs:
MEC 600 Jr Mark V 410 Press- 2.5
The MEC 600 Jr is the best Shotshell reloader for skeet shooters. However, for heavy competition, you can opt for the progressive Press.
Sale
Sale
Hornady Lock-N-Load AP Press Loader
For anyone seeking to produce a large volume, The Hornady lock-n-load auto is the best shotshell reloader since it has a production speed of over 500 shells per hour.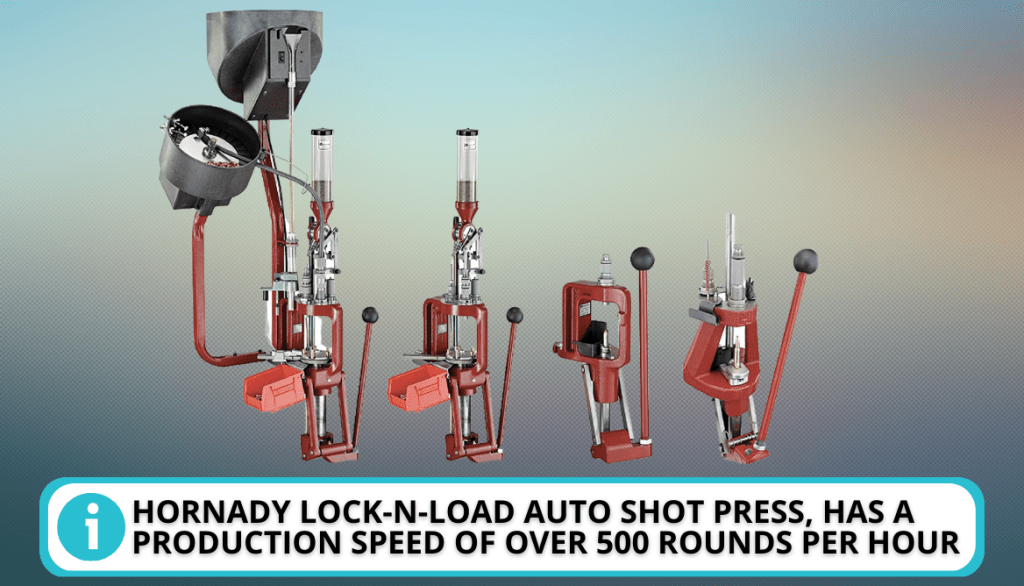 Weaknesses
However good the reloader is, several weaknesses are bound to be seen. They include:
Micro cracks around the base or neck of the cartridge may go unnoticed, leading to rapturing of the shell casings.
Divot cases may be caused by excessive application of lube.
Incorrect powder application, which leads to a disassembled rifle. This may be a potential injury cause.
The bullet may be shaved by the case's mouth, leading to interference with the accuracy.
Excessive clumping may result in creating a cartridge that will fail to chamber.
Which Gauges Should You Reload?
Several gauges may be used with various shot presses; for example, the lee precision can handle 12, 16, and 20 gauge. However, some shotshell presses are caliber specific.
The cost savings from reloading 12 or 20-gauge rounds are minimal. Rarer gauges can be shot for far less money. When you reload your 410, 16 or 28 gauge shot shells, you reduce your costs by 40 percent.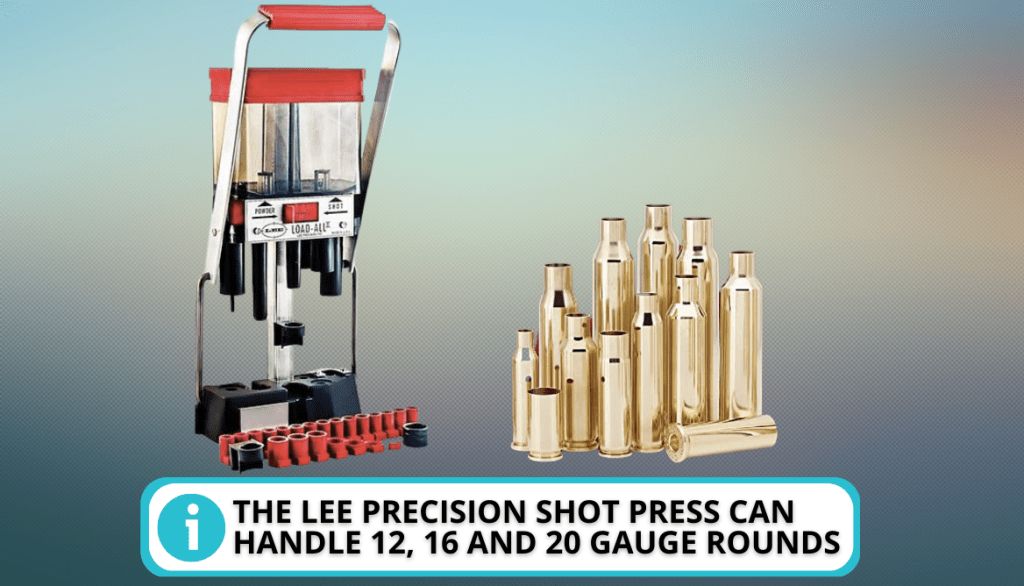 Different Types of Shotshell Press
There are different shotshell presses, but the most common is the single-stage and progressive Press.
Single Stage Press
It is the most popular and basic press.
Compared to other reloading presses, single-stage presses need far fewer moving parts. This allows them to build deadly weapons with precision and accuracy consistently.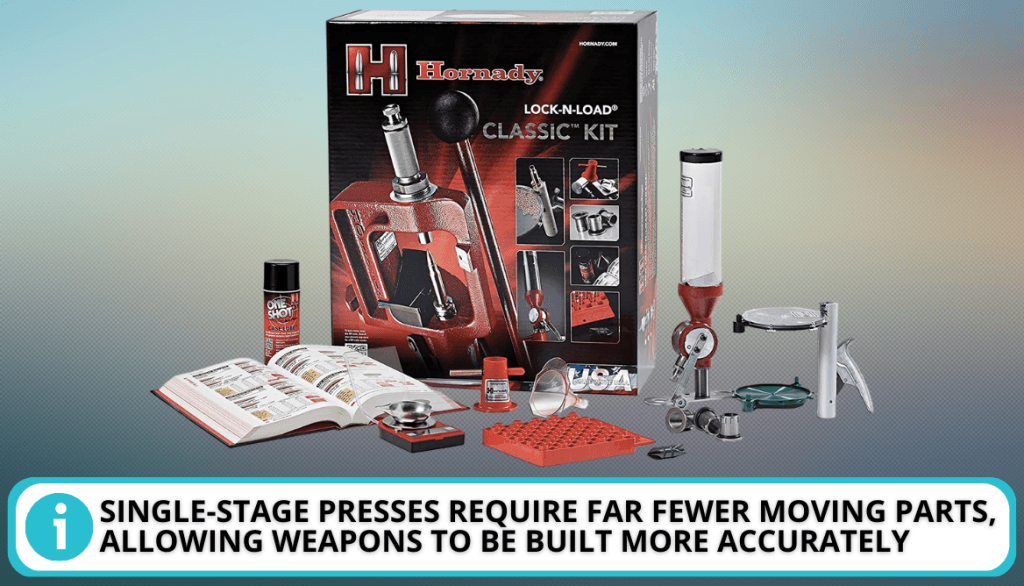 Pros
Single-stage reloading machines are popular among hunters and target shooters due to the consistent quality of the ammunition they generate.
Easy to maintain compared to other advanced reloaders.
Compared to other reloading presses, their lifetime is much longer.
Cons
Relative to other presses, their speed is sluggish. This Press will need some time to reload a substantial amount.
Not capable of doing many things concurrently.
Single-stage presses for reloading ammunition include the following:
Redding Big Boss/Big Boss II
Lee Precision II shotshell
Classic Hornady Lock and Load Rifle
Progressive Press
It is the most innovative and fastest reloading Press on the market. The Progressive Press allows you to do many loading activities with a single-handle action.
Pros
A sophisticated press can multitask. The model determines its particular actions.
They can reload much ammo quickly and effectively, such as in competition.
They are quick and simple to use.
Modifiable with little effort
Cons
They are complicated for beginners.
Compared to presses with a single step, they are more expensive.
Possible contamination of the priming system.
The progressive presses are heavier compared to the single stage presses.
Some of the progressive presses include:
Hornady 085001 Lock-N-Load
Hornady 095001 Lock-N-Load
RCBS Pro Chucker 7
Why Reload Shotgun Ammo?
There are many reasons why people their ammo:
The opportunity to save money. Purchasing these components and reusing your current shells is more cost-effective than buying the shells.
Maintaining a consistent supply of shotgun ammunition and the ability to reload fast while confronting looters is essential. You could be required to fire at incoming enemy forces continuously.
Reloading the shotgun ammo enables you to reprocess the spent hulls into new ammunition. If your opponent had a shotgun, you may reload the round casings and store more ammo.
FAQ
What is the most accurate reloading Press?
The lee ii shotshell Press is the most accurate presses. This is because there are fewer moving parts to affect the round being loaded.
What are the best reloadable shotgun shells?
The best reloadable shotgun shells are the Remington STS and Winchester AA hulls because the plastics used in their manufacture are of premium quality; this means the hulls can be reloaded around five times before they are rendered non-reloadable.
Does RCBS make a shotshell reloading press?
Yes, the RCBS Mini Grand Single Stage Shotshell Press is an excellent shotshell reloading press For hunters and target shooters. Furthermore, It is backed by the Lifetime Warranty from RCBS.
Are 20-year-old shotgun shells still good?
Yes. 20-year-old shotgun shells can still be good if they are kept in a dry, cool environment with low humidity, ideally in an airtight container. Expert shooters who have fired thousands of rounds have no trouble using ammunition that is 20 years old.
What is the most lethal shotgun shell?
The 12 Gauge shotgun shell is the most lethal and versatile of all the gauges, Although the 12 gauge is powerful enough to hunt most game types, it's lighter than a ten gauge shotshell press.
Conclusion
The experience level is one of the most important things you need to consider, as well as the type of firearm and ammunition you use. Finding the right shotgun reloading Press requires you to scrutinize the specifications, pros, and cons.
Luckily we have already done that for you. Each reloading Press had its unique features, but this one is the best:
Sale
Which reloading Press did you love, and what features got you excited.? Feel free to comment below.