Best Scope for Colt LE6920: 4 Things To Consider Before Buying
Many Colt owners find it difficult to manage the recoil of the weapon but a high-end scope can make things easier by tracking the dot during recoil. To find the best scope for Colt LE6920, we will be doing an in-depth analysis of some amazing scopes, their pros and cons, and other attributes that will help in finding the right scope. Let's dive into further details!
Best Scope For Colt LE6920: Our Top-Pick
Vortex Spitfire 1x

Prism Riflescope

Bushnell 4.5-18X40 Riflescope with DZ 223 Reticle

Leupold VX-Freedom 3-9X40 Rifle Scope

Multiple anti-reflective coatings

Hardened surface coatings
The Vortex Optics Spitfire 1X Prism Scope is specially designed for the AR platform. Its accurate targeting is due to medium to long-range magnification, and eye relief granting easy aiming down the sights.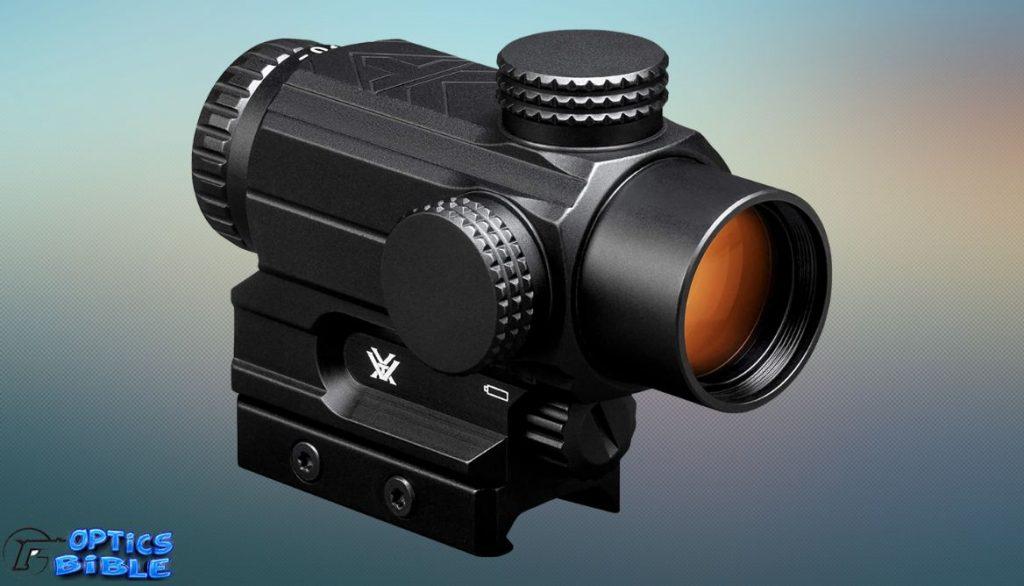 Specification
Eye Relief (Max): 3.8 inches
Parallax Setting: Parallax free
Elevation Adjustment: 120 MOA
Max Windage: Adjustment: 120 MOA
Waterproofing: IPX7
Tube Diameter: 1"
Lens Coating: Multiple anti-reflective coatings
Magnification Type: 1X
Length: 4.3 in
Weight: 11.2 oz
Lightweight Design and Top-Notch Durability
For gun owners looking for a lightweight and durable scope, this is the perfect addition to their collection. Crisp red dot sight, excellent quality lenses, and ease of use make it a top pick among shooters. It also does not add too much weight to your weapon after being mounted. For more info click here.
Windage and Elevation Adjustments
The Vortex Spitfire has a max windage adjustment setting of 120 MOA and the same is for the max elevation adjustment. With a very precise adjustment graduation of 1 MOA, you will never miss that accurate setting that suits your shooting style.
Features
The rugged design allows it to withstand shocks from recoil.
Nitrogen purging ensures a fog-proof experience.
Anti-reflective coatings offer increased transmission of light and enhanced view even in low light condition
Prism design offers a compact build while ensuring the top-optical quality of the scope.
Pros
A high-quality and clear image of the target.
It is waterproof.
The scope is shock resistant.
There are adjustable levels of brightness on the scope.
Excellent value for money investment.
Extremely rugged design.
Cons
No ease of use when being used as a magnifier with prismatic optics.
Constructed with a single-piece tube, the Bushnell 4.5-18X40 Riflescope with DZ 223 Reticle is one of a kind scope that delivers accuracy, reliability, and adjustable parallax.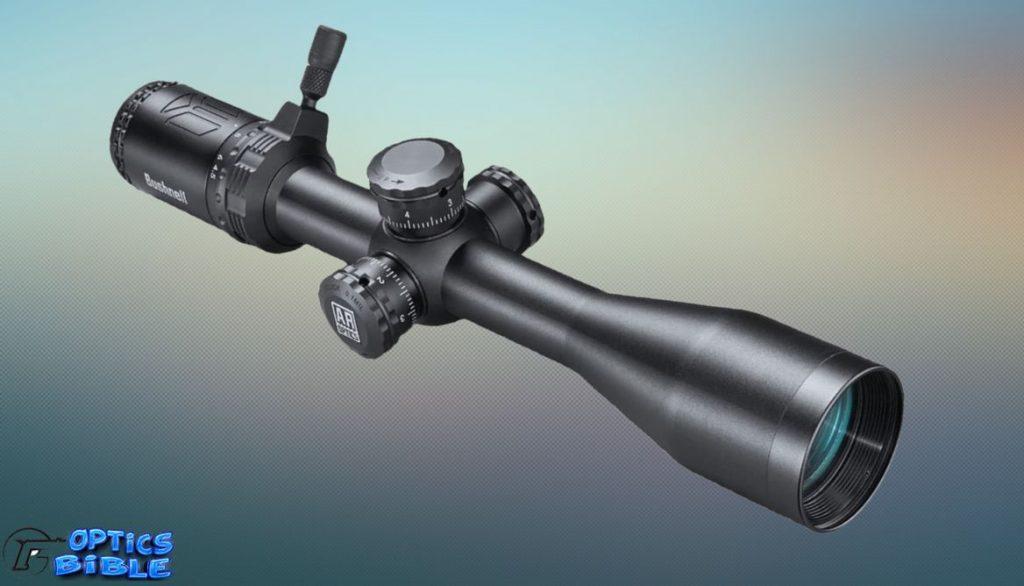 Easy Adjustment Options
You can quickly adjust the magnification to match your requirements and hit the target with pinpoint accuracy. The adjustment knobs feel comfortable and can be adjusted quickly with less chance of error.
Specification:
Eye Relief (Max): 3.6 inches
Parallax Setting: Side Focus
Elevation Adjustment: 50 MOA
Max Windage: Adjustment: 50 MOA
Waterproofing: IPX7
Tube Diameter: 1"
Lens Coating: Fully Multi-coated
Magnification Type: 1X
Length: 12.4 in
Weight: 19.4 oz
Bushnell IromClad Warranty
Bushnell's warranty system is super impressive. Once you have bought the product, you get a lifetime warranty that spans 30 years duration, even the materials and workmanship are covered in the warranty.
Features
The throw lever enables you to quickly change the magnification.
There is also less chance of missing the precise magnification setting while using the throw lever.
Exposed turrets for easy windage and elevation adjustment.
Accurate shots while using it on medium and extended ranges.
Pros
Very lightweight.
Rugged and durable design.
Easy to use.
Single-piece construction adds robustness to build quality.
Generous eye relief.
Compatible with all types of ARs.
Cons
Mounting parts are not present and need to be purchased separately.
Vortex Optics SPARC Gen II Red Dot Scope is designed for ease of use and utility for beginners and pros as compared to the Vortex Strike Eagle. Sparc red dot is a low-budget scope that is suitable for short and medium-range shooting.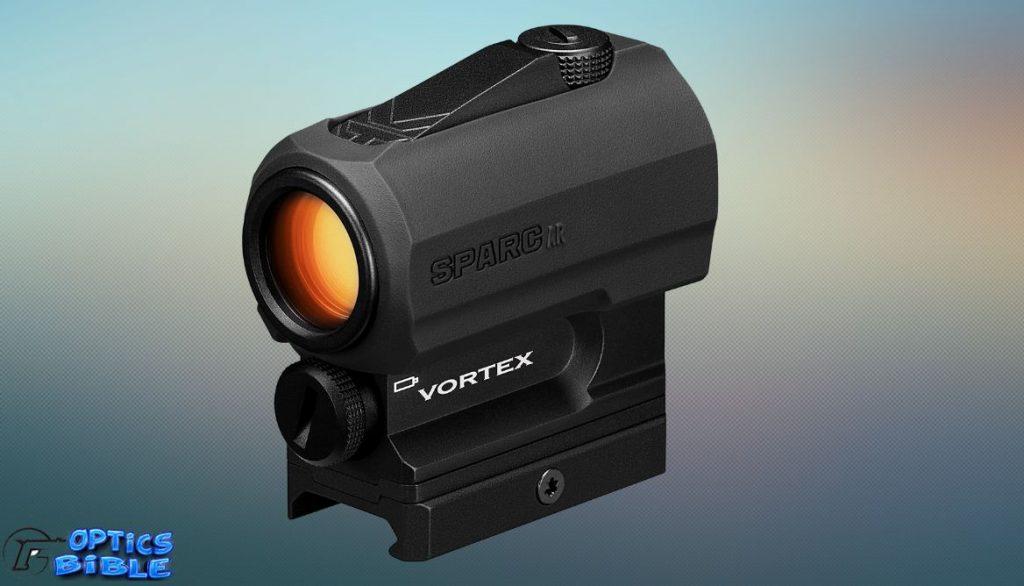 Specification:
Eye Relief (Max): Unlimited
Parallax Setting: Parallax Free
Elevation Adjustment: 90 MOA
Max Windage Adjustment: 90 MOA
Waterproofing: IPX7
Tube Diameter: 22 mm
Lens Coating: Multi-coated
Magnification Type: 1x
Length: 3.1 in
Weight: 5.9 oz
Compatibility with Most ARs
Sparc red dot can easily fit on any type of AR and allows impressive eye relief even on the most powerful rifles making it a preferred choice by shooters. The shooter's eye will always be safe even when shooting at point blank at close ranges.
Eye Relief
Most shooters are worried about gun recoil causing injury to the eye. Vortex Optics SPARC Gen II Red Dot Scope has unlimited eye relief which means you will never have to worry about that type of injury ever again. You can also easily customize the height of the scope easily for a more comfortable experience.
Features
The modular three-piece base allows various mounting heights for users to customize.
It is machined from aircraft-grade aluminum that can withstand shocks from recoil.
The simple and lightweight design makes it easier to operate.
Rear-facing controls for power is a very simplistic approach and make adjustments quicker.
Pros
Easy to use and setup (adjustment and zeroing)
Excellent choice for beginners.
Ultra-compact design makes it easy to carry.
Excellent value for money and pricing.
Durable build quality.
Cons
No option for magnification and magnification indicators are not present.
Brightness buttons can be unresponsive at times.
Trijicon TR20 AccuPoint 3-9X40 Riflescopes are famous for their rapid target acquisition and high-end accuracy even in low light conditions.
Specification:
Eye Relief (Max): 3.8 in
Parallax Setting: Parallax free
Elevation Adjustment: 50 MOA
Max Windage Adjustment: 50 MOA
Waterproofing: IPX7
Tube Diameter: 1 in
Lens Coating: Multi-coated
Magnification Type: 3-9x
Length: 12.4 in
Weight: 13.4 oz
Ingenious Illumination System
The riflescope has a very unique illumination system that does not require batteries. It uses fiber optics and tritium which provides the shooter with a bright and clear aiming point in any type of lighting condition even with less light transmission.
Construction and Quality
The riflescope is made of highly durable and tough material. 6061-T6 Aluminum is used for its construction which is an aircraft-grade aluminum able to withstand recoil shock and impacts. This video can further guide you in detail.
Features
The magnification level can be repositioned as per need.
The adjusters can be used easily and require no tools to adjust.
Designed for extreme conditions.
It is tested for military standards.
Pros
Lightweight.
Rugged and durable scope.
Does not require batteries.
High level of accuracy.
Able to hit the target under any light conditions.
Cons
The green dot is a little faint.
The Leupold VX-Freedom 3-9X40 Rifle Scope is one of the high-end scopes made by the company. It offers peak performance and reliability to shooters in even the harshest conditions. It is one of the best among both the first-focal plane and second-focal plane types of scopes so far.
Specifications
Eye Relief (Max): 3.7 inches
Parallax Setting: Parallax Free
Elevation Adjustment: 60 MOA
Max Windage: Adjustment: 60 MOA
Waterproofing: IPX7
Tube Diameter: 1"
Lens Coating: Hardened surface coatings
Magnification Type: Variable
Length: 12.49 in
Weight: 12.2 oz
What Makes the VX-Freedom so Special?
It is a rugged, lightweight, and anti-glare sight that can fit any type of rifle. The resolution and clarity of the glass are top-notch with 100% waterproof and fog proof capability. The second focal plane guarantees that the reticle remains the same size even if the target grows in size or shrinks while changing magnification.
Build Quality
The Leupold Model VX-Freedom is a tough riflescope as it is made from 6061-T6 aircraft-grade aluminum. It has been tested under the most extreme conditions. It can easily withstand the strongest of recoils.
Features
The Twilight Light Management System delivers unmatched brightness and a clear image.
The scope can function under extreme temperatures of -40ºF to 160ºF.
Leupold scopes are impact tested and the Leupold VX-Freedom has been tested with a minimum of 5000 impacts and survived.
A lifetime guarantee enables users to be less worried.
Pros
High-grade materials were used for the construction of the scope.
Unmatched clarity.
Amazing turrets with ease of use.
Multiple reticle options.
Night vision compatibility.
Excellent eye relief.
Very easy to use on any rifle.
Affordably priced red dots.
Long battery life even on the highest setting.
Cons
Some users might find the reticle to be very fine and hard to use.
This Red Dot Reflex Scope is widely used by the military and other law enforcement agencies around the world. It offers the shooter easy focusing and .quick target acquisition. You can do rapid target transitions, have ease of use and quick setup, unlimited eye relief, and 30,000 hours of battery life.
Specification:
Eye Relief (Max): Unlimited
Parallax Setting: Operationally parallax free
Elevation Adjustment: 2 MOA
Max Windage Adjustment: 2 MOA
Waterproofing: Submersible to 150 Feet
Tube Diameter: 30 mm
Lens Coating: Fully Multi-coated
Magnification Type: 1x
Length: 6.75 in
Weight: 6.8 oz
Extraordinary NV Options
The Aimpoint PRO Red Dot Reflex Scope is easily compatible with all generations of night vision devices. It comes with 4 NV compatible settings and 6 daylight settings.
Whether you are in a forest that has little to no light or you are out in the open the scope will function perfectly well in all types of lighting scenarios without fail.
Made for Tough Environments
The Aimpoint PRO Red Dot Sight Reflex Scope is made from hard anodized aluminum material. It is rugged and tested for all types of real-life conditions. It can also be submerged in water depths of up to 150 feet.
Features
The scope can be easily used in bright sunlight due to a special feature in brightness settings.
30,000 hours battery time equivalent to 3 years of constant use at 7 of 10 settings.
It has absolute co-witness in relation to the iron sight (with the supplied spacer installed)
You can easily submerge the scope in 150 feet of water and it is still operational.
The scope has a high level of accuracy at all distances.
Pros
It has a glass-etched reticle.
It has an extended battery life.
10 brightness settings to choose from.
The sight of the scope offers a clear picture of the target.
Very durable and rugged construction.
Cons
Adjustments design needs to be made better.
Specification:
Eye Relief (Max): 3.5 in
Parallax Setting: Fixed @100 yds
Elevation Adjustment: 140 MOA
Max Windage Adjustment: 140 MOA
Waterproofing: IPX7
Tube Diameter: 30 mm
Lens Coating: Fully Multi-coated
Magnification Type: 1-6x
Length: 10.5 in
Weight: 18.5 oz
Vortex Optics Strike 1-6X24mm Rifle Scope for a budget-friendly scope that offers features that are present in most high-end riflescopes. The reticle offers multiple brightness settings, pin-point accuracy, reliability, and a sleek design.
Unbelievably Tough
It is made from aircraft-grade high-quality aluminum and finished with a hard-anodized coating. This construction approach makes it very durable and it easily withstands environmental damage.
ArmorTec Technology
ArorTec is a super durable coating that protects the surface of the lenses from scratches, dirt, and oil. Allowing the shooter to be carefree when using the scope even in rough conditions.
Features
Nitrogen gas-purged glass does not let it fog even under extremely cold temperatures.
The reticle maintains its ideal appearance due to the second focal plane reticle present.
Glass etched reticle protects the glass and ensures reliability even under tough conditions.
XD Lens elements allow for a more crisp, colored, and high-resolution image.
Pros
It is fog proof.
It is also waterproof.
The rugged design makes it shockproof.
The magnification range is impressive.
It offers good eye relief.
If you are looking to invest in a value-for-money scope then this is the best choice.
Cons
It is heavier than most riflescopes on the market.
A Sneak Peek into the Colt's LE6920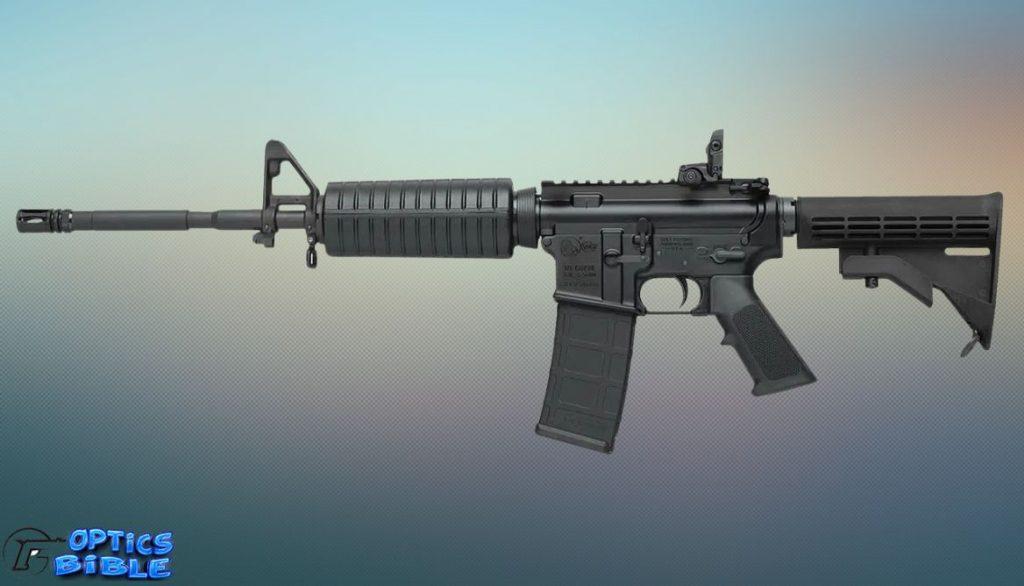 An impressive weapon manufactured by the Colt is the LE6920 which is one of the best ARs manufactured to date. Law enforcement agencies, and the military, carry this weapon across the country with pride.
As compared to its twin, the 6920 comes at a very premium price. Let us review the 6920 in more detail!
The 6920
The 6920 has two very notable variants, the LE6920 and the SP6920. Both models are very similar in appearance except for the markings. The LE6920 comes with a badge that identifies it as strictly for the military or law enforcement agencies only. The LE6920 has been discontinued now. For more information watch this video.
Attributes (Attachments, Illuminated Reticle, etc)
What makes the Colt LE6920 a fantastic addition to your collection are its features. It has a high-strength polymer four positions collapsible stock on the lower assembly.
The trigger of the weapon is a standard, semi-automatic AR-15 trigger. If you want to swap it with any other custom trigger brand then it can be done easily. The carry handle is also ejectable.
Parting Shot
The Colt LE6920 is one of a kind rifle that has elevated the standard of the AR-15s category in its time. To label it as a common rifle would be unjustified for the LE6920. There have been so far no negative statements regarding the rifle.
Specifications:
Model: LE6920
Caliber: 223 Remington/5.56 NATO
Fire Control: Semi and Auto
Barrel: 16.1" (40.89 cm) Chrome Lined M4 Contour Barrel with A2 Flash Suppressor
Capacity: 30+1
Effective Range: 600m
Finish: Black Anodized Hard coat
Operating System: Gas Operated Semi-Auto
Overall Length: 32″ (81.28 cm) Stock Retracted / 35.5″ (90.17 cm) Stock Extended
Rifling: 1/7 Right Hand
Safety: Lever
Sights: Magpul Gen2 Rear / A2 Front Sight
Stock: A2 Style Pistol Grip, 4-Position M4
Twist Rate: 1-7″ RH
Weight: 6.9 lbs
Additional Features: Colt Rogers Super-Stock (2013), 30-round PMAG magazine, Magpul MBUS Rear Sight (GEN 2)
Features:
A chrome-lined barrel is one of the most notable features of this weapon.
Carbine length gas system.
It comes equipped with a four-position stock.
It has an A2 front sight with the Magpul MBUS rear iron sights to pair with it.
The weapon is also fitted with an Aluminium Lower Reciever (Forged 7075T6).
It also has an Aluminum A3 Flat Top Upper Receiver.
Things To Know While Buying a Scope For LE6920
Below are some of the most crucial features that are a top priority when choosing the right scope.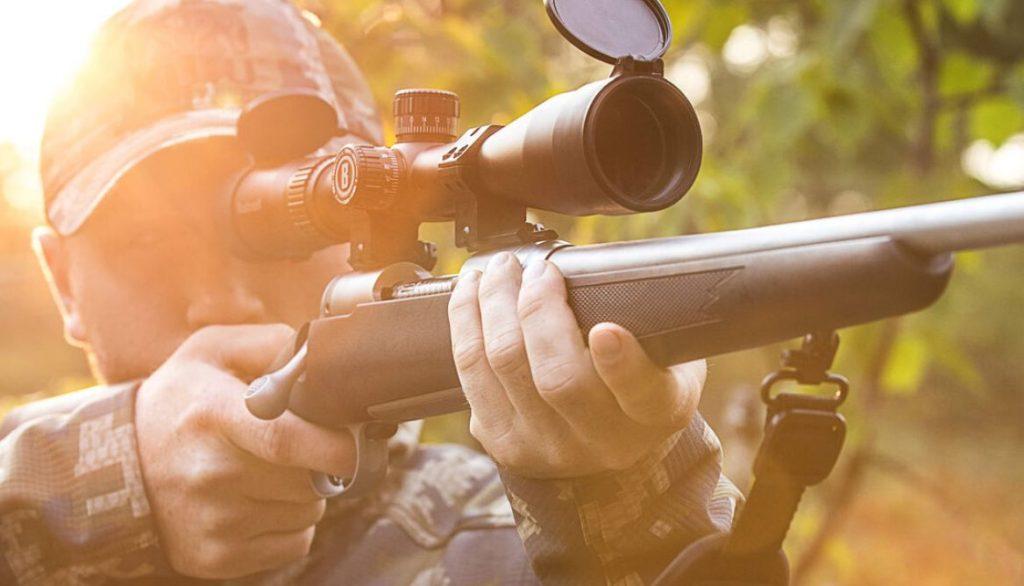 Build Quality of Scope
Full auto and burst rifles have completely different recoils that take time to practice and become habitual. You may feel a sudden shift in the movement of the scope mounted on your weapon while you are shooting.
If you are not careful enough then you may injure your eye or damage the scope. And nobody wants such a mishap during their shooting experience! To ensure that you choose the best sight for your rifle, research the red dot sights or scopes that provide maximum eye relief and recoil resistance.
A scope with exceptional build quality and durable design can easily handle shocks and recoils of any sort. They are made using high-grade materials that last for years.
Accurate Target Engagement Includes Magnification Options
When choosing a sight for the LE6920, you should keep in mind certain features of the scopes or red dot sight that also come along. The level of magnification matters a lot! High-quality image quality and clarity also boost your chance to hit your target with maximum accuracy.
A decent mid to long-range red dot sight or scope will be more than enough to hit your target with ease. But, make sure to check the capability of the red dot sight or scope to zoom on the target for better adaptability to different distances.
Lens Quality
The shooter uses their weapon in different environments that may be challenging. The lens also goes through rough and tough situations along with the weapon.
You need to choose a lens that has a reliable lens coating (such as fully multi-coated) to keep it safe from wear and tear while shooting your weapon. Dust particles or accidental scratches from objects can damage the lens.
So, hardened coatings or fully multi-coated lenses are the best when you choose a good scope for your weapon. Also, keep double-checking on the price of the red dot sights so that you do not end up buying a very pricey one that is not worth the price tag.
Warranty
Many companies give amazing warranties for their scopes. Glass objects such as lenses on a scope may require a reliable warranty from the company if they are damaged or broken due to an accident.
Durable and rugged red dots is what most shooters prefer installing on their weapons. Always make sure to buy a product that has customer support and a decent warranty.
FAQ
Is the Colt LE6920 discontinued?
Yes. Colt discontinued the LE6920 model but it continues to offer firearm owners a similar Colt version named SP6920.
Is the Colt LE6920 worth it?
Definitely worth the price! It is worth every buck as it is one of the best starting rifle versions for a civilian to own.
What is the twist rate of a Colt LE6920?
The twist rate for the Colt LE6920 is 1:7″ respectively.
What is the difference between Colt LE6920 and LE6940?
There are two very distinct major differences between the LE6920 and Colt 6940. Firstly, the LE6940 is equipped with a rear sight and a folding front. The second major difference is the one-piece upper receiver that has a monolithic rail and a free-floating barrel.
Is Colt LE6920 gas or piston?
It is a gas piston operated. It has a carbine-length gas system fitted in the upper assembly.
What is the most powerful Colt revolver?
The Colt Python is one of the most powerful revolvers made by the company. It used the .357 magnum rounds.
Conclusion
Colt has undoubtedly produced amazing AR-15s to date. If you are looking for a good scope for your rifle then there are many famous names in the market such as Leupold, Vortex, Trijicon, Bushnell, and Aimpoint.
It all depends on your requirement and shooting style. While many shooters prefer magnification and extended ranges while others prefer accuracy, and a few want rugged construction.
Our recommended scope is Leupold VX-Freedom 3-9X40 as it is parallax free, can function under extreme conditions, and offers unmatched performance in terms of image quality and brightness settings. Also, it is tried and tested for impact resistance which makes it suitable for any type of environment.
Which scope did you find best for LE6920? Let us know in the comments section. We would love to know about your choice.