Best Scope for 300 Blackout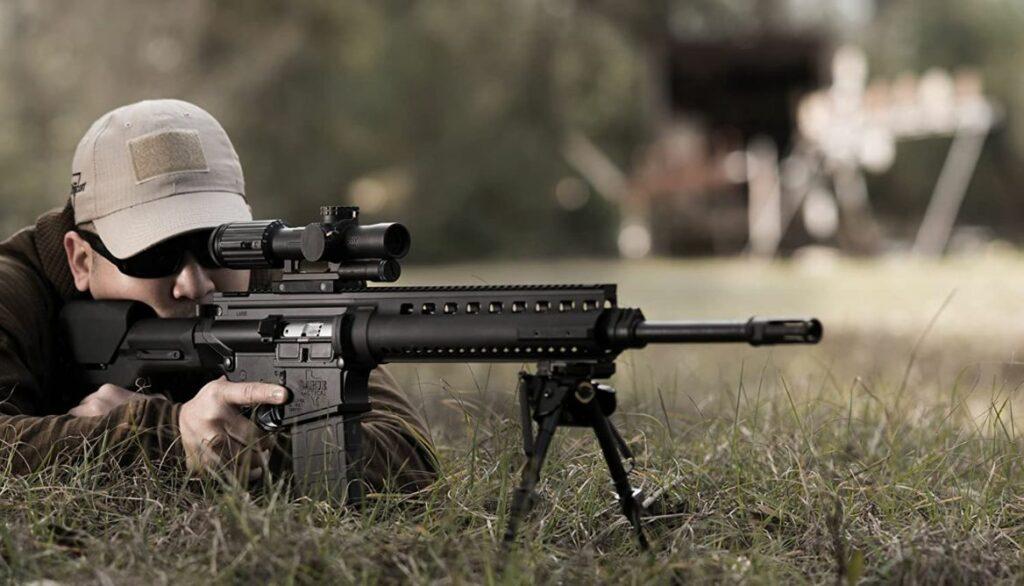 The 300 blackout's versatility and lethality make it a powerful tool for both home defense and close-quarter battle.
Despite the remarkable abilities of the 300-blackout rifle, you will still need a scope to increase its reliability.
We understand that choosing the best 300 blackout scopes can be a daunting task. This is why we came up with a review that will identify the best blackout scopes and optics.
In this post, you will get to know the best scope for 300 blackout, their pros and cons, their effective ranges, uses and the factors you should consider when buying the scope.
Why should you have confidence in us?
We had to research the top 300 blackout scopes, and one of the most important lessons I took away from that was to always be ready for everything.
We spent several weeks reviewing all the manuals for.300 blackout optics, manufacturing requirements from experts in the field, YouTube videos, and any additional 300 blackout scope knowledge that was available.
Each scope has undergone testing for the glass quality, turrets, zeroing, eye relief, and other technical factors. The 300 blackout scopes and optics that are shown here demonstrate the results of our pricey experiment for the truth.
We genuinely hope it helps you find the best 300 blackout scopes and lenses, as it did for us.
The 7 top 300 Blackout Scopes and Optics
After careful research, we identified these top 7 blackout scopes. Check them out.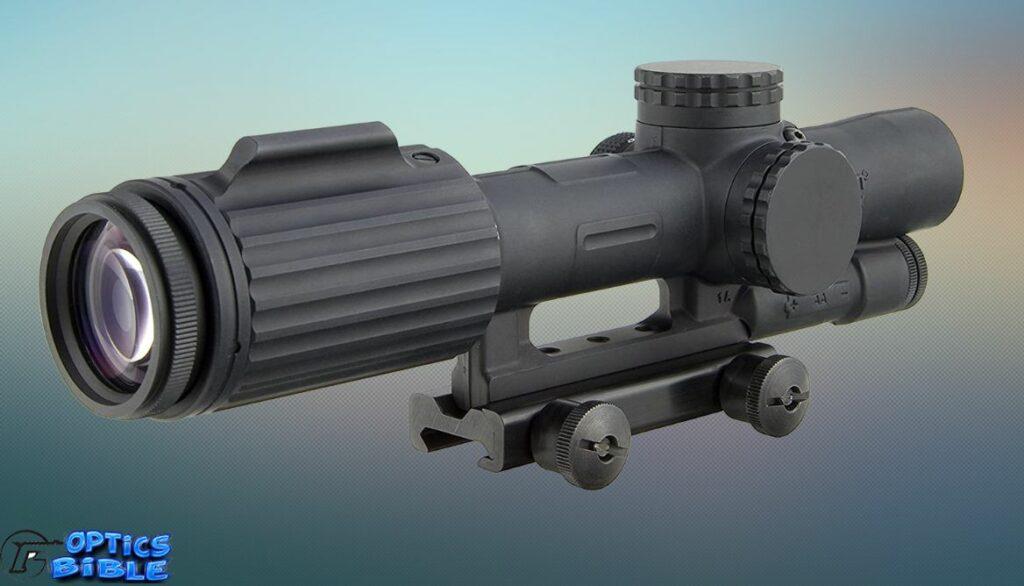 Trijicon's 1-6×24 (VCOG). Variable Combat Optical Gunsight is one of the best scope for .300 blackout best known for close-quarter and combat handling capabilities with an optimized optical system for the cause.
The different illuminated reticle settings make it the best scope for tactical shooting since you can shift between different ambient light environments and still maintain your crosshair reticle accuracy overall.
The rapid range transition scope can withstand the most hostile environments and adverse weather conditions and therefore comes across as one of the best scopes for 300 blackouts.
The scope incorporates unique features which include:
1. First focal plane reticle position
Thanks to its first focal plane reticle, the sub-tensions and drops remain precise at any magnification. The trajectory markers will remain accurate regardless of the magnification level you're using.
2. Excellent glass quality
Multi-coated lenses provide exceptional clarity and light-gathering capability without any distortion.
3. Lighting Reticle
Uses one AA battery, which offers an extended battery life of 700 hours at setting 4. This gives you up to 700 hours of continuous usage when hunting.
4. Quick, accurate-ranging reticles
The Trijicon 1-6×24 offers a Bullet Drop Compensating (BDC reticle) and Ranging reticles for quick and accurate range estimation.
5. Mounting system
A standard Flattop Thumbscrew Mount (TA51) Thumbscrew Picatinny mount is included with the VCOG and is compatible with all Picatinny rails.
6. Settings for adjustable brightness.
There are several brightness settings with an off" between them. The 1-6×24 models have 6 adjustable illumination settings.
7. Design
The Trijicon is housed in a 7075-t6 aircraft aluminum alloy housing thus enabling it to withstand any condition
8. Waterproof and fog proof.
9. Eye relief
The Trijicon VCOG offers an eye relief of 4 inches. This gives you more flexible loads and it is a better sight picture compared to the Trijicon Acog scope. Consequently, you don't need to constantly adjust your head position each time you change the magnification.This function is crucial if your goal in purchasing a scope is to increase accuracy.
Is the Trijicon VCOG 1-6×24 scope for you?
This is one of the best scopes for 300 blackout. The Trijicon is a budget scope that will ensure you get the most value out of your money. It is backed by a Lifetime Warranty.
The scope is designed for long-range to medium-range target shooting and will serve you even in tough conditions.
In comparison to Trijicon ACOG, Trijicon VCOG offers an eye relief of 4 inches. This gives you more flexible loads and it is a better sight picture compared to the Trijicon ACOG scopes.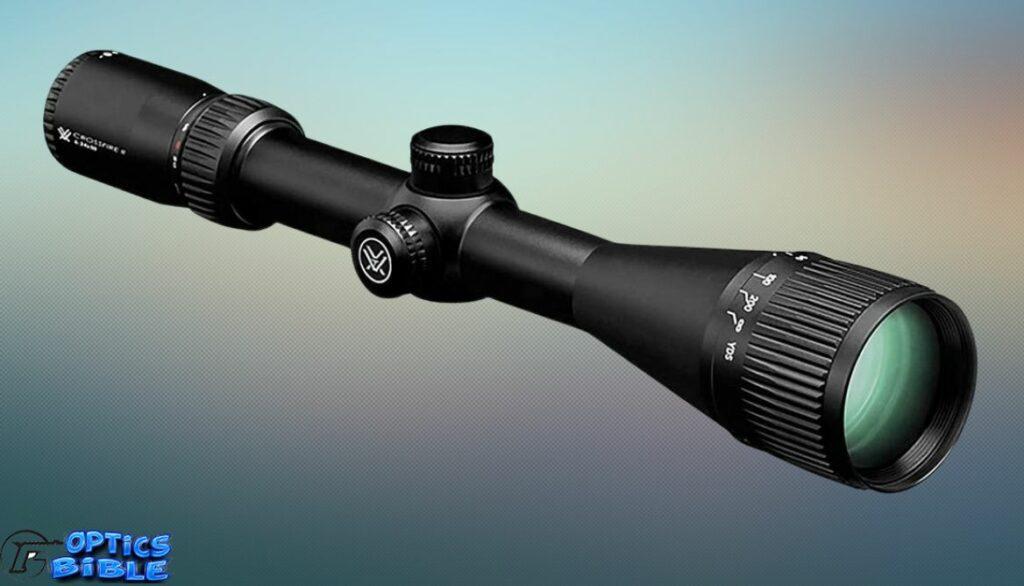 One of the best budget-friendly scopes for 300 blackout. The Vortex Crossfire II 4-16× 50 is best known for its long-range shooting capabilities and its powerful design structure that has waterproof and fog-proof abilities.
The best scope for 300 blackout.
It incorporates the following features:
Dead-hold BDC reticle (bullet drop compensation) that enables you to make accurate shots at predetermined distances.
Multi-coated lenses increase light transmission and prevent reflection.
Second Focal Plane Reticle-this maintains the same ideally sized appearance and is accurate at the highest magnification.
You can check the difference between the first and second focal plane reticle here.
An unlimited eye relief.
Capped Reset Turrets.
Design – Constructed from a solid block of aircraft-grade aluminum for strength and rigidity. The vortex also comes with a 30 mm diameter single-piece tube designed to offer waterproofness and strength.
On average, the Vortex Crossfire II Rifle Scope – 4-16X50mm scopes' magnification is lower than that of Vortex optics Strike Eagle 1-8×24 Riflescope (used for hog hunting).
Is Vortex Crossfire II 4-16×50 for you?
If you're a beginner who enjoys shooting long distances and doesn't mind its higher weight, then this option is for you.
This is one of the best scope for 300-blackout considering its great versatility, speed, clear sighting even for low light situations, and extraordinary weatherproofing abilities.
On average, the Vortex Crossfire II Rifle Scope – 4-16X50mm scope is significantly cheaper than the Vortex optics Strike Eagle 1-8×24 Riflescope.
Furthermore, bearing in mind the budget-friendly (<300$) in all honesty, you won't likely find a better mid-to-long range sight for a Ruger 10/22 or 300 Blackout than this.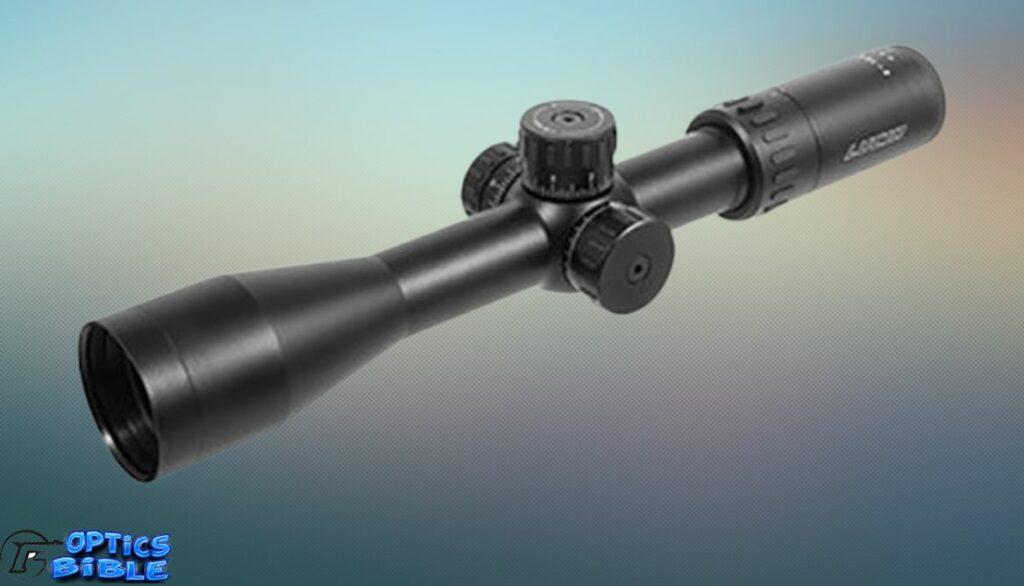 Designed for use in law enforcement situations or competitive shooting.
The lucid prismatic weapon scope is a very powerful optic designed for use in combat situations.
It can be classified as one of the best scope which is ideal when shooting targets that are 300 yards or closer.
This reticle is specifically designed to offer the quick target acquisition necessary in a combat optic, along with highly useful MOA measuring tape, and ballistic hold over information up to 80 MOA in elevation.
This reticle will allow the operator to manage any target with relative ease, near or far.
The Lucid prismatic scope comes with the following features:
A limited lifetime warranty.
Magnification – 4x magnification with a 30mm objective lens size
Design: The frame is made of chemical rubber and a cast aircraft grade aluminum that has been proven to be durable.
Mounting – built-in Picatinny rail mount
P7 reticle with fast target acquisition. The operator can swiftly secure an accurate hold on the target using the sighting circle and framing wedges.
Scope's durability – 100% shockproof, waterproof, and fog proof.
10 Brightness Levels with auto-brightness sensor
Eye Relief – The lucid prismatic weapon scope offers an eye relief of 3.25 inches this is better compared to the Trijicon ACOG which has less than 2 inches of eye relief.
The glass is exceptionally clear and is a good value for the price.
The lucid offers an autumn o-shutoff off feature that allows the quality optics to switch off after every 2 hours.
Is Lucid Prismatic Weapon Scope for you?
Ideally, the lucid prismatic scope is good for you if you intend to use it for close-range tactical shooting of fewer than 250 yards.
Furthermore, you won't have to worry about durability, performance, or quality. Its unique eye relief is nice for those with astigmatic eye conditions.
The best of all worlds: with both automatic brightness adjustment and manual brightness adjustments, therefore, satisfies all your desires.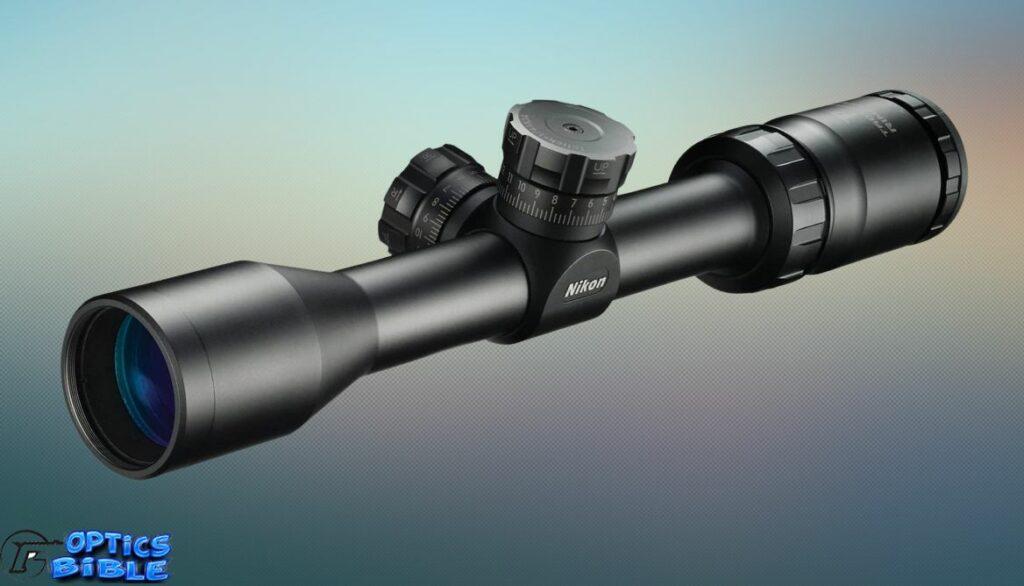 One of the best .300 blackout scopes specifically designed for an AAC 300 Blackout round. The Nikon p tactical is one of the best budget-friendly scopes you will get.
The scope has incorporated the following features:
Full Multi-coated Optical System provides superior light transmission and maximum brightness from dawn to dusk
Lead-and-arsenic-free glass is used for all lenses
Smooth Zoom Control for variable magnification
3x Zoom Ratio
Generous, Eye Relief of 3.7 inches
Fast-focus dial eyepiece
Elevated Windage & Elevation Turrets: Exposed turrets engraved for maximum readability while offering smooth, repeatable adjustments
Spring-loaded Instant Zero-Reset Turrets. Windage turrets have easy-to-see direction indications (R2, R1, 0, L1, L2)
Spring-loaded windage and elevation knobs can be reset to "zero" after sighting in.
Windage and elevation turrets are cleared for quick adjustments.
Durability – O-ring sealed to prevent moisture from entering the body, nitrogen purged for total reliability against thermal shock. Shockproof construction prevents a hard recoil.
Design – The Nikon P-Tactical .223 is constructed of an exceptionally rugged, 1-piece air-piece aircraft aluminum alloy tube.
BDC Reticle 600 – This is meant to zero at 100 yards with holdover points out to 600 yards.
A fast focus dial eyepiece and generous eye relief – This allows precise focus and protects the shooter's eyebrow from reasonable recoil.
Is Nikon P Tactical for you?
The Nikon p tactical is among the top-rated scopes. It has proven to be one of the best scopes especially due to its outstanding quality and its affordability.
The scope is ideal for you if you intend to shoot at short to medium distances targets of 300 yards or less.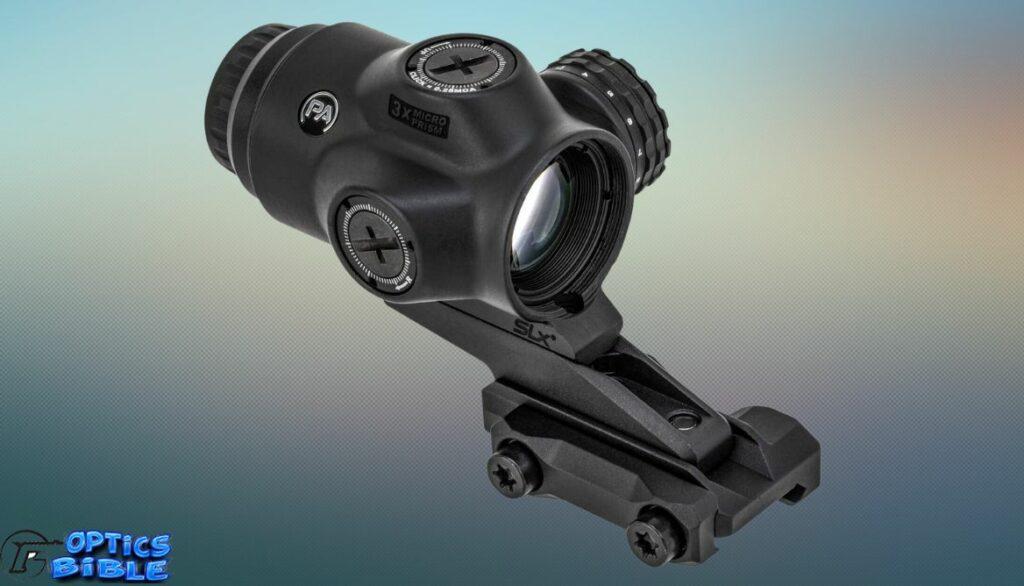 It ranks among the best scopes for .300 blackout.
The primary arms' scope is designed to handle both the supersonic and subsonic loads which makes it a very powerful scope.
The primary Arms scope comes equipped with the Advanced Combined Sighting System (ACSS reticle) which is a high-performance reticle solution that aims at improving marksmanship and improving your speed and precision.
Each ACSS reticle is specially designed to outperform in real-world applications, The primary arms incorporate a mixture of tools which include the ballistic drop compensation, auto-ranging stadia, wind holds, moving target leads, or an infinitely precise center chevron.
These tools are designed to improve the performance of the scope.
The primary arms SLX is equipped with the following features:
ACSS Raptor M2 5.56 First Focal Plane reticle
T 13 illumination settings include an Auto Live motion-sensing on/off technology
and multiple night vision compatibility options.
Magnification – 1-6x
Reticle position – The first focal plane construction which allows the reticle to be small, fast, and simple at low magnification
Click Value: 1/4 MOA
Eye Relief: Low: 3.98 Into 3.83 In
A fast focus eyepiece,
Easily adjustable turrets covered by turret caps.
The lifetime warranty covers the scope.
Anodized matte black finish Picatinny Mount with a 6063-aluminum scope body that is waterproof to IP67 standards, fog resistant, and nitrogen purged.
The reticle is fully illuminated in red on low power variable optics (LPVO).
11 brightness settings for the illuminated reticle
Illuminated reticle with 11 brightness settings
Is Primary Arms SLx with ACSS Raptor Reticle for you?
The primary arms slx comes across as a powerful scope for 300 blackout. It is durable and lightweight meaning you can easily carry it anywhere and this will make your shooting experience awesome.
The unique features outline above make it one of the best scopes for the .300 blackout.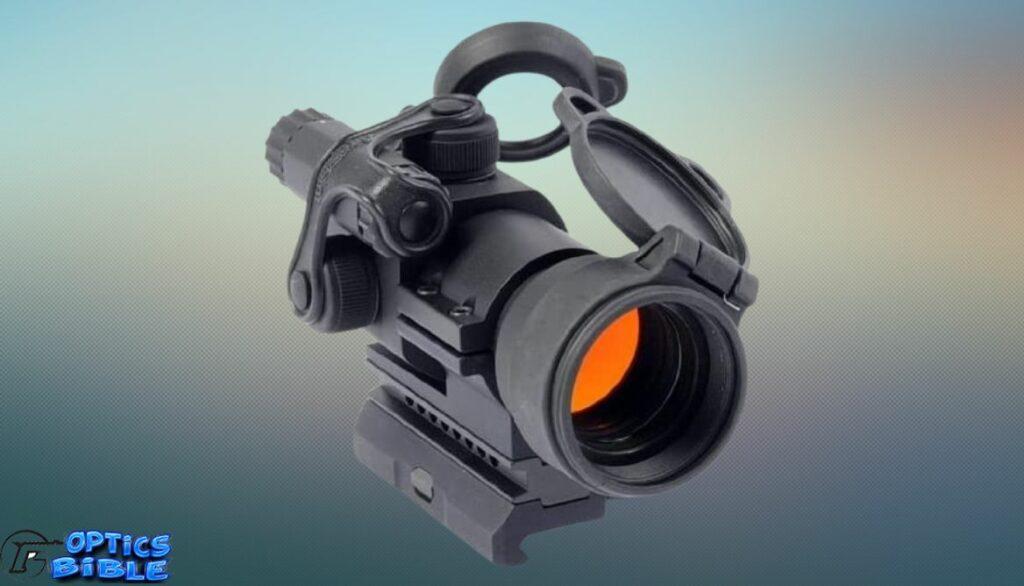 The Aim point Pro is a red dot sight rather than a scope.
It is designed for use in law enforcement scenarios.
This red dot sight has the following features:
2 MOA dot size allows for quick target acquisition.
30,000 hours (over 3 years) of constant operation
4-night vision compatible settings and 6 daylight settings
Weight – 7.8 oz / 220 g (sight only)
Submersible to a depth of up to 150 feet (45 meters)
1X (non-magnifying) operationally parallax free optic
11 brightness settings with one being the setting for bright sunlight.
1d/ 3n battery with a battery life of up to 30000 hours.
Hard anodized aluminum alloy housing. Rugged enough for real world
Threaded front lens opening allows the use of a screw-in anti-reflection device (ARD)The front
The front lens opening is threaded for the addition of kill Flash® anti-reflective device
QRP2 Mount & Spacer -The Aimpoint PRO comes with a spacer and QRP2 mount that attaches to MIL-STD-1913 Picatinny rails with no extra tool.
Is Aimpoint PRO Patrol Rifle Optic for you?
The Aim point seems a good option for you if you intend to use it in law enforcement scenarios. Its unlimited eye relief and faster target acquisition make it stand out among all the other magnified scopes. Its night vision settings will make your hog hunting a success.
The 1X Compact Prism Scope from Primary Arms is designed to combine the quickness and simplicity of the red dot with the dependability and adaptability of other magnified scopes.
The 1X Compact Prism Scope features a substantial eye relief in contrast to typical prism optics. This enables extremely effective red dot shooting while maintaining both eyes open for quick target acquisition in a range of postures and situations that no other prism scope can match. The 1913 MIL-STD Picatinny rail mount that comes with the 1X Compact Prism Scope is detachable, and the scope body is adaptable to commercially available microdot mounts.
A BDC reticle extending out to 600 yards,
A fully illuminated reticle is visible even in bright daylight
Optional M1913 Picatinny top rail for piggy-backed red dot sights
Generous 10.16mm exit pupil allows for a bright red dot sight picture and forgiving eye box
37.5ft field of view at 100 yards – this provides easier tracking of mobile targets
3.7 inches of eye relief combined with a massive 13mm exit pupil to provide an awesome eye box.
Is the Primary Arms Prism Optic for you?
This is the close-range variable power scope you want if you're searching for one designed for the 300 AAC.
Both supersonic and subsonic rounds can be used with the BDC reticle. The red dot sight is easy to see, strong, and made for quick and accurate shot groupings.
Additionally, this scope comes with Primary Arm's lifetime guarantee, allowing you to buy with confidence.
It's a sure thing. If you like it, go ahead and try it!
What's Special About .300 Blackout?
Several features make the scopes for .300 blackout unique:
The Advanced Armament Corporation in the United States commissioned the design of the .300 blackout, which has exceptional velocity and is good for tactical use.
.300 Blackout is already a quiet round, thus making it ideal for noise and flash suppression.
The low pressure makes it ex-short-barrel short barrel rifles as well and it burns all its powder in a 99-inch barrel, so you don't get the big fireballs you do with short-barreled 5.56-inch short-barrel.
.300 Blackout is a good choice for close-quarter combat, such as home defense.
Factors I Took into Account for the.300 Blackout Scope
What Does the Data Mean?
Several numbers may be displayed on a scope when purchasing it.
Trijicon VCOG 1-6x 24mm, for instance.
In our example, the Trijicon VCOG has a magnification of 1-6X, hence the first number indicates the degree of magnification.
This demonstrates that the scope can magnify objects by a minimum of 1x and a maximum of 6x.
The diameter of the objective lens is indicated by the second digit in millimeters.
The diameter in this instance is specified as 24 mm.
The amount of light that enters the objective lens depends on its size, which makes the image brighter and more detailed.
However, if the objective lens is too big, it can end up being heavier.
Effective Range
Extremely long-distance shooting is not recommended with the .300 blackout. Their range of operation is around 300 to 500 yards
This means that investing in the right scope that is designed for ranges greater than 500 meters is a bad decision for both your mental health and your wallet. For instance, the lucid prism scope is effective up to 300 m.
You should also think about how effective you are up close. High-magnitude scopes typically are unable to focus on close-range targets.
The majority of people will be taking down targets within 500 meters or fewer with their AR 300 Blackouts.
If the task demands a different distance, sure the red dot sight you select is appropriate for that distance as well, provided the ammo can handle it.
Intended Uses
Depending on the user and personal preference, multiple scopes will be needed for the.300 Blackout.
A different scope will be used by hunters while shooting long-range targets as opposed to medium-range targets.
A.300 blackout scope needs to be portable and light for hog hunting.
Rifle Configuration
There are various setups for rifles. This will affect the scope you decide to use with your .300 blackout.
A short barrel rifle can shoot effectively from a distance of up to 150 yards. Since the action frequently takes place between 75 and 100 yards away, high magnification is typically not required.
More room is available for bullet discharge in a barrel that is longer. However, the duration becomes troublesome if the amount of gunpowder to be discharged doesn't change.
Additionally, since you cannot pack more gunpowder into your rifle, it is imperative to be cautious while choosing the barrel length. A shorter barrel, on the other hand, makes it easier to shoot in close range, which is challenging with a nine-inch barrel.
Suppression
The firearm comes with a 6-inch silencer as well. To get the most out of a suppressed 300 Blackout rifle, use subsonic ammo. Magnification is not necessary in close range situations.
The 300 Blackout is designed to travel at subsonic speeds while yet keeping an acceptable weight profile. It is intended to be utilized with suppressors.
The 300 Blackout also comes in a supersonic variant, which means that when fired, the bullet breaks the sound barrier.
The bullet will spend relatively less time in motion because of its high speed, making it less vulnerable to environmental factors like the wind.
Picture Clarity
Look for a scope with a distortion-free, excellent-quality, crystal-clear lens, for optimal light transmission and clear, glare-free images, lenses should be thoroughly coated, ideally multiple-coated.
Another significant benefit is having a scratch-resistant lens coating to safeguard and maintain the lenses' quality.
Durability
Choose a scope that can withstand shock, water, and fog. Durability is assured by features like the O-rings seals, argon or nitrogen purging, and single-piece housing.
Housing made of aircraft-grade aluminum or aluminum alloy is tough but compact.
Fixed magnification scopes are less likely to break than variable magnification scopes since they contain fewer moving parts. But many shooters don't think it's worth it because that comes at a significant cost.
Value
Make sure a scope has all the crucial capabilities you need for your needs before getting sidetracked by more enticing options
Additionally, consider how frequently you'll use any features before spending money on them.
Look at reputable brands to get assurance about the scope's quality at your pricing point.
By doing this, you can be sure that you get the most value for your money.
Windage and elevation
Make sure your scope allows for a great amount of ease. With good elevation and windage futures, you may easily shift your scope in both the vertical and horizontal directions.
Make sure that your.300 blackout's elevation and windage turrets are simple to zero, hold zero, and do not accidentally change.
Features such as zero resettable, audible and tactile clicks are all desirable attributes.
Mount
Different optic scopes come with different mount types as noted above. Ensure you get the right mount and adjust it to the perfect position to get the most accurate shot. Having a Picatinny rail mount will be important for rock-solid mounting on your 300 blackout.
FAQ
What is the range of 300 blackout?
The maximum effective range of any round depends on several factors.
First, the shooter must be able to reliably hit the intended target. The gun must provide the level of precision necessary. 
Second, the bullet must be able to deliver enough energy to do the job he is intended to do. Paper targets don't need as much energy as a hunting round does.
Different guns, different bullet types, different shooting conditions, and different shooting talents will introduce many variables.
Using M4 military standards, 300 AAC has a maximum effective range. A 16-inch barrel has a 460-meter blackout distance.
The maximum effective range for a 9-inch is 440 meters at 291 ft-lbs. of energy at 625 meters.
The energy of a 300-blackout fired from a 9-inch barrel is equivalent to that of a 14.5-inch barrel M4, and it increases by around 5% at 440 meters.
Is a 300 Blackout worth it?
The 300 Blackout is an excellent rifle that is compatible with other varieties of high-end rifles.
They are fantastic for a variety of uses, including target shooting, home protection, and hunting. The rifle is made with top-notch components. It has survived many difficult combat situations and is relatively tough.
The .300 Blackout is one of the most successful rifles
It is a very versatile load with projectile weights ranging from formations to 220 grains.
The 110-grain rounds are supersonic, while the 220 are subsonic. subsonic rounds are much easier to suppress, and much quieter when suppressed. The .30Blackout achieves peak ballistic potential from a 9-inch barrel.
One of the advantages of the .300 Blackout is that it can be used with a suppressor and a short barrel — both of which are great for home defense. Meaning you and your loved ones are protected from hearing the gunshots when you are at home. The .300 Blackout also can utilize short barrel lengths, and this will enable you to hit close-range targets.
Does 300 Blackout have more stopping power?
A 300 blackout produces about twice as much force on contact as a 5.56 bullet at 200 and 300 yards, compared to the others. With the. 300 blackout round, the blackout drop range increases significantly.
What grain of 300 Blackout is subsonic?
The supersonic and subsonic bullets are differentiated using the sound barrier. The speed of sound (about how it travels through air, like a bullet) is approximately 1,100 feet-per-second (fps) at sea level. However, these changes depending on altitude, temperature, and humidity, but in general, 1100fps is the determining number used in the firearms industry to differentiate the two.
Large bullets, subsonic loads, which are loaded at velocities below 1,080 fps, are commonly utilized for rounds weighing 200 grains or greater.
These loads are less effective for hunting since the bullets often do not expand. This 300 Blackout ammunition moves slower than sound and is advantageous because it doesn't generate a sound. 
If you're looking for quiet ammunition, you should consider the Subsonic bullets. generally, they boast a lighter recoil than their speedy relatives and have an added weight coming to around 180-220 grains in a standard .300 Blackout load. 
The 220 grain is ideal Due to the lower pressures at the muzzle, the subsonic is completely hearing safe and comfortable for the operator and those around them. 
The additional bullet weight keeps the rounds from breaking the sound barrier and gives them as much energy as possible.
However, the subsonic .300 blackout is not ideal for medium to long-range hunting, as the velocity and kinesthetic shock is greatly lowered from the supersonic. These lower stats result in unethical game kills and can lead to animal suffering.
What magnification is best for 300 Blackout hunting scopes?
2-7x is the highest magnification we would recommend. Other tactical ranges such as 1-4x or a red dot are also a nice choice.
A great magnification would be 3X or 4X variable magnification because most hunting activities take place at distances of 200 yards or more. To set your scope at higher magnifications if you want to hunt at greater distances, you can get a moveable variable scope.
Low to no-magnification optics are a better pick compared to the high-magnification scopes. 
Benefits of the low magnification optics include:
A nice view of the surroundings because of the improved field of view.
Quick target acquisition
portability.
What is a 300 Blackout rifle good for?
The 300 Blackout allows for a wide range of projectile weights, from 110 grains to 220 grains. This proves that the gun can cycle both supersonic and subsonic rounds.
Since it excels on short barrels, the 300 Blackout is perfect for home defense, especially when set up as an SBR/pistol with a suppressor. As a result, you get a powerful, penetrating round that significantly reduces noise.
When hunting medium or large games, the 300 blackout is much more effective.
Compared to the 5.56, the additional bulk provides more reliable penetration. Furthermore, the modest disadvantage of the trajectory is insignificant due to the typical hunting ranges of these animals.
The 300 AAC Blackout is superior to everything else for real-world, everyday hunting and home protection with an AR-15.
Is the 300 blk good for long range?
The 300 Blackout is not an effective long-range shooter. Depending on the load used, the 300 Blackout has a wide range of effective ranges. The range of subsonic loads is smaller than that of supersonic loads.
The blackout primarily works in close-quarters fighting and has a range of up to 400 yards before losing efficacy. However, if you intend to fire long-range bullets, the 5.56 mm will be more efficient.
Conclusion
You have learned about the 300 blackout and its scopes and what you will consider when getting your next scope.
Now it's our turn to hear from you.
Which scope got you excited? Which features did you find awesome? Did we miss out any scope that you love?
The comment section is right there and open for you. Leave a comment and share the post with your friends.