Top 3 Best Budget LPVO Optics: Excellent for Sporting Rifles
In the modern shooting community, versatility is a favorite factor that most shooters are considering. And because of that, the popularity of Low Power Variable Optics (LPVO) has had significant growth.
Providing you the performance of a red dot at a close encounter to 6 times zooming capability to hit that target at a long distance, will bring convenience as no other optics can.
Besides the accuracy, LPVO offers excellent low light performance, all-weather protection, and of course, durability within a compact design.
In this article, we will discuss,
IPVO Optic
What is the best LPVO?
Few optics meet that standard, but after testing dozens of 1-6x scopes and Low Power Variable Optics (LPVOs) over the past five years, I've found the Vortex Strike Eagle 1-6×24 to be the best among them.
Our Recommended Top 3 Best LPVO Optics Reviews in 2022
#1. VORTEX OPTICS STRIKE EAGLE 1-6×24: BEST OVERALL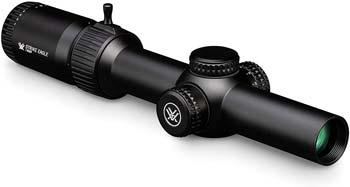 Aimed to specialize in speed versatility, Vortex Optics has brought their Strike Eagle 1-6×24 is what we consider to be the overall best low power variable optic currently available in the market.
No matter what the distance is, whether it is from a long distance or point black, this optical scope will get your job done with ease. Ideal for any situation from survival needs to hunting, shooting with this brings the best of your arsenal.
With the magnification ability of 1-6x, quick acquisitions will be even quicker. With the added benefit of an upgraded magnification ring along with the magnification indicators, targeting and achieving will never feel this easy.
On top of that, its illuminated BDC3 reticle focus and the fast focus dial will bring the enhanced convenience in the most optimal way possible.
Vortex Optics Strike Eagle 1-6×24 is best for:
3 Gun Competition
Close to Mid-Range Shooting Competitions
Hunting Scenarios
Highlighted Features of VORTEX EAGLE 1-6×24 Optics
Since 1986, the Vortex Optic has been providing excellent performance as well as high reliability by manufacturing high-quality products such as the Strike Eagle 1-6×24 eagle. This LPVO features aircraft-grade aluminum construction with a hard anodized finish which makes it highly durable against any type of impact. Furthermore, the ergonomics of its design make it solid and very easy to handle and mount.
This scope has a parallax adjustment of 100 yards which means at 100 yards distance, no matter where your eye position is, the point of aim will remain the same, an ideal option for sporting rifles. Besides, its 140 MOA Elevation along with 140 MOA Windage will ensure you the vertical and horizontal precision of the target.
Also, with an eye relief of 3.5 inches, this optic features fast focusing that will allow you to adjust reticle focus as quickly as you want. Besides, its high-quality multi-coated lenses will always be ready to offer you the clearest as well as detailed picture quality.
Plus, it can magnify on a scale of 1-6x. Even in any low light situation, you will have good magnification as well as good eyesight as its multi-coated lens will increase the amount of light transmission with the help of multiple anti-reflective coatings on all air-to-glass surfaces.
To enhance your targeting precision, this also features BDC3 Reticle which will allow you to have an intricate reticle design that uplifts your accuracy a few notches. Additionally, you won't have problems while shooting in low light conditions, just because of its Illuminated Reticle that offers 11 brightness settings and can even work without any battery power.
Don't worry about any wet weather conditions and water damage as this optical scope is well equipped with o ring seal and also is nitrogen purged. Water, dust, or debris, nothing will harm you.
Performance is top-notch with this 10.5-inch LPVP that's to its excellent features and functionalities in such a light design, weighing only 18.5 ounces.
Pros:
When it comes to reliability, this optical scope shines due to its durable build quality with many durable lenses as well as much practical and impressive performance. Its targeting is quite accurate alight with the magnification and clarity that makes it a good companion on the field.
The waterproofing of this optic is simply remarkable. We've used it in a few of the most unfriendly weather conditions and no matter how tough the weather was, it did not fail us for a moment.
The illumination of the product is excellent. With the added benefits of 11 different settings, setting to your personal preference will be a breeze. Even if you don't have any juice in your battery to operate, it will still show a black reticle so that you can still operate this scope.
The price-point of this LPVO is tough to beat as such a value, you're getting a lot of features and technologies which are hard to find. Its price point is indeed one of its remarkable features.
Cons:
Even though it has such a high magnification, the eye box is considerably small which makes the high magnification a bit less effective. On top of that, if you go a 1x, you may experience a fisheye effect which according to some users, feels a bit annoying.
Specifications:
| | |
| --- | --- |
| Magnification | 1-6x |
| Objective Lens Diameter | 24 mm |
| Eye Relief | 3.5 Inch |
| Field of View | 116.5-19.2 ft. @100 yds. |
| Tube Size | 30 mm |
| Turret Style | Low Capped |
| Adjustment Graduation | 1/2 MOA |
| Travel Per Rotation | 44 MOA |
| Max Elevation Adjustment | 140 MOA |
| Max Windage Adjustment | 140 MOA |
| Parallax Setting | Fixe @100 Yards |
| Length | 10.5 Inches |
| Weight | 18.5 oz. |
#2. VORTEX OPTICS VIPER PST GEN II 1-6×24: BEST LPVO FOR THE MONEY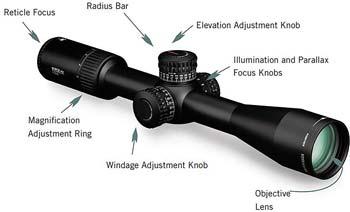 Level up your game to a newer dimension with the Viper PST Gen II, a solid low power variable optic from the Vortex Optics. With its excellent functionalities as well remarkable tactical features, this promises to offer you the ultimate convenience in your game.
On top of that, its value for money and versatility will enhance your ability in short to mid-range shooting situations. With very practical features such as laser-etched turrets along with adjustable parallax as well as the RZR zero stop, this optical scope tops in performance.
You will also be provided with hardpoints that are well defined, automatic, and operational with the reticle it offers. Furthermore, the resolution and tone accuracy of this product are among the best available in the industry due to its extra-low dispersion glass.
Vortex Optics Viper PST Gen II 1-6×24 is best for:
Close Quarters Combat
Close to Mid-Range Shooting Competitions
Big Game Hunting
Any Lighting Situation
Highlighted Features of Vortex ER PST GEN II 1-6×24
Vortex Optics compromised nearly nothing while constructing the Viper as it is constructed from Aircraft-Grade Aluminum along with a hard-anodized finish for enhanced durability and excellent ergonomics.
Besides, its 30 mm diameter tube size will ensure you highest internal integrity and adjustment, so that no matter how rough you move or the impact is, its internal, as well as external components, will remain safe and sound.
With a parallax adjustment of 100 yards, this optic will ensure high accuracy. No matter from which direction you're looking, at 100 yards distance, the target will not move at all.
Furthermore, it has a maximum elevation adjustment of 160 MOA as well as a maximum windage adjustment of 160 MOA which means your vertical and horizontal measurements will be accurate.
It features a magnification of 1 to 6x which ensures an eye relief of 3.8 inches so that you can have a fast focusing capability while high zooming functionality.
Featuring XD Lens Elements, this LPVP will assure you excellent resolution as well as highly accurate color when it comes to picture quality. Furthermore, you also get enhanced light transmission with its XR Fully Multi-coating, which has multiple anti-reflective coatings on all of its glass surfaces.
Not only performance but also durability is top class here as the lenses feature ArmorTek, an extremely tough and scratch-resistant coating that protects them from any external impact as well as other earthy elements such as oil and dirt.
When it comes to the reticle, this optic is equipped with a Second Focal Plane Reticle along with illumination which will offer you high functionality, intrinsic ability as well as a high definition viewpoint.
Also, for your excellent viewing convenience, its 10 intensity level along with the ability to set off position in-between settings makes all the complications disappear.
But don't get overwhelmed by that as it comes with Fast Focus Eyepiece aligned with some of the best built-in accuracy features which will bring the convenience of excellent fast focusing as well as high accuracy shooting even at long-range shooting.
Shooting can happen at any weather condition as for that an optical scope should be weather-proof. Hence, this optic comes with an O-ring seal that will prevent any water, oil, or dirt to penetrate. Besides, this optic is also featured with shock-proofing as well as fog-proofing for extra benefits.
When it comes to size, this is relatively small, only at 1083 inches. How about the weight? Pretty light, only at 22.7 ounces.
Pros:
When it comes to the value for money, this optic shines the brightest. With a price less than $1000, this scope goes beyond some of the higher-priced features.
Its Second Focal Plane Reticle is simply excellent. No matter how much magnification you do, whether that is 3x or 6x, you'll experience the ideally sized appearance as it maintains the reticle at that level.
Its proprietary coating as well as the illuminated reticle makes it rather simple in low light conditions where other optical scopes will fail to come close in performance.
Durability is key with this optic as its aluminum housing with anodized reinforcement enhances the durability criteria. But that's not the main selling factor. The main benefit of this scope is its ArmorTek coating on its lenses which ensures scratch resistance like no one else.
If you even use this optic, you'll notice how accurate this is. Its fast-focus eyepiece performs undeniably outstanding which level ups the accuracy game to a whole new level.
Cons:
Its turrets can be found a bit stiffer which makes it a bit less convenient. When you're using this knob to adjust, you have to push with extra force to ensure movement properly.
Specification
| | |
| --- | --- |
| Magnification | 1-6x |
| Objective Lens Diameter | 24 mm |
| Eye Relief | 3.8 Inch |
| Field of View | 112.5-18.8 ft. @100 yds. |
| Tube Size | 30 mm |
| Turret Style | Capped |
| Adjustment Graduation | 1/2 MOA |
| Travel Per Rotation | 50 MOA |
| Max Elevation Adjustment | 160 MOA |
| Max Windage Adjustment | 160 MOA |
| Parallax Setting | 100 Yards |
| Length | 10.83 Inches |
| Weight | 22.7 oz. |
#3. PRIMARY ARMS SLX 1-6×24 SFP Rifle Scope Gen III: BEST BUDGET LPVO
A Silver-tier rating winner from the National Tactical Officers Association, the PRIMARY ARMS SLX 1-6×24 is an excellent budget option. This handy piece of innovation is a result of an extensive amount of testing, not only in-house but also on the field.
With its fame for being highly inventive and reliable, it is still a favorite of individuals in the business. Featuring a very exclusive and patented Advanced Combined Sighting System reticle, this scope means business.
Besides, it also has several very intuitive features such as bullet drop compensation as well as moving target lead along with range estimation which merges so swiftly that using it makes it vastly convenient.
And for the red illumination, it comes with not 5 but 10 individual settings to give you the power of customization.
Primary Arms SLX 1-6×24 SFP Rifle Scope Gen III is best for:
Coyote & Hog Hunting
Acquiring Quick Targets
Short to Mid-Range Shooting Actions
Competitive Shooting
Highlighted Features of PRIMARY ARMS SLX 1-6×24
It comes in a 6063 aluminum construction which ensures high durability and integrity. Plus, there is Type II hard anodized is also provided in matter black or enhanced longevity. Furthermore, its ergonomic structure will give you the assurance of convenience.
When it comes to adjusting the parallax, you're limited to a fixed range of 110 yards. And for the elevation, Primary Arms has equipped this with 50 MOA at max along with maximum windage of 50 MOA. This will help you to adjust the reticle horizontally as well as vertically.
Besides, while providing you the functionality of 1-6x magnification, it has an eye relief of 3.5 inches which will help you to have a broader view of the surface. Plus, for your enhanced convenience, its eye relief is adjustable and has a minimum eye relief of 3.3 inches.
At full magnification, accuracy can be tough to achieve. However, not in the case of this scope as its bullet drop compensator as well as ranging accuracy makes it easy to knock the target.
With its fully multi-coated lenses, you see anything with high picture quality while maintaining true color fidelity. Why is its image quality so good? Because this coating blocks the light to bounce inside which is the main cause of blurred vision.
One of the most important factors of a scope is its reticle and therefore Primary Arms has equipped this LPVO with a Second Focal Plane ACSS Predator reticle that is ideal for hunting in the jungle. Not just that, this optical scope also features illumination for low light endeavors which can be set to 10 different settings which can be taken to the brightest.
Besides, focusing on this is just easy thanks to its quick focus eyepiece. And along with the benefits of finger adjustable turrets, you can adjust everything according to your likes without much of a hassle.
This makes marine hunting possible with waterproofing ability. Not just waterproofing is covered here, this optical scope is very tough against any type of shock and also can be used in any foggy condition.
While sizing at only 10 inches, this scope is easily packable and can be carried very easily. What's the weight? Only 16.9 ounces making it lighter few of our recommendations.
Pros:
This optic is hard to beat when it comes to budget. At this budget, this optical scope is equipped with some of the best innovations as well as functionalities which makes it a strong contender in the market.
This scope is highly admired for its very clear lenses and high image quality. Due to the clarity of the lenses, the reticle is very accurate as well, taking its precision to a whole new level.
Not just the reticle is accurate, but the 10 settings illumination get fairly bright in low light conditions which will allow you to locate your target with ease. Plus the advanced functionality of the reticle will bring you a lot of convenient features that will enhance your ability.
It features fog resistance which is quite rare at this price point.
Cons:
Even though it has BDC to ensure accuracy at high magnification but at some points, the visibility may not be perfect.
Specifications
| | |
| --- | --- |
| Magnification | 1-6x |
| Objective Lens Diameter | 24 mm |
| Eye Relief | 3.3 Inch – 3.5 Inch |
| Field of View | 120.4-20.9 ft. @100 yds. |
| Tube Size | 30 mm |
| Turret Style | Capped |
| Adjustment Graduation | 1/2 MOA |
| Reticle | ACSS PREDATOR HUNTING |
| Max Elevation Adjustment | 50 MOA |
| Max Windage Adjustment | 50 MOA |
| Parallax Setting | 100 Yards |
| Length | 10.00 Inches |
| Weight | 16.9 oz. |
What is an LPVO Optic?
LPVO stands for Low Power Variable Optic which provides a variable magnification. This type of optical scope will offer you a range of magnification which you can adjust according to your need and preference.
The range of magnification can be from zero or near to zero to up to 6x or even more.
So if you're using an LPVO Scope, you'll get
An adjustable magnification range
A sharper focus for people with astigmatism
At the range of over 100 yards, a much faster acquisition
Ability to assess threats more accurately
Additional sophisticated reticle options
Aiming for pinpoint accuracy at distances of over 100 yards
However, LPVP has a problem with its availability. An LPVO with 1x which also has the ability for "both eyes open" shooting is quite tough to find. Also, the tunneling of this will not be quite significant.
LPVO scopes can be quite expensive, especially when you're considering one that will go beyond a zoom range of 4:1, such as 1-4x or 2-8x. It is the additional zoom that is causing you to pay more.
And if you go somewhere near the zoom range of 8:1, the premium increases significantly. But no worries as some options can be found just under the $400 mark such as Bushnell (AR), Strike Eagle from Vortex Optics, Falcon, and a couple of others.
How Far is a 6x Scope Good for?
The ability of scope solely depends on the user, which means you. It is often said that the distance you're good with an iron sight, the most far you'll be good at with a 6x will be its multiplication.
This means your furthest ability with an iron sight x the magnification of a scope. For example, with an iron sight, your accuracy remains precise till 80 yards.
This means if you're using a 6x scope, your highest range will be at 80×6=480 yards. If your ability with an iron sight is higher or lower, your ability with a 6x scope will change accordingly.
So basically the ability of a 6x scope totally depends on the ability of you. Your ability of shooting will determine at what distance, a 6x scope will be good.
Buying Guide for Best Budget LPVO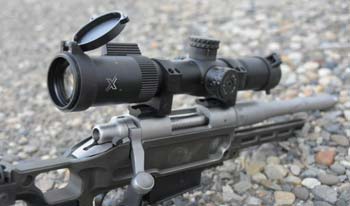 When you're out there seeking the best LPVO, you may experience an overwhelming amount of options to choose from. In between these options, some will offer you the best convenience while some others will just waste your money.
Because of this, it can be quite challenging to choose the right option for you. It is important for you to consider a few conjuring factors before choosing a high-quality LPVO.
Depending on these factors, you can buy the perfect LPVO which is best suited for you. Let's look at what you should be considering.
Reticle
An optical reticle consists of a series of fine marks or fibers inside an optical device's eyepiece which is used to mark the target. Check whether the LPVO you're choosing has a First Focal Plane Reticle or a Second Focal Plane Reticle.
A second focal plane reticle will change based on the change of magnification whereas the first focal reticle will remain the same. It is fairly fine for up to 6x scopes to have a second focal plane reticle.
However, if you're choosing above 6x zoom, opt for the first focal reticle.
Zero Magnification Performance
Zero magnification is when you're at the lowest zoom setting of your scope. Your scope can have zero magnification which is commonly referred to as 1x or have the lowest zoom capability close to 1x.
Also make sure, at 1x the scope has the ability of "both eyes open" as well as a broader field of view.
Illumination
Most of the LPVO offer illumination. However, settings can be different. Seek for those optics which have the brightest setting which will ensure you greater visibility in lower light compared to other options.
For instance, Vortex Optics Strike Eagle 1-6×24 comes with 11 brightness options that will help you to see in very low light conditions. The higher the settings are, the most convenient it will be.
Clarity & Focus
Whatever you're seeing through the scope should be clear and highly detailed. Check for those optics which come with multi-coated lenses as they tend to transmit a greater amount of light compared to others.
Additionally focus is also important as it blurs out all other nonimportant views. Seek for those options which come with a quick focus eyepiece. A scope with such features will help you to focus on your target as quickly as possible, regardless of the magnification.
Build
A scope is used in rugged conditions and therefore, robust construction is inevitably important. LPVO scopes with highly durable aircraft-grade aluminum construction are desired as they offer enhanced durability.
If the scope also offers an anodized finish, that is a plus point as it reinforces the integrity of the design.
Also, as scopes are used with heavy guns and rifles, hefty scopes will bring you more struggle on the field. Seek for those scopes which are considerably lighter.
For example, in this list, the Primary Arms SLX 1-6×24 SFP Rifle Scope Gen III is the lightest option, weighing only 16.9 ounces.
Low Power Variable Optic (LPVO) vs. Red Dot
Red Dot optics are mostly popular for their low cost as well as easy to use features. This would also be a wonderful option for someone who wants to carry a lightweight rifle, so they can shoot quickly at a close range and very accurately.
Admittedly, a red dot is a light and easy functioning option, this lacks performance in the longer distance. This is where the LPVO excels with its magnification power.
It's not like that, LPVO lacks the speed or target acquisition, rather is as equal as a red dot. Most importantly, you can set an LPVO at 1x which is equivalent to a red dot which gives you the versatility to work in different conditions.
Despite all the benefits of LPVO, it can be comparatively higher priced as well as heavier than a red dot. However, the accuracy at a long-range, LPVO is far superior compared to a red dot.
Low Power Variable Optic (LPVO) vs. magnifier
Magnifier is another tool that can be used to magnify your target. This is a very popular tool to use with a red dot to enhance the red dot's ability to shoot at a longer range.
There are a few areas where a magnifier outshines the LPVO and the most prominent one is its cost and weight. A magnifier will cost and weigh significantly lower than an LPVO.
Also, as the magnifier is used with a red dot, the speed will be higher here. Besides, LPVO can surely get bright but not as much as daylight which is something that a red dot with a magnifier can offer you.
On the other hand, an LPVO is much more accurate in the long distance. You need to remember that, a magnifier is only giving you the facility of zooming, nothing else.
Whereas, LPVO features BDC which helps the shooter to identify bullet drop and adjust accordingly.
Low Power Variable Optic (LPVO) vs. ACOG
ACOG stands for Advanced Combat Optical Gunsight. This is a go-to optical option for the military personnel, marines as well as law enforcers.
ACOG is well renowned for its extreme durability compared to any other optical sights which also includes LPVO. Plus ACOG optics performs well in the nighttime when compared to any LPVO.
By contrast, LPVO is much superior compared to ACOG when it comes to versatility. AS you can set your zoom to a different magnifying range, you will have better options to cope with your situation.
Another thing is to consider that LPVO offers much better accuracy at a longer distance compared to ACOG.
Best Budget LPVO Mount
In case you're wondering which the best LPVO mounting option is in a friendly budget, you should consider the Vortex Optics Pro Series Riflescope Rings.
The LPVO mount is the strongest and most secure mounted in its class, ensuring excellent strength and security in any situation.
These rings will allow your scope to be set at the exact center of your rifle's barrel while keeping its height at 0.75 inches.
Furthermore, to set your LPVO with maximum security, these rings use 4 pieces of T-25 Torx-style Socket cap screws which will enhance the integrity of the components.
Besides, don't be too worried about making your whole setup heavy as they don't weigh much. With a weight of only 1.41 ounces, these rings ensure an extremely light and durable mounting experience that will provide you with the best consistency and accuracy.
FAQ
What LPVO does the military use?
The military has already selected the Tango6T, an LPVO optical scope from Sig Sauer to use on the M110A1. u003cbru003eThe US military has already made a contract with Sig Sauer for making LPVO sights for them which they will use to replace their very reliable ACOG sights.u003cbru003eu003cbru003eThe US Army awarded a contract to SIG Sauer for $77,168,400 on September 30, 2020, for the Direct View Optic to be used on tactical rifles such as the M4A1.
u003cstrongu003eWhat is the best LPVO?u003c/strongu003e
There are a lot of great LPVO options out there that can be considered the best depending on several factors. However, not all of them will ring all the bells. And yes, there is one which according to us, is the best LPVO out there which is Vortex Optics Strike Eagle 1-6×24.u003cbru003eu003cbru003eWith enhanced durability, excellent capability at 1x and 11 illumination settings, this optical scope sets it apart from its competitions. Performance, functionality, and features are fully loaded with this LPVO.
How far can you shoot with a 1×6 scope?
The furthest distance of an LPVO scope is dependent on your capabilities. However, it is expected that at 6x zooming, you will be able to clear a range of 600 meters.u003cbru003eu003cbru003eBut if you're an experienced and skilled shooter, your experience and skills will give you the extra edge to shoot ever further distance with precise accuracy.
What distance should I zero my LPVO?
LPVO optics are good at covering long distances as well as shorter distances due to their adjustable magnification options. The lowest magnification of an LPVO is 1x which is also referred to as zero or zero magnification which performs just like a red dot.u003cbru003eu003cbru003eIT means at 1x, there is no magnification.  The ideal distance of using 1x is under 200 yards. This means if anything that you're targeting is within the range of 200 yards, switch to 1x for better accuracy.
I hope you've enjoyed our list of the best 1-6x scope guides. For a recap:
| | | |
| --- | --- | --- |
| Best 1-6x Scope/LPVO | Best for | Price |
| Vortex Optics Strike Eagle 1-6×24 | Overall | $300 |
| Vortex Optics Viper PST Gen II 1-6×24 | Runner-up | $600 |
| Primary Arms SLX 1-6×24 | Budget | $290 |
| Leupold VX-6HD 1-6×24 | Premium | $1,400 |
Conclusion
If you're looking for something that will acquire targets at variable distances, LPVO is a staller option. Whether that is within a close range of 100 yards or in a distance of 600 meters, a good quality LPVO will serve you the best in any of these conditions.
The market is flooded with tons of Low Power Variable Optics and surely some of them are spectacular when it comes to performance, functionality, and convenience.
However, our vote goes to the Vortex Optics Strike Eagle 1-6×24, which overall shines the brightest when you're looking for something within a budget.
Hope you've liked our list of best budget LPVO where we covered 3 of the best options by measuring several factors. Stay with us for more informative and useful coverings.