Red Dot vs ACOG : Which One To Choose [Know Differences]
There are several differences between ACOG vs. Red Dot. Firstly, ACOG is meant for long-distance shooting. This means you will need ACOG for covering a certain distance with precision.
On the other hand, the Red Dot is perfect if you need to cover a short distance. ACOG may be used for short-distance shooting, but in that case, ACOG will not provide precision.
Another difference is that the Red Dot is much more versatile compared to ACOG. Red Dots are convenient to use and they can be used by anyone. They can even be magnified for a better view.
Red dots can be very small in size, and lightweight. They are available with a simple design and their simplicity makes them versatile. You can use a red dot on any platform, such as handguns, rifles, shotguns, etc.
Regardless of the comparison between an Acog & a red dot, you always have a great opportunity to equip your firearm with an all-around excellent optic with either of them anyway.
Comparison Table of ACOG Vs. Red Dot
| | | |
| --- | --- | --- |
| Features | ACOG | Red dot |
| Reticle | Holdover reference points in the detailed reticle. | Reticle with no parallax |
| Turrets | Protected turrets included | Protected turrets |
| Target | MOA adjustment for target | CQB target adjustment |
| Eye adjustment | Focus the eye behind the scope | Focus with both eyes |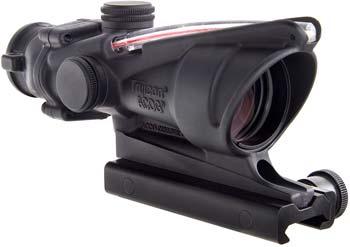 Trijicon ACOG Scopes are a military benchmark for combat riflescopes, but they are also popular among civilians. These scopes have a fixed magnification, usually between 2x and 4x, to help with accuracy at mid to large distances.
Tritium is used in Trijicon ACOGs for low-light shooting. Tritium shines naturally, thus ACOGs do not require batteries. The fiber optics in the lighted reticles collect ambient light, making them useful for daylight shooting.
They give higher contrast versus targets. The optic produces a bright image with a crystal-clear view. Regardless of the conditions, the BDC makes aiming simple and effective.
The optic is waterproof, weatherproof, and fog proof, making it a must-have for any weather. Its finest aspect is that the ACOG illuminates the reticle using fiber optics and tritium. So, it eliminates the need for batteries.
You won't have to worry about the illumination since it will automatically adapt to the appropriate light level. This makes it ideal for long-distance travel.
What is an ACOG red dot?
There is a small red dot sight on the ACOG Scope for close counter combats. This allows for an aiming point in any light conditions. Fiber optics and tritium are utilized for the reticle.
What is a red dot scope good for?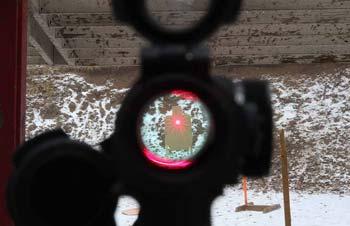 Red Dot reticle is the best option to aim and hit moving targets. A red dot sight allows the user to keep their eyes fixated on the target. The Red Dot reticle allows the users to shoot with both eyes open.
This means that the shooter can be more aware of the surroundings.
What type of scope is an ACOG?
ACOG is a riflescope with a double-illuminated reticle. The double-illuminated scope ensures perfect focus in dim or no light. ACOG scope ensures durability. The reticle patterns ensure several calibers may be accommodated.
Which ACOG does the military use?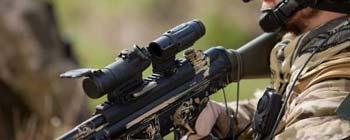 Militaries use the M150 ACOG designed specifically for their usage. The M150 ACOG has a double-illuminated technology created using a mixture of fiber optics and tritium. It ensures that the target is always illuminated for the convenience of the user.
Are ACOG scopes legal?
Their patented trademark expired a long time back. Foreign importers simply mimic the original ACOG design to manufacture them. This is a form of making illegal products as these ACOGs are counterfeit. Thus, it will be illegal to use or manufacture ACOGs.
Is an ACOG a red dot sight?
ACOG can be a Red Dot sight. The reason is that ACOGs offer fixed magnification. They also cover mid to longer distances for shooting. There is a small red dot focal point for close combat missions.
Advantages
Ensures world-class durability and military strength.
Do not run on batteries.
Accurate magnification.
An accurate reticle
Highly reliable.
Drawbacks
Not affordable
Fixed magnification
The Bushnell Trophy TRS-25 Red Dot Sight Riflescope is your best bet if you are looking for something affordable. It features durability and at the same time, it has the ability to be compact.
A rheostat can be manipulated to adjust the brightness level of the atmosphere. It has a solid build while being lightweight at the same time. The product only weighs 3.7 ounces.
If you prefer to hunt in the dark, then you will have no problems aiming at your target. The scope's multi-coated optics will allow you to see even in the dark.
Red Dot Sight Review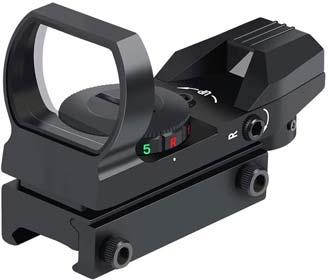 Designed for target shooting and hunting, this lens has a broad field of vision. The dot system may be set to red or green, with four distinct reticle designs to choose from.
It firmly mounts to your rifle or shotgun with the rail attachment system. The product has a long-lasting design as well. Its point of impact changes 1 MOA with each click modification.
If you follow the procedures in the instruction booklet, zeroing in is simple. After a few test shots at various distances, your sight is ready to focus on your favorite hunting route.
What Red Dot does the military use?
The Bushnell Trophy TRS-25 Red Dot Sight Riflescope is one of the highest quality red dots available in the market. It has been tested by soldiers during combat. This red dot has been used by the US military for several years due to its efficiency.
Advantages
Fast performance
Increased accuracy
Perfect target aim
Performs in low light
Faster compared to magnified optics
Drawbacks
Take a look at Moa shooting 4 MOA Vs 2 MOA for angular measurement and more knowledge on sight pictures.
ACOG Clone Scope and Guide for ACOG Alternatives
What is The Difference Between ACOG vs Red Dot [Feature Wise]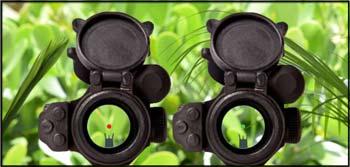 Accuracy
When it comes to accuracy between Red Dot vs. ACOG, ACOG is the winner. The ACOG has bullet drop compensating, making it ideal for long-range shooting. It allows you to strike your target easily.
The military prefers the ACOG over the Red Dot for this reason. Soldiers can make quick decisions in a matter of seconds as the ACOG calculates shots in an instant.
Distance is an important factor here. The ACOG is your best bet the further away anything is from you. They are made for distance and precision. ACOG will ensure accuracy for longer distances.
The red dot is designed for shooting at close range. While both are great options, the distance you need to cover and the accuracy should help you to decide which to choose.
The ACOG may be used for short-range shooting, but it won't be your best bet for that. In terms of accuracy for long-distance, ACOG is the best. For shorter distances, the red dot is more accurate.
Versatility
The red dot takes first place in terms of versatility. Red dots are simple to put on any handgun. There are so many variations that you should be able to find the one that meets your demands.
That is the red dot's advantage. It may even be magnified for a more detailed look. The red dot can readily meet your needs no matter what you're aiming for.
On the contrary, the ACOG does not provide as much versatility as the Red Dot. They're designed for tactical situations. Due to this reason, the marines prefer this optic or ACOG to a plain red dot.
Moreover, when comparing ACOG with Red Dot, some prefer ACOG because they last longer. Most ACOGS do not even use batteries. However, since they are not very versatile, many still prefer red dots over ACOGS.
Durability
Durability is an important factor to consider before you buy ACOGs or red dots. ACOG is made from forged aluminum. This ensures that the ACOG is durable and lasts longer.
Marines prefer to use ACOGs for their combat. The tough aluminum ensures the durability of an ACOG. These ACOGs are built like a tank to take on rough use.
On the other hand, high-standard red dot sights can tolerate years of physical use. Top-tier red dots function like brand new ones even after years of rough usage.
An example of a red dot that functions like this is the Aimpoint Micro T2. However, be careful before you buy cheaper red dots. Cheaper red dots usually feature a poor mount. They do not function as well as the top-tier ones.
Field of View
Whether you should use ACOG or red dot really depends on the distance. The further away you are from your target, the better bet the ACOG will be. They are designed for precision and distance.
The red dot is designed for a short range of distance. Although both ACOG and red dot are precise when it comes to the field of view, ensure that you choose wisely. The ACOG won't be the best choice for shooting at a short distance.
Before purchasing an ACOG or a red dot, question yourself about the distance that you need to cover. It will be easier to choose between the two if you know if it needs to be used for close shooting or long-distance shooting.
ACOGS can be magnified, which ensures that they give a crystal clear field of view every time. On the other hand, a red dot is easier to use compared to a magnified optic like ACOG.
Reticle Clarity
The size of the red dot is important for ensuring reticle clarity and eye relief. Everyone's eyesight is different, which is why the red dot works differently for everyone. If there is moisture, grease, or debris on the red dot, then there may be a chance of problems in focusing on it.
This red dot needs to be wiped to give a sharp and clear picture. On the other side, any smudge on the glass or moisture on the emitter will distort the dot projection.
ACOG has the best reticle clarity and light transmission system as well. The ACOG's glass-etched 5.56 NATO calibrated BDC reticle (TA31) is easy to see. The BDC (Bullet Drop Compensation) even ensures efficient and simple shooting.
ACOG utilizes fiber optics and tritium to illuminate the reticle. The illumination adjusts by itself, which means that you don't have to waste your time adjusting it. This makes the ACOG great for further distance.
Strengths
Firstly, ACOGs are known for being built like tanks and designed to withstand nearly any harsh environment. The ACOG has the benefit of being a magnified optic, which doubles the scope's use by allowing it to be used for observation and spotting.
When in use, the scope also delivers a crystal-clear aim point, giving the user a clear and bright image. In close quarters warfare, red dot optics are unrivaled. A red dot is easier to operate than a magnified optic.
They are quicker on target than a pair of iron sights. However, red dot optics are quite lightweight. Red dots are extremely easy to use and may be applied to any weapon platform.
One of the biggest strengths of ACOGs over red dots is that ACOGS are compatible with most night vision systems. There is an option to place a tiny red dot on top of the optic for smooth battle transitions.
Weakness
ACOG has a major flaw, which is a lack of flexibility. Magnified ACOGs are typically useful for rifles. However, the bullet drop compensator of the rifle limits it in many ways.
The BDC needs a specific type of ammunition and a certain barrel length to operate properly. That is a disadvantage, as you will have to switch between weapons when you use the ACOG.
The major weak point of red dots is that their reticle is useful for close-range combats only. Even with magnification, there is no way to compensate for bullet drop other than practice.
Another disadvantage of the red dot sight is that you must use batteries with a large number of red dot lenses.
ACOG With Red Dot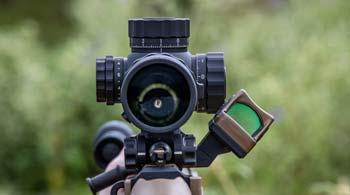 Trijicon Acog is typically a magnified optic. However, there are also 1x versions available. The Marine Corporation's ACOG even has a 4 times magnification which can be used with a shorter or a longer barrel.
Its accurate bullet drop compensator will allow you to hit your target within 500 yards with ease. Red dots are straightforward to utilize. Aimpoint company, for example, offers a wide range of optics in various sizes and for various missions.
All of their optics, from the hunter-designed H-1 to the warfighter-approved Aimpoint M4s. And these are all high quality. Other companies, such as Eotech, make unmagnified holographic red dots with a more sophisticated reticle.
Close-range fighting is enhanced by red dots. It shortens the delay between time on target and duration on the trigger.
Check first focal plane vs second focal plane for hunting
People Also Ask
u003cstrongu003eWhat does ACOG stand for?u003c/strongu003e
Trijicon's Advanced Combat Optical Gunsight (abbreviated ACOG) is a family of prismatic spotting scopes. The full form for ACOG is Advanced Combat Optical Gunsight.
u003cstrongu003eIs ACOG worth the money?u003c/strongu003e
The ACOG is a combat optic, you shouldn't be buying it unless you're going to utilize your rifle for a battle. You'll probably be happy if you spend the same amount of money on an LPVO.
u003cstrongu003eCan you have a red dot and scope?u003c/strongu003e
Both configurations are feasible for hunters, but having a red dot sight mounted on top of the riflescope is far more convenient. All you have to do is elevate your head to gaze through the red dot with this setup.
u003cstrongu003eShould I put a scope or red dot on my AR?u003c/strongu003e
The red dot sight might be an excellent choice for shooting at shorter distances (less than 300 yards). They are generally lighter than scopes and are better at acquiring targets quickly. Therefore, a red dot may be used on AR.
u003cstrongu003eAre red dots accurate?u003c/strongu003e
Using a red dot sight can increase your shot accuracy since you don't have to continuously change focal planes as you do with iron sights. The dot will still remain on the same plane as the target.
u003cstrongu003eWhat's better: red dot or holographic?u003c/strongu003e
A red dot sight reticle covers two inches of your target at 100 yards, whereas a holographic sight reticle covers only an inch. Finally, red dot sights are the best option for people on a budget.
u003cstrongu003eAre red dots on pistols worth it?u003c/strongu003e
In comparison to iron sights, red dots provide a considerably greater vision and awareness of the target. Red Dots on pistols are especially great for older people with poorer vision. 
u003cstrongu003eDo you have to zero a red dot sight?u003c/strongu003e
o u0022zero,u0022 you adjust your red dot sight so that you can hit your target exactly where you aim. Any mistakes you make when zeroing in your pistol will be amplified with each subsequent shot. So, you must zero a red dot sight carefully.
u003cstrongu003eAre red dots good for concealed carry?u003c/strongu003e
There are no benefits of putting an optical red dot on a gun that needs to be concealed. It only adds to the problems. Red dots are not great for concealed carry. 
Final Words: Which is Better ACOG or Red Dot?
Regardless of what you select, you will have a great weapon option. You may safely assume that if you stick to higher-end optics, you'll get the best results. Consider what you'll be doing and you'll be able to choose the best alternatives between red dot vs ACOG The ACOG is ideal for military personnel, while the red dot is ideal for civilians. So, whichever you choose, pick wisely!