5 Best Red Dot for AK-47: A 100-Hour Study Result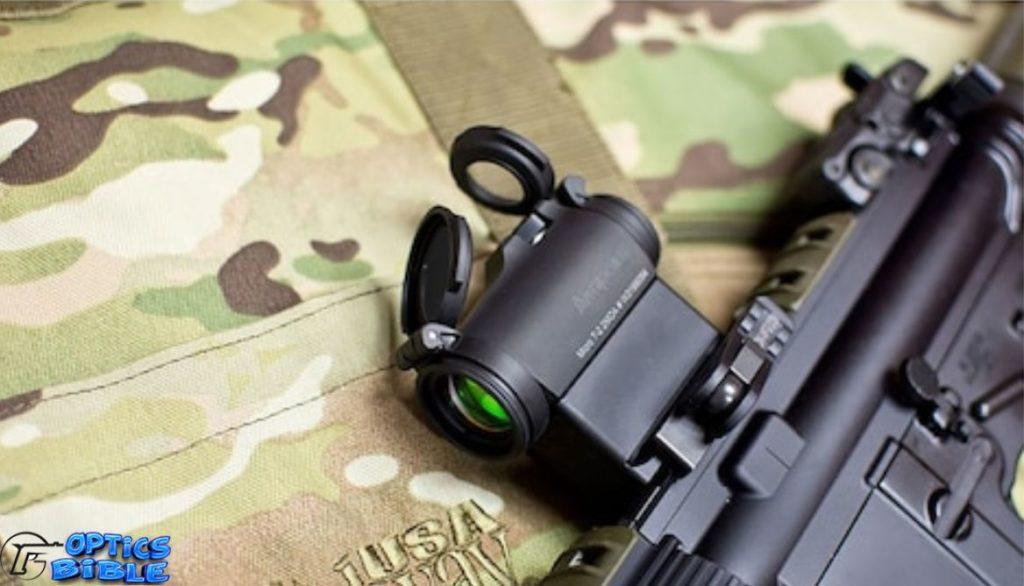 More battles and revolutions have involved the AK-47 than any other weapon. According to estimates, 100 million AK-47s are being used worldwide or one for every 70 people.
The AK47's inferior iron sight reduces the weapon's dependability and Precision. Red dot sight upgrades the Ak 47, thereby enabling it to go beyond its lethal effective range of under 200 yards.
We have Reviewed the top-5 rated red dot sights and mounts so that you can make an informed choice about which red dot is ideal for your AK-47.
Look nowhere else. We will help you find the best red dot for AK-47.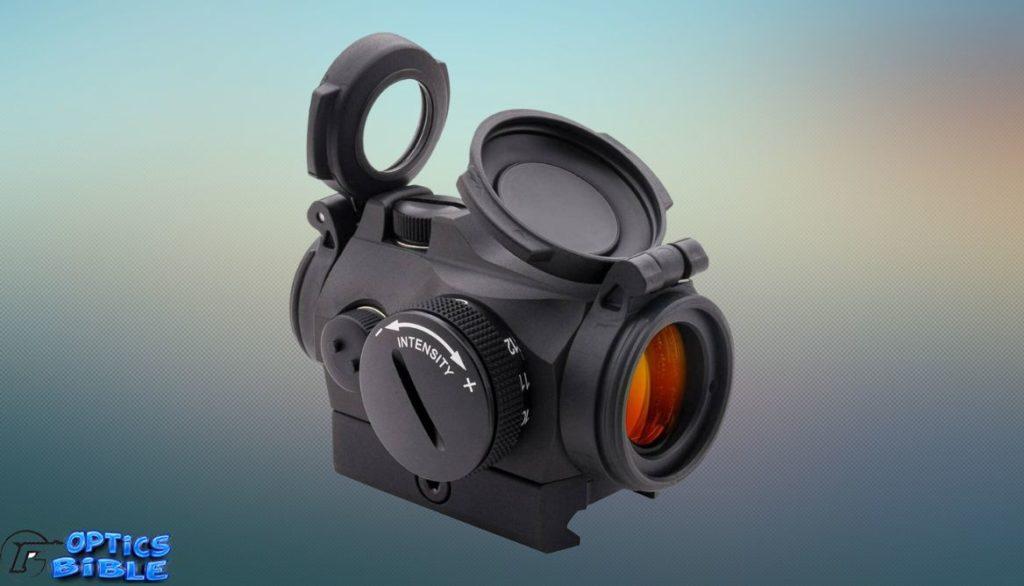 Best identified for its Accuracy. The shooting performance of the Aimpoint Micro T-2 red dot scope is outstanding. It is very easy to use and comes across as one of the best quality red dot reflex sights.
The Aimpoint Micro T-2 is the most durable micro red dot sight and was made purposely for use in military and law enforcement scenarios.
Glass Clarity & Reticle
The glass is of the best quality, with a slight blue tint, and is exceptionally clear. The Aimpoint Scope is equipped with flip-open front and rear lens covers to protect your priceless optics, a threaded front lens opening for an anti-reflection device, and a transparent rear cover for emergencies.
The Reflex collimator sight with LED is the primary operational concept of the Aimpoint Micro T2. It has a 1x optical magnification and a 2 MOA target dot size. This enables fast target acquisition and makes it easy for your eye to pick up targets quickly and shoot fast.
Eye Relief & Eye Box
The Aimpoint offers an unlimited eye relief.
Durability and Weight
This red dot sight is designed to last besides being user-friendly. It is constantly on, always red, and runs for up to three years on a single battery meaning its battery life is the least of your worries.
The Aimpoint Micro T2 red dot sight can be submerged to a depth of 150 feet. Therefore, it is waterproof, fog-proof, and shockproof. It operates in a temperature range of -49 to 160 F.
Its length is 4.5″ and its weight, including the mount, battery, lens cover, and spacer, is 11.6 oz.
The Aimpoint red dot is one of the heaviest options available, but because of its small size, this red dot sight can be used with a variety of rifles and guns.
Elevation & Windage Knobs
CompM4 M68CCO-style elevation and windage caps.
There are 12 brightness settings on the Aim point Micro T2 for shooting situations ranging from very low light to bright sky.
Parallax & Magnification
With a 1X magnification, the Aimpoint PRO can be used while keeping both eyes open for quick target acquisition and full peripheral vision.
This red dot reflex sight is parallax-free which makes shooting with both eyes open simple.
Different magnifiers are easily compatible with the Aimpoint. A simple, quick, and efficient examples are the VMX-3T Magnifier and Flip Mount combo, which adds a 3x magnification to your rifle's red dot sight.
Mounting & Rings
The Aimpoint Pro has a quick-release mounting system that is compatible with an AK47. The torque-limiting knob is another feature of this optic. Once you've found the right position for the mount, it only takes three turns of the knob to lock the optic to the rifle.
The Aimpoint Micro t2 red dot sight also has a transparent rear lens cover to prevent scratches. It comes with battery and adjustment cap retainer straps, so you don't have to worry about losing the caps.
Is the Aimpoint PRO Worth It?
This is one of the best red dot sights in the market. Get the Aimpoint PRO if you're looking for a durable, quick-action optic that's worth every penny.
Features:
Battery life of 30,000 hours (3 years) with constant use
2 MOA red dot for precision at all ranges
150 feet allowed submersible depth in water.
4 settings for night vision compatibility and 6 settings for daylight (including one extra bright for use in bright sunlight)
Parallax free.
Ten years of warranty
Renowned for quick targeting. The Bushnell Trophy TRS-25 red dot sight is distinguished by its capacity to facilitate Fast target acquisition and it is an ideal Rifle scope for hunting. 
It delivers a 125 red dot with Amber-Bright optics that makes it simple to differentiate between trees and animals, and it is bright enough to hunt in dense woodlands.
Glass Clarity & Reticle
Matte black with a 3 MOA Dot reticle and 11 brightness settings. Mounts easily on most Picatinny rails and works with pistols, shotguns, rifles, and muzzleloaders. For a low-cost optic, the glass on the TRS-25 is surprisingly clear.
This coating is specifically created to enhance color contrast in all lighting situations and even makes brownish tones stand out. It's great for hunting because the additional contrast in brown tones makes a deer stand out against the background.
Eye Relief & Eye Box
The Bushnell's limitless eye relief comes in handy. When using weapons with a significant recoil. The eye box is narrow in comparison to its rivals, which is a slight drawback. 
The parallax is -50, but it is essentially fixed at infinity.
Durability and Weight
One of the most durable red dot sights for the AK47 is the Bushnell Trophy TRS-25. The Trophy TRS-25 is a compact unit at 5 ½ inches long, 3 ½ inches wide, and over 2 inches high. It weighs in at 3.7 ounces.
Additionally, this optic is O-ring sealed, so it will remain dry even when submerged entirely in water.
Waterproof design: O ring sealed optics remain dry inside even when completely submerged in water. Shockproof architecture Built to withstand drops, knocks, bumps, and the harsh field environment.
Fog proofing with nitrogen: Nitrogen inside the scope prevents interior optical surfaces from fogging due to humidity or a stud temperature changer.
Elevation & Windage Knobs
The Bushnell Red dot optic features a finger-adjustable audible-click elevation and windage adjustments. The elevation and windage knobs produce nice solid clicks and adjust at a rate of 1 MOA per click.
This enables quick and easy zeroing. For you to easily Zero the Bushnell Red dot sight:
1. Remove the Elevation and Windage Adjustments covers.
2. Grasp the Adjustment Bar and turn it in the appropriate "UP" (and/ or "R") direction indicated by the arrows. Each "click" or increment on the Adjustment Scale Ring will change bullet
Impact by 1/4" Minute of Angle. 1/4" MOA corresponds to 1/4 inch at 100 yards, 1/2 inch at 200 yards, 3/4 inch at 300 yards, and so on (1/12" at 50 feet for air rifles).
Parallax & Magnification
It works with any Red Dot but pairs well with Bushnell's AR Optics TRS-25. The AR Optics 3X Magnifier has an ambidextrous flip mount that mounts behind your optic.
Mounting & Rings
A cross-bolt mount for the optic is included, and it can be used with any weaver or Picatinny rail. Utilizing the cross-bolt mount couldn't be simpler. It takes only a few seconds to mount the optic.
Use a high-quality mount with bases designed to fit your particular rifle. The scope is mounted as low as possible without touching either the barrel or the receiver. 
Is the Bushnell trophy TRS-25 PRO Worth It?
The Bushnell Trophy TRS-25 is a reliable red dot that is reasonably priced.
Features:
Easy to fasten and mount
Battery with high performance
Construction that is dependable and tough
Better Target Acquisition with Variable Brightness
Maximum Durability with Shockproof Construction
Fog-Proofing Nitrogen-Purged Construction and a Waterproof construction.
One of the best red dot sights renowned for its wide range of shooting capabilities. With only a single point of aim required, the redesigned Crossfire is a straightforward sight for almost any application.
Glass Clarity & Reticle
High-quality, completely multi-coated lenses are used, and the glass is transparent. The reticle has eleven power levels that are adjustable and are situated on the left side.
The Vortex strike fire 2 offers 11 variable illumination settings with the lowest 2 settings being night vision compatible.
Eye Relief & Eye Box
The infinite eye relief offered by the Vortex Strike fire 2 red dot scope is one of its unique features. You never have to worry about your head or eyes being in the right place, which makes focusing much simpler. 
Additionally, since you'll be shooting with both eyes open when using a red dot, you'll be able to find your target much more quickly than usual. The Vortex optics gives you a wide field of view. 
This allows you to fully utilize your peripheral vision. For situational awareness, self-defense, or conflict situations, this is fantastic.
Durability and Weight
This Vortex Optics, like all Vortex Optics, has a remarkable alloy aluminum body that is constructed to incredibly high standards. The lightweight, tenacious alloy is neither bulky nor restrictive in any manner.
The Vortex Optics Strike fire II Red Dot Sight weights 7.2 oz.
Elevation & Windage Knobs
The 1 MOA click elevation and windage dials are easy to operate. The Vortex strike fire offers a maximum elevation and windage adjustment of 100 MOA. with an adjustment graduation of 1/2 MOA.
The Vortex strike fire red dot features adjustable Elevation and Windage Turret dials. Each click moves the bullet's point-of-impact 1/2 of a minute of angle. 1/2 MOA closely corresponds to 1/8 inch at 25 yards,1/4 inch at 50 yards, 1/2 inch at 100 yards, and 1 inch at 200 yards.
The dials are easily readable and marked. Additionally, they offer precise changes.
Parallax & Magnification
You get a 1x magnification with the Vortex strike fire 2. For short to medium distances, such as while hunting or using it for self-defense, this is excellent.
Parallax free.
Mounting & Rings
Mount Type – a Lower 1/3 Co-Witness Cantilever.
The Vortex strike fire 2 is quick and simple to connect to your AK-47 rifle because it comes with both a riser and a Picatinny mount.
Is the Vortex Optics Strikefire II Worth It?
The Vortex Optic strike fire 2 is the solution if you're seeking the ideal red dot scope to go with your AK-47.
Consider the Vortex Strike fire 2 if you would love to engage in any hunting sport.
Features:
Battery life of 50,000 hours
Compatibility with night vision at the lowest two settings, this enables the sight to function under different scenarios.
This lightweight optic has low and skeletonized lower third co-witness mounts that give it versatility.
There are 11 illumination settings available, allowing shooters to adjust the dot intensity according to the circumstance.
Multiple anti-reflective coatings on all air-to-glass interfaces to increase light transmission.
Unrestricted eye relief for quick changes.
O-ring seals provide dependable waterproof performance by preventing the entry of moisture, dust, and debris.
One of the best red dot reflex sights known for its hunting capabilities. The Holosun brand is a perfect red dot reflex sight for pistols and rifles.
Glass Clarity & Reticle
The Hs507c x2 Holosun is a rugged open red dot reflex sight with a multiple red reticle system circle dot of 2 MOA and a 32 Moa circle. The optic offers a light wavelength of 650 nm with a multicoating.
MULTI-COATED LENS: Multilayer coatings are added to optical glass during the manufacturing process of optical equipment to provide for maximum light transmission, wear resistance, and glare reduction.
Eye Relief and Eye Box
This Holosun Hs507c offers unlimited eye relief. The scope is a perfect tool for those suffering from astigmatism since you won't have any trouble seeing the reticle or zeroing on the Dot.
Durability and Weight
The Holosun 507C is a particularly cool micro red dot. The windage and elevation turrets are shielded by the sight housing, It has a sight housing constructed of high-quality 7075 aircraft aluminum which makes it the perfect rifle scope for many military units and security forces.
Additionally, the 507C is waterproof up to 1 meter underwater and is fog proof meaning it is designed to withstand fog conditions.
Dimensions – 1.7*1.15*1.15 with a weight of 1.5 oz.
Elevation and Windage
Adjustments for windage and elevation are roughly 1 MOA each click. At 100 yards, each adjustment click is equivalent to around 1 MOA or 1 inch (1/2″ at 50 yards and 1/4″ at 25 yards). 50 MOA from the center is the maximum adjustment range.
This site has been factory calibrated to roughly a 25-yard zero, so getting to zero should only require minor adjustments.
The Windage adjustment is situated below the Elevation adjustment, which is situated on top of the housing's tail section. Situated on the housing's right side.
Adjustment can be performed by inserting the flat-tipped end of the included tool into the turret slot and rotating.
Parallax & Magnification
You get a 1x magnification with the Holosun HS507c. This will provide you with very clear sight and high-end optics.
The Holosun Hs507c is parallax free, like the majority of red dots, so you don't have to be concerned about any form of distortion obstructing your view. Besides this scope has 12 different brightness settings with dim settings which are compatible with night vision devices for nighttime use.
Mounting and Rings
The mount is not included in the Holosun Hs507c-x2.
Is the Holosun Hs507c-x2 Worth It?
The Holosun HS507c-x2 incorporates new technologies for instance the Shake awake technology that turns on and off when motion is detected. This will help you save your battery life.
Features:
A waterproof and fog-proof design to last in any condition.
A long-lasting battery life.
A Multi Reticle system technology that gives you the privilege of toggling between the 3reticles, options.
However, The Holosun is small and lightweight and is mainly designed for handguns since it will be too low for use on AK-47, therefore, needing a riser as a co-witness.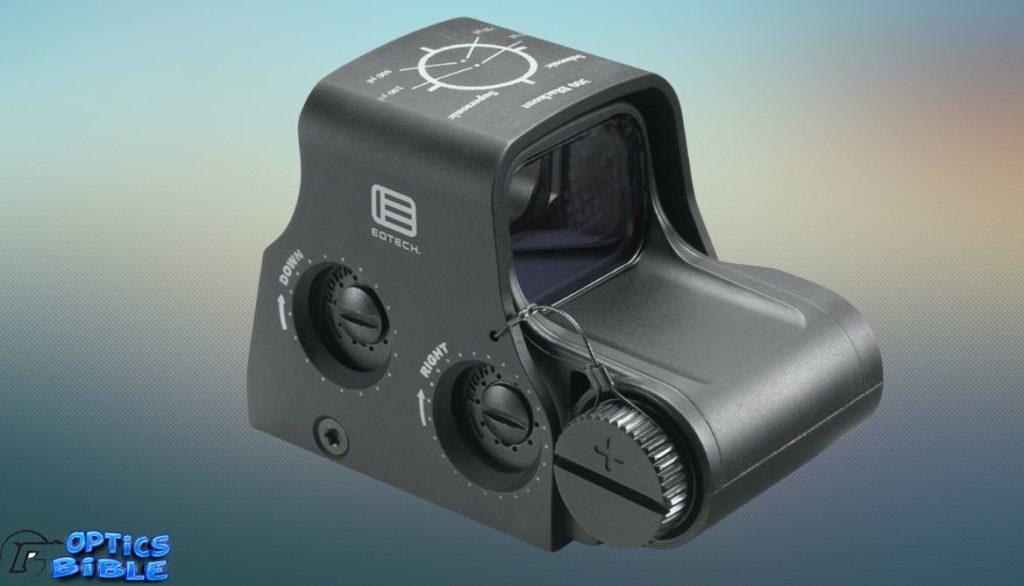 One of the best red dot sights for ak47 is renowned for its lightweight which makes your rifle easily portable.
Glass Clarity & Reticle
Three red dot reticles are available for this model: Circle and Dot, Dot, or just Circle. Rapid target acquisition is provided by the circle, which rapidly picks up the reticle.
EOTECH XPS2-300 – Holographic Weapon Sight in black with 68MOA ring & (2) 1 MOA dot reticle.
Eye Relief & Eye Box
These holographic sights provide infinite eye relief and are parallax-free. It can only withstand temperatures of about -2 degrees, which is not very amazing when compared to similar red dot scopes, so be careful if you're using this sight in cold weather.
Durability and Weight
To guarantee long-lasting endurance in the field, the hood up top is built of sturdy yet lightweight aluminum.
One of the greatest red dot sights for the AK 47 that provides blazing-fast target locking and dependable longevity is the EOTECH XPS2. The holographic weapon sight from EOTECH is the smallest, lightest optic available, weighing just 9 oz.
The cutting-edge Heads-Up Display Window of the EO Tech® XPS2-0 Holographic Gun Sight is made of three layers of shatterproof laminate glass and is shielded from the elements by a tough roll-bar-style cowl.
This sight is waterproof at 3 m depth, fog proof, and shockproof, and was created and tested to deliver dependable performance in even the most challenging circumstances.
Elevation & Windage Knobs
0.5 MOA per click.
Using a flathead screwdriver, turn the designated screws to adjust them for windage and elevation.
Parallax & Magnification
The sight is parallax-free and offers unlimited eye relief and you will note that the reticle remains stationary as you move your head, ensuring that your point of aim is constant whether you are shooting at the range or engaging in close-quarter combat.
Mounting & Rings
The EO Tech mounts on a standard Military rail, with a quick-release lever if you need to swap back to open iron sights.
By requiring only 3/4″ of rail space to mount, the XPS2-0 is the smallest holographic sight yet.
Is EOTECH XPS2-300 Blackout Worth It?
They are the priciest red dots available, but there's a good reason for that. It has been demonstrated that holographic sights facilitate quicker target acquisition. This is because, by utilizing the EOTECH XPS2-300 Blackout you get to enjoy the following benefits without having to waste precious time focusing on a red dot at the optic distance in addition to the target.
The EOTECH XPS2-300 Blackout is one of the best red dot sights for AK47.
Features:
Black holographic weapon sight with a 68 MOA ring and a 1 MOA dot reticle, model number EOTECH 512.A65.
Mount that is compatible with MIL-STD 1913 and 1″ Weaver rails.
Brightness Control – The 512 features 20 brightness levels that can be used in any.
Lighting situation.
Unlimited eye relief.
Waterproof and fog proof: The 512 is waterproof up to 10 feet (3m).
10-year limited warranty included with the EOTECH HWS Prestige Warranty.
What to look for in red dot sights?
Type of Red Dots
On the market, red dots come in three different varieties:
Reflex Sight. A low-power LED is reflected onto the objective lens causing a red dot to appear. Due to its more straightforward structure, it is usually lighter and more portable than holographic sights. One example of this is the Aimpoint model.
Holographic sight. The red dot is produced by a laser diode When compared to reflex sights, its structure makes parallax error less of an issue. But the battery life is much shorter. Products like EOTECH XPS2 Holographic sight, are illustrations of this model.
Laser sight. A laser pointer is attached to your firearms. Instead of the glass, the dot is placed on your intended target.
The only one with a wide variety of prices is the reflex scope. Both laser and holographic are far more expensive than reflex sights. However, laser kinds are favored for the highest precision.
But compared to laser optics, reflex red dot sights are just as good and last far longer. All three are effective when it comes to shooting with a dot reticle.
Reticle Size
A smaller reticle covers less space and allows for greater precision, it is the best choice for making accurate shots at a greater distance. However, a tiny red dot will be inherently difficult to spot, particularly in broad daylight.
For newer shooters, a larger reticle is good since it is much simpler to see, but it can block the target's vision at a greater distance.
Consider it in inches rather than yards as a basic rule of thumb. For instance, a red dot with a 1-inch diameter is ideal at 100 yards, one with a 2-inch diameter is ideal at 200 yards, and so on. When selecting the reticle size, be sure to take the different types of shots you'll be making into account, as well as their distance.
Reticle Shapes and Color
Some red dots offer shapes other than a plain dot, such as crosshairs, dots with circles, dots with semicircles, and many others. Other than red, there are numerous colors, such as green and blue. But in my opinion, red is the color that is most frequently visible.
When deciding on a reticle shape and color for your red dot sight, it's crucial to take into account the following factors. Will you be hunting in the evenings or early mornings? Are you going to hunt little game or big game? Are range-compensating reticles necessary?
Look for a reticle that is lit if you're hunting in low light. The better the crosshair, the better the chance of hitting a small game, but larger game hunters won't require such a perfect intersection and may gain more from a broader aiming point.
Reticle Intensity and Night Vision Compatibility
An ideal red dot must be observable in both brightly lighted areas and small, poorly lit areas.
Another useful aspect of red dot optics is their compatibility with night vision optics. When night vision is turned on, the light level should be low enough to minimize eye strain when utilizing night vision lenses. When shooting at night, this will offer you an advantage, although it usually costs more.
Lens Coating
As with all optics, a good lens coating improves image quality and lessens glare when facing the sun or away from it.
Battery Life
An essential component for red dots is there will be no dot if the power runs out. Some red dots can be left on for 3–5 years nonstop thanks to advancements in battery life technology.
Instead of using LEDs like regular red dots, holographic sights use lasers. They frequently use a lot of energy. The battery life of holographic sights is therefore reduced.
You should be aware that batteries lose more power in colder climates. Therefore, if you live in a colder climate, you should have a backup plan or regularly check your battery.
Durability and Warranty
A useful red dot must be resistant to shock, water, and fog. The optic must be tough enough to resist repeated damage and AK-47 recoil.
Aimpoint produces the most durable red dots. If you are participating in a military operation, it is a sensible decision to consider. Keep in mind that expensive optics with excellent durability also cost more.
Last but not least, if all else fails, the manufacturer must provide a solid warranty and customer service. Accidents and flaws do happen. The transferability warranty is another problem, and it usually increases the resale value.
Co-witnessing
Installing red dot sights while keeping a backup set of iron sights is known as co-witnessing. While not necessary, doing this can be useful if the red dot doesn't work.
Two common setups exist for this:
An absolute co-witness would line up the front sight, red dot sight, and rear sight on the same line.
Lower 1/3 – Align the red dot sight higher while the iron sights are at roughly 1/3 of the overall red dot sight picture.
It's a personal choice that mainly depends on the tube size and mount. One might be forced to use the Lower 1/3 if the tube were larger. 
Objective Lens Diameter
The fact that you normally utilize a red dot with both eyes open makes a larger objective lens less useful. The field of view should be limitless. With larger objective lenses, since they are generally heavier, absolute co-witnessing may be difficult.
Parallax
A parallax-free feature is offered by some red dots, which is advantageous. No optic, though, is truly parallax-free. Keep in mind that the industry standard for the term "parallax free" states that it is free from 30 yards and beyond.
Frequently Asked Questions
Where To Mount an Optic On AK?
Several models are worth mentioning, although it depends on the shooter's needs and the type of optic they choose.
Some sights also mount on rear sights or front sight mounts. Most rear sight rails are made of steel, so it's resistant to corrosion and rusting.
Reflex sight users should mount as far forward as feasible, thus they should choose a handguard or railed gas tube and match it with a micro red dot.
A dog-leg rail is the greatest choice for holo sights for instance the EOTECH XPS2-300 Blackout since it enables them to be positioned as near to the bore as possible. The majority of holo sights are too tall to be utilized properly on any other mount, so this is significant.
Magnified optics are generally best mounted on side rail mounts because they provide enough additional height to allow for appropriate clearance of the scope's objective. The disadvantage is the extra weight that a rail, rings, and a scope added.
What is Better for AK: Red Dot or Scope?
A red dot sight brings speed. They make picking up the target simple and quick. At close ranges, red dots also give reliable precision. Riflescopes, sometimes known as scopes, can be utilized when shooting at closer ranges is preferred because they are lightweight and small in size.
Riflescopes, sometimes known as scopes, can be utilized when shooting at closer ranges is preferred because they are lightweight and small in size.
A tactical riflescope is the best option if you intend to target shoot from a stationary position and are aiming out to 100 yards. However, riflescopes excel when it comes to improving accuracy at farther ranges due to their adjustable magnification.
What is the Best Red Dot for AK47?
This will depend on your needs and the purpose you intend to use the red dot. Different needs will attract a different red dot. for instance, Aim point T2 is good in law enforcement situations, and the HOLOSUN HS507C X2Circle Dot Solar Failsafe is renowned for its hunting capabilities. The post has tried to outline the unique features of each brand.
What is the Best Brand of Red Dot Sight?
Different red dot sights offer different unique features. We have tried our best to outline the features in this article. The red dot sights will offer a different unique value depending on how you engage them.
What Red Dot Does the Military Use?
Soldiers now have access to a variety of sight lenses; The most effective rifles and handguns were given to the military thanks to developments in the armaments industry.
In the majority of missions, the winning side is determined by the accuracy, quickness of aim, durability, and distance between the shot and object.
Armed with guns fitted with red dot sights, the military forces are more self-assured. The best sight optics, such as those from EOTech, Bushnell TRS 25, and Aimpoint, make even going to a force-on-force shooting less stressful when one knows they are ahead of the enemy.
What Scope is Best for AK 47?
Military special forces, shooters, and hunters all love the AK-47. Getting an accessory like AK 47 optics is one approach to increase the effectiveness and performance of this handy weapon.
There are various Ak 47 brands, each with a scope that is appropriate for your needs. Most of the time, you might not be sure which to choose. But I think the details I've given about these AK-47 optics will enable you to make the best decision.
Even if this is your first time purchasing it, the buyer's guide will assist you in understanding the important considerations.
Can You Put a Silencer on AK?
Yes, but it is referred to as A suppressor, rather than a silencer. It performs very similarly to a muffler; it merely delays the gas's escape to make it quieter.
Almost any firearm can be equipped with a suppressor. I'd advise getting an AAC threaded flash hider for the AK platform, or something comparable. Alternately, locate an adaptor that will change an M14x1 LH thread to a thread pitch for a suppressor that is simpler to locate.
Conclusion
We are confident that any of these choices would make you delighted when choosing the best red dot for your AK.
It depends on your budget and needs the Aimpoint micro T2 red dot will serve best in law enforcement scenarios, The Bushnell does well in hunting situations, and Vortex will be ideal in hunting sports. The EOTech's minimal weight makes it perfect as well.
In the comment section below, please let us know if you have any experience using these optics or any other products that you've found to be excellent.